500+ Pitbull Names You'll Love
Published:
Last updated:
by Jessi Larson
Finding Pitbull names can seem daunting. With so many ideas out there, where do you begin?
Don't stress. We've found plenty of ideas perfect for your adorable Pit – 500+ to be exact!
Best Pitbull Names
Picking the right name for your Pitbull puppy is a critical decision. After all, you'll be saying this name every single day for years to come.
Inspiration is everywhere, from their strong, athletic demeanor to their sweet personalities to their unique coat coloring.
Our guide has over 500 ideas, so we guarantee you'll find at least a few you love.
Strong Male Pitbull Names
There's no denying that the Pitbull is a powerful type of dog. Their athleticism and strength are awe-inspiring.
Many people like to draw inspiration from this and if you fall into this category, you'll love these ideas.
Ace
Alpha
Ares
Avalanche
Bandit
Bane
Beast
Blade
Blaze
Blitz
Brando
Bruiser
Bruno
Brutus
Butch
Caesar
Chief
Crash
Denali
Diesel
Dozer
Duke
Fang
Fury
Gage
Ghost
Grudge
Hulk
Hunter
Jaws
Jumbo
Killer
King
Macho
Mack
Magnum
Maverick
Moose
Nitro
Panic
Raider
Rambo
Reaper
Rex
Rocky
Samson
Scorpio
Spartacus
Spike
Sumo
Surge
Tank
T-Bone
Thor
Titan
Trooper
Tyson
Vader
Vice
Vinnie
Yeti
Yukon
Check out more tough male dog names.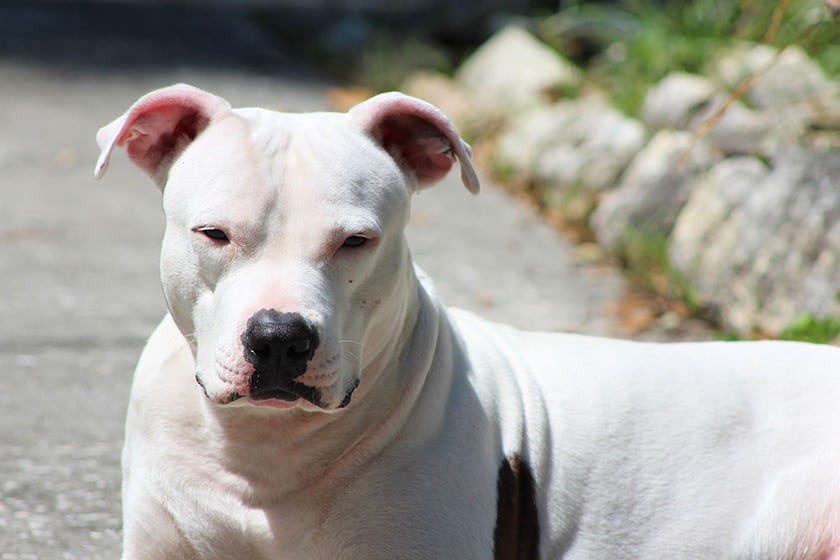 Strong Female Pitbull Names
Just because you have a female Pitbull doesn't mean you can't go with a strong name. These options are powerful and impactful but with a feminine touch.
Alaska
Alpha
Amazon

Baroness

Beastie
Brawny
Cinder
Dahlia
Diva
Echo
Elektra
Foxy
Gypsy
Harley
Hera
Huntress
Indy
Jericho
Jezebel
Jinx
Justice
Kahuna
Katniss
Khaleesi
Kodiak
Liberty
Midnight
Mystique
Nova
Nyx
Onyx
Queenie
Raven
Rogue
Rousey – as in Ronda Rousey
Scrappy
Sheba
Stella
Tiger
Vega
Vixen
Xena
Check out more tough female names.
Cute Male Pitbull Names
Pitbull names certainly don't have to be tough. Cute options work equally well for these charming canines.
After all, Pitbulls make sweet, loyal pets who stay by your side and provide lots of love.
Here are cute pitbull names perfect for a male.
Alfie
Archie
Augie
Barkley
Barney
Bear
Beau
Benji
Bernie
Blue
Brody
Buddy
Buster
Champ
Chance
Charlie
Chase
Chewie
Comet
Cooper
Dino
Ernie
Fido
Finn
Flash
Hank
Henry
Jack
Jake
Leo
Louie
Lucky
Marley
Max
Mickey
Milo
Morty
Murphy
Murray
Odie
Oliver
Oscar
Patches
Percy
Perry
Pluto
Rascal
Rex
Rudy
Scout
Shiloh
Skip
Spot
Sully
Teddy
Waldo
Wally
Wishbone
Ziggy
Check out more cute names for boy and girl dogs.
Cute Female Pitbull Names
Continuing the inspiration for Pitbull names, let's look at cute ideas, especially for female dogs.
They're adorable – just like your new pup.
Amelia
Angel
Autumn
Bailey
Bella
Buffy
Candy
Charlotte
Chloe
Clara
Coco
Cookie
Cricket
Daisy
Dakota
Dixie
Dory
Elsa
Emma
Gigi
Gracie
Hannah
Happy
Harper
Hazel
Izzy
Jojo
Joy
Lily
Lola
Lucy
Luna
Mabel
Macy
Madison
Maggie
Maisie
Mia
Millie
Minnie
Nellie
Olive
Paisley
Petunia
Phoebe
Piper
Poppy
Pumpkin
Riley
Rosie
Roxy
Sadie
Sophie
Willow
Zoey
Unique Pitbull Names for Males
A Pitbull is a distinctive looking breed and deserves a unique name.
Check out these ideas for unique names that are elegant, uncommon, and perfect for your pup.
Alcott
Alfred
Arthur
Asher
Ashton
Augustus
Baron
Berkeley
Bernard
Charleston
Churchill
Clancy
Coach
Duke
Edwin
Emerson
Fairfax
Francois
Gatsby
Hamilton
Jacques
King
Kingsley
Kingston
Lincoln
Lord
Prince
Princeton
Redmond
Wesley
William
Winston
Unique Names for Females
If you're welcoming a female Pitbull into your home and like the idea of an uncommon name, then you must explore these clever name ideas.
Afton
Amelie
Aspen
Aurora
Bianca
Buffy
Camilla
Chanel
Constance
Diamond
Duchess
Effie
Elizabeth
Fifi
Genevieve
Gertrude
Gizmo
Harper
Jewel
Jules
Juliet
Lady
Lux
Octavia
Paris
Portia
Princess
Queen
Ruby
Taboo
Trudy
Victoria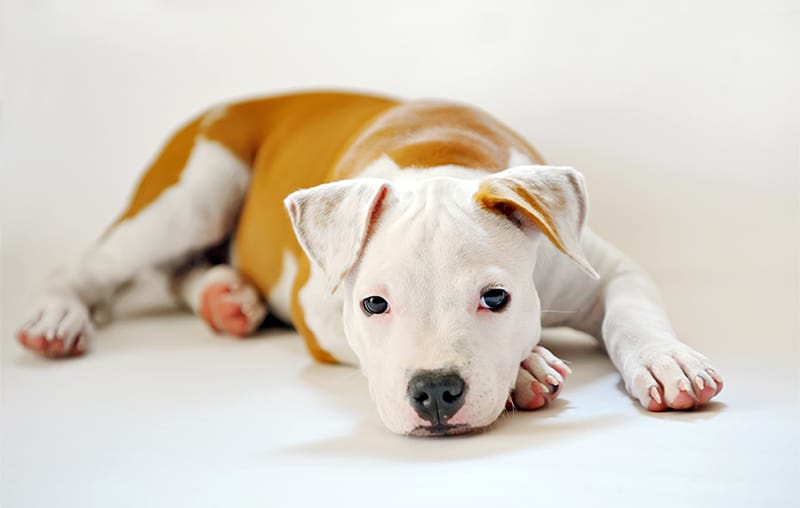 Funny Pitbull Names
Switching gears, let's look at some hilarious dog name ideas. Anyone with a sense of humor will love these fun Pitbull names.
Laughter is the best medicine, and these humorous monikers provide a heavy dose.
Baby
Bacon
Biscuit
Bitsy
Brunhilda
Bubba
Chunk
Cujo
Cupid
Fabio
Flo
Frito
Frodo
Genghis
Homer
Jabba
Munchkin
Nacho
Nugget
Olga
Peanut
Pee Wee
Rambo
Romeo
Spud
Squeeky
Taco
Tamale
Tankerbell
Tiny
Tootsie
Toto
Xena
Yoda
Whopper
Check out more funny male and female dog names.
Exotic Pitbull Names
These names are not only unique, but also have an exotic, cool vibe. Some of these ideas also come from greek mythology which is a great source for ideas.
Achilles
Adonis
Akira
Artemis
Ares – Greek god of war
Attila
Athena – Greek goddess of wisdom
Atlas – A Titan from Greek mythology
Eros
Hercules
Kali
Keiko
Kenzo
Odin – King of gods from Norse mythology
Medusa
Prometheus
Ramesses
Suri
Toshi
Zeus – god of the sky
Ideas Inspired by Color
Pitbulls encompass a wide range of shades, including white, brown, black, tan, and red. (Check out this Pitbull color chart to see the whole gamut.)
The color of your dog's coat can provide cool ideas for Pitbull names that fit their fur.
This comprehensive list includes every Pitbull coloring you can imagine.
Red Nose Pitbull Names
Amaretto
Amber
Ambrosia
Autumn
Brandy
Burgundy
Cayenne
Cheyenne
Chili
Clementine
Copper
Flame
Fox
Goldy
Hazel
Honey
Marigold
Merlot
Peaches
Penny
Poppy
Red
Rose
Ruby
Rusty
Saffron
Scarlet
Sepia
Shiraz
Sienna
Tabasco
Terra
Tiger
Valentine
Discover more red dog names.
Brown or Tan Names
Acorn
Bambi
Bean
Bear
Braun – brown in German
Brownie
Brun – brown in Swedish
Charlie Brown
Chestnut
Chewbacca
Chip – like chocolate chip
Cocoa
Fawn
Godiva
Guinness
Heath
Hershey
Java
Kahlua
Kobicha – one of the Japanese traditional colors used in kimonos
Maple
Marron – brown in French
Mocha
Moose
Peanut Butter
Porter
Pumpernickel
Russet
Sandy
Sesame
Tanner
Teddy
Topaz
Discover more brown dog names.
Black Names
Ash
Coal
Cinder
Ebony
Ember
Inky
Jet
Midnight
Nero – black in Italian
Noir – black in French
Olive
Onyx
Pepper
Raven
Shadow
Shady
Smokey
Stormy
Tarmac
Thunder
Zorro
Discover more black dog names.
White Names
Alabaster
Al Bino
Bianco/Bianca – white in Italian
Blizzard
Bones
Boo
Casper
Cotton
Crystal
Dove
Frosty
Gardenia
Ghost
Ice
Ivory
January
Marshmallow
Pearl
Polar
Powder
Snowball
Snowy
Sugar
Winter
Discover more white dog names.
Black and White Names
Chaplin
Cruella
Domino
Harlequin
Mickey
Minnie
Oreo
Puffin
Shamu
Snoopy
Spade
Tuxedo
Whaley
Discover more black and white dog names.
Brindle Names
Brindle pitbulls have a rare coat pattern that is similar to tiger stripes but with a subtle pattern.
Camo
Caramel
Checkers
Dos – two in Spanish for coats with two colors
Dot
Freckles
Harlequin
Hazel
Marble
Monarch
Mosaic
Oriole
Patches
Pebbles
Pixel
Rainbow
Speckles
Spot
Sundae
Tre – three in Italian for the number of colors in a tri-color coat
Tres – three in Spanish
Turtle
Twix
Gray and Blue Nose Pitbull Names
Aqua
Ash
Azure
Blue
Cobalt
Cyan
Dusty
Flint
Fog
Gray
Grey
Marine
Misty
Navy
Pewter
Sapphire
Silver
Sky
Slate
Stone
Storm
Teal
Discover more gray dog names.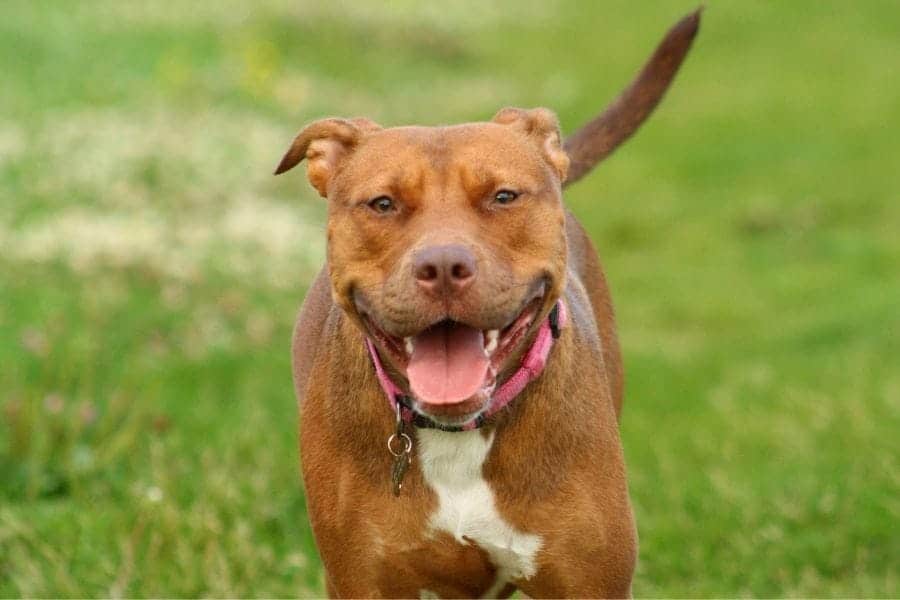 Famous Pitbull Names
The Pitbull is a popular dog that has graced TV and movie screens, advertisements, and training videos. There are even Pitbulls famous for making history.
As you search for the best Pitbull names, why not consider the names of these well-known Pitties.
Bud – Bud is famous for making the first trip across the US from NYC to San Francisco with his owner
Champion – Three-legged Pitbull of Andy and April from Parks and Recreation
Daddy – Cesar Millan's right-hand dog
Grunt – Pit from the movie Flashdance
Jack Brutus – Served for Company K
Petey – The pitbull from The Little Rascals
Sergeant Stubby – The most decorated dog of WWI
Sir Thomas – Helen Keller's dog
Tige – Buster Brown mascot
Final Thoughts
With so many great Pitbull dog names, how do you pick the right one for your pup?
The Pitbull is a strong, athletic dog that can hold its own, so you could lean into this and go with a tough name.
At the same time, they're also charming and sweet. People report their Pittie to be a devoted companion and excellent family dog.
With this in mind, cute and elegant options are an excellent choice.
Or you could lean into the color of your Pitbull. This type of dog comes in a fantastic array of colors and patterns, and our naming guide includes options for every appearance imaginable.
With 500+ ideas on this list, we're confident you'll find plenty of inspiration and hopefully the perfect pup name.
More Dog Name Ideas
If any of these ideas does not inspire you, try our online generator and discover even more options. You can sort by your favorite styles and themes to find the perfect name for your pup.
Our site helps millions of new dog owners each year and offers thousands of unique ideas. We know you'll find the name for your dog on our site.
These naming guides also provide great ideas for a Pitbull:
Check these out for even more name inspiration. The options are endless!
How Do You Pick the Right Name?
How do you know if you've picked the right name for your dog? That's a question all new dog parents ask.
After years of helping new pup parents, here are some tips we've picked up when it comes to selecting a name for your dog:
Is it easy to say? Some names are great in theory but tough to pronounce in everyday life. Before you lock in on a name, make sure it rolls off the tongue.
Say it out loud. Can you imagine loudly calling for your dog with this name? If not, then it's not the right name and you should move on.
Does it fit your dog? Check to see if the name matches your dog's personality and appearance. This is important for both you and your pup.
And finally, trust your gut. When you find the right name, you'll know it!
Need some more help teaching a dog their name? We have an awesome guide that makes it easy.
Did You Know?
Here's an interesting fact: Did you know that the Pitbull is technically a type of dog, not a dog breed?
The Pitbull category includes the American Pit Bull Terrier, American Staffordshire Terrier, American Bully, and Staffordshire Bull Terrier.
According to Barkpost, the Pitbull was originally developed in the 1800s by breeding a bull-baiting dog and a Terrier.
By combining the strength of a Bull Dog and the agility of the Terrier, the result was a tough, powerful and energetic animal used for bull-baiting and bear-baiting and later for dogfighting. (Luckily, these activities were soon outlawed.)
Today, the Pitbull is a popular pet, especially in the United States. But since you're welcoming a Pitbull into your home, we don't have to tell you that!
More Inspiration?
If you have an idea for a name, let us know in the comments below. We love hearing from readers and using your ideas to keep our site packed with the absolute best options.
Also, please share what you decide to name your new Pitbull. Tell us about your dog, what you selected for a name and how you picked it out.
View Your Saved Names