Big Dog Names – 120+ Larger Than Life Ideas!
Published:
Last updated:
by Jessi Larson
A giant dog needs a larger than life name. With our ultimate list of 120+ big dog names, you'll surely find the perfect fit!
And we know a thing or two about big dogs. Our dog Toby, a purebred yellow Labrador Retriever, was only supposed to be 70-75 pounds. Incredibly, he grew and grew and grew and is now a whopping 110 pounds!
It's not like we're overfeeding him. He's very leggy and tall – in fact, we sometimes get asked if he's part Great Dane – and made of pure muscle.
For the largest dog breeds, like the aforementioned Great Dane, or the Mastiff, Newfoundland, St. Bernard or Great Pyrenees, new dog owners should definitely consider a big dog name.
But these names also work for dogs that are considered large but not giant, generally from 60-90 pounds.
You also have to consider the dog's personality. When you have a name in mind, say it several times and see if it fits their overall essence. You may have a name that fits them physically, but if it's not right for their personality, move on and check out other options.
So, without further ado, here are 120+ dog names perfect for oversized pups.
Top Big Dog Names
Goliath
Maximus
Hercules
Hulk
Attila
Bear
Moose
Kong
Colossus
Mammoth
Clifford (as in the Big Red Dog)
Marmaduke (the lovable Great Dane cartoon character)
Rambo
Rocky
Tank
Wolf
Whale (or Whaley)
Shamu (as in the huge whale at SeaWorld)
Tex (or Texas)
Rex
Sable
Alaska
Beethoven
Storm
Rebel
Rocky
Sarge
Thor
Squat
Whopper
Brawny
Bull
Burly
Sumo
Giant
Zeus
Shrek
Everest
Jumbo
Tough Male Big Dog Names
Tough names and big dogs go hand-in-hand. For large, strong dogs, tough dog names a great match. If you're getting a boy dog that you know will be extra big, here are a number of names to check out.
Avalanche
Bandit
Bane
Blaze
Brando
Bruiser
Brutus
Butch
Caesar
Chief
Crash
Denali
Diesel
Duke
Fang
Ghost
Hunter
King
Macho
Mack
Magnum
Maverick
Spartacus
Spike
T-Bone
Titan
Trooper
Tyson
Vinnie
Yukon
Check out more tough male dog names – perfect for big dog names.
Tough Female Big Dog Names
Not to be left out, here are tough female dog names that make a strong, bold statement. They're a bit softer than the tough male dog names listed above but still pack a sassy punch, which is exactly what you may be looking for.
Amazon
Athena
Baroness
Beastie
Cinder
Diva
Echo
Elektra
Harley
Hera
Huntress
Jinx
Justice
Katniss (the heroine of Hunger Games)
Kodiak
Liberty
Medusa
Midnight
Mystique
Nyx
Onyx
Raven
Rogue
Rousey (as in Ronda Rousey)
Sheba
Tiger
Xena
Vixen
Check out more tough female dog names – perfect for big dog names.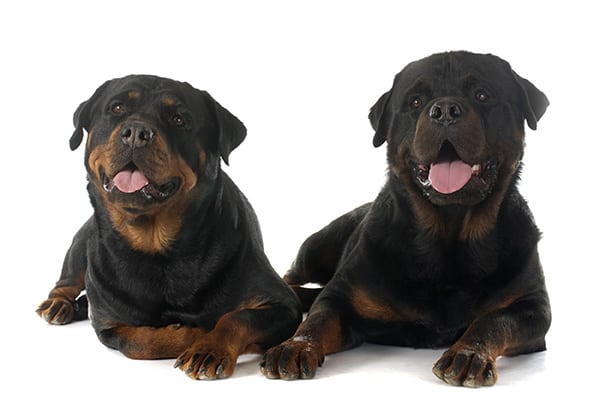 Funny Male Big Dog Names
Brainstorming dog names is always a fun exercise, and our list wouldn't be complete without some humorous ideas for your humongous dog.
For those getting a big dog that's a boy and have a sense of humor, why not consider these charmingly funny ideas? They're clever and cute all at the same time.
Biggie
Monster
Cujo
Beowulf
Paul Bunyon
The Mountain (a large character from Game of Thrones)
The Hound (another Game of Thrones character known for his hulking size)
Danger
Conan
Kahuna
Vader
Hefty
Chubbs
Jabba
Chunk
Chewie – Chewbacca
Genghis
Meatball
Big Mac
Chuck Norris
Moby
Godzilla
Smalley
Shaq
Stallone
Bubba
Bigfoot
Yeti
Here are even more funny dog names.
Funny Female Big Dog Names
If you're ready for more laughs, read on for funny female dog names that are sure to make you laugh out loud. Hearing you call your giant girl pup one of these funny names will without a doubt bring a smile to people's faces.
Babe (as in the Blue Ox)
Cleopatra
Leia
Bertha
Olga
Marge / Large Marge
Teeny (why not play up the size with an ironic name?)
Peanut
Baby
Mama
Nugget
Porky
Pudge
Ursula
Helga
More Big Dog Names
And last but not least is a fun idea: take the translation of large or big in another language and turn it into a big dog name!
It's a unique, fun approach to finding a name that fits your plus-sized pup.
Groot (large in Dutch)
Grand (large in French)
Grande (large in Italian and Spanish)
Bozorg (large or great in Persian)
Ookii (big in Japanese)
More Dog Name Ideas
The name ideas don't stop here. If you're not inspired by any of the names above, try our online generator and find even more options. You can sort by your favorite styles and themes.
Popular categories include:
How Do You Pick The Right Name?
After years of helping people pick the right pet name, here are some tips we've picked up when it comes to selecting a name for your dog:
Does it roll off the tongue? Some names are awesome in theory but tough to pronounce in everyday life.
Say it out loud. Can you imagine loudly calling for your dog with this name? If not, then keep on moving.
Does it fit your dog? As we mentioned above, you might have the perfect name picked out but if it doesn't fit with your dog's personality or appearance, that's a miss.
Trust your gut. When you find the right name, you'll know it!
View Your Saved Names