Red Dog Names for Fiery-Haired Furballs
Last updated:
by Jessi Larson
Red dog names are perfect if you have a pup with a reddish-colored coat. Our list includes 110+ fabulous ideas we think you'll love.
Unlike popular fur colors like black, white, and brown, red is much rarer. Still, a number of breeds are known to sport red fur, including the Viszla, Irish Setter, Dachshund, and several others.
There is just something beautiful about a dog with fiery-red fur. If you're lucky enough to welcome such a dog into your home and are looking for red dog names, you're in store for ideas that are creative, fun, and perfectly fitting.
To start, you could go with a name that plays on the word "Red," like:
Red
Redford
Red Rover
Redina
Or explore the 110+ ideas below.
Red Dog Names Inspired By Shades Of Red
Anyone who has ever colored with Crayola crayons or picked out paint colors at Home Depot knows there are many different shades of reds. And that these colors have pretty unique names.
When looking for red dog names, you could use the names of different shades of red, including:
Amber
Auburn
Brick
Burgundy
Cerise
Cheyenne
Copper
Crimson
Hazel
Maroon
Russet
Rusty
Sandy
Scarlet
Sienna
Red Dog Names Inspired By Famous Redheads
TV, movies, and books are filled with famous fictional redheads. There is also plenty in real life, too.
Check out this list and see if any inspire you:
Ariel (from The Little Mermaid)
Lucille Ball
Pippi Longstocking
Carrot Top
Elmo (the red monster on Sesame Street)
Miss Frizzle (from the Magic School Bus)
Jessica Rabbit (the animated character in Roger Rabbit)
Wilma Flinstone
Pebbles Flinstone
Prince Harry
Anne of Green Gables
Annie (as in Little Orphan Annie)
Carmen Sandiego
Princess Fiona (from Shrek)
Strawberry Shortcake
Molly Ringwald
Merida (from the animated film Brave)
Raggedy Ann and Andy
Daphne (from Scooby Doo)
Conan O'Brien
Pepper Ann
Chuck Norris
Ginger Spice
Dana Scully (from The X-Files)
Kim Possible
Ron Weasley (a character in Harry Potter)
Eric the Red

Red Dog Names Inspired By Flowers
Many of your favorite flowers are either red or come in shades of reds. Admittedly, these work better for female dogs, but if you want to give your dog one of these names, go for it.
Amaryllis
Azalea
Begonia
Calla Lily
Dahlia
Hibiscus
Marigold
Pansy
Peony
Poinsettia
Poppy
Rose
Sweet Pea
Tulip
Verbena
If flowers are your thing, here are even more flower dog names.
Red Dog Names Inspired By Other Red Animals
Dogs aren't the only red animals. In fact, many a number of other animals have red (or orangish-red) coats. See if any of these fit your fancy:
Fox / Foxy
Cardinal
Lobster
Lady Bug
Tiger
Finch
Orangutan
Flamingo (if they have a pink hue)
Clifford (the big red dog)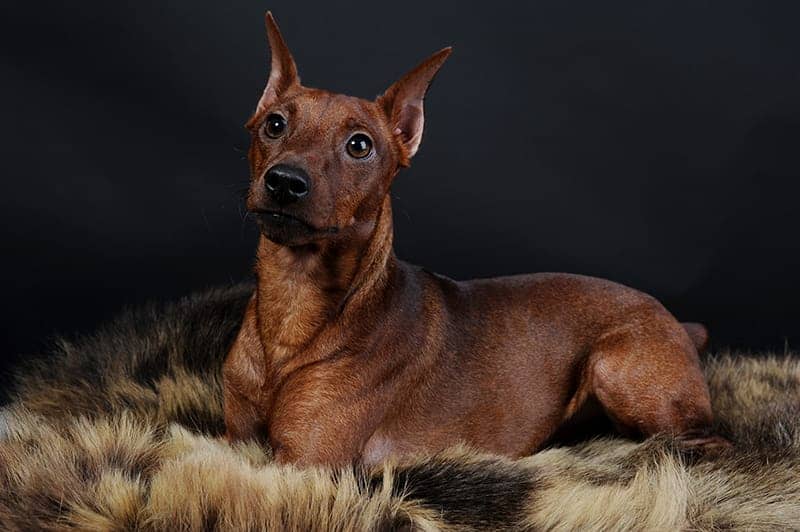 Red Dog Names Inspired By Food
If you go to the grocery store, you'll see plenty of food and beverage items in some shade of red. This provides some pretty unique inspiration for red dog names. The list even includes types of red wine, which is perfect for wine enthusiasts among us.
Red dog names inspired by food and drinks include:
Apple
Beets
Berry
Brandy
Burgundy
Cabernet
Carenne
Cheddar
Cherry
Chestnut
Chili
Cinnamon
Cranberry
Current
Curry
Ginger
Ketchup
Malbec
Mango
Merlot
Paprika
Pepper (as in red pepper)
Pepperoni
Peppermint
Radish
Raspberry
Rhubarb
Saffron
Sangria
Shiraz
Strawberry
Tomato
Twizzler
Zinfandel
Red Dog Names Inspired By Red In Other Languages
Another cool idea is to use the word for red in another language. We think this creates unique red dog names that are hip, cool, and cultural.
Ideas include:
Rojo (Spanish for red)
Rosso (Italian for red)
Aka (Japanese for red)
Hong (Chinese for red)
Rot (German for red)
Dearg (Irish for red)
Czerwony (Polish for red)
Vermelho (Portuguese for red)
Other Red Dog Names
Before we go, here are a few final names to consider:
Ruby – a red-colored gem
Garnet – a deep-red gem
Phoenix – the phoenix is a mythological red creature
Autumn – autumn is full of orange and red leaves
Blaze – a bright red flame
Mars – they don't call Mars the red planet for nothing
Spark / Sparky – as in bright red fire
Valentine – red is a popular color on Valentine's Day
More Dog Name Ideas
Just because you have a red dog doesn't mean you have to give them a name that corresponds with their coat color.
If you're not inspired by any of the names above, try our online generator and find even more ideas. You can sort by your favorite styles and themes. Give it a whirl and see what names you find!
Popular categories include:
Other Ideas For Red Dog Name?
If you have ideas for red dog names, let us know! We love hearing from readers and use your ideas to keep our website fresh.
Watch This Video to Teach Your Dog its Name
View Your Saved Names