White Dog Names – 175+ Awesome Ideas
Published:
Last updated:
by Jessi Larson
If you're looking for a white dog name that perfectly matches your unique pup, you've come to the right place!
Read on for some options that perfectly sum up your dog's beautiful fur color and provide a unique idea for a name.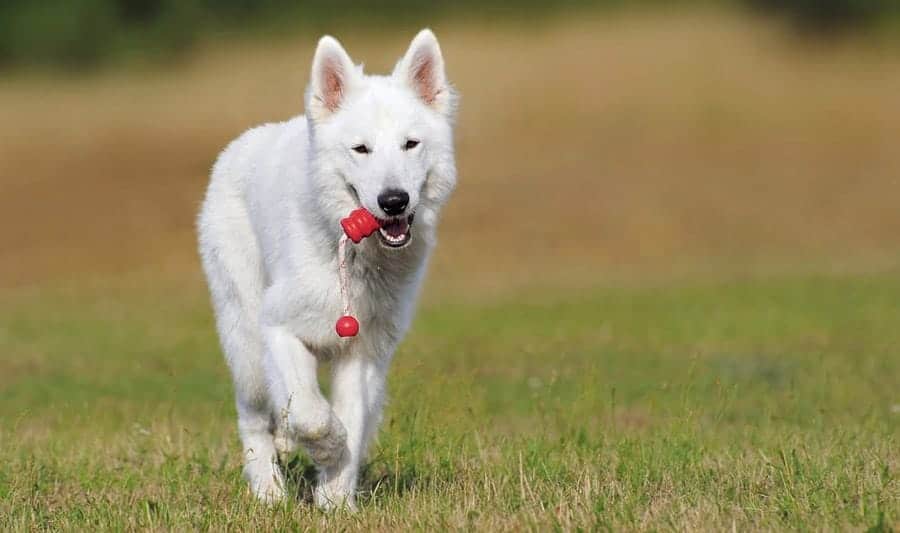 The best white dog names aren't hard to find. So many things – flowers, foods, faith, etc. – can be used for the perfect name. We think we've discovered some pretty sweet options; check them out below.
Best White Dog Names
We gathered a ton of options for names, but these are our absolute favorites.
Aspen – The lovely snowy ski resort town in Colorado.
Bolt – A bolt of lightning or the dog from the Disney film of the same name.
Boo
Casper – The beloved friendly ghost and a sweet name for a pup with a white coat.
Eskimo
Ghost – A spooky specter and the name of Jon Snow's dire wolf in Game of Thrones. Win-win!
Luna – Meaning moon
Pixie
Siberia
Yeti
White Female Dog Names
If you've got a girl pup, these names are perfect for you!
Alba
Blanche
Coral
Crystal
Daisy
Diamond
Duchess
Fairy
Ivory
Jasmine
Lace
Lily
Lux
Opal
Neve
Nova
Paris
Pearl
Peony
Perdita
Persia
Princess
Queen
Star
Yuki
White Male Dog Names
These options are great for male dogs, and for even more, check out our specific lists below!
Bear
Birch
Chilly
Cole
Cringle
Cube
Duke
Finn
Galaxy
King
Mammoth
Milky Way
Olaf
Patches
Phantom
Prince
Sammy
Sirius
Wolf
White Fluffy Dog Names
These names inspired by nature are perfect for your fluffy pup.
Alaska – The state of Alaska gets plenty of snow. This name has a rugged texture, making it an excellent choice for strong, athletic white puppies.
Artemis – Greek goddess of the moon
Blizzard – A great name for white dogs who are large and energetic, just like a blizzard.
Cloud – An earthy name for a dog with white fur.
Comet – A streak flying through the sky.
Everest – Mount Everest is topped with buckets of snow.
Frosty – How cute and spirited is this name?
Glacier – Big mass of ice!
Ice – Another cold-weather name. This is perfect for a husky with icy blue eyes.
January – For cold-weather climates, the month of January is a time where they often get the most snow.
Lunar – A term for the moon, which often has an iridescent white glow.
Misty – When it gets white & hard to see, a pretty sounding name.
Moon – Typically glowing white in the night sky.
Nimbus – Nimbus is a luminous cloud or a halo surrounding a supernatural being or a saint. Both definitions make sense for white dog names!
Polar – Like the North and South Pole or the bear. How perfect would this be for a fluffy white dog who looks like a little polar bear?
Snowball – (or Snowy) An adorable name for a small white puppy.
Winter – Winter is synonymous with snow and makes a beautiful name for dogs.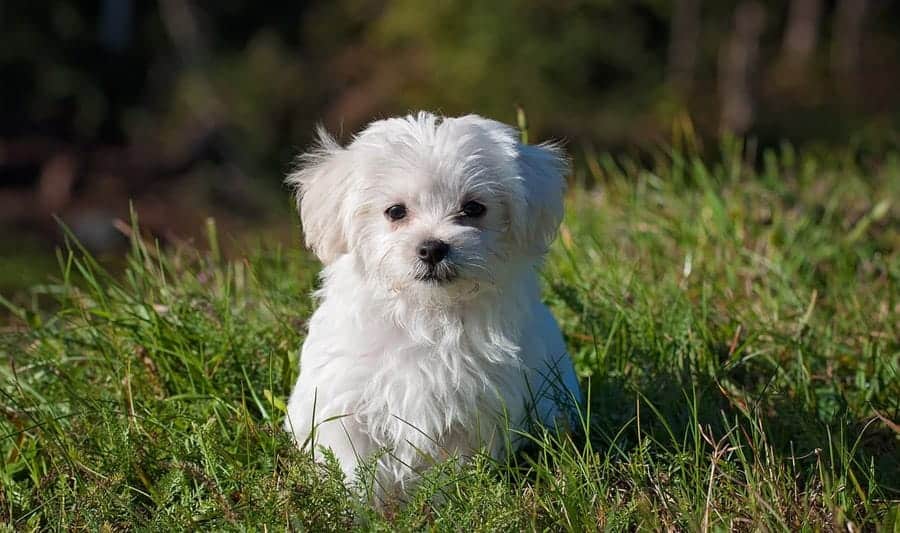 Tough White Dog Names
If you're looking for a tough-sounding name, you'll love these suggestions.
Admiral
Atlas
Avalanche
Bear
Blaze
Bolt
Echo
Denali
Denver
Flash
Freya
Grizzly
Hunter
Huntress
Jaws
Khaleesi
Knight
Koda
Kodiak
Odin
Riggs
Sheba
Starbuck
Thunder
Thor
Tux
Ursa
White Walker
Yukon
Names Based on Faith
Here are some dog name ideas with faith as their inspiration, and for even more, try our biblical dog names list.
Angel – These spiritual beings wear white garb. How heavenly would it be to name your pup Angel?
Dove – Doves are beautiful creatures, just like your dog. This name is simply lovely.
Eve – Or you could go biblical and name your dog Eve.
Faith – A sweet, soft name that implies a purity found in white.
Grace
Halo
Harmony – A gorgeous name that invokes purity, love, and grace.
Heaven – They say you go into a bright white light when you pass and enter the Kingdom of Heaven.
Love – Another thing that is precious and pure.
Funny Names
Here are some punny or otherwise funny suggestions.
Alabaster – The name of this white material also sounds like a fancy dog name.
Al Bino – This white dog name is positively punny.
Betty – Betty White Actress from The Golden Girls
Blondie – General term for lighter hair, or named after the singer.
Bones – Aw, this is so cute and so perfect for a dog.
Charmin – Like the super-soft toilet paper. This cracks us up just thinking about it.
Cotton – Another white fluffy thing!
Crest – Like toothpaste
Domino – A nod to the classic game.
Harvey – Harvey Keitel, aka Mr. White from Reservoir Dogs
Jack – Jack Frost, a character who represents winter.
Powder – A cute white name and nod to the '90s movie of the same name.
Puff – Perfect for a fluffy white dog.
Q-Tip – Yup, we went there, and we love it.
Vanna – Vanna White Hostess of Wheel of Fortune
Whitey – say it like it is and name your dog Whitey.
Cute White Dog Names
Here are some cute options for your pup. You might also enjoy these names from white flowers.
Acadia
Ambrosia
Ash
Astra
Boots
Buffy
Cece
Clara
Coco
Diva
Elsa
Feather
Fifi
Fluffy
Gardenia
Gracie
Izzy
Juno
Kaya
Lucky
Magnolia
Mouse
Nadia
Nikita
Oleander
Panda
Sandy
Sasha
Shasta
Sierra
Skye
Snoopy
Sparkle
Whisper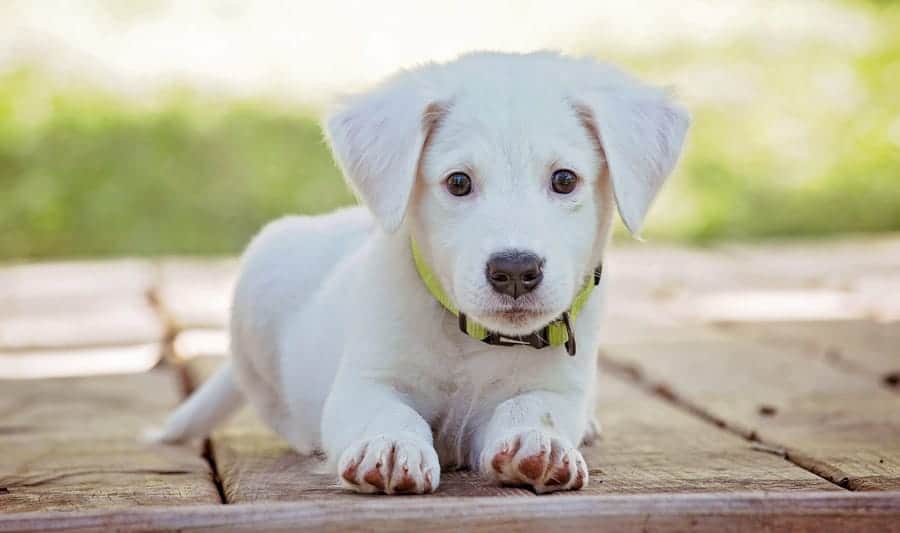 Food & Drinks
There are a whole bunch of white foods that could make a perfect name for your puppy.
Altoid – A white mint
Brie – The fancy, creamy cheese and an elegant-sounding name.
Coconut – The inside of a coconut is a pure white color, just like your dog's fur.
Eggy – Cute and cheeky, Eggy pays tribute to a food staple of many people's diets.
Milky – The perfect way to describe your dog's coloring.
Marshmallow – Marshmallows are fluffy and sweet. It sounds a lot like your pet!
Oreo – Cookie with a white filling
Peppermint – An often white treat
Popcorn – A delicious movie snack
Porkchop – The other white meat
Salt – When it comes to white dog names, this is short and to the point.
Sprite – The light/clear colored soda
Spud – Potatoes, typically whitish, great for a small dog
Sugar – Aw, how sweet and unique is this name?
Tofu – A funny name for a small white dog.
Vanilla – A pretty, sweet name idea.
White in Other Languages
We love the idea of using white in another language as your dog's name.
Anjo (Angel in Portuguese)
Bianco / Bianca (Italian)
Blanco (Spanish)
Wit (Dutch)
Blanc (French)
Weiß (German)
As always, if you have any other ideas, we want to know! Post in the comment section below. You can also find more great dog names with our dog names search!
Teach Your Dog Its Name
View Your Saved Names