Black Dog Names – 505+ Fantastic Ideas for Your Furry Friend
Last updated:
by Jessi Larson
If you're getting a black-colored dog, you've come to the right place. We have 505+ awesome black dog names perfect for a dark puppy.
The Ultimate List of Black Dog Names
Let the list of black dog names begin! As we said before, inspiration is everywhere, and we've drawn ideas from some surprising places.
Check out these fabulous ideas and see if any sound interesting.
Black Dog Names Inspired By Nature and Elements
If you pause and look around, the Earth is full of inspiration for black dog names. The following names are based on nature and other elements and make strong, sophisticated options.
Amaya – Night rain in Japanese
Ash
Asher
Ashton
Blackout
Carbon
Charcoal
Coal
Cole
Cinder
Dusk
Dusky
Dusty
Ebony
Ember
Graphite
Inky
Obsidian
Onyx
Opal
Pearl – Because pearls can also be black
Sable
Shadow
Shady
Slate
Slater
Smokey
Soot
Steel
Stormy
Tarmac
Thunder
Twilight
Food Black Dog Names
Another excellent place for ideas for black dog names is Food and drinks.
Believe it or not, many edible items are black, making for a fun and playful dog name. Check out these food-inspired ideas – one might be right for your furbaby.
Bailey – Bailey's Irish Cream
Bean
Blackberry
Bock – Dark German malty beer
Bosco – Chocolate syrup
Brandy – Dark liquor
Brownie
Caviar – Delicacy consisting of salt-cured roe
Chip
Crisp
Coco
Cookie
Coffee
Cola
Espresso – Italian coffee
Fig
Fudge
Godiva – Chocolate brand
Guinness – Famous dark beer
Hershey – Chocolate brand
Jameson – Whiskey
Java – Coffee
Kahlua – Coffee liqueur
Kona – Coffee bean variety from Hawaii
Latte – Coffee and milk drink
Licorice – The sweet candy can also be black
Mocha – Chocolate espresso
Nori – dark seaweed
Olive
Oreo
Pepper
Pepsi
Porter – Delicious dark beer
Raisin
Snickers
Stout – A variety of dark beer
Black Animals
Dogs aren't the only creatures that can be black. Many other animals sport dark-colored coats.
We love naming your dog after another black member of the animal kingdom and think you will, too.
Bat
Batty
Bear
Crow
Falcon
Jackal
Jaguar
Leopard
Mamba
Panda
Panther
Penguin
Puma
Raven
Seal
Spider
Stallion
Swan
Wolf
Black in Other Languages
If you're looking for a slightly more sophisticated and subtle name, we have an idea: Translate black and similar words to another language.
This creates cool, cultured names that reflect your dog's dark coloring.
Beltza – black in Basque
Buio – dark in Italian
Dunkel – dark in German
Eleʻele – black in Hawaiian
Fekete – black in Hungarian
Kuro – black in Japanese
Madow – black in Somali
Musta – black in Finnish
Nero – black in Italian
Noir – black in French
Pango – black in Maori
Preto – black in Portuguese
Schwarz – black in German
Svart – black in Norwedian
Svartur – black in Icelandic
Tumma – dark in Finnish
Zwart – black in Dutch
Space-Inspired Names
They say space is the final frontier, and it's also a place for black dog names.
The vast expanse has many dark elements that serve as cool dog names. Here are just a few ideas.
Cosmo
Cosmos
Galaxy
Eclipse
Jupiter
Kuiper
Lunar
Mars
Mercury
Meteor
Moon
Nebula
Neptune
Neutron
Quasar
Saturn
Star
Super Nova
Venus
Vortex
Characters Who Wear Black
The black dog names keep coming! So many famous characters in film and television wear all black, and it could be an excellent idea to mine these for inspiration.
As you may recall, these well-known characters and personalities sport an all-black wardrobe similar in color to your canine, which is why they also make great black dog names.
See if any are the right pick for your pup!
Addams – The Addams Family
Batman – D.C. superhero
Beetlejuice – devious poltergeist
Blackbeard – pirate
Beauty – Black Beauty
Black Widow – Marvel superhero
Blade – vampire hunter
Binx – black cat in Hocus Pocus
Bond – James Bond
Cash – Johnny Cash
Cruella – 101 Dalmatians
Darth Vader – Star Wars
Edgar – author Edgar Allen Poe
Elvira – mistress of the dark
Fester – Uncle Fester from The Addams Family
Gomez – Addams Family
Herman – Herman Munster from The Munsters
Ichabod – Ichabod Crane from Legend of Sleepy Hollow
Igor – Young Frankenstein
Jafar – Aladdin
John Wick – action hero
Jules – Pulp Fiction
Knight – Black Knight
Kylo – Star Wars
Lurch – The Addams Family character
Maleficent – Sleeping Beauty
Manson – singer Marilyn Manson
Morpheus – The Matrix
Morticia – the matriarch of The Addams Family
Neo – The Matrix
Ninja
Poe – author Edgar Allen Poe
Pugsley – The Addams Family
Selene – Underworld
Severus Snape – Harry Potter
Storm – X-Men
T'Challa – Black Panther
Tony Montana – Scarface
Toto – Wizard of Oz
Trinity – The Matrix
Vader – Star Wars
Vincent Vega – Pulp Fiction
Voldemort – Harry Potter
Wednesday – The Addams Family
Xena – warrior princess
Zorro – masked vigilante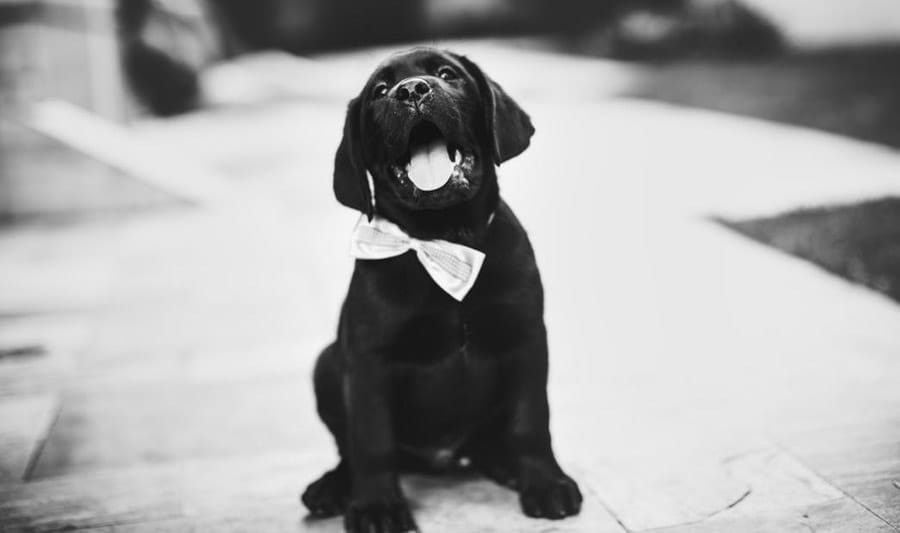 More Great Black Dog Names
The black dog names keep coming! Here are even more awesome ideas for your dark-colored dog.
Agent
Angel
Black Dahlia
Black Jack
Blackie
Boss
Devil
Diesel
Diva
Domino
Elvis
Inky
Jet
Luna
Muddy
Nocturne
Spade
Suede
Tux
Velvet
Whitey
Spooky, Magic & More
We can't create a guide to the best black dog names without including ideas based on magic and mystery.
Beelzebub
Demon
Dracula
Echo
Eerie
Elvira
Enigma
Fang
Goth
Gremlin
Halloween
Hex
Jinx
Killa
Lucifer
Magic
Merlin
Midnight
Moon
Mystery
Mystique
Omen
Phantom
Reaper
Rorschach
Salem
Satan
Sorcerer
Sorceress
Spider
Spirit
Spooky
Tarot
Thunder
Trick
Trickster
Trixie
Twilight
Vampire
Villain
Vixen
Voodoo
Warlock
Witch
Wolf
Zombie
These names are positively spooky and fun. Try out our Halloween dog names and witchy dog names for even more names like this.
Tough Black Dog Names
Black is a strong, robust color, so looking at tough dog names is another option. This is especially fitting if your dog is large or muscular.
Strong Male Dog Names
Alpha
Odin
Boomer
Diesel
Hunter
T-Bone
Trooper
Blackjack
Bandit
Prometheus
Vinnie
Ghost
Titan
Surge
Butch
Brando
Moose
Bruno
Killer
Sumo
Vice
Spike
Ace
Mack
Crash
Blade
Yukon
Tyson
Scorpio
Fury
Blaze
Maverick
Ares
Nitro
Samson
Yeti
Thor
Reaper
Rocky
Raider
Grudge
King
Chief
Hercules
Spartacus
Brutus
Bane
Magnum
Dozer
Jumbo
Caesar
Vader
Tank
Macho
Denali
Rambo
Avalanche
Panic
Duke
Fang
Zeus
Bruiser
Gage
Hulk
Rex
Strong Female Dog Names
Sheba
Midnight
Gypsy
Amazon
Queenie
Jezebel
Scrappy
Khaleesi
Brawny
Huntress
Diva
Rogue
Jericho
Layla
Attila
Beastie
Athena
Taboo
Artemis
Vixen
Kodiak
Dahlia
Alpha
Indy
Elektra
Onyx
Tiger
Liberty
Jinx
Medusa
Justice
Cinder
Kahuna
Katniss
Nyx
Harley
Raven
Nova
Mystique
Hera
Alaska
Vega
Baroness
Foxy
Echo
Black and White Dog Names
Your dog may not be completely black. Many black dogs include spots of other colors, most frequently white. If your dog has a dual-colored coat, these are an excellent option.
Dice
Ying Yang
Soccer
Snoopy
Spade
Banksy
Charlie Chaplin
Skunky
Cookie
Panda
Peppermint Patty
Domino
Shamu
Chess
Oreo
Pepe Le Pew
Tuxedo
Jeeves
Pongo
Puffin
Tux
Perdita
Checkers
Whaley
Monk
Check out more names for black and white dogs.
Patterned Dog Names
As noted before, not all black dogs are entirely black. In addition, some coats include other colors arranged in interesting patterns. For these dogs, a cool name inspired by fur patterns could fit your furball.
Patches
Brindi
Pixel
Blot
Sprinkles
Pollock – artist Jackson Pollock
Spot
Blotch
Harley
Dot
Twix
Speckles
Merle
Oriole
Chevron
Dos – two in Spanish for dogs with dual-colored coats
Tortie – tortoiseshell pattern
Rainbow
Marble
Freckles
Camo
Turtle
Tres – three in Spanish
Tre – three in Italian for the number of colors in a tri-color coat
Kaleidoscope
Pebbles
Dottie
Monarch
Harlow
Jackson – artist Jackson Pollock
Sundae
Puzzle
Harlequin
Smudge
Mosaic
Speck
Stripes
Checkers
50 Most Popular Dog Names
The names listed above are tailored to a black dog's coloring. You may, however, find you want to look at more dog names that could fit any four-legged friend.
Another place for inspiration: The most popular names for female and male dogs. These represent the top names as determined by our millions of readers.
Top Male Dog Names
Buddy
Charlie
Milo
Bear
Axel
Duke
Max
Rocky
Cooper
Asher
Finn
Diesel
Leo
Thor
Chewie
Bruno
Scout
Alfie
Blue
Hunter
Archie
Apollo
King
Rex
Blaze
Lucky
Echo
Gizmo
Barkley
Shadow
Gunner
Bailey
Percy
Brutus
Bolt
Spike
Arlo
Tank
Yoshi
Fang
Biscuit
Bane
Maverick
Odie
Spud
Rambo
A.J.
Oliver
Atlas
Alaska
Top Female Dog Names
Daisy
Luna
Lola
Bella
Roxy
Olive
Gigi
Willow
Dixie
Nala
Poppy
Abby (Abigail)
Hazel
Piper
Harper
Gracie
Lucy
Violet
Athena
Koda
Angel
Lady
Honey
Coco (Cocoa)
Ava
Raven
Addie
Bailey
Harley
Fifi
Aurora
Xena
Nyx
Aspen
Ellie
Millie
Sadie
Cookie
Pearl
Stella
Yuki
Rose (Rosie)
A.J.
Mia
Pepper
Princess
Winnie
Bambi
Maggie
Akira
Final Thoughts: Black Dog Names
Hopefully, this list of cool black dog names provides you with the perfect moniker for your pup.
At the very least, you'll have solid inspiration to start your dog name search.
And don't forget, if you have more ideas, we'd love to hear them—comment below with any thoughts or feedback you may have.
More Dog Name Ideas
If you'd like to explore more ideas, you can find additional options using our name generator.
Just enter your favorite styles and themes, and it will generate ideas tailored just for you and your dog.
Give it a try and see what you think. Your perfect name is waiting.
How Do You Pick the Right Name?
After you've rounded up dozens of names you like, how do you narrow it down to just one?
Here are a few tips to help you make a final decision.
Once you have a list of ideas, remove any options you don't absolutely love. Don't hesitate. Just remove it.
Check to see if it's easy to pronounce. The name might look good on paper, but that doesn't mean it's easy to say, day in and day out.
Along those lines, figure out if you feel comfortable calling for your dog with this name. Remember that you'll sometimes have to shout your dog's name.
Determine if it's right for your dog. Does it match their physical appearance? How about their personality and demeanor?
Make sure everyone in your household agrees on the name. Get their buy-in.
These fool-proof steps will help you narrow down the list in no time.
Black Dog Adoption
Last but certainly not least, we commend you for picking a black dog. For some odd reason, many shelters report having more difficulty finding homes for black dogs, possibly because their features are tougher to see in photographs. (Read more about this adoption issue.)
So not only do you have a wonderful, beautiful dog, but you're also supporting an important cause in the pet world.
Hopefully, you found the right dog name, and we wish you many years of happiness with your new four-legged friend.
View Your Saved Names