Black and White Dog Names – 201+ Ideas For Your Pup
Published:
Last updated:
by Jessi Larson
If you're looking for black and white dog names, you've come to the right place. Our guide has 201+ awesome ideas for a dual-colored dog.
You'll find all the inspiration you need to give your dog a name that perfectly fits its appearance.
Ideas can be found everywhere, from objects to animals to cartoons and so much more.
But don't worry, we did the work for you. So sit back and enjoy this ultimate naming guide.
Top Black and White Dog Names
Let's start by exploring cool black and white dog names that are perfect for a new furry friend.
They're inspired by people, objects, food, symbols, and words that are black and white – just like your dog.
Domino
Checkers
Oreo
Keys
Tuxedo – or Tux for short
Butler
Jeeves – fictional butler
Spade
Ace
Chess
Dice
Cruella – Cruella De Vil from 101 Dalmatians
Charlie Chaplin – black and white film star
Elvis
Cookie
Monk
Soccer
Groucho – classic film/TV star Groucho Marx
Jasper – black and white gemstone
Sundae
Inky
Almond Joy
Klondike
Coco – fashion designer Coco Chanel
Chanel – fashion designer Coco Chanel
Rorschach – inkblot test
Whoopie – for Whoopie Pie
Newsie – for newspapers
Mint
Ying Yang
Banksy – street artist
Peppermint Patty
Pepper Saltzman
Dos – two in Spanish for dual-colored coat
Deux – two in French
Zwei – two in German
Cupcake
Black and White Dog Names – Animated Characters
Many black and white characters appear in cartoons, and this serves as inspiration when naming your dog.
You'll undoubtedly recognize many of the names on this list and may even be a big fan of a few of them.
Snoopy – beagle in Peanuts
Droopy – classic cartoon basset hound
Mickey – Disney's Mickey Mouse
Minnie – Disney's Minnie Mouse
Sylvester – Sylvester the Cat from Looney Toons
Pepe Le Pew – Looney Toons skunk
Felix – Felix the Cat
Betty Boop – classic cartoon character
Pongo – dog dad on 101 Dalmatians
Perdita – dog mom on 101 Dalmatians
Lucky – 101 Dalmatians puppy
Rolly – 101 Dalmatians puppy
Penny – 101 Dalmatians puppy
Pepper – 101 Dalmatians puppy
Goofy – anthropomorphic Disney dog
Max – Goofy's son
Pete – Disney villain
Figaro – cat in Pinocchio
Ursula – The Little Mermaid villain
Clarabelle – Disney cow
Horace – Disney horse
Maleficent – Sleeping Beauty villain
Jack – Jack Skellington from The Nightmare Before Christmas
Meeko – raccoon in Pocahontas
Flower – skunk in Bambi
Blitzle – Pokemon character
Pancham – Pokemon character
And for even more ideas check out this list of cartoon dog names.
Black and White Animals
Dogs aren't the only members of the animal kingdom that can be black and white. There are many other creatures with this coloring, and you could use this for naming your pup.
Check out these names and see if any would work for your new dog.
Panda
Skunk – or Skunky
Penguin – or Pen for short
Puffin
Zebra – or Zeb for short
Orca
Whale – or Whaley
Shamu – killer whale
Bear
Bunny
Holstein – cow
Badger
Osprey
Tapir
Lemur
Magpie
Raccoon
Cricket
Leopard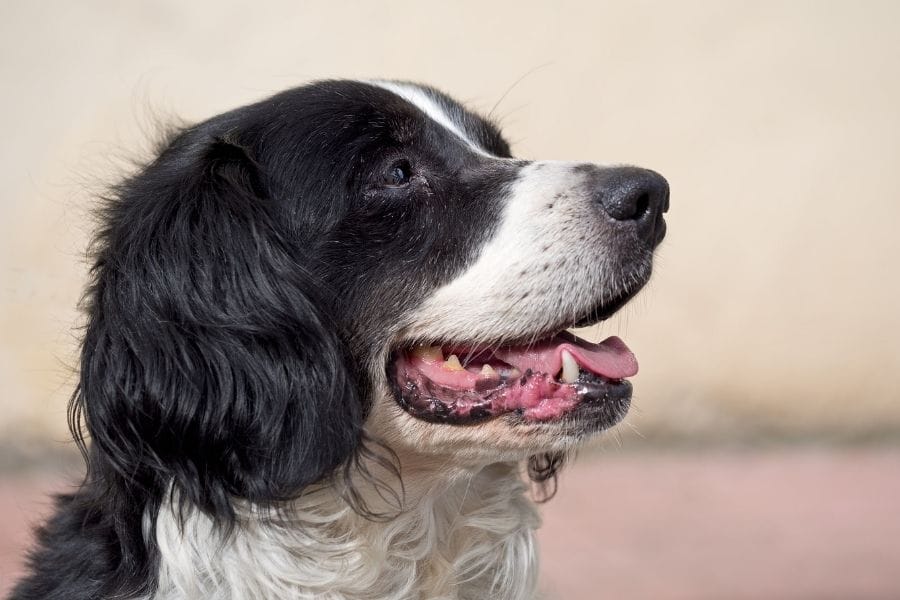 Black and White Patterns
No two coats are alike when it comes to black and white dogs. Their fur can be striped, spotted, speckled, and so much more.
Why not use your dog's coat pattern when picking out a name?
Take a good look at their fur and see if any of the words below could serve as a moniker for your dog.
Blot
Blotch
Camo
Chevron
Dot
Dottie
Freckles
Gingham
Harlequin
Harley
Jackson – artist Jackson Pollock
Kaleidoscope
Marble
Merle
Mosaic
Patches
Pebbles
Piebald – or Pie for short
Pixel
Pollock – artist Jackson Pollock
Puzzle
Ripple
Smudge
Speck
Speckles
Spot
Sprinkles
Stripes
Zig Zag
Famous Black and White Dogs
Many black and white dogs have appeared in movies, TV shows, social media, and even once lived in the White House.
These famous dogs represent the dual-colored coat of your canine and provide excellent inspiration for black and white dog names.
Bo – President Obama's Portuguese Water Dog
Fly – Border Collie in Babe
Petey – Little Rascals pup
Nana – Pup in Snow Dogs
Old Jack – Husky in Eight Below
Loki – social media star
Spooky Names
When you think about it, black and white can be quite the spooky combination.
Many TV shows, movies, and books feature black and white characters that are scary and spooky.
Try these names on for size – if you dare! And also check out our Halloween dog names list for even more ideas.
Dracula – famous vampire
Elvira – mistress of the dark
Frankenstein – novel by English author Mary Shelley
Herman – Herman Munster from The Munsters
Hitchcock – suspenseful filmmaker Albert Hitchcock
Igor – character in Young Frankenstein
Jekyll – the Strange Case of Dr. Jekyll and Mr. Hyde
Edgar – author Edgar Allen Poe
Poe – author Edgar Allen Poe
Craven – horror filmaker Wes Craven
Snape – Severus Snape in Harry Potter
Voldemort – Lord Voldemort in Harry Potter
Addams – The Addams Family
Gomez – Gomez Addams from The Addams Family
Morticia – matriarch of The Addams Family
Wednesday – The Addams Family daughter
Pugsley – The Addams Family son
Lurch – The Addams Family character
Fester – Uncle Fester from The Addams Family
Beetlejuice – devious poltergeist
Black Dog Names
Some black and white dogs have a little more black coloring. If this is the case, you could go with one of these black dog names for your pup.
Or perhaps you want to play up the darker coloring on their coat, and one of these names is the right fit.
Ash
Black Jack
Cinder
Coal
Crow
Ebony
Ember
Enigma
Espresso
Jet
Midnight
Mystery
Nero – black in Italian
Noir – black in French
Olive
Onyx
Pepper
Preta/Preto – black in Portuguese
Raven
Shade
Shadow
Shady
Smokey
Stormy
Tarmac
Thunder
Zorro
Discover more black dog names.
White Dog Names
On the flip side, some dogs may have much more white fur in their coat. So these white dog names could be a good option in this situation.
Alabaster
Al Bino
Bianco/Bianca – white in Italian
Blizzard
Bones
Boo
Casper
Cotton
Crystal
Dove
Frosty
Gardenia
Ghost
Ice
Ivory
January
Marshmallow
Pearl
Polar
Powder
Snowball
Snowy
Sugar
Winter
Discover more white dog names.
Other Great Black and White Dog Names
To close out our guide, here are more options that might be right for your precious pooch.
Magic
Boots
Luna
Bessie
Mittens
Grayscale
Barcode
Rebel
Galaxy
Echo
Midnight
Alpha
Vadar
Junior Mint
Jinx
Mystique
Greta Garbo
Nyx
Vega
Voodo
Motley
Moo
Retro
Tiger
Yin Yang
Final Thoughts
Choosing the right name for your dog is a big decision. You'll want something easy to say, fits your pup, and will stand the test of time.
Dog names based on their coloring are always a good choice. After all, it will perfectly fit their appearance and serve as a moniker made especially for them.
With over 200 ideas on this list, we're confident you'll find at least a few that could work for your four-legged friend.
Jot down any ideas you like and then narrow it down from there. Then, when you find just the right name, you'll know!
More Dog Name Ideas
After looking through this guide, you may find that you'd prefer a "regular" name that works for any dog.
Don't worry; we have plenty of other ideas!
To start, try our dog name generator and discover even more options. Then, you can sort by your favorite styles and themes to find the perfect name for your pup.
Or perhaps you like names that are cute, funny, or tough. We've got those, too!
Another great place for inspiration is our top dog names. It has the 50 most popular male and female names as determined by our readers.
Our site helps millions of new dog owners each year and offers thousands of unique ideas. We know you'll find the name for your dog on our site.
How Do You Pick the Right Name?
You've gathered up loads of inspiration – but now what?
How do you pick just the right one?
That's a question all new dog parents ask, and these quick tips will help.
Is it easy to say? The best dog names should be short and easy to say. Some names are great in theory but tough to pronounce in everyday life.
Say it out loud. Does it roll off your tongue? Is it easy to say when you call for your dog?
Does it fit your pup? First, does it fit their appearance? And second, does it fit their personality? You want a name that's just right for your individual animal.
And finally, trust your gut. You'll know deep down when you find the right own.
Want to learn more about how to teach a dog their name? We have a helpful guide that makes it easy.
Black & White Breeds
Not all dog breeds come in black and white. The coloring is specific to only certain types of dogs.
These coats are common in the following breeds. And for some, their fur is exclusively comprised of these two colors.
Siberian Husky
Great Dane
Dalmatian
Border Collie
Boston Terrier
Newfoundland
Portuguese Water Dog
Japanese Chin
American Staffordshire Terrier
Akita
Old English Sheepdog
Tibetan Terrier
Italian Greyhound
Alaskan Malamute
Smooth Fox Terrier
French Bulldog
Also, don't forget about mixed dog breeds. Many dogs that are a mix of several different species boast gorgeous black and white coats.
Learn more about black and white dog breeds.
Other Ideas?
Are we missing any ideas? Let us know in the comments below if there are any cool names we should add to the list.
And if you do select a black and white name for your pup, share that too. We want to hear about your puppy and how you picked that name. Tell us about their breed (if you know), their personality, and how they came into your life.
View Your Saved Names