Bernese Mountain Dog Names – 440+ Amazing Ideas!
Published:
Last updated:
by Jessi Larson
The Bernese Mountain Dog is quickly rising in popularity. If you're lucky enough to bring home one of these dogs, here are 440+ Bernese Mountain Dog names perfect for this gentle giant.
The breed – affectionately called a Berner to many – is a good-natured, hard-working and loyal animal.
It hails from Switzerland where it was utilized as a farm working dog for generations. On average, the breed weighs anywhere from 75-115 pounds, proving it's quite the strong and sturdy dog.
Combining beauty, brawn and brains, the Bernese Mountain Dog makes for a wonderful pet in a large package.
Our collection of Bernese Mountain Dog names includes ideas inspired by size, color, history and so much more!
Bernese Mountain Dog Names Inspired By Size
The Berner is considered a large to extra large dog, so it makes sense that we start our list of Bernese Mountain dog names with ideas based on their sizable stature.
These names are fun, strong ideas fitting for a furbaby that's large and lovable.
Attila
Bear
Beethoven
Brawny
Bull
Burly
Clifford – as in the Big Red Dog
Colossus
Everest
Giant
Goliath
Hercules
Hulk
Jumbo
Kong
Mammoth
Marmaduke – the lovable Great Dane cartoon character
Maximus
Moose
Rambo
Rebel
Rex
Rocky
Sable
Sarge
Shamu – as in the huge whale at SeaWorld
Shrek
Squat
Storm
Sumo
Tank
Tex – or Texas
Thor
Whale – or Whaley
Whopper
Wolf
Zeus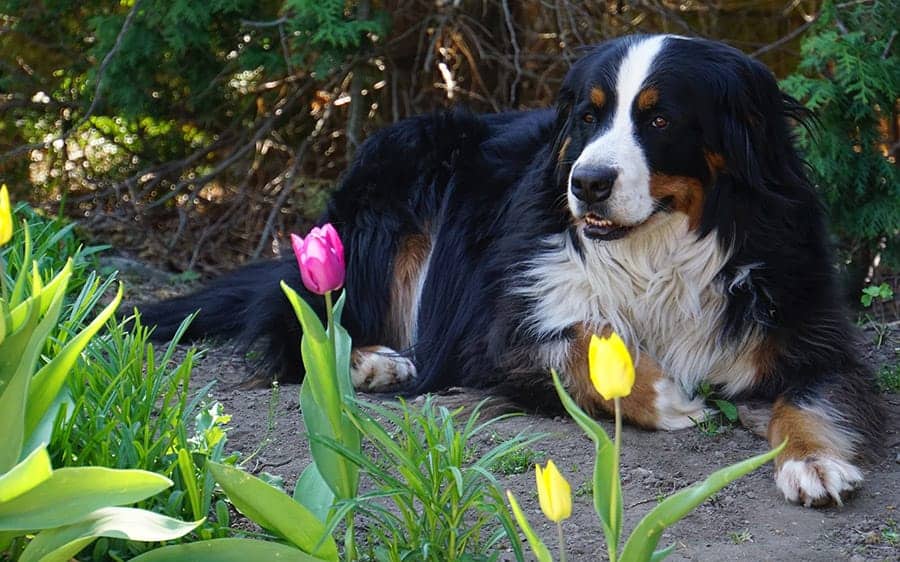 Strong Male Bernese Mountain Dog Names
With a proud history as a working dog, the Berner is considered a strong, capable canine bred to work hard and withstand the elements.
Because of this, a strong dog name is often fitting for this tough breed. If you're bringing home a boy pup, here are strong male Bernese Mountain Dog names you just might like.
Avalanche
Bandit
Bane
Blaze
Brando
Bruiser
Brutus
Butch
Caesar
Chief
Crash
Denali
Diesel
Duke
Fang
Ghost
Hunter
King
Macho
Mack
Magnum
Maverick
Spartacus
Spike
T-Bone
Titan
Trooper
Tyson
Vinnie
Yukon
Get more tough dog names.
Strong Female Bernese Mountain Dog Names
And if you like the idea of strong dog names and are getting a female pup, here are tough and tenacious ideas that are great for a brawny breed like the Bernese Mountain Dog.
Alaska
Amazon
Athena
Baroness
Beastie
Cinder
Diva
Echo
Elektra
Harley
Hera
Huntress
Jinx
Justice
Katniss – the heroine of Hunger Games
Kodiak
Liberty
Medusa
Midnight
Mystique
Nyx
Onyx
Raven
Rogue
Rousey – as in Ronda Rousey
Sheba
Tiger
Vixen
Xena
Get more tough dog names.
Bernese Mountain Dog Names Inspired by Color
The Bernese Mountain Dog is blessed with thick, silky fur that stands out for its unique coloring. Their beautiful tri-color coat is dark black with white and rust brown markings.
This provides excellent inspiration for Bernese Mountain dog names, as you'll see below.
Tri-Color Dog Names
To start, these tri-color names play up the fact that a Berner's coat is made up of three distinct colors, a very unique attribute.
Harlequin
Monarch
Oriole
Patches
Rainbow
Sundae
Tre – three in Italian for the number of colors in a tri-color coat
Tres – three in Spanish
Turtle
Twix
Black Dog Names
The most prominent color on this pup's coat is jet black, so you could also find a name that focused on this part of their fur. We've got plenty of ideas below.
Ash
Asher
Cinder
Coal
Espresso
Kona
Midnight
Noir
Nyx
Olive
Oreo
Pepper
Raven
Shady
Slate
Smokey
Snickers
Zorro
Get more names for a black dog.
Brown/Tan/Rust Dog Names
Or you could hone in on the brownish hue that decorates their coat. It can range from a reddish rust to more of a tan coloring.
Here are cool ideas inspired by this element of their appearance.
Autumn
Bambi
Bean
Bear
Braun – brown in German
Brownie
Brun – brown in Swedish
Charlie Brown
Chestnut
Chip – like chocolate chip
Cocoa
Copper
Fawn
Guinness
Godiva
Hershey
Java
Kahlua
Marron – brown in French
Mocha
Moose
Peanut Butter
Penny
Pumpernickel
Rose
Ruby
Rusty
Sandy
Tanner
Teddy
Get more brown name ideas like this.
Funny Male Names for Bernese Mountain Dogs
When naming your dog, sometimes it's fun to go off the beaten path and pick a clever, funny name you likely won't hear anywhere else.
And since the Berner is large in size and extra strong, this lends itself to plenty of funny names that play up their hulking stature.
If you're bringing home a male Berner, here are funny Bernese Mountain Dog names to consider.
Beowulf
Big Mac
Bigfoot
Biggie
Bubba
Chewie – short for Chewbacca
Chubbs
Chuck Norris
Chunk
Conan
Cujo
Danger
Genghis
Godzilla
Hefty
Jabba
Kahuna
Meatball
Moby
Monster
Paul Bunyon
Shaq
Smalley
Stallone
The Hound – a Game of Thrones character known for his hulking size
The Mountain – another large character from Game of Thrones
Vader
Yeti
Get more male funny dog names.
Funny Female Names for Bernese Mountain Dogs
There are also plenty of funny Bernese Mountain Dog names for the female Berners as well.
Giving your pup a hilarious dog name is just plain fun. Every time you call their name, you'll get a smile on your face, and it's sure to delight others as well.
Babe – as in the Blue Ox
Baby
Bertha
Brunhilda
Cleopatra
Helga
Leia
Mama
Marge – or Large Marge
Mini – or Minnie
Nugget
Olga
Peanut
Porky
Pudge
Tankerbell – a fun play on Tinkerbell
Teeny
Ursula
Xena
Get more funny female dog names.
Other Cool Bernese Mountain Dog Names
Our list of Bernese Mountain dog names isn't over yet. We've got even more creative ideas that are unique to this gentle giant with a heart of gold.
Bernese – If you step back and think about it, Bernese is actually a pretty cool dog name.
Bern – Or you could go with Bern for short.
Berner – The Bernese Mountain Dog is affectionately nicknamed Berner so you could also pick this. (The official German name for the breed is Berner Sennenhund.)
Zurich – The largest city in Switzerland, home country of the Berner, also makes a cool name.
Geneva – Another large Swiss city, Geneva is a beautiful choice for Bernese Mountain Dog names.
Lucerne – As does Lucerne, after the popular city in the center of Switzerland.
Dog Names Inspired by Swiss Languages
Switzerland has four national languages: German, French, Italian and Romansh.
Of those, German is by far the most popular with 63 percent of citizens speaking the language in 2015. French is second with 22.7 percent.
As another option for Bernese Mountain Dog names, we're including ideas inspired by the top traditional names in these languages.
Traditional German Names
With German being the most popular language in the breed's home country, let's look at fun names that are distinctly German.
They make for unique Bernese Mountain dog names you likely won't find at the dog park.
Male German Names
Dieter
Dirk
Fritz
Hans
Klaus
Otto
Siegfried
Wolfgang
Female German Names
Britta
Brunhilde
Frieda
Fritzi
Hilda
Leona
Liesel
Marta
Mischa
Explore more German dog names.
Traditional French Names
And we can't forget about the French language. There are so many gorgeous options that are fitting for a furbaby as regal as the Bernese Mountain Dog.
Male German Names
Arnaud
François
Frédéric
Gaston
Jacques
Matthieu
Maurice
Rafale
Theo
Female German Names
Agnès
Amélie
Babette
Delphine
Gigi
Marcelle
Pénélope
Sylvie
Explore more French dog names.
Popular Dog Names Perfect for a Berner
The names above are curated specifically for the Bernese Mountain Dog and draw upon the breed's size, strength, coloring, and origin.
If you're looking for more general names, however, a great place to look is our list of the most popular dog names, as determined by our millions of users.
Top Male Dog Names
The following names are the top 50 most popular male dog names of the year. Our readers love these names, and we think you will, too!
Bear
Milo
Charlie
Archie
Oreo
Bailey
Blue
Tiger
Duke
Teddy
Axel
Biscuit
Buddy
A.J.
Alfie
Coco (Cocoa)
Diesel
Benji
Caesar (Ceasar)
Chewie
Bacon
Bandit
Barkley
Archer
Atlas
Arlo
Max
Scout
Bruno
Barney
Rocky
Finn
Pluto
Bingo
Blaze
Banjo
Boomer
Thor
Toto
Brownie
Waffles
Ace
Augie (Augie Doggy)
Jasper
Copper
Gizmo
Yoshi
Tank
Argos
Ziggy
Top Female Dog names
Our users determined that these were the best female dog names, and it's not hard to tell why. They're pretty, sweet, and sophisticated names perfect for a pup like the Bernese Mountain Dog.
Bella
Daisy
Luna
Willow
Roxy
Bailey
Lola
Harper
Rosie
Nala
Abby (Abigail)
Coco (Cocoa)
A.J.
Bambi
Addie
Sadie
Ava
Bell (Belle)
Gracie
Addison
Piper
Dixie
Biscuit
Hazel
Angel
Zoe (Zoey)
Cookie
Honey
Ellie
Winnie
Lucy
Blue (Blu)
Millie
Oreo
Maisie (Maisy)
Poppy
Cleo
Buttercup
Alice
Kiki
Lady
Olive
Penny
Mia
Amber
Pixie
Pippa
Lily (Lilly)
Violet
Paris
More Dog Name Ideas
The dog name ideas don't stop here. If you're not inspired by any of the names above, try our online generator and find even more options.
You can enter in the styles of names you like or themes based on things you enjoy, like movies, TV, history, music, food, sports, and more, and it'll generate names that are perfectly suited to you and your pooch.
Or you can also explore popular categories and see if any are a fit for your new bundle of fur. These include:
How Do You Pick The Right Name?
How do you know if you've picked the right name for your dog? That's a question all new dog parents ask.
After years of helping new pup parents, here are some tips we've picked up when it comes to selecting a name for your dog:
Is it easy to say? Some names are great in theory but tough to pronounce in everyday life. Before you lock in on a name, make sure it rolls off the tongue.
Say it out loud. Can you imagine loudly calling for your dog with this name? If not, then it's not the right name and you should move on.
Does it fit your dog? Check to see if the name matches your dog's personality and appearance. This is important for both you and your pup.
And finally, trust your gut. When you find the right name, you'll know it!
5 Easy Steps to Teach a Dog Their Name
Once you have a name, how do you teach it to your dog?
All pup parents go through this scenario. They've picked out a perfect name and can't wait to start using it for their dog.
The only problem is their dog doesn't recognize it yet.
If you're in this situation, don't fret. Teaching your dog their name is a lot easier than you think.
Here are five easy steps to take to teach your dog their name.
Get some small treats and put your dog on a leash in a location without any distractions.
Say your puppy's name in a clear, happy, excited voice.
As soon as they look at you, say "yes" and give them a treat.
Wait until they look away and then repeat the process 3-5 times.
Play this name game several times a day and soon they'll know and love responding to their name!
Want to learn more about how to teach a dog their name? We have an awesome guide that makes it easy
View Your Saved Names