Beautiful French Dog Names – 211+ Fantastic Name Ideas
Published:
Last updated:
by Jessi Larson
French dog names have a beautiful, sophisticated vibe about them.
If you're looking for a romantic and exotic name for your new pup, you should definitely consider these options! Why?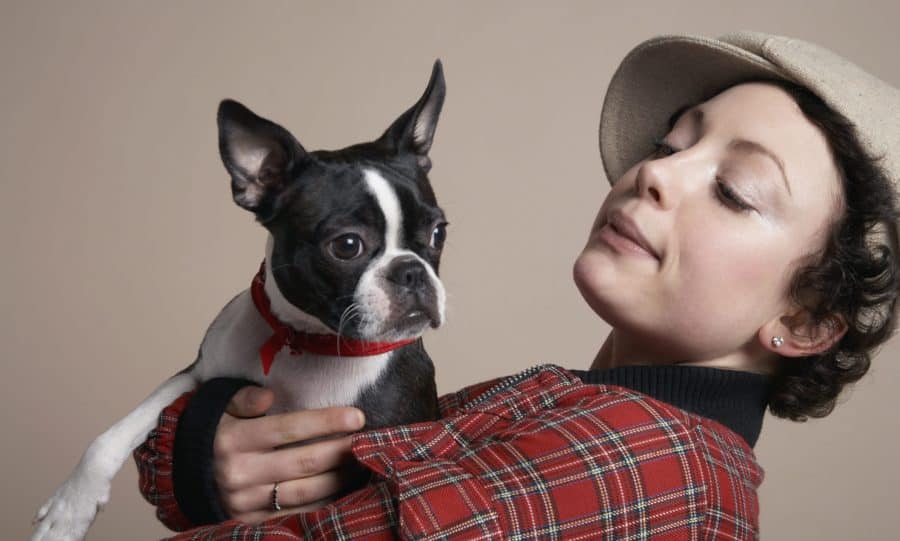 French dog names are sweet and stylish, chic and classy.
Guaranteed, you most likely won't find someone else with the same name for their dog. (And if you do, that's awesome, because it means someone else has fabulous taste in dog names, too.)
Here are some ideas.
Male French Dog Names
Adrien – dark
Alexandre
Alfred
Alphonse
Amaury
Andre – manly
Antoine – priceless
Archibald
Armand – soldier
Arnaud – powerful eagle
Aubin – white
Beau – handsome
Beauregard
Bruno
Casanova
Cezanne
Charles
Christophe
Damien
Danton – praiseworthy
Devereaux – riverbank
Dominoe
Édouard
Émile – industrious
Enzo – conquering
Étienne
Fabien
Felix – lucky
François – French
Franck
Frédéric
Garcon – boy
Gaston
Gérard – brave with a spear
Gilles
Grégoire
Guillaume
Guismo
Gustave
Guy – fighter, guide
Henri
Hugo
Jacques
Jean
Julien – youthful
Laurent
Léon – brave as a lion
Louis
Luc – light
Lucien – bringer of light
Marc
Marcel
Matthieu
Maurice
Marceau – warlike
Merle
Milou
Noel – Christmas
Noir – black
Odie
Oliver
Pascal
Philippe
Pierre
Rafale
Raoul
Rémy
René – reborn
Reynard – strong counselor
Saville
Sebastien
Serge
Severin – severe
Stephane
Theodore
Theo
Toulouse
Tristan – bold or sad
Ulysse
Yves
Female French Dog Names
Adelaide
Adele – noble
Adrienne
Adieu
Agathe
Agnès
Aimée – friend, beloved
Alair – cheerful
Amélie
Anaïs
Anastasie
Angeline
Antoinette
Audrey
Aurélie
Babette
Babou
Bearnaise
Bebe – baby
Bella
Belle – beautiful
Bernadette
Bijou – jewel
Blanche – white
Bonbon – candy
Brie – cheese!
Brigitte – strong
Caroline
Cécile
Céline – moon
Chantal – song
Chanel – fashion brand
Cherie – dear beloved
Coco
Coquette – flirt
Corinne
Delphine – dolphin
Desireé – desired
Dominique – belonging to the lord
Éclair – pastry
Edith
Élise
Elle – she
Élodie
Eloise
Émilie
Esmé – esteemed
Fantine – childlike
Felicite – lucky
Fifi
Fleur – flower
Frédérique
Gabrielle
Geneviève
Gigi
Giselle
Hélène
Heloise
Isabel
Jacqueline
Jeanette
Jolie – pretty
Joséphine
Josette
Juliette
Lili
Lilo
Lisette
Lulu
Louise
Lyonette – little lion
Madeleine
Marcelle – warlike
Margaux
Marguerite
Marie
Mathilde
Mignon – dainty
Monaco
Monique
Nana
Nicolette
Odette – melodic
Papillon – butterfly
Parfait – perfect
Paris
Patrice
Paulette
Pénélope
Philippine
Renée
Rochelle
Sabine
Simone
Soleil – sun
Sophie
Suzanne
Sylvie – forest
Thérèse
Valentine
Valérie
Violette
Vivienne – lively
Yvette
French Dog Names Based on Locations and Landmarks
France is one of the most popular tourist destinations in the world, so you can't have a list of French dog names without mentioning famous locations and landmarks.
Paris – The capital and most populous city of France, Paris makes a gorgeous dog name.
Marseille – Located on France's south coast, Marseille is the country's second largest city after Paris.
Lyon – Lyon is a populous city in east-central France.
Toulouse – Located on the banks of the River Garonne, Toulouse is the fourth-largest city in France.
Normandy – One of the regions of France, Normandy is perhaps best known internationally for the Invasion of Normandy in WWII.
Bordeaux – Bordeaux is a port city on the Garonne River and home to the Bordeaux Mastiff.
Versailles – As in the Palace of Versailles, a royal château in Versailles.
Seine – The Seine River stretches throughout France and cuts through the heart of Paris.
Riviera – As in the French Riviera, the glamorous Mediterranean coastline of the southeast corner of France.
Cannes – Located on the French Riviera, the city Cannes is famous for its film festival.
Eiffel – The Eiffel tower is one of the most recognizable landmarks not only in France but throughout the world.
Notre Dame – Meaning "Our Lady of Paris," Notre Dame is striking medieval Catholic cathedral.
Louvre – A central landmark in Paris, the Louvre is a historic monument and the world's largest museum.
Moulin Rouge – Moulin Rouge is best known as birthplace of the modern form of the can-can dance.
Bastille – famous fortress in Paris, stormed by a crowd during the French Revolution
Lafayette – French named city in Louisiana
French Historical Figures
Many important historical events took place in France ushered in by noteworthy individuals. These figures provide awesome inspiration for French dog names.
Napoleon Bonaparte – A French military and political leader, Napoleon launched military campaigns across Europe making France a dominant power in Europe.
Louis XIV – King Louis XVI was the last king of France. He was executed in the French Revolution. ]
Marie Antoinette – The wife of King Louis XVI, Marie Antoinette is a symbol of royal decadence.
Joan of Arc – A young peasant girl, Joan of Arc helped inspire the dauphin of France to defeat English forces occupying France.
Rene Descartes – Influential philosopher and mathematician, Descartes is dubbed the father of modern philosophy.
Marie-Curie – This great scientist helped discover radiation.
Victor Hugo – Considered one of the most influential authors in France, Hugo wrote Les Misérables and Notre-Dame de Paris.
Charles de Gaulle – As the leader of the free French during WWII, de Gaulle later helped rebuild and lead the country after the war.
Louis Pasteur – If you're looking for a French dog name and consider yourself a science nerd, then this might just be the perfect name. Pasteur developed cures for rabies, anthrax and other infectious diseases and enabled the process of pasteurisation to make milk safer to drink.
Claude Monet – A famed French impressionist painter, Monet was highly influential in the development of modern art.
Paul Cezanne – Cezanne, a French post-impressionist painter, is considered a bridge between impressionism and cubism.
Coco Chanel – Considered one of the most innovative and influential fashion designers, Coco Chanel was instrumental in defining feminine style and dress during the 20th Century.
Édith Piaf – The singer is widely regarded as France's national diva.
Henri Matisse – French artist who along with Picasso helped define and influence contemporary art in the 20th century.
Voltaire – French enlightenment writer, historian and philosopher famous for his wit.
And for those with a French dog breed, a French dog name is a must! What types of dogs originated in France, you may ask? Quite a few. The most popular ones include the Poodle, Basset Hound, Brittany, French Bulldog, Great Pyrenees and Papillion. That's just the tip of the iceberg. Check out a full list of French dog breeds.
You don't need to have one of these breeds in order to pick a French dog name, however. Any dog is deserving of such a beautiful name!
Or, if you want a fun international moniker but French names aren't for you, look up some other exotic dog names. Either way, we'll hook you up with just the right name for your dog.
Teach Your Dog Their Name
View Your Saved Names