265+ Winter Dog Names – Creative Name Ideas for Your Pup
Published:
Last updated:
by Jessi Larson
Do you need ideas for winter dog names? Let's explore 265+ ideas that are perfect for any pup.
Winter is a wonderful time of year full of fun holidays and activities. So why not pick a dog name that reflects this superb season?
Winter Dog Names
There are so many reasons why you might be looking for winter dog names.
Perhaps you got your pup as a holiday present and you want a name that showcases this special time of year.
Or maybe you're a fan of the season and want to reflect that in your dog's name.
Or you could have a dog that looks like winter, whether it's extra fluffy fur or a snow-white coat.
Whatever your reason, you'll love these 265+ excellent winter dog names.
Top Winter Dog Names
Let's look at the top ideas inspired by the cold-weather season to kick off our guide to winter dog names.
These names come from the weather, warm clothes, winter-loving animals, the temperature, and so much more.
Take and look and see if any fit your four-legged friend.
Aurora
Avalanche
Beanie
Bear
Blizzard
Boots
Celsius
Chilly
Cozy
Crystal
December
Elsa
Eskimo
Fahrenheit
Fleece
Fluffy
Flurry
Freeze
Frost
Frostine
Fur
Furry
Gale
Glacier
Ice
Icicle
Icy
Igloo
January
Mittens
Moose
Nippy
Nor'easter
North
Olaf
Parka
Pine
Polar
Shiver
Silver
Sleet
Snowball
Snowby
Snowden
Snowy
Snuggles
Socks
Spruce
Stormy
Tundra
Winter – bet you didn't see this one coming!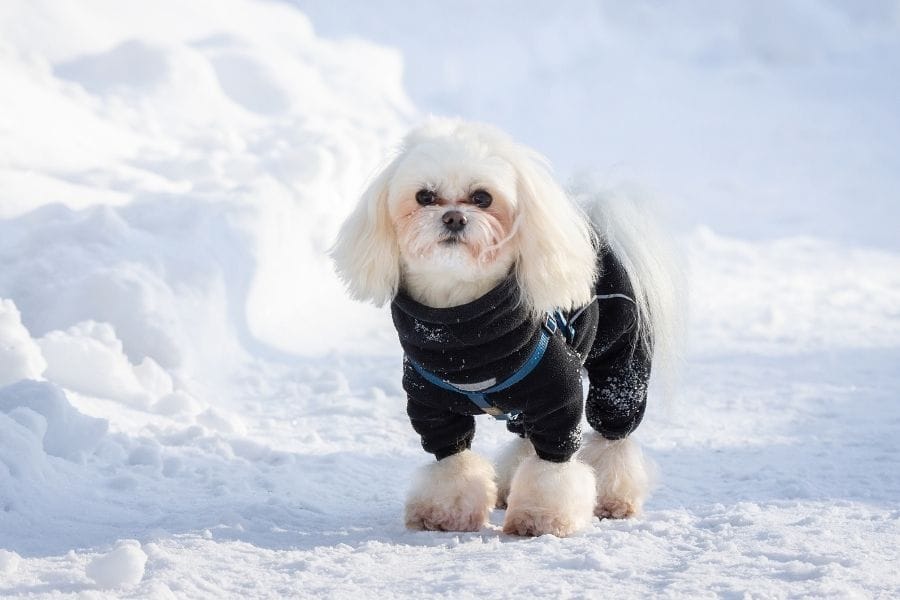 White Dog Names
When people think of winter, one of the first things that come to mind is snow. In many parts of the world, the outdoors are transformed into a bright white landscape during this time.
As you look for winter dog names, white-inspired monikers like the following are a great choice.
Alabaster
Al Bino
Bones
Boo
Brie
Casper
Charmin
Cotton
Crystal
Dove
Frosty
Gardenia
Ghost
Ivory
Marshmallow
Nimbus
Pearl
Powder
Sugar
Whitey
Discover more white dog names.
Winter Dog Names Inspired By Other Languages
If you want a truly unique name, you could choose one of these names inspired by winter words in other languages.
It's a guarantee no other dogs you know will have the same name as yours! And they perfectly symbolize the season.
Baltas – white in Lithuanian
Bela – white in Slovenian
Biały – white in Polish
Bianco/Bianca – white in Italian
Biely – white in Slovak
Bílý – white in Czech
Blanc – white in French
Blanco – white in Spanish
Borra – snow in Maltese
Branco – white in Portuguese
Gwyn – white in Welsh
Hiver – winter in French
Invierno – winter in Spanish
Lumi – snow in Finnish
Neve – snow in Portuguese
Vetur – winter in Icelandic
Wit – white in Dutch
Zima – winter in Czech
Christmas Dog Names
For many, the absolute best part of winter is the chance to celebrate Christmas. It means gatherings with friends and family, delicious food and drinks, giving and receiving gifts, and so much cheer.
Because of this, our guide to winter dog names has to include ideas inspired by Christmas!
These Christmas dog names include famous holiday characters, biblical figures, spirited decorations, and so much more.
Angel
Bell
Blitzen – Santa's reindeer
Bob Cratchit – A Christmas Carol character
Bows
Buddy the Elf
Carol
Charlie Brown
Cindy Lou Who – How the Grinch Stole Christmas! character
Clara
Clarice – Rudolph the Red-Nosed Reindeer character
Clark Griswold
Claus
Coal
Comet – Santa's reindeer
Cousin Eddie
Cupid – Santa's reindeer
Dancer – Santa's reindeer
Dasher – Santa's reindeer
Dickens – A Christmas Carol author Charles Dickens
Donner – Santa's reindeer
Drummer
Ebenezer – A Christmas Carol character
Elf
Eve
Feliz
Fezziwig – A Christmas Carol character
Garland
Glitter
Grinch
Hermey – Rudolph the Red-Nosed Reindeer character
Holly
Ivy
Jack Frost
Jack Skellington – A Nightmare Before Christmas
Jacob Marley – A Christmas Carol character
Jesus
Jingle
Jingle Bells
Joseph
King
Krampus
Kringle
Kris
Mary
Mistletoe
Mitzi – Rudolph the Red-Nosed Reindeer character
Myrrh
Nick
Nicholas
Noel
Partridge
Poinsettia
Prancer – Santa's reindeer
Ralphie – A Christmas Story
Ribbon
Rudolph
Rudy – short for Rudolph
Saint Nick
Santa
Santa's Helper – The Simpson's dog
Scrooge – A Christmas Carol character
Star
Stocking
Tinsel
Tiny Tim – A Christmas Carol character
Vixen – Santa's reindeer
Wreath
Yukon Cornelius – Rudolph the Red-Nosed Reindeer character
Yule
Discover more Christmas dog names.
Seasonal Dog Names
The winter season is an incredibly cheerful time with different foods and festivities popular during this time of year.
Take a look at these seasonal words that make perfect winter dog names.
Bell
Berry
Candy
Cane
Charity
Cheer
Chestnut
Cider
Cinnamon
Clove
Cocoa
Cookie
Dulce
Eggnog
Faith
Ginger
Gumdrop
Happy
Hope
Jolly
Joy
Marshmallow
Merry
Mint
Miracle
Nutmeg
Pecan
Plum
Pumpkin
Snickerdoodle
Spice
Sugar Plum
Toffee
Twinkle
Hanukkah Dog Names
Hanukkah is another popular winter holiday celebrated by millions around the world. As you search for winter dog names, check out these ideas highlighting the festival of lights.
Blue
Brisket
David
Doughnut
Dreidel
Eleazar
Gelt
Gimel
Hei
Judah
Judas
Kislev
Kugel
Laila
Latke
Light
Maccabee
Matisyahu
Menorah
Nun
Olive
Radish
Shin
Silver
Simon
Star
Winter Dog Names Inspired By Locations
Certain parts of the world are known for their winters. For example, some cities boast prime ski resorts. Other locations are known for reaching subzero temperatures and recording record snowfalls.
We rounded up regions that exemplify the cold and snowy season and make great dog names.
Alaska
Alberta – Canadian providence
Antarctica
Arctic
Anchorage – city in Alaska
Aspen – ski destination in Colorado
Breckenridge – ski destination in Colorado
Calgary – Canadian city
Canada
Dakota
Denali – highest mountain peak in North America
Duluth – city in Minnesota
Durango – Colorado city
Edmonton – Canadian city
Fairbanks – city in Alaska
Fin – short for Finland
Geneva – city in Switzerland
Helsinki – city in Finland
Jackson – ski resort Jackson Hole
Juneau – capital of Alaska
Kenai – city in Alaska
Klinck – Greenland station with Arctic's coldest point
Kodiak – city in Alaska
Lillehammer – city in Norway
Lucerne – city in Switzerland
Manitoba – providence in Canada
Montreal – city in Canada
Nunavut – Canadian providence
North
Norway
Ontario – Canadian providence
Oslo – capital of Norway
Ottawa – capital of Canada
Quebec – Canadian providence
Regina – city in Canada
Russia
Saskatchewan – Canadian providence
Saskatoon – city in Canada
Siberia
Sitka – city in Alaska
Stockholm – capital of Sweden
Sweden
Swiss
Telluride – ski destination in Colorado
Vail – ski destination in Colorado
Vancouver – city in Canada
Winnipeg – city in Canada
Yukon – Canadian providence
Zürich – city in Alaska
Final Thoughts: Winter Dog Names
We hope these 265+ winter dog names inspire you!
Finding the right name for your precious pup is no easy task. After all, you'll be saying the name daily for years to come.
How do you find a name you like that also fits your furry friend?
To help your search, we recommend you write down any ideas that catch your attention. Then, don't think too hard about it.
From there, take some time to narrow it down. Go through the list one by one until you have just a handful of names.
Then when you meet your pup and get to know their appearance and personality, try out each one of the final options. You'll know which one is right in no time!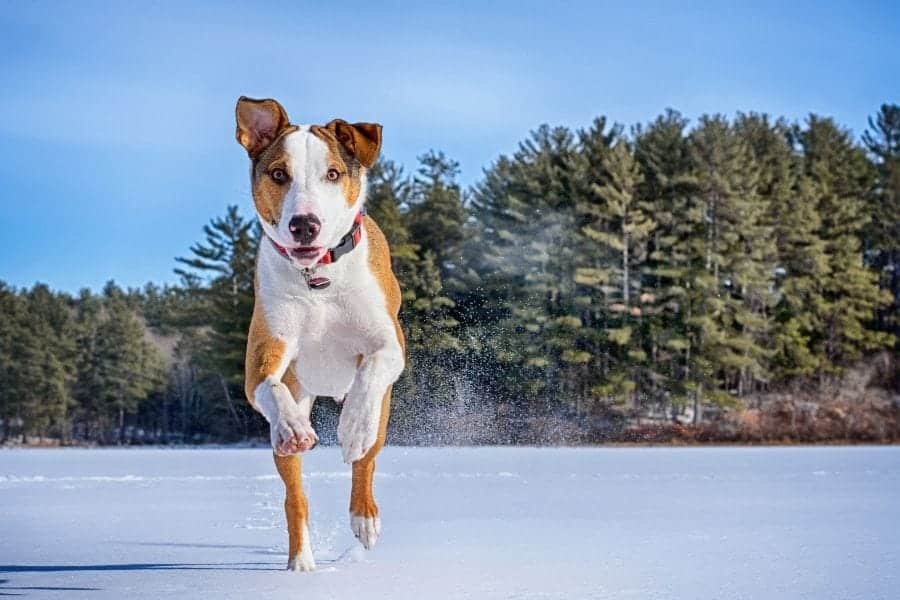 More Dog Name Ideas
Try our online generator and discover even more options if any of these winter dog names do not inspire you. You can sort by your favorite styles and themes to find the perfect name for your pup.
Our site helps millions of new dog owners each year and offers thousands of unique ideas. We know you'll find the name for your dog on our site.
These naming guides also provide great ideas:
Check these out for even more name inspiration. The options are endless!
How Do You Pick the Right Name?
How do you know if you've picked the right name for your dog? That's a question all new dog parents ask.
After years of helping new pup parents, here are some tips we've picked up when it comes to selecting a name for your dog:
Is it easy to say? Some names are great in theory but tough to pronounce in everyday life. Before you lock in on a name, make sure it rolls off the tongue.
Say it out loud. Can you imagine loudly calling for your dog with this name? If not, then it's not the right name and you should move on.
Does it fit your dog? Check to see if the name matches your dog's personality and appearance. This is important for both you and your pup.
And finally, trust your gut. When you find the right name, you'll know it!
5 Easy Steps to Teach a Dog Their Name
Once you have a name, how do you teach it to your dog?
All pup parents go through this scenario. They've picked out a perfect name and can't wait to start using it for their dog.
The only problem is their pup doesn't recognize it yet.
If you're in this situation, don't fret. Teaching your dog their name is a lot easier than you think.
Here are five easy steps to take to teach your dog their name.
Get some small treats and put your dog on a leash in a location without any distractions.
Say your puppy's name in a clear, happy, excited voice.
As soon as they look at you, say "yes" and give them a treat.
Wait until they look away and then repeat the process 3-5 times.
Play this name game several times a day and soon they'll know and love responding to their name!
Want to learn more about how to teach a dog their name? We have an awesome guide that makes it easy.
View Your Saved Names