Patriotic Dog Names
Published:
Last updated:
by Jessi Larson
Patriotic dog names are a great way to show off your respect and love for the United States.
We've rounded up 85+ ideas that pay tribute to the nation of red, white and blue.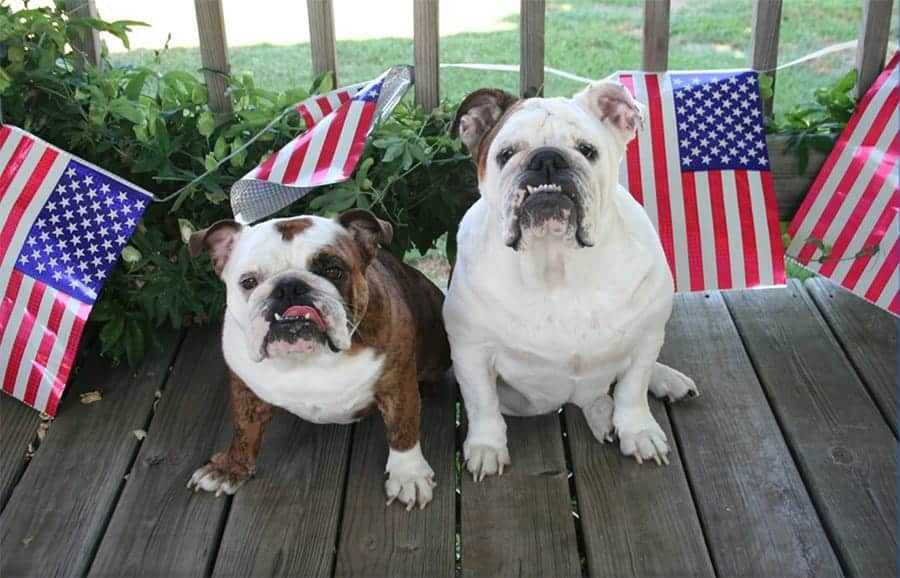 For these names, our list draws inspiration from patriotic words, historical figures, national monuments, states and cities, military terms and so much more.
We also have ideas on how you can create your own names that symbolize what patriotism means to you.
Names like these are especially popular around the Fourth of July and Memorial Day. But really, patriotic dog names are a great choice every day of the year!
Unisex Patriotic Dog Names
Let's get this list of patriotic dog names started with a number of options that work for both male and female dogs alike.
With these unisex names, you have the freedom (pun intended) to use them for a boy or girl dog. They work perfectly with both genders.
Anthem
Banner
Freedom
Hero
Honor
Independence (or Indy for short)
July
Justice
Kennedy
Madison
Peace
Reagan
Rebel
Rocket
Sam
Scout
Soldier
Victory
Male Patriotic Dog Names
If you're getting a male dog and looking for patriotic dog names, you're in luck. We've gathered dozens of ideas inspired by patriotic words, historical figures, military terms and more.
These male names are strong and symbolic and serve as a perfect way to show off your red, white and blue pride.
Abe – Abraham Lincoln
Ace
Admiral
Alpha
Arlington
Benjamin
Blue
Bravo
Bullet
Cadet
Captain
Clark
Colonel
Colt
Commander
Country
Dwight – Dwight Eisenhower
Edison – Thomas Edison, American inventor
Franklin – Benjamin Franklin
General
Gunner
Grover
James
Jefferson
Knox
Lewis
Lincoln – Abraham Lincoln
Major
McKinley
Patriot
Quincy
Ranger
Remmy / Remington – Brand of rifle
Revere
Roosevelt – President Teddy or Franklin
Rushmore – Famous monument
Sergeant
Tango
Tank
Theo – Theodore Roosevelt
Thomas
Trooper
Truman
Ulysses – Ulysses S Grant, general
Van Buren
Warren
Washington – President George Washington
Woodrow – President Woodrow Wilson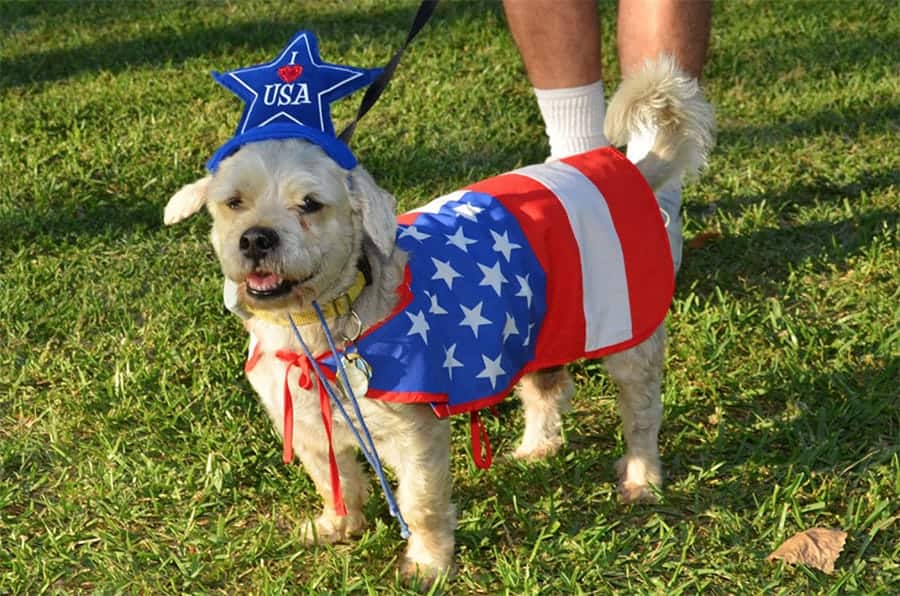 Female Patriotic Dog Names
U.S. history is full of strong, patriotic women who have shaped the country into what it is today. Their names serve as excellent inspiration for patriotic dog names.
You can also find inspiration for female patriotic dog names from state names, patriotic terms and more.
If you're a new pup parent to a female dog, you must explore these female patriotic dog names!
Abigail – John Adams' wife
America
Apple
Bee – Susan B. Anthony, social reformer
Bell – the Liberty Bell
Betsy – woman who created the American flag
Carolina
Clara
Dolley – James Madison's wife
Eleanor – FDR's wife
Georgia
Glory
Grace
Harriet – Harriet Tubman, underground railroad
Hope
Jackie – JFK's wife
Lady Bird – Lyndon B Johnson's wife
Liberty
Lydia – Lydia Darrah messenger for President Washington
Mamie – Dwight Eisenhower's wife
Martha – wife of George Washington / Thomas Jefferson
Molly – Molly Pitcher, Revolutionary War heroine
Shiloh – famous battle
Sierra
Star
Sybil – Sybil Ludington a Revolutionary War heroine
Virginia
More Patriotic Dog Names
Our guide to patriotic dog names isn't over yet. There are many ways you can find even more ideas for patriotic dog names that perfectly fit your pup.
Here's how to brainstorm further ideas:
States
We listed a few states above, but you can explore other options. Maybe it's the name of your home state, where you're living now or simply a place that to you embodies what's great about the good 'ol U.S.A.
You can also shorten it to the state's nickname. For example, California can become Cali, and North and South Dakota can be shortened to Dakota.
Major cities
Another great idea is to draw inspiration from the many great cities in the country.
Philadelphia (or Philly for short), Dallas, Austin, Olympia, Brooklyn, Denver, Boston and Phoenix are just a few ideas.
Presidents
We included many noteworthy U.S. presidents on the lists above but that's just the tip of the iceberg. You can pick any U.S. president (or politician for that matter!) who symbolizes patriotism to you.
Here is a comprehensive list of U.S. presidents, vice presidents and first ladies.
Also check out our list of presidential dog names, to see all the US President's dogs & some other great political dog names.
Military
As you probably noticed some of the names above come from military terms like Admiral, Gunner, and Remmy. These names can be military ranks, weaponry, or other lingo. We've also got a list of other military dog names if that seems like a good choice for your pup!
How Do You Pick The Right Name?
How do you know if you've picked the right name for your dog? That's a question all new dog parents ask.
After years of helping new pup parents, here are some tips we've picked up when it comes to selecting a name for your dog:
Is it easy to say? Some names are great in theory but tough to pronounce in everyday life. Before you lock in on a name, make sure it rolls off the tongue.
Say it out loud. Can you imagine loudly calling for your dog with this name? If not, then it's not the right name and you should move on.
Does it fit your dog? Check to see if the name matches your dog's personality and appearance. This is important for both you and your pup.
And finally, trust your gut. When you find the right name, you'll know it!
More Dog Name Ideas
If you're not inspired by any of these dog names, try our online generator and find even more options. You can sort by your favorite styles and themes to discover the perfect name for your pup.
Our site helps over 15 million new dog owners each year and offers thousands of unique ideas. With this in mind, we're confident you'll find the name for your dog on our site.
Popular categories include:
Try it out and see what you think!
View Your Saved Names