Military Dog Names – 335+ Awesome Name Options
Published:
Last updated:
by Jessi Larson
If you're looking for military dog names, we've got you covered with 335+ awesome ideas.
Whether you're a member of the military, close to someone who served, or just plain inspired by their heroics, you'll find military dog names that are a great fit for your pup.
Inspiration for military dog names comes from the different branches, ranks, weapons, equipment, code words, forts, famous dogs and so much more.
You're sure to find a name that is just right for your needs.
Military Dog Names – Branch, Rank and Positions
The U.S. Military has six service branches: Air Force, Army, Coast Guard, Marine Corps, Navy, and Space Force.
Each branch is broken into a hierarchy of personnel, and the ranks serve as inspiration for military dog names.
Another source for names is the different positions within these units.
Take a look at these ideas and see if any are a good option for your four-legged friend.
Admiral
Airman
Army
Bomber
Boomer
Brigadier
Captain
Chief
Colonel
Commander
Commodore
Corporal
Ensign
G.I.
General
Gunner
Hunter
Lance
Lieutenant
Major
Marine
Marshal
Navy
Officer
Pilot
Private
Ranger
Recruit
Sailor
Sarge
Scout
Sergeant
Shooter
Skipper
Sniper
Solider
Specialist
Striker
Tracker
Trooper
Veteran
Vice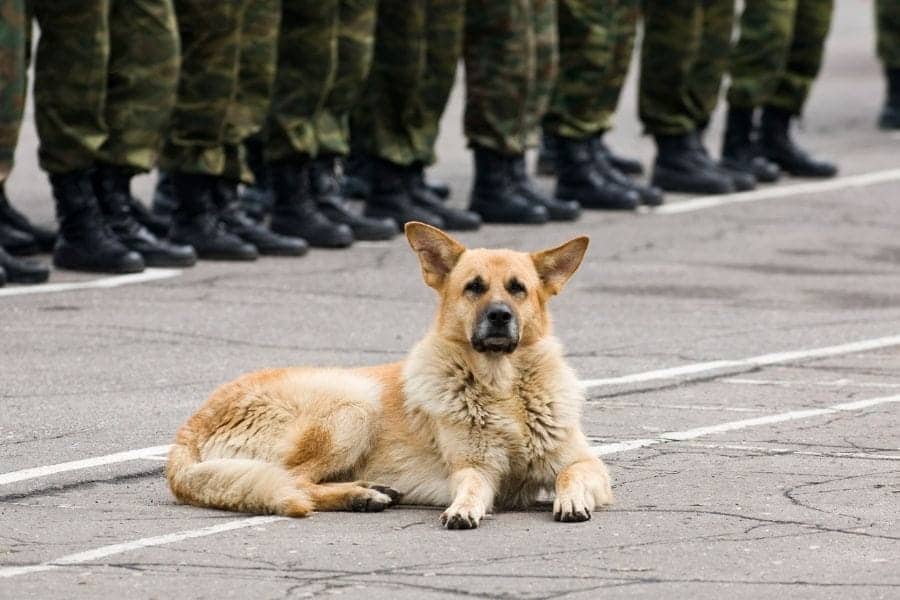 Military Dog Names – Weapons
Military weapons are another great place to look for military dog names. They're tough and strong, just like your dog.
You may have used one of these weapons before or simply appreciate the power they possess.
Ammo
Archer
Barrett
Bayonet
Bazooka
Beretta
Buckshot
Bullet
Caliber
Cannon
Carbine
Cartridge
Colt
Dagger
Gauge
Grenade
Hammer
Kevlar
Kimber
Laser
Magnum
Mauser
Missile
Musket
Nitro
Nuke
Pistol
Primer
Recoil
Reload
Remington
Remmy
Ricochet
Rifle
Rocket
Ruger
Semi
Spitzer
Striker
Tank
Taser
Torpedo
Trigger
Uzi
Wesson
More Military Dog Names
Here are even more great military dog names for your canine companion. They draw inspiration from so many different places yet all convey the spirit and bravery of military service.
Ace
Armor
Armory
BB
Bomber
Boom
Boomer
Boots
Brass
Bugle
Cadence
Camo
Chevron
Combat
Combat
Dodger
Fire
Freedom
Glory
Grace
Gunner
Hero
Heroic
Heroine
Honcho
Honor
Hunter
Independence
Jag
Justice
Laser
Liberty
Maverick
Patriot
Radar
Reveille
Roger
Shell
Star
Tracker
Victor
Victory
Walter Reed
Warrior
Zippo
Military Dog Names – Equipment, Gear and More
Let's continue our guide to military dog names with ideas based on equipment, gear, and the brands commonly used in the service.
These ideas are a bit more unique than other military dog names and offer a distinct moniker for your pup.
Belleville
Benshot
Blackhawk
Bradly
Cablz
Cammenga
Campco
Cannae
Chinook
Compass
Condor
Corcoran
Cyclone
Duke
Fleet
Fusion
Havoc
Hercules
Humvee
Jet
Kiowa
Lakota
Little Bird
Mercury
Merkava
Merrell
Nebo
Panzer
Rascal
Shellback
Sheridan
Sherman
Stryker
Military Bases
The top military bases around the country are another great source of inspiration.
You may have toured one of these forts or even lived there for a time. Or perhaps you simply like the name and want to use it for your new dog.
Whatever the reason, these ideas are perfect for your precious pup.
Andrew – Air Force base in Prince George's County, Maryland
Benning – Army base on the Alabama and Georgia border
Bragg – Army base in Fayetteville, North Carolina
Campbell – Army base on the Kentucky and Tennessee border
Cannon – Air Force base in New Mexico
Carson – Army base in Colorado
Diego – as in Naval Base San Diego
Gordon – Army base in Georgia
Hampton – Navy base in Virginia
Hood – as in Fort Hood in Killeen, Texas
Jackson – as in Naval Air Station Jacksonville
Knox – Army base in Kentucky
Lejeune – as in Marine Corps Base Camp Lejeune
Lewis – as in Joint Base Lewis – McChord in Tacoma, Washington
Luke – Air Force base in Arizona
Maxwell – Air Force base in Montgomery, Alabama
McChord – as in Joint Base Lewis – McChord in Tacoma, Washington
Stewart – Army base in Orange County, New York
Travis – Air Force base in California
Sierra – as in Sierra Army Depot in California
Military Codes
The military phonetic alphabet helps ensure that communications by radio or telephone are clear and correct. After all, a B can often sound like a D or E, and so forth.
As you look for military dog names, why not consider the options below?
They're a subtle way to represent the military world in your dog's name.
Alpha
Bravo
Charlie
Delta
Echo
Foxtrot
Golf
Hotel
India
Juliet
Kilo
Lima
Mike
November
Oscar
Papa
Quebec
Romeo
Sierra
Tango
Uniform
Victor
Whiskey
X-Ray
Yankee
Zulu
Famous Military Dogs
Dogs are a man's best friend – and a great partner on the battlefield.
Many amazing canines have served bravely alongside service members throughout history.
The following dogs are known for their incredible service and heroic actions, and their names serve as an excellent source for military dog names.
Beauty – rescue dog during WWII
Bob – dog that led more forays into German territory during WWII than any U.S. soldier
Cairo – canine member of the elite Navy SEALs team that killed Osama Bin Laden
Chips – decorated dog in World War II
Chesty – official mascot of the marines
Gander – giant Newfoundland in the Canadian Army during WWII
Gunner – Kelpie dog who served in World War II
Judy – brave British war dog
Lava – dog rescued from Iraq in 2005
Lex – military dog who showed extraordinary bravery in Fallujah
Lucca – brave dog that completed 400 bomb detection missions
Moustache – black poodle in the French army
Nemo – German Shepherd that served with the Air Force in the Vietnam War
Rags – Cairn Terrier mix and WWI hero
Rin Tin Tin – German Shepherd rescued from a World War I battlefield
Rip – search and rescue dog during World War II
Sallie – Civil War mascot
Sam – heroic dog who helped in the Bosnia-Hertzegovina conflict
Sarbi – bomb-detecting dog from Australia
Sergeant Stubby – the most decorated war dog of WWI
Sinbad – member of the Coast Guard from 1938-1949
Smoky – Yorkshire Terrier hero of WWII
Treo – bomb-sniffing black lab in the British military
Sources: Bil-Jac, GreaterGood and BarkPost
Tough Dog Names
To be in the military takes a tough and tenacious personality. That's why these tough dog names are a great choice as you hunt for military dog names.
Tough Male Dog Names
These strong and stoic names are an excellent option if you're naming a male pup. They project power and are undeniably dynamic.
Vinnie
Moose
Duke
Tank
Spike
Sumo
Caesar
Blaze
Surge
Bandit
Panic
Rocky
Rambo
Fury
Yeti
Bane
Raider
Macho
Hulk
Boomer
Dozer
Spartacus
Killer
Ghost
Diesel
Hunter
Blade
Vader
Ares
Samson
Butch
Magnum
Bolt
Denali
Yukon
Fang
Bruno
Prometheus
Maverick
Grudge
Jumbo
Zeus
Thor
Tyson
King
Avalanche
Mack
Scorpio
Rex
Gage
Titan
Crash
Nitro
Odin
Brutus
Bruiser
T-Bone
Reaper
Discover more tough male dog names.
Tough Female Dog Names
If you're bringing home a female dog, these names are for you. They're firm and forceful with just a little bit of sass thrown in for good measure.
Nyx
Queenie
Alaska
Liberty
Onyx
Kahuna
Athena
Scrappy
Jinx
Kodiak
Vixen
Taboo
Katniss
Khaleesi
Gypsy
Natasha
Midnight
Raven
Tiger
Dahlia
Diva
Rousey
Vega
Alpha
Sheba
Nova
Amazon
Huntress
Indy
Brawny
Artemis
Rogue
Cinder
Mystique
Beastie
Hera
Elektra
Attila
Echo
Medusa
Foxy
Jericho
Xena
Justice
Jezebel
Harley
Discover more tough female dog names.
Final Thoughts
We hope you found inspiration in these military dog names. With 335+ ideas, you're sure to find at least a few you love.
If you see a name that catches your eye, write it down. Or you can click on the heart icon on the left to save it.
Once you have a complete list of ideas, remove any names you don't absolutely love.
When you're down to just a few, say them each out loud for all to hear. You'll have to call for your dog's name daily –can you imagine saying the name over and over again?
Also, don't forget to take into account your dog's appearance and personality. Will the name fit?
Once you've found the right one, you'll know it in your gut!
Military Dog Names: How to Teach Your Dog Its Name
Once you pick the perfect name, the next step is to teach it to your pup.
But how do you do that?
Just follow these easy steps and your dog will recognize their name in no time.
First, grab some small treats.
Next, secure your dog with a leash.
For the best success, move to a space that is free of distractions.
From here, say your puppy's name in a clear voice. Always be positive and happy.
When they look back at you, exclaim "yes!"
At the same time, reward them with a treat.
For best results, repeat this process 3-5 times.
Continue to play this name game several times a day, staggered across the course of the day so you don't overdo it.
By following these steps, you'll ensure your dog learns their name in no time.
The History of Military Dogs
Since ancient times, dogs have been used to help man with military pursuits. Their purpose varied from scouts to sentries to trackers.
The first recorded use of dogs in the military comes from the mid-7th century B.C. In fact, the history of dogs in warfare is quite fascinating.
In modern times, dogs have been used in World Wars I and II, Vietnam, the Iraq War, and other conflicts. They served alongside humans, more than earning the title of "Man's Best Friend."
The most remarkable stories are captured in these fascinating movies.
So as you can see, the relationship between dogs and the military has existed for years, creating a truly inspirational partnership.
View Your Saved Names