Fancy dog names are an excellent option for your furry friend. Discover 200+ ideas that are elegant, regal, and refined!
Guide to Fancy Dog Names
Picking a pup's name is one of the first – and most important – decisions you'll make as a dog owner. It's no small task to find a name that fits your new dog, is easy to stay, and will stand the test of time.
When it comes to the latter, fancy dog names are always a great choice. They're a sophisticated and timeless option for your dignified dog.
Fancy Male Dog Names
Are you bringing home a boy pup? These fancy male dog names offer excellent inspiration.
Archer
Francois
Kingston
Asher
Emerson
Paxton
Frederick
Edison
Charleston
Sterling
Hamlet
Gatsby
Hamilton
Maximilian
Preston
Geoffrey
Wolfgang
Alcott
Franklin
Hudson
Augustus
Archibald
Dickens
Leo
Barclay
Edgar
Alfred
Perry
Ashton
Atticus
Duke
Jacques
Redford
Hugo
Edmund
Winston
Hartford
Carlton
Wesley
Churchill
William
Baron
Lord
Louis
Ferdinand
Fancy Female Dog Names
If you're looking for fancy female dog names, this is the place to be. The following ideas provide great picks for a female pup.
Charlotte
Anastasia
Harper
Emmy
Isabella
Flora
Jasmine
Paris
Violet
Stella
Belle
Aspen
Coco
Buffy
Bianca
Gabriella
Eloise
Ella
Theodora
Eva
Octavia
Sabrina
Camilla
Amelie
Esme
Sasha
Gracie
Ophelia
Lady
Avalon
Audrey
Sabine
Grace
Prim
Rose
Portia
Constance
Pippa
Ava
Scarlett
Jules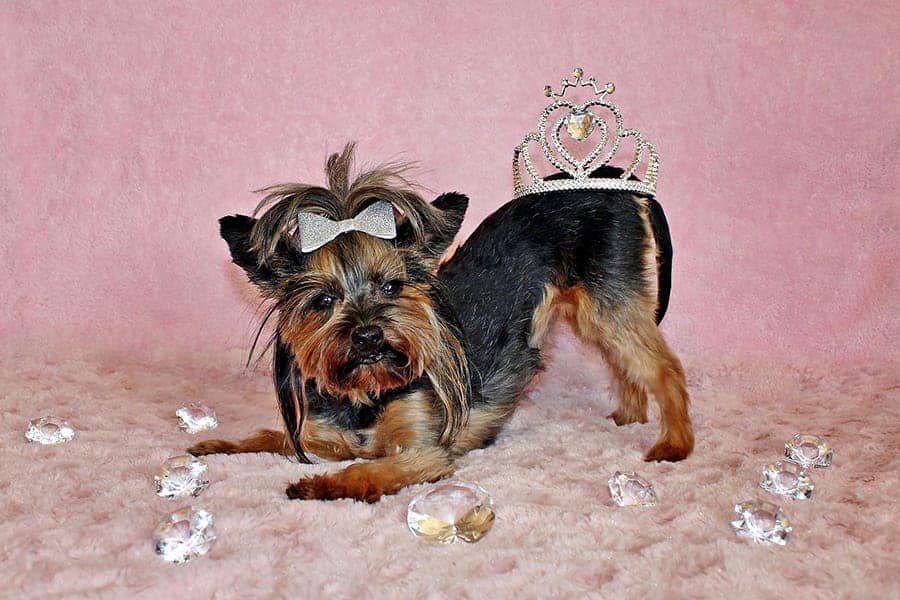 Boujee Dog Names
Another option for your pup: boujee dog names. But what exactly does boujee mean?
The term is defined as "Someone who is upwardly mobile and is actually in a higher economic class than others." (1)
These names fit this definition and offer an option for fancy, luxury dog names.
Chanel
Duchess
Princess
Emerald
Madden
Espresso
Knight
Queen
Queenie
Harmony
Pandora
Sapphire
Countess
Diamond
Effie
Fancy
Fifi
Picasso
Portia
Gucci
Jewel
Saffron
Tiara
Count
Opal
Mercedes
Maddox
Valentine
Diva
Giselle
Bentley
Bond
Prada
Romeo
Fendi
Audi
Lexus
Princeton
Royce
Porsche
Ruby
Vogue
Caesar
Opal
London
Darling
Carter
Julius
Maverick
Beauty
Do you like the idea of expensive dog names? Then, check out these designer dog names.
Luxury dog names are a fun way to show off your love for the finer things in life. They also offer a more unique option than the typical canine name.
Classy Dog Names
The ideas for dog names aren't over yet. Let's now explore classy dog names that sound posh and polished.
While some name trends come and go, these are guaranteed to stay in vogue for years to come. Additionally, they'll give your pet a sophisticated vibe that sets them apart from the pack.
Unisex Classy Dog Names
The following names work well for any dog. They're classic and timeless and offer a tried-and-true moniker for your precious pup.
Chance
Shiloh
Scout
Bailey
Spot
Lucky
Lassie
Shadow
Cricket
Champion
Marley
Darcy
Riley
Coco
Peanut
Male Classy Dog Names
If you're bringing home a boy dog, you'll want to explore these elegant dog names. Without a doubt, your dog will sound sophisticated with a moniker from the list.
Apollo
Walter
Spencer
Roosevelt
Cooper
Fido
Teddy
Hunter
Tucker
Archie
Clancy
Everett
Jackson
Charles
Lincoln
Milo
Toby
Byron
Conrad
Harrison
Sebastian
Oliver
Percival
Watson
Dexter
Sherlock
Max
Female Elegant Dog Names
Are you getting a girl pup? These posh-sounding girl dog names provide excellent inspiration. Check them out and see if any sound interesting.
Daisy
Claire
Pearl
Victoria
Olivia
Sadie
Lola
Lily
Ada
Bella
Maisie
Luna
Beatrice
Cleo
Eleanor
Cora
Georgia
Hazel
Leona
Mae
Willa
Holly
Margaret
Maddie
Olivia
Penelope
Juliet
Clementine
Poppy
Elizabeth
Mary
If you like sophisticated dog names, check out our regal dog names for even more options. These names exude elegance and work great for both big breeds and small dogs.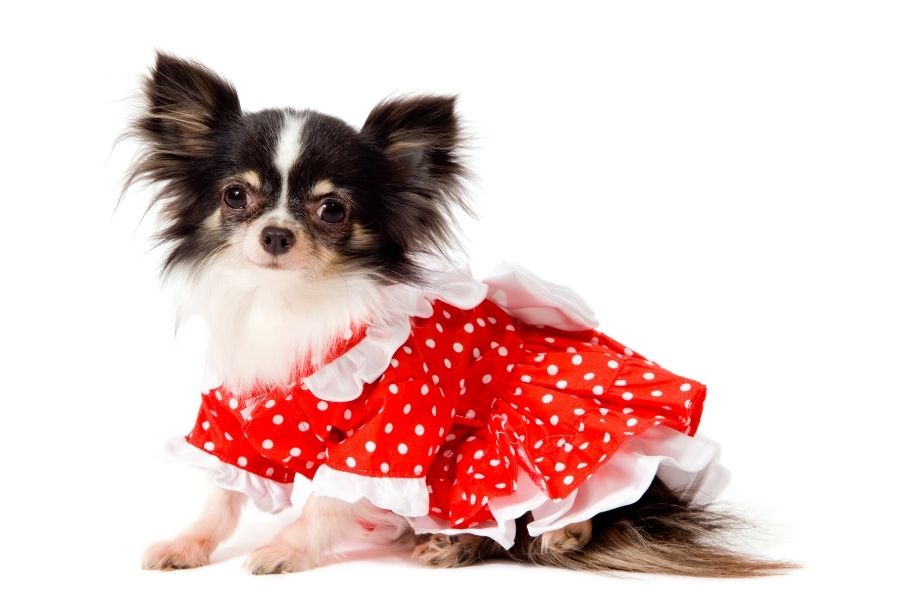 Final Thoughts: Fancy Dog Names
Choosing a name for your dog is a fun process. It can also be a bit stressful, too. After all, you'll be saying the name for years to come and want to find something that matches your dog's appearance and personality.
Ultimately, you can't go wrong when choosing one of these fancy dog names. They're sophisticated, timeless, and elegant.
With over 200 options, it may seem like a daunting task to narrow down the list to just one name. To start, focus on finding any ideas that sound interesting. Don't overthink it – just jot the ideas down.
Next, go through the list and say each name out loud. Can you imagine calling the name? And does it seem right for your dog?
From there, remove any ideas that don't seem like a good fit. You'll eventually find a name that perfectly matches your new furry friend!
Elegant Dog Breeds
What exactly constitutes a fancy dog? Certain breeds are inherently elegant. According to Animal Wised (2), the most elegant dogs are:
Maltese
Afghan Hound
Chihuahua
Irish Setter
Poodle
Rough collie
Weimaraner
Cavalier king Charles spaniel
Dalmatian
Papillon
Greyhound
Canary Warren Hounds
Doberman
Pomeranian
Saluki
English Cocker spaniel
Siberian Husky
Shar pei
Shiba inu
Beagle
Of course, the list is open for debate. A fancy breed for one person may be different for another.
And no matter what type of canine you have, they all deserve one of these elegant dog names!
More Ideas for Elegant Dog Names
The ideas for dog names aren't over yet. We recommend you try out our online name generator for even more great options.
The handy tool allows you to sort by your favorite styles, including elegant. You can also search for names that are a combination of styles.
For example, do you want a name that's elegant and sporty? Elegant and international? Elegant and tough? And so forth.
The generator also lets you look for names by themes, like movies, TV shows, books, music, mythology, and more. You'll discover the best options for naming your new addition.
Give it a try and find even more sophisticated dog names for your new puppy!
References
Your Dictionary (https://grammar.yourdictionary.com/slang/bougie-boujee-ending-confusion-behind-slang-terms)
Animal Wised (www.animalwised.com/top-20-elegant-dog-breeds-in-the-world-2451.html)
Learn How to Teach Your Dog its Name
View Your Saved Names