Cartoon Dog Names – 300+ Famous Cartoon Dogs
Published:
Last updated:
by Jessi Larson
Cartoon dog names are a fun and playful pick for a pup. Let's explore 300+ amazing ideas.
For decades, cartoon dogs have entertained us, taught us lessons, and provided great memories. They also offer excellent inspiration for naming your pup!
In this post, we'll take a look back at the most popular cartoon dog names throughout history, from Goofy and Pluto created in the 1930s up to newfound favorites like Bluey and Bolt.
20 Most Popular Cartoon Dog Names
Our guide to cartoon dog names starts with the 20 most popular picks. It's almost a guarantee you'll know all or most of these iconic animals.
1. Astro
Astro is the friendly canine character in the classic cartoon The Jetsons. He is the loyal pup to George, Jane, Judy, and Elroy Jetson.
Astro is more advanced than the modern-day dog, although he tends to overuse "R" when talking. (For example, "I ruv you, Reorge.") If you're looking for cartoon dog names, this is a classic, fun choice!
2. Augie Doggie
Hanna-Barbera cartoon character Augie Doggy appeared in The Quick Draw McGraw Show and later got his own segment.
He is highly spirited and ambitious and often tries to please his father, Doggie Daddy.
3. Blue
Blue's Clues premiered on Nick Jr. in 1996 and offered a combination of child development and education with innovative animation and production techniques. The character Blue has been entertaining and educating children ever since.
4. Brian Griffin
Moving up a few decades, the most popular cartoon dog in recent years is Brian Griffin, the talking dog from Family Guy.
He can talk, walk on his hind legs standing up, and is considered a full-fledged member of the family. In fact, he's more rational and level-headed than the rest!
5. Clifford
Clifford the Big Red Dog is a popular character from books, TV shows, and movies. He is friendly, loyal, and lovable, although he sometimes gets in trouble for his large size.
His best friend is his owner, Emily Elizabeth. If you have a larger canine, this is definitely one of the cartoon dog names you should consider.
6. Copper
The 1981 animated movie The Fox and the Hound is a buddy comedy based on the novel by the same name.
The hound is Copper, a young hunting dog who befriends a fox named Tod. As the two grow older, they must reconcile the fact that they're on opposite sides of the hunting experience.
7. Deputy Dawg
Deputy Dawg is a Terrytoons cartoon character featured on the animated television series of the same name. He is a sheriff in the South and always seems to be in some sort of situation with the locals or trying to please the Sheriff.
8. Droopy
Just like his name implies, Droopy has a drooping face and a mopey demeanor. He moves slowly and talks with a monotone voice.
Despite his low-key attitude, he always outwits his enemies. In fact, he can beat adversaries many times his size with a hilarious thrashing. "You know what? That makes me mad!" he'll say.
9. Goofy
One of the most famous Disney characters, Goofy is a tall, anthropomorphic dog that acts like a human. He famously hangs out with Mickey, Minnie, Donald Duck, and the gang, and later branched out to his own series with Goof Troop.
10. Huckleberry Hound
The star of The Huckleberry Hound Show, this pup speaks with a Southern drawl and is sweet, relaxed, and kind. He tries many different jobs, and although they usually backfire, he always comes out on top.
11. Lady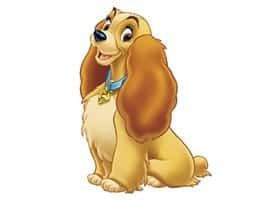 The Disney animated feature Lady and the Tramp won over legions of fans when it was released in 1955 and is still a fan favorite today. After all, who could forget the iconic spaghetti scene?
Lady, an elegant Cocker Spaniel, served as the main character of the film, and her name is a great pick when looking at cartoon dog names for female pups.
12. Marmaduke
A large and lovable Great Dane, Marmaduke appeared in the eponymous comic strip from 1954-2015. A live-action movie was also made about the character.
If you have a Great Dane or any sort of giant dog, this is a great name!
13. Mr. Peabody

As the smartest being in existence, Mr. Peabody has accomplished many things in his life as a business magnate, inventor, scientist, Nobel laureate, gourmand, and two-time Olympic medalist.
The beagle becomes lonely, however, and adopts a human companion as his pet.
14. Pluto
Unlike Goofy, this Disney dog actually acts like a dog. Pluto is Mickey's pup and has been with the original Disney characters since the beginning.
15. Odie
As a main character in Garfield, Odie is kind and energetic although not the brightest bulb. He is Garfield's friend/frequent foe. This is one of our favorite cartoon dog names!
16. Santa's Little Helper
Who can forget Santa's Little Helper, Bart's dog in The Simpsons? The greyhound is a reoccurring character on the show and part of many funny yet heartfelt episodes throughout the show's 30+ year run.
17. Scooby-Doo
No list of cartoon dog names is complete without Scooby-Doo. Scooby, along with his friends Shaggy, Fred, Velma, and Daphne, works hard to solve mysteries and have a few snacks along the way.
18. Snoopy
Snoopy, a good-natured, sweet Beagle, is one of the main characters of the Peanuts cartoon. He belongs to Charlie Brown and is known for his adventurous imagination.
19. Underdog
When angered, humble and mild-manner Shoeshine Boy turns into Underdog, the heroic superhero. His catchphrases include: "There's no need to fear, Underdog is here!" and "Not plane, nor bird, nor even frog, It's just little old me…"
20. 101 Dalmatians
Last, but not least: 101 Dalmatians. You'll likely remember the Disney animated film featuring Pongo, Perdita and their giant puppy pack.
Scroll down for more name ideas inspired by this classic animated movie.
Classic Cartoon Dog Names
Dogs have been featured frequently in cartoons since the dawn of this new medium nearly 100 years ago. They've proven to be quite popular with viewers, and it's not hard to tell why.
A great place to look for cartoon dog names is in classic cartoons. Debuting one, two or even three generations ago, these quintessential cartoons shaped the media landscape.
You'll likely remember many of these dogs, and some may even pull on your heartstrings from the memories.
Baby Rowlf – Muppet Babies
Barnyard Dog – Looney Tunes
Beagle Beagle – Grape Ape
Bimbo – Betty Boop
Bolivar – Disney
Brain – Inspector Gadget
Butch – Disney
Chester – Looney Tunes
Cooler – Pound Puppies
Dinah – Disney
Dynomutt – Scooby-Doo
Eugene – Popeye
Fifi the Peke – Disney
Goopy Gear – Looney Tunes
Hector – Looney Tunes
K-9 – Marvin the Martian
Marc Antony – Looney Tunes
Muttley – Wacky Race
Polly Purebred – Underdog
Pudgy – Betty Boop
Sam Sheepdog – Looney Tunes
Smedley – Chilly Willy
Snuffles – Quickdraw McGraw
Spike – Tom and Jerry
Tyke – Tom and Jerry
Modern Cartoon Dog Names
Fortunately, animators still feature dogs prominently in cartoons today.
What has changed, however, is the increase in more adult-themed cartoons like South Park, Family Guy and Futurama. Some cartoon dogs have a bit of an edge!
Take a look at these modern cartoon dog names and see if any are a fit for your four-legged friend.
Bandit – Bluey
Barky Marky – Tiny Toon Adventures
Bingo – Bluey
Bitzer – Shaun the Sheep
Bluey – Bluey
Buttons – Animaniacs
Dog – CatDog
Charkie – Curious George
Chilli – Bluey
Courage – Courage the Cowardly Dog
Goddard – The Adventures of Jimmy Neutron: Boy Genius
Hundley – Curious George
Krypto – The Krypto: Super Dog
Jake the Dog – Adventure Time
Lady Bird – King of the Hill
Max Goof – Disney
Mr. Morris – Arthur
Mr. Peanutbutter – BoJack Horseman
Ren – The Ren and Stimpy Show
Snuffles – Rick and Morty
Pal – Arthur
Poochie – The Simpsons
Porkchop – Doug
Seymour – Futurama
Snowball – Rick and Morty
Sparky – South Park
Spike – Rugrats
Spunky – Rocko's Modern Life
Dogs in Classic Animated Films
Moving from the small screen to the silver screen, let's explore dogs who've appeared in animated movies. First up are classic films from the 1930s-1980s.
Would any of these ideas work for your new dog? Read on and see.
Bruno – Cinderella
Carface V. Malone – All Dogs Go to Heaven
Charlie B. Barkin – All Dogs Go to Heaven
Chief – The Fox and the Hound
Colonel – 101 Dalmatians
Daisy – Rover Dangerfield
Dodger – Oliver & Company
Eddie – Rover Dangerfield
Einstein – Oliver & Company
Francis – Oliver & Company
Freckles – 101 Dalmatians
Georgette – Oliver & Company
Gromit – Wallace and Gromit
Itchford – All Dogs Go to Heaven
Jock – Lady and the Tramp
Lafayette – The Aristocats
Loyal Heart – The Care Bears
Lucky – 101 Dalmatians
Max – How the Grinch Stole Christmas!
Nana – Peter Pan
Napoleon – The Aristocats
Patch – 101 Dalmatians
Patou – Rock-A-Doodle
Peg – Lady and the Tramp
Penny – 101 Dalmatians
Perdita – 101 Dalmatians
Pongo – 101 Dalmatians
Raffles – Rover Dangerfield
Rita – Oliver & Company
Rolly – 101 Dalmatians
Rover – Rover Dangerfield
Rowf – The Plague Dogs
Tito – Oliver & Company
Toby – The Great Mouse Detective
Tock – The Phantom Tollbooth
Tramp – Lady and The Tramp
Trusty – Lady and the Tramp
Wylie Burp – An American Tail: Fievel Goes West
Discover more 101 Dalmatians and Disney names.
Dogs in Modern Animated Films
Animated movies are still quite popular today, and new generations are being introduced to exciting new canine characters ever year.
Check out these ideas and see if any are right for your precious new pooch.
Balto – Balto
Bodi – Rock Dog
Bolt – Bolt
Buster – Toy Story
Charlene – Open Season 2
Dante – Coco
Dug – Up
Duke – The Secret Life of Pets and also Barnyard
Ferdinand – Tom and Jerry: The Movie
Gidget – The Secret Life of Pets
Gigi – Leroy and Stitch
Jenna – Balto
Kyle – Despicable Me
Little Brother – Mulan
Luiz – Rio
Max – The Little Mermaid and also The Secret Life of Pets
Mr. Weenie – Open Season
Mutt Potter – Tom Sawyer
Oliver – Oliver, the Other Reindeer
Ozzie – Epic
Percy – Pocahontas
Pooka – Anastasia
Roberto – Open Season 2
Rover – Pets United
Rufus – Open Season 2
Rusty – Home on the Range
Scamp – Lady and the Tramp II
Scraps – Corpse Bride
Scud – Toy Story
Slinky – Toy Story
Sparky – Frankenweenie
Stubby – Sgt. Stubby: An American Hero
Trouble – Trouble
Dogs in Comic Books
Cartoon dogs also appear on pages through the form of comic books. You might think of this as a place only for superheroes but daring dogs have also been featured prominently.
Ace the Bathound – DC comics
Bandit – WE3
Bulletdog – DC comics
Cosmo – Marvel comics
Dog – Footrot Flats
Dogmatix – The Adventures of Asterix
Earl – Mutts
Hyperdog – Top 10
Krypto – Adventure Comics
Lockjaw – Marvel comics
Lucky – Marvel comics
Ms. Lion – Marvel comics
Rex the Wonder Dog – DC comics
Rufferto – Groo the Wanderer
Thori – Marvel comics
Wonder Dog – DC comics
Dogs in Comic Strips
Another place for cartoon dog names are comic strips. Marmaduke isn't the only dog to appear in this format, after all.
Many other memorable pups are featured regularly in popular comic strips, and their names provide excellent inspiration in your search.
Andy – Mark Trail
Barfy – Family Circus
Daisy – Blondie
Dogbert – Dilbert
Earl – Mutts
Electra – Cathy
Grimmy – Mother Goose & Grimm
Hot Dog – Archie
Sam – Family Circus
Sandy – Little Orphan Annie
Satchel – Get Fuzzy
Snert – Hagar the Horrible
Snowy – The Adventures of Tintin
More Cartoon Dog Names: PAW Patrol Names
PAW Patrol is a Canadian animated TV series. There are so many cartoon dog names from PAW patrol that it deserves its own list.
The show features a boy named Ryder who leads a pack of search and rescue dogs known as the PAW patrol. Each member of the group has a specific set of skills that they use to protect the community of Adventure Bay.
PAW patrol dog names include:
Marshall – a Dalmatian who serves as a firedog and medic. His vehicle is a fire engine that transforms into an ambulance.

Chase

– a German Shepherd who is a police and spy dog. His vehicle is a police car.

Rubble

– an English bulldog who is a construction dog. His vehicle is a bulldozer.

Rocky

– a grey and white mongrel. He's a recycling dog with a recycling truck that can transform into a salvage tugboat.

Zuma

– a chocolate Labrador retriever. He's an aquatic rescue dog with a hovercraft that can convert into a submarine.

Skye

– a cockapoo. She's an aviator with a helicopter.

Everest

– a Siberian husky and snow rescue dog. Her vehicle is a snowmobile.

Tracker

–

a brown-and-white chihuahua who is a jungle rescue pup. His vehicle is a jeep.
Robo-Dog – a robotic dog who serves as the driver of the PAW Patrol's multi-member vehicles.
Apollo – a superhero bull terrier who has superhero powers like super strength and can fly.
Sweetie – a villainous White Highland Terrier owned by the Princess of Barkingburg. She has a purple roadster which turns into a hovercraft.
Take a look at our complete article for all the PAW Patrol dog names.
More Cartoon Dog Names: Pound Puppies
Another cartoon full of furry friends is the classic cartoon Pound Puppies. It was inspired by the Tonka toy line and featured a gang of lovable pups with plenty of personality.
The following dogs served as the main characters of the show.
Cooler
Nose Marie
Howler
Bright Eyes
Whopper
Beamer
Barkerville
Reflex
Violet Vanderfeller
Louie
Scrounger
Other Ideas for Cartoon Dog Names
What do you think of the cartoon dog names above? If you'd like even more great ideas, here's a thought: Why not look at the names of other popular cartoon characters who are human, another animal, or something else?
While they may not be dogs, these characters are beloved by many and offer up so much inspiration as you name your happy new hound.
Popular Disney Female Animated Characters
Disney animated movies and TV shows are adored by millions around the world. The female characters below are among the most popular characters in the Disney universe and provide plenty of name ideas for your precious pup.
Minnie – as in Minnie Mouse
Ariel – The Little Mermaid
Elsa – Frozen
Anna – Frozen
Nala – The Lion King
Belle – Beauty and the Beast
Jasmine – Aladdin
Cinderella – Cinderella
Snow White – Snow White and the Seven Dwarfs
Aurora – Sleeping Beauty
Mulan – Mulan
Tiana – The Princess and the Frog
Rapunzel – Tangled
Maleficent – Sleeping Beauty
Ursula – The Little Mermaid
Tinker Bell – Peter Pan
Merida – Brave
Lilo – Lilo and Stitch
Pocahontas – Pocahontas
Moana – Moana
Cruella – 101 Dalmatians
Dory – Finding Nemo
Sally – The Nightmare Before Christmas
Alice – Alice in Wonderland
Esmeralda – The Hunchback of Notre Dame
Drizella – Cinderella
Anastasia – Cinderella
Popular Disney Male Animated Characters
If you're getting a male dog, you must check out the following ideas. They're based on Disney's most popular male animated characters.
Mickey – as in Mickey Mouse
Donald – as in Donald Duck
Simba – The Lion King
Aladdin – Aladdin
Jafar – Aladdin
Pinocchio – Pinocchio
Olaf – Frozen
Woody – Toy Story
Buzz Lightyear – Toy Story
Mufasa

–

The Lion King
Scar – The Lion King
Genie – Aladdin
Mushu – Mulan
Kristoff – Frozen
Stitch – Lilo and Stitch
Tigger – Winnie the Pooh
Pumbaa – The Lion King
Timon – The Lion King
Rafiki – The Lion King
Sebastian – The Little Mermaid
Flounder – The Little Mermaid
Triton – The Little Mermaid
Scuttle – The Little Mermaid
Abu – Aladdin
Iago – Aladdin
Rajah – Aladdin
Ralph – Wreck-it Ralph
Winnie – Winnie the Pooh
Eeyore – Winnie the Pooh
Tigger – Winnie the Pooh
Peter Pan – Peter Pan
Baloo – The Jungle Book
Nemo – Finding Nemo
Bambi – Bambi
Thumper – Bambi
Gaston – Beauty and the Beast
Lumiere – Beauty and the Beast
Cogsworth – Beauty and the Beast
Chip – Chip 'n' Dale
Dale – Chip 'n' Dale
James P Sullivan – Monsters, Inc.
Mike Wazowski – Monsters, Inc.
Jiminy Cricket – Pinocchio
Flynn Rider – Tangled
More Popular Cartoon Characters
Up next: more characters in classic cartoons. They may not be canine characters, but their names can certainly be used when naming your furry friend.
Check them out and see if any are right for your new pet.
Bugs – as in Bugs Bunny
Daffy – as in Daffy Duck
Charlie Brown
Garfield
Homer – as in Homer Simpson
Bart – as in Bart Simpson
Marge – as in Marge Simpson
SpongeBob – as in SpongeBob SquarePants
Cartman – as in Eric Cartman from SouthPark
Betty Boop
Tom – Tom and Jerry
Jerry – Tom and Jerry
Felix – Felix the Cat
Tweety – as in Tweety Bird
Porky – as in Porky Pig
Sylvester – as in Sylvester the Cat
Elmer Fudd
Yogi – as in Yogi Bear
Popeye
Shrek
Fiona – Shrek
Peppa – Peppa Pig
Arthur
Stewie – Stewie Griffin from Family Guy
Morty – Rick and Morty
Rocky – The Adventures of Rocky and Bullwinkle
Bullwinkle – The Adventures of Rocky and Bullwinkle
BoJack – BoJack Horseman
Leonardo – Teenage Mutant Ninja Turtles
Raphael – Teenage Mutant Ninja Turtles
Michelangelo – Teenage Mutant Ninja Turtles
Donatello – Teenage Mutant Ninja Turtles
Dexter – Dexter's Laboratory
Alvin – Alvin and the Chipmunks
Pikachu – Pokémon
Bender – Futurama
Final Thoughts: Cartoon Dog Names
Hopefully, you enjoyed this guide to cartoon dog names and found at least a few ideas that could work for your dog.
Whether it's the name of a classic character you've loved for years or one you simply discovered today, cartoon dog names are a playful pick.
Good luck finding the perfect name and enjoy this precious time with your pup.
More Dog Name Ideas
If you'd like even more great dog name ideas, turn to our online generator.
Using it is easy. You just enter your favorite styles or themes, and it provides a list of cool, customized dog names.
Cartoon Dog Names: How to Teach Your Dog Its Name
View Your Saved Names