Pug Names – 250+ Sweet, Silly & Adorable Ideas
Published:
Last updated:
by Jessi Larson
Looking for a name for your new pug? You're in luck – we have lots of great Pug names for inspiration!
Pugs are adorable dogs full of charm and gumption. Their unique look and and hilarious personalities have won over legions of fans throughout history.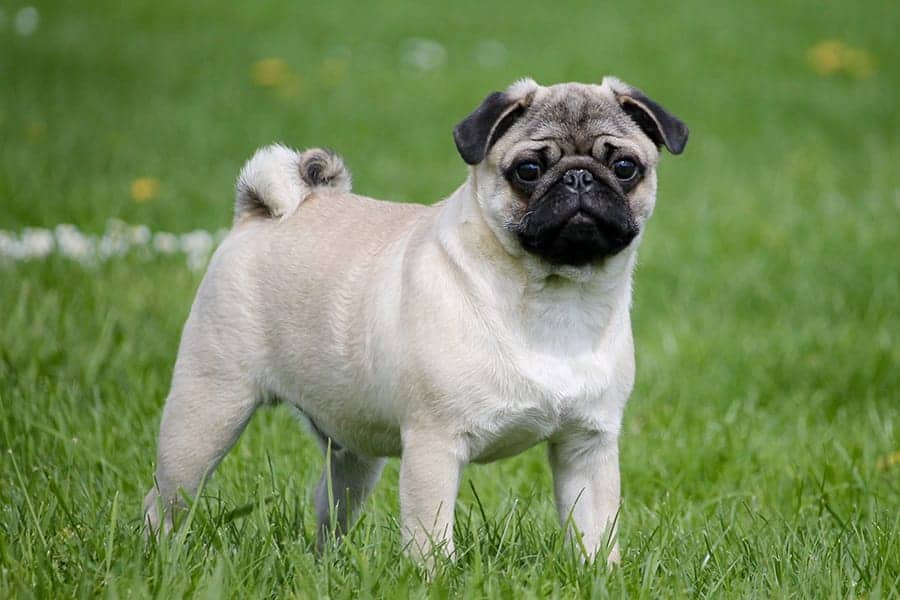 Although their exact history is unknown, the Pug is believed to be of oriental origin, similar to the Pekinese. Today they are in the top 30 most popular dog breeds according to American Kennel Club (AKC).
If you're thinking of welcoming a pug into your home, you must check these out amazing Pug names. They are inspired by famous Pugs, the breed's size, color, appearance and so much more!
Names of Famous Pugs
A number of famous pugs have starred in movies, graced the pages of novels and even made history in real life. This is a great place to start when looking for Pug names!
Your Pug is sure to be quite the character, so why not name them after the most famous of their kind?
You may or may not have heard of these dogs. Either way, they provide great inspiration for Pug names.
Otis – from The Adventures of Milo and Otis
Frank – from Men in Black
Percy – from Pocahontas
Mops – Marie-Antoinette's dog
Pompey – legendary pug who saved the life of the Prince of Orange in the 1500s
Basco – Queen Victoria's favorite pug
Peter Pug – from Wee Peter Pug
Bess – from The West Wing
Vinny – Vinny the Pug is a famous rock-climbing pup
Funny Pug Names
With their unique appearance, gregarious personalities and distinct-sounding name, pugs are perfect for funny – and punny – dog names.
Check out these hilarious names that are perfect for Pugs.
Pugsley
Pugsworth
Pugster
Love Pug
Spark Pug
Elvis Pugsley
Sir Pugs-a-Lot
Pugzilla
Mugsy Pugsy
Pepe Le Pug
Puggles
Elvis Pugsley
Pugaroo
Peppa Pug
Puggy
Puggo
Size and Appearance
Pugs are smaller in size, weighing between 14-18 pounds, and have quite the unique appearance.
Their flat, round face, deep wrinkles, dark eyes and short, stubby legs give them almost a comical look. So naturally, this provides excellent inspiration for pug names!
Be prepared to laugh and smile when you view these adorable Pug names.
Mr. Big
Baby
Stumpy
Shorty
Junior
Tiny
Munchkin
Teenie
Wrinkles
Crinkles
Yoda
Peanut
Mini
Pixie
Shortcake
Slim
Button
Bean
Nugget
Teeny
Color
Pugs are primarily fawn (a light, yellowish tan) or black in color. These colors also provide great inspiration for names.
Have a look at these ideas and see if any fit the coloring of your new four-legged friend.
Fawn
Almond
Amber
Buttercup
Caramel
Cashew
Chai
Chestnut
Goldie
Graham
Hazel
Honey
Sandy
Sesame
Taffy
Tawny
Black
Ash
Carbon
Coal
Cinder
Dusty
Ember
Espresso
Hershey
Mocha
Noir
Olive
Pepper
Raven
Shadow
Snickers
Find more black puppy names.
Other Male Pug Names
OK, we must admit, there's no rhyme or reason to the names below other than the fact that they just seem like Pug names to us.
They're cute, silly and fun, just like a Pug.
Are any right for your new pup? Take a look and see!
Barkley
Brutus
Hamlet
Homer
Gus
Teddy
Miles
Charlie
Dexter
Kirby
Gizmo
Gordie
Louie
Oscar
Quincy
Rocky
Harry
Other Female Pug Names
Same with these names. They just seem like they'd fit a Pug perfectly!
Beautiful, fun and full of personality, these pretty names just be right for a new female Pug.
Petunia
Peanut
Fern
Duchess
Flora
Bambi
Penny
Lucy
Pumpkin
Lola
Mabel
Muffy
Sandy
Sweet Pea
Tinkerbell
Popular Dog Names Perfect for a Pug
The names above are curated specifically for the Pug and draw upon the breed's name, size, personality, coloring and other distinctive qualities.
If you're looking for more general names, however, a great place to look is our list of the most popular dog names, as determined by our millions of users.
These names were the most selected by visitors to our site, and with good reason. They're cute, stylish, fun and so much more.
Top Male Dog Names
The following names are the top 50 most popular male dog names of the year. Our readers love these names, and we think you will, too!
Bear
Milo
Charlie
Archie
Oreo
Bailey
Blue
Tiger
Duke
Teddy
Axel
Biscuit
Buddy
A.J.
Alfie
Coco (Cocoa)
Diesel
Benji
Caesar (Ceasar)
Chewie
Bacon
Bandit
Barkley
Archer
Atlas
Arlo
Max
Scout
Bruno
Barney
Rocky
Finn
Pluto
Bingo
Blaze
Banjo
Boomer
Thor
Toto
Brownie
Waffles
Ace
Augie (Augie Doggy)
Jasper
Copper
Gizmo
Yoshi
Tank
Argos
Ziggy
Top Female Dog names
Our users determined that these were the best female dog names, and it's not hard to tell why. They're pretty, sweet and sophisticated names perfect for a pup like the Pug.
Bella
Daisy
Luna
Willow
Roxy
Bailey
Lola
Harper
Rosie
Nala
Abby (Abigail)
Coco (Cocoa)
A.J.
Bambi
Addie
Sadie
Ava
Bell (Belle)
Gracie
Addison
Piper
Dixie
Biscuit
Hazel
Angel
Zoe (Zoey)
Cookie
Honey
Ellie
Winnie
Lucy
Blue (Blu)
Millie
Oreo
Maisie (Maisy)
Poppy
Cleo
Buttercup
Alice
Kiki
Lady
Olive
Penny
Mia
Amber
Pixie
Pippa
Lily (Lilly)
Violet
Paris
More Funny Pug Names
Funny dog names are always a good choice, especially when you have a hilarious pooch like the Pug.
Their silly personalities and unique appearance make them a perfect candidate for one of these monikers.
Are you ready to laugh out loud? These ideas are dog-gone goofy!
Funny Male Pug names
Big Mac
Bigfoot
Biggie
Bubba
Chewie – short for Chewbacca
Chubbs
Chuck Norris
Chunk
Conan
Cujo
Danger
Godzilla
Hefty
Jabba
Kahuna
Meatball
Moby
Monster
Nacho
Napoleon
Taco
Yeti
Find more funny male pug names.
Funny Female Pug names
Babe – as in the Blue Ox
Babushka
Bertha
Brunhilda
Chalupa
Chi Chi
Cleopatra
Diva
Flo
Helga
Leia
Mama
Marge – or Large Marge
Myrtle
Olga
Poochie
Porky
Pudge
Smooches
Snooki
Tankerbell – a fun play on Tinkerbell
Tootsie
Ursula
Vixen
Whoopi
Xena
Find more funny female pug names.
Even More Ideas for Pug Names
If you're not inspired by any of these dog names, try our online generator and discover even more options. You can sort by your favorite styles and themes to discover the perfect name for your pup.
Or check out these categories that are popular among our readers:
You may also find inspiration in the following articles:
How Do You Pick the Right Name?
How do you know if you've picked the right name for your dog? That's a question all new dog parents ask.
After years of helping new pup parents, here are some tips we've picked up when it comes to selecting a name for your dog:
Is it easy to say? Some names are great in theory but tough to pronounce in everyday life. Before you lock in on a name, make sure it rolls off the tongue.
Say it out loud. Can you imagine loudly calling for your dog with this name? If not, then it's not the right name and you should move on to something better.
Does it fit your dog? Check to see if the name matches your dog's personality and appearance. This is important for both you and your pup.
And finally, trust your gut. When you find the right name, you'll know it!
5 Easy Steps to Teach a Dog Their Name
Once you have a name, how do you teach it to your dog?
All pup parents go through this scenario. They've picked out a perfect name and can't wait to start using it for their dog.
The only problem is their dog doesn't recognize it yet.
If you're in this situation, don't fret. Teaching your dog their name is a lot easier than you think.
Here are five easy steps to take to teach your dog their name.
Get some small treats and put your dog on a leash in a location without any distractions.
Say your puppy's name in a clear, happy, excited voice.
As soon as they look at you, say "yes" and give them a treat.
Wait until they look away and then repeat the process 3-5 times.
Play this name game several times a day and soon they'll know and love responding to their name!
Want to learn more about how to teach a dog their name? We have an awesome guide that makes it easy.
Other Ways to Find Great Pug Names
Inspiration for dog names is all around you. You may find it online through articles like this guide to Pug names. Or you could find the perfect dog name in your everyday life.
Here are a few ways to brainstorm cool dog names all on your own.
What is your favorite hobby?
Do you have a favorite activity that you love to do in your free time? That could provide excellent inspiration when naming your dog.
What is your favorite sport or sports team?
Sports are another great place for dog name ideas. You could give them a name based that refers to the game you love, your favorite team, player or mascot, the field they play on or another aspect of the sport.
For example, our neighbors love to play hockey and named their dog Bauer after the hockey brand.
Where do you live? Or where do you love to travel to?
Your home state or hometown can serve as inspiration as well. Maybe it's your state's nickname, the city where you grew up or a cool landmark.
Or continuing the theme of geography, you could brainstorm the name of places you've traveled to, or where you'd someday like to go.
What's your favorite TV show, movie or book?
Think about what TV show you can't live without. Or what movie you adore. Or the book you can't get enough of.
Do you have a character that sticks out?
We know someone who named his dog after Dwight on The Office. He loved the show and was a huge fan of this character. The name fits his pup perfectly and pays tribute to his favorite TV show.
Do you have a nickname?
Have you been given a fun nickname that you could extend to your pet? Take for example a family we know with the last name Williams. They're often called "Willy" for short, so that's what they named their new dog.
What names do you like?
When you're getting a dog, keep an ear out for names that pique your interest. Inspiration is everywhere, and you'll be surprised by the number of names you hear throughout the day.
Maybe one will be just the right fit for your furbaby!
View Your Saved Names