Fluffy Dog Names – 435+ Ideas We Adore
Last updated:
by Jessi Larson
If you're getting a new fluffy four-legged friend, why not explore fluffy dog names? We've rounded up 435+ ideas you'll absolutely adore.
After all, fluffy dog names are a perfect way to reflect your dog's feathery fur.
A number of dog breeds sport a fluffy coat fitting for fluffy dog names. Dogs like the Pomeranian, Samoyed, Chow Chow, Bichon Frise, and Poodle certainly have no shortage of fur, as do several other breeds.
If you have a dog with lots of fur, you should definitely consider fluffy dog names.
We've got the ultimate list of the best fluffy dog names right here!
Best Fluffy Dog Names
As you hunt for name ideas, these fluffy dog names are simply the sweetest. In fact, we think they're absolutely paw-fect for your pup. (Sorry, I couldn't resist the pun!)
Read through the list and take note of any ideas that stand out.
Baby
Bear
Bristly
Cashmere
Cirrus
Cloud
Coco
Coconut
Cotton
Cozy
Curly
Feathers
Fleecy
Flo
Fluffy
Fozzie
Furbaby
Furball
Furby
Furry
Fuzz
Fuzzy
Fuzzy Wuzzy
Ghost
Hairy / Harry
Linty
Lush
Nimbus
Polar
Pom
Puffy
Ringlet
Ruffles
Scruffy
Shaggy
Silky
Smoky
Snowball
Snowflake
Snuggles
Spirit
Teddy
Truffle
Velvet
Whiskers
Woolly
Fluffy Dog Names Inspired By Other Animals
Dogs aren't the only fluffy creatures in the animal kingdom. There are quite a few other animals out there with furry coats that catch the eye.
The following animals are known for their luscious locks, and you can turn this into inspiration for your furry friend's name.
Alpaca
Angorra – as in the Angorra Rabbit
Bear
Bigfoot
Bunny
Chinchilla
Ducky
Fox
Foxy
Grizzly
Harp – as in the Harp Seal
Lemur
Lion
Mammoth
Moose
Mouse
Panda
Puffin
Quokka
Rabbit
Sasquatch
Sloth
Wolf
Yeti
Fluffy Characters
TV shows, movies and books are full of fluffy characters. This also provides lots of great ideas for fluffy dog names.
You could pick a character you know and love. Maybe it's a childhood favorite or a famous character you can't get enough of. Or you may be hearing some of these names for the first time.
Either way, these fluffy characters can be turned into unique names for fluffy dogs.
Baloo – bear in The Jungle Book
Bambi
Bud – as in Air Bud
Chewbacca
Corduroy – bear in Corduroy
Delilah – fluffy dog in Homeward Bound II: Lost in San Francisco
Donald Duck
Dug – dog in Up
Eevee – Pokemon character
Ewok – furry Star Wars character
Figaro – cat in Pinocchio
Foo-Foo – Miss Piggy's fluffy dog
Gossamer – Looney Toons character
Jigglypuff – Pokemon character
Mareep – Pokemon character
Maxie – polar bear in Chilly Willy
Nala – lion in The Lion King
Nana – family dog in Peter Pan
Oliver – cat in Oliver & Company
Oso – bear character in Special Agent Oso
Paddington – Paddington Bear
Scrat – squirrel in Ice Age
Scuttle – seagull in The Little Mermaid
Simba – main character in The Lion King
Ted – talking bear in Ted
Teddy Ruxpin
Thumper – rabbit in Bambi
Wookiee – large furry creature in Star Wars
Yogi – as in Yogi Bear
Funny Fluffy Dog Names
And if you're feeling playful, you could pick a funny fluffy dog name guaranteed to make people smile.
Everyone needs a good laugh, and these sweet and silly names are sure to make everyone laugh out loud.
Admiral Fluff
Bill Furry
Captain Fluff
Charmin
Flava Fluff
Fluffmeister
Franz Fur-dinand
Furcules
Fuzz Aldrin
Hairy Houdini
Hairy Paw-ter
Katy Hairy
Marshmallow
Mariah Hairy
Mayor Fluffington
Mr. or Mrs. Fluffer Nutter
Mr. or Mrs. Softy
Ms. Frizzle
Poof
Poof Daddy
Prince Fluffster
PupFluff
Sheddy Krueger
Sir Fluff's A Lot
Winston Furchill
Fluffy Dog Names Inspired By Color
If you like the idea of giving fluffy dogs a name inspired by their fur but aren't loving the fluffy dog names above, why not pivot and pick a name based on color instead?
We have plenty of names for the most popular dog coat colors.
White Dog Names
Powder
Ivory
Frosty
Bianco/Bianca – white in Italian
Sugar
Dove
Boo
Pearl
Casper
Alabaster
Crystal
Snowy
Marshmallow
Bones
Gardenia
Ice
Polar
Snowball
Al Bino
Winter
Blizzard
Cotton
January
Ghost
Discover more white dog names.
Black Dog Names
Raven
Midnight
Noir – black in French
Crow
Nero – black in Italian
Olive
Cinder
Espresso
Shady
Smokey
Thunder
Onyx
Coal
Inky
Shadow
Tarmac
Ebony
Black Jack
Preta/Preto – black in Portuguese
Morticia
Enigma
Zorro
Jet
Shade
Ember
Ash
Mystery
Stormy
Poe – Edgar Allen Poe
Pepper
Elvira
Discover more cute black dog names.
Brown and Tan Dog Names
Maple
Charlie Brown
Bambi
Reese
Coco
Peanut Butter
Teddy
Nutella
Porter
Bear
Fawn
Prairie
Sesame
Blondie
Terra
Topaz
Hickory
Rolo
Sienna
Cadbury
Sandy
Acorn
Oak
Brownie
Braun – brown in German
Tiger
Sunny
Tootsie
Peaches
Butterscotch
Umber
Kahlua
Guiness
Chestnut
Russet
Beige
Tawny
Amber
Summer
Manila
Java
Tanner
Chewbacca
Godiva
Heath
Kobicha – one of the Japanese traditional colors used in kimonos
Sahara
Tan
Chip – like chocolate chip
Marron – brown in French
Pumpernickel
Cashew
Ginger
Buff
Mocha
Wheaten
Almond
Bean
Moose
Raisin
Khaki
Hershey
Woody
Brun – brown in Swedish
Discover more brown dog names.
Red Dog Names
Ruby
Rose
Terra
Honey
Hazel
Penny
Sepia
Caramel
Marigold
Chili
Cayenne
Amber
Fox
Ambrosia
Brandy
Copper
Tabasco
Burgundy
Scarlet
Merlot
Sienna
Holly
Saffron
Valentine
Rusty
Clementine
Flame
Cheyenne
Tiger
Poppy
Peaches
Shiraz
Red
Goldy
Cheddar
Amaretto
Caramelo
Autumn
Discover more red dog names.
Black and White Dog Names
Dice
Checkers
Soccer
Peppermint Patty
Whaley
Spade
Cruella
Pongo
Pepe Le Pew
Skunky
Cookie
Puffin
Oreo
Tux
Banksy
Snoopy
Ying Yang
Perdita
Jeeves
Shamu
Chess
Tuxedo
Monk
Domino
Charlie Chaplin
Panda
Discover more black and white dog names.
Multi-Color and Patterned Dog Names
Tortie – tortoiseshell pattern
Puzzle
Turtle
Blotch
Chevron
Checkers
Pebbles
Jackson – artist Jackson Pollock
Pollock – artist Jackson Pollock
Sprinkles
Merle
Dos – two in Spanish for dogs with dual-colored coats
Tre – three in Italian for the number of colors in a tri-color coat
Tres – three in Spanish
Rainbow
Brindi
Harley
Blot
Twix
Spot
Harlow
Speck
Camo
Dot
Stripes
Patches
Dottie
Harlequin
Smudge
Marble
Freckles
Sundae
Kaleidoscope
Speckles
Pixel
Oriole
Mosaic
Monarch
50 Most Popular Dog Names
The inspiration isn't over yet. The names noted above are specific to a fluffy dog's coat and coloring. But you may want to take a step back and explore popular names that fit any canine.
Let's explore the top 50 popular names for female and male dogs as determined by our millions of users.
New pup parents have rated these the best dog names, and it's not hard to tell why. They're cute and classy, just like fluffy dogs.
Top Female Dog Names
Daisy
Luna
Lola
Bella
Roxy
Olive
Gigi
Willow
Dixie
Nala
Poppy
Abby (Abigail)
Hazel
Piper
Harper
Gracie
Lucy
Violet
Athena
Koda
Angel
Lady
Honey
Coco (Cocoa)
Ava
Raven
Addie
Bailey
Harley
Fifi
Aurora
Xena
Nyx
Aspen
Ellie
Millie
Sadie
Cookie
Pearl
Stella
Yuki
Rose (Rosie)
A.J.
Mia
Pepper
Princess
Winnie
Bambi
Maggie
Akira
Top Male Dog Names
Buddy
Charlie
Milo
Bear
Axel
Duke
Max
Rocky
Cooper
Asher
Finn
Diesel
Leo
Thor
Chewie
Bruno
Scout
Alfie
Blue
Hunter
Archie
Apollo
King
Rex
Blaze
Lucky
Echo
Gizmo
Barkley
Shadow
Gunner
Bailey
Percy
Brutus
Bolt
Spike
Arlo
Tank
Yoshi
Fang
Biscuit
Bane
Maverick
Odie
Spud
Rambo
A.J.
Oliver
Atlas
Alaska
Final Thoughts
We hope you've enjoyed these 435+ fluffy dog names. They draw inspiration from fluffy adjectives, furry animals and characters, popular coat colorings and so much more.
But with so many great options for fluffy dogs, how do you pick the right one?
To start, take note of any name that catches your eye. Don't overthink it. Just write the name down.
Next, remove any name that you have doubts about. Just keep the ones that you really like.
And finally, when you get your dog, say the name out loud and see if it's a fit. You'll know in your gut when you've found the right one!
More Dog Name Ideas
If you'd like even more name ideas, our online generator is a great tool for new pup parents.
Here's how it works: You enter your favorite styles, like tough, cute, classic and so forth, and it generates names perfectly suited for your pooch.
You can also sort by fun themes like movies, music, sports, food and so much more.
Mix and match to find just the right name for your new canine.
Fluffy Dog Naming Guides
Depending on your pet's breed, other naming guides that could be helpful for fluffy dogs include: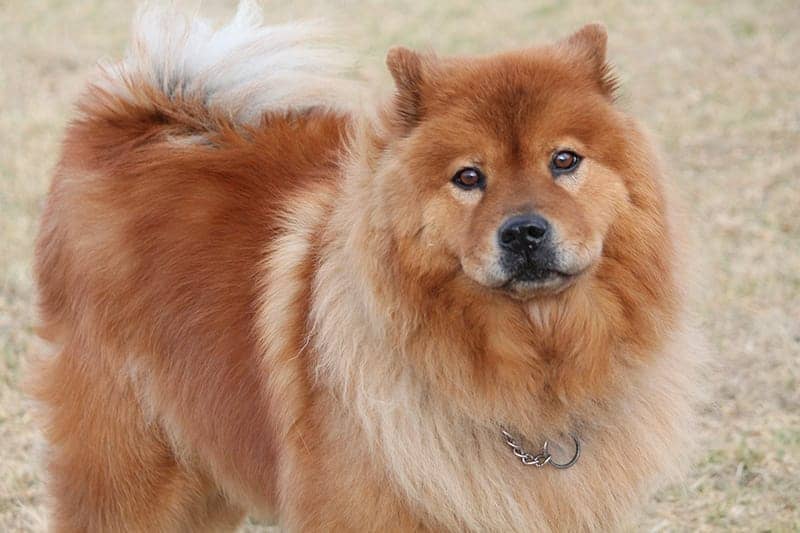 How Do You Pick the Right Name?
It can be hard to choose a name for your new canine companion. We have a way to help!
Over the years, we've been fortunate enough to help millions of pup parents in their name search. Along the way, we've picked up a few tips and tricks we'd like to share.
When you find a name, it's a good idea to ask yourself the following:
How easy is it to say? Before finalizing a name, make sure it's easy to say out loud. Some names that sound perfect on paper end up being tough to pronounce.
Does it match your dog? The perfect name will go along with a dog's demeanor personality and appearance. Ask yourself, does the name seem like the right fit for your furry friend?
Does everyone agree on it? If you have other people in your household, make sure they're on board with the name. After all, they'll be saying it day in and day out, too.
Does it feel right in your gut? When you find just the right moniker for your pup, you'll know it.
Teach Your Dog Their Name – Quickly!
You can pick the perfect name but there's just one challenge: Your dog doesn't know it yet.
Teaching the name to your dog might sound intimidating, but in truth, it's actually quite easy.
These steps will make it a smooth and straightforward process.
First things first, prepare. Grab some small treats for positive reinforcement and then find a space that's quiet and distraction-free.
Next, bring your dog over and say their name in a clear, positive voice. When your pup looks at you, say "yes" and provide a treat.
For repetition, complete this process 4-5 times.
Take a break and then pick up the game again at a later time. Do it a few times throughout the day for reinforcement.
If you follow these steps, your dog will know their name in just a few days.
View Your Saved Names