Country Dog Names – 175 Southern Names You'll Love
Published:
Last updated:
by Jessi Larson
Country dog names are so fun, so twangy, and definitely unique.
For these southern dog names, the most obvious starting point is to look at country music, the popular genre that originated in the Southern United States. Other areas of inspiration are locations, characters, and things that correspond with the country lifestyle.
You don't have to live in the south, however, to like country dog names. Anyone who appreciates country life and its fun, laid-back vibe should consider these names, especially if you have a dog with a chill, loving personality.
Country Dog Names Inspired by Male Singers
Garth – Because Garth Brooks rules the world of country music! You can also call your pup Brooks in reference to the singer.
Buck – For Buck Owens, a pioneering musician and one time co-host of Hee Haw.
Waylon – As in Waylon Jennings, the quintessential country singer.
Johnny / Cash – Both make fun country dog names and pay tribute to an amazing man.
McGraw – An ode to Tim McGraw, the handsome singer of hits like "Indian Outlaw," "Don't Take the Girl," and "I Like It, I Love It."
Vince – Like Vince Gill, a popular country singer since the '80s.
Kenny Rogers – It's just one of those country dog names where you have to say both the first and last name!
Randy – In honor of crooner Randy Travis.
Hank – Both Hank Williams and his son Hank Williams Jr. are influential country stars in their own right.
Conway – Hello, darling! Conway Twitty ruled the country charts in the '70s.
Kenny / Chesney – Either one works to honor the popular singer.
Willie (Nelson) – The doobie-loving, old-school country star.
Merle – Named after Merle Haggard, an incredibly talented musician who revolutionized country music.
Blake or Shelton – A country music star, Blake Shelton broadened his appeal when he became a judge on The Voice.
Dwight – For Dwight Yoakam, a popular country singer since the early '80s and also a talented actor.
Paisley – For Brad Paisley, a charming and successful modern country star.
Billy Ray – The Achy Breaky Heart singer is one-hit wonder with a fabulous mullet and a famous daughter.
Toby (Keith) – How do you like me now? This is a super cute name for a bold, brash dog.
Aldean – Newcomer Jason Aldean is quite the country rabble rouser.
Dierks / Bentley – Either one works when naming your dog after the handsome country star.
Trace – For Trace Atkins, another platinum country crooner.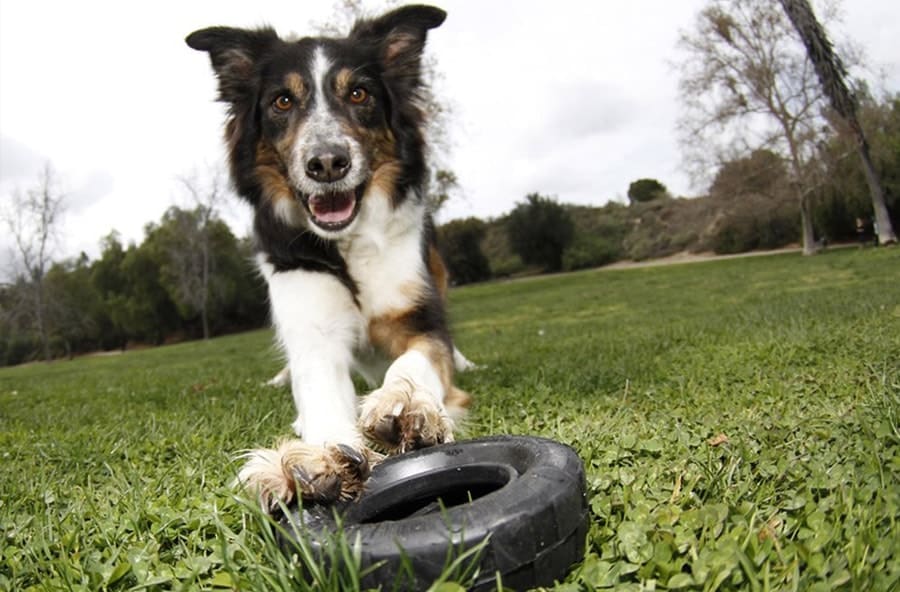 Country Dog Names Inspired by Female Singers
Reba – The bubbly and talented redhead Reba McEntire.
Shania / Twain – The Canadian singer is so good, she topped both the country and pop charts.
Dolly – As in Dolly Parton, the legendary, larger-than-life country superstar.
Faith – Named after the gorgeous and talented Faith Hill.
Patsy – Patsy Cline is a major country icon with hits like "Crazy" and "I Fall to Pieces." Her career was sadly cut short when she passed in a plane crash at 30. She did so much in such a short time!
Loretta – Loretta Lynn is another legendary country singer. In fact, she remains the most awarded female country recording artist.
Wynonna – Wynonna Judd found success as part of The Judds and also as a solo artist.
Tammy Wynette – Called the "First Lady of Country Music," Tammy Wynette's best-known song is "Stand by Your Man."
Taylor Swift / T. Swift – Ah yes, that young, trendy country/pop star who loves to write songs about her ex boyfriends.
Tanya Tucker – She's been a country music stable since the late '70s.
Carrie – Oh Carrie Underwood, you beautiful, talented American Idol.
Gretchen – Gretchen Wilson is most famous for the mega hit "Redneck Woman."
Jo Dee – Singer of "Heads Carolina, Tails California," Jo Dee Messina has had six songs reach No. 1 on the Billboard Country Chart.
Martina – Martina McBride has one of the widest singing ranges in country music. Sing it, sister!
Miranda – As in Miranda Lambert, the cute, feisty firecracker.
Trisha – For Trisha Yearwood, songstress of "She's in Love with the Boy" and wife to Garth Brooks.
Country Dog Names Based on Bands
Dixie – Inspired by the country trio The Dixie Chicks.
Alabama – The band behind hits like "Mountain Music" and "If You're Gonna Play in Texas (You Gotta Have a Fiddle in the Band."
Judd – Like The Judds, the country act of mother Naomi Judd and daughter Wynonna Judd.
Brooks / Dunn – For Brooks & Dunn, the country duo that has rocked out since 1990.
Lady Antebellum – If you have a fabulous female dog, why not name her after this fabulous country group?
Zac Brown – the Zac Brown band has been topping charts since the early 2000s.
Lonestar – Unless you were living under a rock in the year 2000, you surely heard of the song "Amazed" by Lonestar. They have had a plethora of other hits.
Montgomery Gentry – A duo composed of vocalists Eddie Montgomery and Troy Gentry, both natives of Kentucky.
Rascal Flatts – A mega-popular country band with 13 songs to hit No. 1.
SHeDAISY – A super cute name for a spunky girl dog!
Look up more country singers and bands
Country Dog Names Based on Location and Landmarks
These locations also make great country dog names!
Atlanta
Augusta
Austin
Branson
Carolina
Delta
Dixie
Houston
Georgia
Louisiana
Memphis
Nashville
Opry (like the Grand Ole Opry)
Savannah
Tennessee
Tulsa
Vernon
Virginia
Related: Western dog names
Farm Dog Names
Searching for the perfect name for your canine companion that captures the essence of farm life? Look no further than this list of farm dog names inspired by the heartwarming countryside and the hardworking pups who call it home.
Shep
Daisy
Rusty
Rooster
Buttercup
Bucky
Belle
Angus
Alfie
Tractor
Clover
Hank
Bessie
Finn
Scout
Cheddar
Pippin
Muddy
River
Gypsy
Dakota
Whiskey
Maple
Max
Tucker
Barney
Blue
Dixie
Rowdy
Harlow
Banjo
Sugar
Jax
Mocha
Huckleberry
Maverick
Juniper
Diesel
Otis
Daisy
Barley
Beanie
Willow
Echo
Honey
Sunny
Jasper
Dolly
Nutmeg
Cinnamon
Ideas from Cowboys & Cowgirls
If you're looking for a different style of country dog name maybe one of these classic cowboy names will do the trick!
Autry – Gene Autry, singing cowboy, actor
Billy – Billy the Kid, outlaw & gunfighter
Black Jack – Black Jack Ketchum, cowboy turned robber, member of the Hole in the Wall gang
Buffalo – Buffalo Bill Cody, organized Wild West extravaganza
Cody – see Buffalo
Connie – Connie Douglas Reeves, America's oldest cowgirl
Bullock – Seth Bullock, Deadwood's first sheriff
Butch – Butch Cassidy, robber & member of the Wild Bunch gang
Cassidy – see Butch
Calamity – Calamity Jane, sharpshooter, gambler
Cisco – Cisco Kid, fictional cowboy
Deadwood – Famous South Dakota cowboy town
Doc – Doc Holiday, dentist, gambler, gunfighter
Dodge – Dodge City, Kansas – famous Wild West town "Get Outta Dodge"
Durango – Famous Wild West town in Colorado
Holiday – see Doc
Kit – Kit Carson, scout & trapper
Lucille – Lucille Mulhall, cowgirl and Wild West performer
Nat – Nat Love, African-American cowboy & former slave
Oakley – Annie Oakley, sharpshooter in Buffalo Bill's Wild West show
Pickett – Bill Pickett, Wild West show performer
Roy – Roy Rogers, actor and "King of the Cowboys"
Slim – Slim Pickens, rodeo performer and actor
Texas Jack – Texas Jack Omohundro, scout actor and cowboy
Tombstone – Tombstone, Arizona and cowboy movie
Wayne – John Wayne, famous cowboy actor
Wesley – John Wesley Hardin – outlaw and gunfighter
Willie – Willie "Bill" Pickett, Wild West show performer
Wyatt – Wyatt Earp, lawman, gambler
Related: more cowboy dog names
Other Southern Dog Names
And last but certainly not least, here is a hodgepodge of other country dog names that capture the essence of the lifestyle and also make great farm dog names.
Female Southern Dog Names
Abigail
Ada
Annie
Bailey
Belle
Blanche
Bonnie
Callie
Cheyenne
Corinna
Daisy May
Darby
Della
Delta
Ginger
Glory
Gracie
Hallie
Harley
Hazel
Ida
Lela
Lucy
Lulamae
Maggie
Magnolia
Maisie
Maribelle
Millie
Peaches
Pepper
Rosie
Ruby
Scarlett
Shelby
Sugarbaker (from Designing Women)
Tallulah
Tara
Tilly
Trixie
Willow
Male Southern Dog Names
Alton
Arlen
Avery
Bacon
Bandit
Banjo
Barton
BB
Beau
Bennet
Benny
Billy
Blue
Bobby Jo
Bo Duke
Bo
Booker
Boone
Bourbon
Boyd
Brick
Brock
Brown
Bud
Bullet
Butter
Chase
Clayton
Clinton
Cole
Colonel
Colt
Copper
Cowboy
Deacon
Duke
Earlie
Eli
Elvis
Grady
Grayson
Grover
Gumbo
Gunner
Hardy
Harper
Huckleberry
Hunter
Jackson
Jasper
Jed
Jefferson
Jethro
John Boy
Knox
Lee
Maverick
Old Boy
Parker
Porkchop
Presley
Rufus
Sawyer
Scout
Sterling
Teddy
Trapper
Twain
Whiskey
Willie
Yeller
If you have other ideas for country dog names, we'd love to hear them. Let us know below!
More Dog Name Ideas
The dog name ideas don't stop here. If you're not inspired by any of the names above, try our online generator and find even more options. You can sort by your favorite styles and themes.
Popular categories include:
Learn to Teach Your Dog its Name
View Your Saved Names