Are you ready for 125+ of the best brindle dog names on the planet?
We hope so because we have ideas inspired by fur patterns, colors, food and more.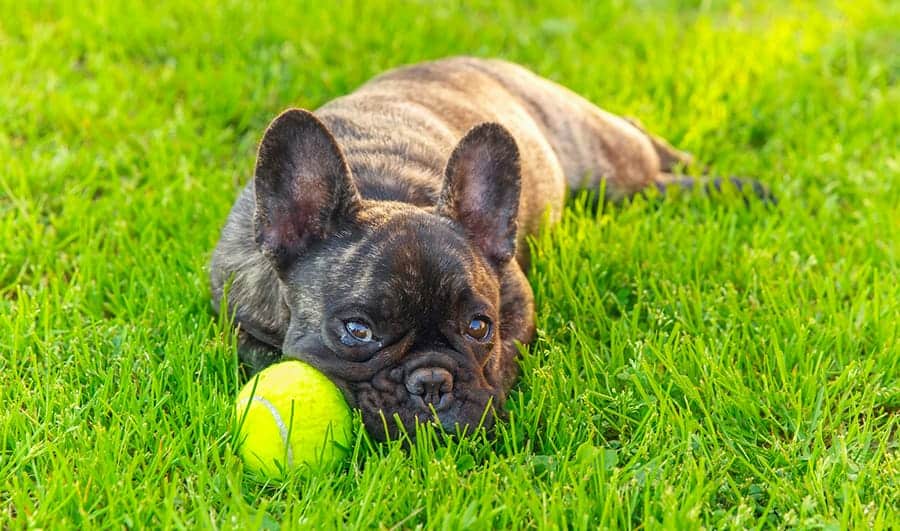 And what exactly constitutes a brindle coat?
According to the official definition, a brindle coat has streaks of color that are irregular and usually darker than the base color. Most often brindle fur has a brown base color with dark brown to black stripes on the top.
If you're welcoming a beautiful brindle into your home, you must check out these fabulous brindle dog names. We guarantee you'll find one you love!
Brindle Dog Names Based on Fur Pattern
First things first, let's look at brindle dog names inspired by the unique pattern on their fur.
No two brindles are alike. Some have stripes that are more defined, like a tiger. Others have patterns that are murkier and less clear.
These unique names draw inspiration from the many possible brindle patterns.
Camo – Like camouflage. Because in a way, brindle fur looks a lot like camouflage.
Dot – At times, the brindle pattern can look like elongated dots.
Freckles – The brindle specks almost look like freckles in a way.
Inky – The specks of black have almost an inky appearance.
Marble – The pattern also has a marbled effect.
Mosaic – The brindle fur creates a beautiful pattern, like a mosaic.
Patches – One of the best ways to describe the brindle pattern, and it's super cute!
Pebbles – The brindle pattern can also look a bit like pebbles. (How cute is this name?)
Pixel – The small dots and lines make up a larger image.
Speckles – An adorable way to describe the pattern in the brindle fur.
Tiger – A brindle dog is often described as having fur that looks like a tiger pattern.
Brindle Dog Names Inspired by Food
Here's another creative idea for brindle dog names: You can explore names based on popular foods and drinks!
Brindle colors range from tawny to reddish to brown to dark black, and there are are many edible items that reflect these colors and make for fun brindle dog names.
Bailey – Bailey's Irish Cream
Bean – Beans range from light brown to black to even red, just like a brindle
Bock – Dark German malty beer
Bosco – Chocolate syrup
Brandy – Dark liquor
Brownie – Delicious chocolate fudgy dessert
Caramel – A beige/orange delicious dessert
Cashew – This nut is a tawny brown color
Chip – Like a chocolate chip
Cinnamon – A great name for reddish-brown dogs
Clementine – Like the cute orange fruit – an adorable name!
Cocoa – The dark-colored basis for chocolate
Coffee – This brewed drink is a rich, dark brown
Cola – Dark sodas have a brown, caramel color, like a brindle
Cookie – How cute is this name?
Espresso – As in the dark Italian coffee
Fudge – The dark sugary candy
Godiva – A high-end chocolate brand
Guinness – As in the famous dark beer
Hazelnut – As in the rich, delicious nut
Heath – Made of toffee, almonds and milk chocolate, the Health Bar has similar coloring to a brindle
Hershey – A well-known chocolate brand
Jameson – As in the whiskey brand
Java – Another word for coffee
Kahlua – Like the dark coffee liqueur
Kona – A coffee bean variety from Hawaii
Latte – As in the coffee and milk drink
Mocha – The delicious chocolate espresso
Molasses – As in the dark, sugary syrup
Nutella – A brand of sweetened hazelnut cocoa spread
Olive – An olive is dark in color, just like a brindle dog
Oreo – The delicious cookie is a mix of dark and light colors, like many brindles
Peanut Butter – The brindle coloring can have a creamy brown coloring, like peanut butter
Pepper – The dark black seasoning
Porter – The delicious dark beer
Pumpernickel – The German dark brown rye bread
Raisin – The dried grape also has a dark coloring
Reese – Named after Reese's Pieces
Rolo – A tiny candy with a chocolate outside and caramel inside
Saffron – A bright orange/reddish spice
Snickers – A delicious chocolate, caramel, nougat and peanut combination
Spice – Brindle dogs just have the look of spice colors!
Stout – A variety of dark beer
Sundae – Sundaes are often vanilla ice cream with caramel and chocolate, kind of like if a brindle dog were turned into a dessert
Tootsie – As in Tootsie Roll
Turtle – A turtle dessert combines caramel and chocolate. Hmmm, those colors are awfully close to the brindle!
Whiskey – A dark distilled alcohol
Brown Dog Names
Brindles are often a rich brown color, which provides excellent inspiration for unique dog names.
If your brindle is more brown in coloring, try out these fun brown dog names.
Acorn
Bambi
Bear
Braun (brown in German)
Brown Bear
Brun (brown in Swedish)
Brunette
Charlie Brown
Chestnut
Chewbacca
Hickory
Kobicha (one of the Japanese traditional colors used in kimonos)
Leather
Marron (brown in French)
Moose
Mudd
Russet
Tanner
Taupe
Teak
Teddy (Teddy Bear)
Umber
Light Brown/Tan Names
Although a bit more on the rare side, some brindles sport a light brown or tan color. If you're lucky enough to have such a unique-looking dog, these names might just be right for you.
Almond
Beige
Biscuit
Buff
Daffodil
Fawn
Ginger
Ivory
Khaki
Sahara
Sandy
Savannah
Sesame
Summer
Tuscan
Golden and Reddish Brown Names
Many brindle dogs have a golden or reddish hue to their coat. For these types of pups, check out these names representative of their lovely locks.
Amaretto
Brandy
Cayenne
Copper
Goldy
Hazel
Honey
Merlot
Rose
Ruby
Rusty
Scarlet
Sepia
Shiraz
Sienna
Terra
Black Dog Names
And last but not least on our list of brindle dog names, we'll look through names inspired by the black coloring that is common amongst these types of dogs.
Ash
Asher
Carbon
Cole (Coal)
Cinder
Dusty
Ebony
Ember
Graphite
Onyx
Opal
Shadow
Shady
Slate
Slater
Smokey
Stormy
Tarmac
Thunder
Twilight
Black in Other Languages
Kuro (Japanese)
Nero (Italian)
Noir (French)
Pango (Maori)
Preto (Portuguese)
Schwarz (German)
Zwart (Dutch)
Top Brindle Dogs
As we mentioned before, brindle refers to a unique pattern and coloring on a dog's coat. The pattern does not occur in all dog breeds. Instead, the brindle trait is more common in certain breeds of dogs than others.
These include:
Akita
American Staffordshire Terrier
Bulldog
Bull Terrier
Boxer
Boston Terrier
Cardigan Welsh Corgi
Dachshund
Great Dane
Greyhound
Mastiff
Whippet
Learn more about brindle dogs and what causes their coat to look this way.
Tips for Picking a Great Dog Name
Other Dog Names
If you're not inspired by any of the brindle dog names above, try our online generator and find even more options. You can sort by your favorite styles and themes to quickly find the perfect fit.
Our site offers thousands of fabulous names for your furbaby and helps over 15 million new dog owners each year. With this, we're confident you'll find the name for your dog on our site.
Popular categories include:
Give it a whirl and see what you think!
View Your Saved Names