St. Bernard Names – 130+ Perfect Ideas
Published:
Last updated:
by Jessi Larson
Get ready for a HUGE list of St. Bernard names. In fact, we've got 130+ ideas ranging from famous to funny, and everything in between.
Among the world's most famous and beloved breeds, the St. Bernard stands out for its large, strong build, obedient personality and sweet demeanor, especially as a family dog.
The breed got its start in the western Alps in France, Switzerland and Italy where it was used as a rescue dog. Soon enough, stories of the breed's alpine rescues – and enormous size – made their way to the rest of the world, and today people all over recognize this gentle giant.
As you prepare to welcome this breed into your home, check out our ultimate list of St. Bernard names. You're sure to find an option perfect for your new pup!
Famous St. Bernard Names
Quite the distinctive-looking dog, the St. Bernard has been a fixture in movies, TV, novels and even professional sports.
When looking for St. Bernard names, why not draw inspiration from famous furballs of the same breed?
Here are the most famous St. Bernards that have made history or entertained the masses.
Beethoven – Perhaps the most famous St. Bernard is the lovable dog from the 1992 comedy Beethoven.
Cujo – The rabies-stricken dog who terrorizes a town in the 1981 Stephen King novel Cujo and the 1983 film of the same name.
Nana – As in the Darling family dog in the Peter Pan movies.
Bolivar – Donald Duck's non-anthropomorphic pet.
Buck – From Jack London's novel, The Call of the Wild.
Gumbo – The team mascot for the New Orleans Saints
Bernie – The mascot of the Colorado Avalanche.
George – From the 1971 movie and its 1972–74 spinoff television series.
Barry – The famous Alpine rescue dog.
Strong Male St. Bernard Names
Standing 28-35 inches and weighing a whopping 140-180 lbs, male St. Bernards are massive creatures. This provides excellent inspiration when looking for St. Bernard names and leads us to explore ideas that fit the breed's sizeable stature.
For example, here are strong, powerful options that play on the size of this gentle giant.
Maximus
Zeus
Brutus
Goliath
Titan
Hercules
King
Kingsley
Bruno
Captain
Bubba
Sasquatch
Avalanche
Burly
Duke
Hulk
Jett
Colossus
Mack
Blizzard
Magnum
Moose
Rogue
Samson
Buck
Sergeant
Stryker
Groot
Thunder
Tracker
Strong Female St. Bernard Names
At 26-28 inches tall and 120-140 lbs in weight, the female St. Bernard is no shrinking violet. In fact, they weigh about the same amount as many human females!
As you look for St. Bernard names for your female pup, you should definitely explore these strong, athletic ideas fitting for this powerful breed.
Attila
Liberty
Athena
Echo
Ripley
Saber
Cheyenne
Dakota
Daenerys
Diva
Arya
Sheba
Harley
Huntress
Indiana
Indy
Jezebel
Roxy
Koda
Maxi
Nyx
Olympia
Rebel
Aurora
Tiger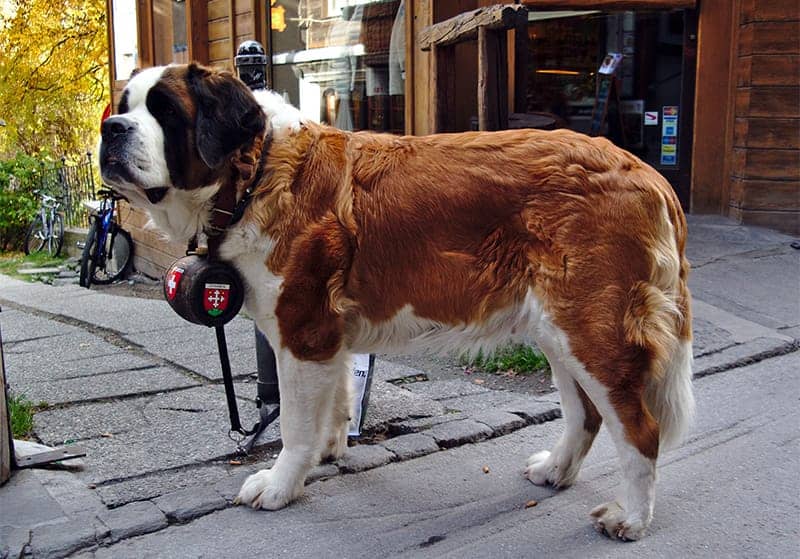 Cute Male St. Bernard Names
Sure, St. Bernards are giant, but they're also gentle giants. Loving and eager to please, the breed excels as a family dog and cherished companion. They also have an impossibly adorable face with large soulful eyes and a droopy smile.
With both their personality and appearance in mind, you should definitely consider cute male dog names. Here are some adorable ideas.
Leo
Charlie
Max
Ernie
Mickey
Frankie
Buddy
Jack
Scully
Odie
Milo
Alfie
Brody
Chewie
Blue
Gizmo
Scrappy
Roscoe
Chance
Marley
Finn
Louie
Rascal
Cooper
Chase
Hank
Percy
Henry
Barkley
Patches
Rudy
Murphy
Scully
Fergus
Cute Female St. Bernard Names
Continuing with the cute St. Bernard names, here are options for female furbabies. Sweet and sunny, these names are perfect for your (giant) new addition.
Daisy
Chloe
Olive
Gigi
Zoey
Lily
Sally
Honey
Poppy
Maisie
Hazel
Maggie
Petunia
Lola
Hannah
Emma
Jojo
Mittens
Piper
Gidget
Gertrude
Lucy
Dakota
Dixie
Josie
Paisley
Mia
Willow
Luna
Izzy
Macy
Madison
Zoey
Rosie
Sophie
Kona
Amelia
Nala
Ironic St. Bernard Names
And finally, let's have a little fun here. It's a safe bet that your St. Bernard will weigh anywhere from 120-180 lbs – maybe even more. How funny would it be to give your St. Bernard a tiny dog name?
Just imagine a massive-sized dog named Tiny. Or Baby. Or Shorty.
Are you smiling yet?
If you like this idea, check out these ironic (and very funny) St. Bernard names.
Tiny
Baby
Little
Bitty
Shorty
Peanut
Squirt
Munchkin
Peewee
Smalley
More Dog Name Ideas
The St. Bernard names don't stop here. If you're not inspired by any of the names above, try our online generator and find even more options. You can sort by your favorite styles and themes.
Popular categories include:
How to Teach Your Dog its Name
Is this your first St. Bernard? Get the St. Bernard manual!
The more training you can get, the better. Reading up on how to be a better dog parent is always a good idea, so consider buying this book to learn more about the St. Bernard's needs.
View Your Saved Names