The Best Golden Retriever Names – 110+ Names for Your Golden
Last updated:
by Jessi Larson
When it comes to Golden Retriever names, where do you begin?
Well, most people start with color. Their rich coloring naturally leads to some pretty cool names.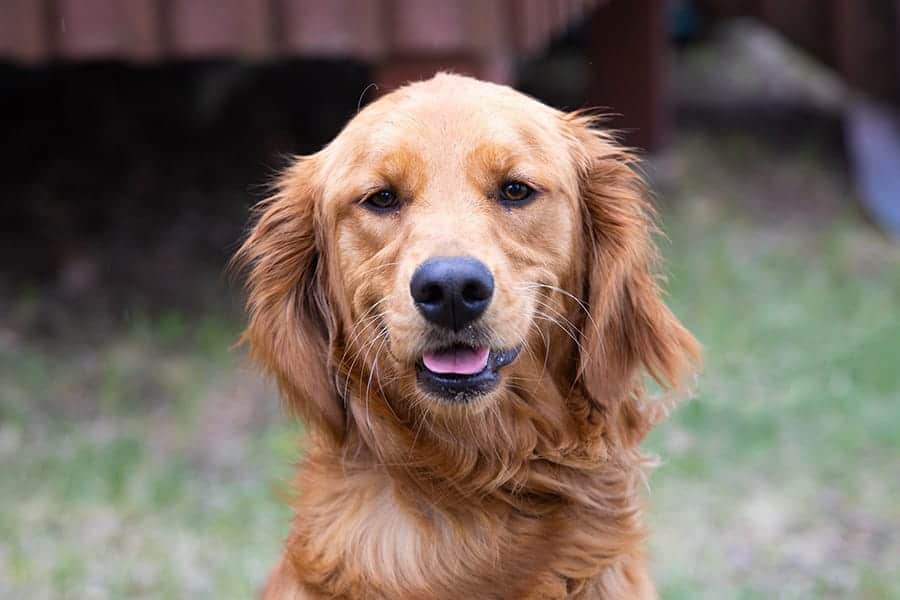 However, their fluffy fur and sweet personality also provides inspiration, as do famous Goldens on TV and in the movies.
Here are 110+ of the Best Golden Retriever names to get started.
Golden Retriever Names Based on Color
The Golden Retriever's coat can be cream, light golden, golden or dark golden (almost like a red). This creates many ideas for dog names.
Amber – a material that is between gold and orange in color, kind of like a Golden!
Apricot – a cute, golden fruit.
Blaze – like a fire
Blondie – or for the dogs with yellow coloring, Blondie is an adorable choice.
Butter – funny for yellow dogs.
Buttercup – this sweet flower has a bright yellow coloring.
Butterscotch – butterscotch is a little lighter in color but equally delicious.
Caramel – the rich confection is beige/dark brown (and delicious!)
Cinder – Like a fire
Cinnamon – beautiful and perfect for a Golden with reddish hues.
Copper – this is great for a male Golden Retriever.
Crimson – a strong red, Crimson is great for a more reddish colored dog.
Ember – an ember is a golden, hot coal with a rich coloring, like a Golden.
Ginger – a light shade of orange, Ginger is an adorable name.
Goldie – this was a given!
Goldilocks – or for a female dog, you can go with this lovely name.
Graham– like the golden crackers
Honey – this name is so sweet and sums up their fur color so perfectly.
Maple – we love this unique, rich name.
Marigold – the Marigold blooms in golden, orange, yellow and white. Sound familiar?
Nugget – as in a gold nugget
Peach –  a peach has a golden color and serves as an adorable name.
Pumpkin – an adorable name and great for dogs with an orange-ish hue.
Rusty – perfect for their red/golden color
Ruby – a precious stone for a reddish golden
Rose – another great name for a reddish dog
Toffee – this hard candy has a golden hue and makes a cute, unique dog name.
Sandy – a cute name especially for a dog with a sandy blond mane.
Sunny – this name works on so many levels, perfectly describing their bubbly personality as well as their fur color.
Yellow – a simple, sweet name for a Golden.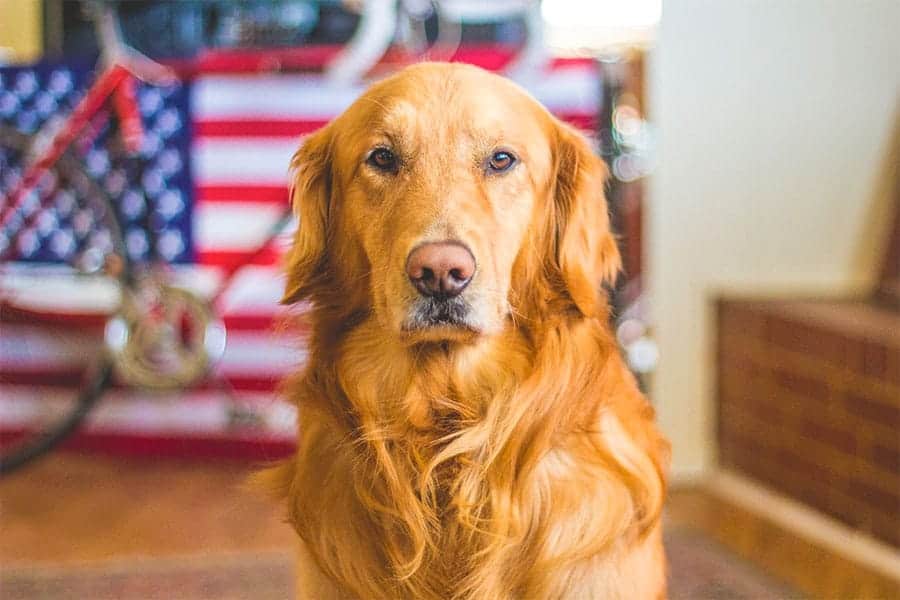 Golden Retriever Names Based on Personality
Sweet, smart and ready to please, Golden Retrievers dogs make excellent companions. It's no wonder they've been in the top 10 for most popular dog breeds for decades!
Their sincere, loving personality provides some wonderful ideas for dog names.
Happy – after all, Goldens are ALWAYS happy.
Buddy – your Golden is clearly your best pal.
Jubilee – the definition of jubilee is a celebration, which sounds like an awful lot like how Goldens live their lives.
Joy – because Goldens are pure joy.
Earnest/Ernest – they're also straightforward and devoted.
Scout – with a strong nose, Goldens are always on the lookout.
Skip – Goldens have a certain bounce to their step, like a skip.
Coach – the breed acts as a natural leader, which makes the name Coach a fun choice.
Chewie – a Golden Retriever loves to chew, so you could have a little fun with the name!
Fluffy – Goldens are known for their voluminous coats, making this name a perfect option.
Famous Golden Retriever Names Based on TV & Movies
Golden Retrievers make great family pets, so it's no surprise they have appeared in a number of TV shows and movies as a beloved member of the household.
Other Golden Retriever Names
There's just something about these names that make them perfect for a Golden Retriever. They're classic and friendly – just like a Golden puppy!
Abby
Bandit
Baron
Baxter
Bear
Biscuit
Buck
Champ
Chance
Colby
Cooper
Daisy
Dakota
Finn
Gizmo
Gracie
Lucy
Luna
Marley
Max
Misty
Murray
Olive
Oliver
Oscar
Rogue
Sadie
Samson
Shiloh
Summer
Teddy
Tex
Toby
Trudy
Tucker
Woody
Wrigley
Zoey
Hopefully these names will provide a name that fits your Golden Retriever. If not, try out our name generator.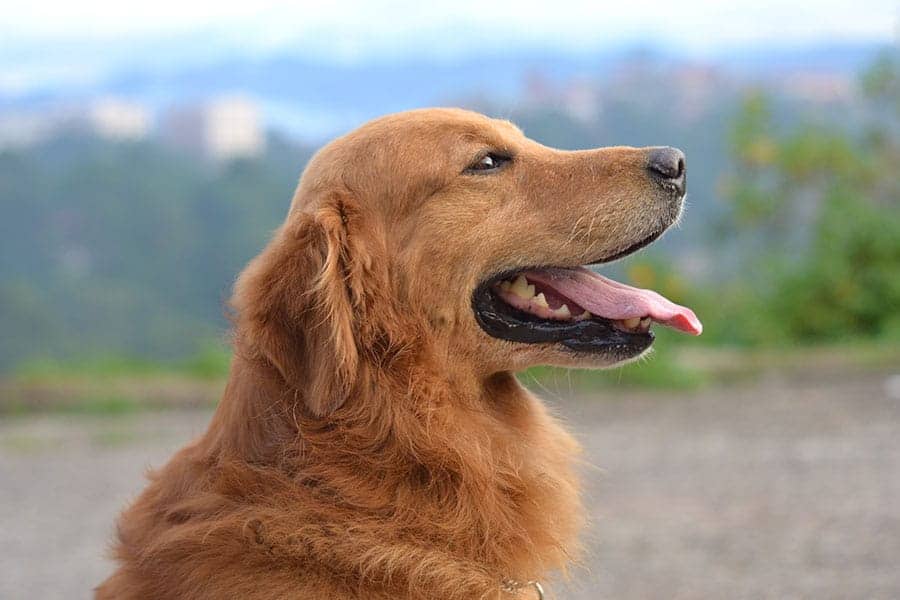 Uncommon Golden Retriever Names
Angus
Arlo
Aspen
Barley
Beau
Cora
Costello
Dixon
Farrah
Fiona
Holden
Jude
Lincoln
Maizie
Milan
Nacho
Norah
Presley
Queenie
Rigby
Roosevelt
Rufus
Shasta
Sherlock
Starr
Tango
Watson
Crazy Facts about Golden Retrievers
Before we go, here's a fun fact: Golden Retrievers were bred into existence by Lord Tweedmouth in the mid 19th century. He wanted to create a skilled retriever that would navigate Scottish climate and terrain, according to the AKC.
To do this, he crossed his "yellow retriever" with the Tweed Water Spaniel, a now extinct breed. A mix of Irish Setter, Bloodhound and other Tweed Water Spaniels led to the modern Golden Retriever.
Crazy cool, huh?
Good luck and congrats!
Once again, congratulations on adding a Golden Retriever to your family. These friendly pups make amazing pets.
Just be sure they receive adequate exercise and stimulation to help release their energy in a positive way. A trained Golden Retriever can do amazing things, like serve as a companion dog.
Enjoy your new pet and good luck finding a name!
Looking for more great name options? Try out our dog name generator!
Learn How to Teach Your Dog its Name
Check out more articles about: