Flower Names for Dogs – 295+ Ideas
Published:
Last updated:
by Jessi Larson
Looking for flower names for dogs? This is the right spot – we have 295+ amazing ideas!
These gorgeous and graceful ideas are perfect for a precious new pup.
Most Popular Flower Names for Dogs
Experts estimate there are about 400,000 species of flowers in the world today. That's nearly half a million types of flowers!
Despite this large number, a handful of flowers are more well known than the rest.
When looking for names for your new pup, these popular flowers are an excellent choice. They're beautiful, friendly and a bit more recognizable than other flower names for dogs.
Without further ado, here are popular flower names for dogs we think you'll love.
Bluebell
Buttercup
Daffodil
Daisy
Holly
Iris
Jasmine
Lily
Petunia
Poppy
Rose
Violet
Flower Names for Dogs
If Daisy and Lily are too common for you, don't worry – there are more flower names for dogs to explore.
These names are great for a number of reasons. First, they clearly represent a distinct flower.
Second, they'll show off your love of nature or gardening. It'll be clear to everyone you meet that you're a fan of flowers and their natural beauty.
And finally, it's almost a guarantee that no one else will have a dog with this name.
Check out these flower names for dogs and see if any are right for your pup.
Acacia
Angelica
Aster
Azalea
Begonia
Blossom
Bluebonnet
Calla
Carnation
Chrysanthemum
Cleome
Clover
Comfrey
Coral
Cosmos
Crocus
Dandelion
Dahlia
Daphne
Flora
Freesia
Fuchsia
Gardenia
Garland
Geranium
Ginger
Gladiolus
Heather
Hermione
Hibiscus
Honeysuckle
Hosta
Hyacinth
Hydrangea
Jasmine
Juniper
Lavender
Lilac
Lotus
Magnolia
Marigold
Mimosa
Myrtle
Oleander
Orchid
Pansy
Peony
Periwinkle
Petal
Primrose
Primula
Poinsettia
Posey
Quince
Rue
Sage
Senna
Sunflower
Sweet Pea
Tansy
Thistle
Tulip
Verbena
Viola
Wisteria
Zinnia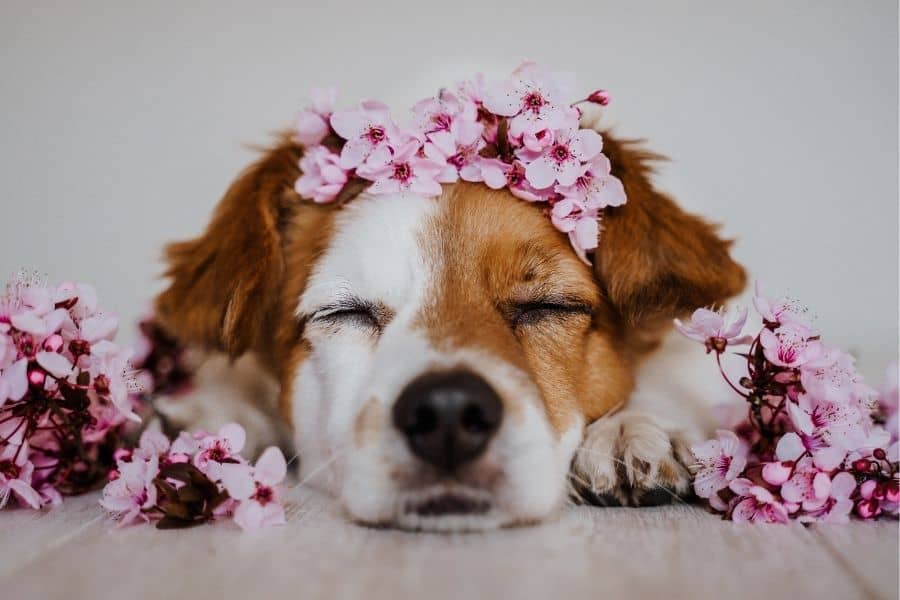 Unique Flower Names for Dogs
Some flowers are less well known than others. In fact, most people only recognize a small handful of flower names compared to the thousands of species on the planet.
Continuing out guide to flower dog names, let's explore unique flowers with names that are anything but ordinary.
Without a doubt, these distinct monikers are gorgeous and graceful.
Acantha
Aconite
Alchemilla
Allium
Alyssum
Amaranthus
Amaryllis
Anemone
Angelonia
Artemisia
Astilbe
Aubrieta
Ballota
Bergamot
Bergenia
Billbergia
Bletilla
Borage
Calendula
Camellia
Caspia
Celosia
Chicory
Clematis
Decumaria
Delphinium
Dianella
Diascia
Disa
Echium
Eremurus
Forsythia
Gaura
Gazania
Gerbera
Guzmania
Hawthorn
Hebe
Helenium
Heliotrope
Hyssop
Impatiens
Ixia
Ixora
Kalmia
Laelia
Lantana
Lavatera
Lewesia
Linaria
Lunaria
Lupine
Mallow
Malva
Mandevilla
Marguerite
Matthiola
Mirabilis
Moraea
Narcissus
Nemesia
Nemophila
Nolana
Oxalis
Scilla
Shasta
Statice
Torenia
Trillium
Vinca
Wedelia
Yarrow
Zenobia
Flower in Other Languages
Here's another creative name idea: Why not translate the word "flower" into other languages?
It recognizes your love of all things floral with a cool and cultured twist.
Anthos – Greek
Bloem – Dutch
Blomma – Swedish
Blomst – Norwegian
Blute – German
Bulaklak – Filipino
Cvijet – Croatian
Fiore – Italian
Fleur – French
Flor – Spanish
Hoa – Vietnamese
Kukka – Finnish
Kvet – Czech
Kwiat – Polish
Lulu – Albanian
Maua – Swahili
Ziedas – Lithuanian
Nature Dog Names
If you're a nature lover, flower names for dogs aren't the only option. There are plenty of other nature dog names that offer a unique and earthy flare.
From plants and types of trees to seasons, animals, and natural elements, nature dog names are sweet and simple.
As you search for names, explore these nature dog names and see if any fit your newfound friend.
Ash
Autumn
Balsam
Basil
Cedar
Cricket
Dill
Echo
Ember
Everest
Fennel
Fern
Forrest
Herb
Ivy
Leaf
Luna
Maple
Meadow
Rainbow
Reed
River
Sage
Spruce
Summer
Thyme
Willow
Winter
Wren
50 Most Popular Dog Names
The ideas for dog names aren't over yet. Flower dog names are bold and beautiful, but you may find yourself looking for other options.
Our list of the most popular dog names is a great place to start. These are the top names according to our millions of readers.
Without further ado, here are the 50 top-ranked names for female and male dogs. (The list even starts with a flower dog name!)
Top Female Dog Names
Daisy
Luna
Lola
Bella
Roxy
Olive
Gigi
Willow
Dixie
Nala
Poppy
Abby (Abigail)
Hazel
Piper
Harper
Gracie
Lucy
Violet
Athena
Koda
Angel
Lady
Honey
Coco (Cocoa)
Ava
Raven
Addie
Bailey
Harley
Fifi
Aurora
Xena
Nyx
Aspen
Ellie
Millie
Sadie
Cookie
Pearl
Stella
Yuki
Rose (Rosie)
A.J.
Mia
Pepper
Princess
Winnie
Bambi
Maggie
Akira
Top Male Dog Names
Buddy
Charlie
Milo
Bear
Axel
Duke
Max
Rocky
Cooper
Asher
Finn
Diesel
Leo
Thor
Chewie
Bruno
Scout
Alfie
Blue
Hunter
Archie
Apollo
King
Rex
Blaze
Lucky
Echo
Gizmo
Barkley
Shadow
Gunner
Bailey
Percy
Brutus
Bolt
Spike
Arlo
Tank
Yoshi
Fang
Biscuit
Bane
Maverick
Odie
Spud
Rambo
A.J.
Oliver
Atlas
Alaska
Why Choose Flower Names for Dogs?
Flower names for dogs are wonderful if you're a nature lover and want to reflect your affection for the great outdoors.
Maybe you're a huge fan of gardening and want to showcase your passion through a name for your pup. Or you simply love the beauty and whimsy of flower names for dogs.
Whatever the reason, these ideas provide excellent inspiration for your new furry friend.
One note: Flower names for dogs do tend to skew a bit female. But there are still plenty of great ideas for male dogs, too.
With 295+ ideas on our ultimate name guide, we're confident you'll find just the right name for your precious pooch.
Flower Names for Dogs: Share Your Feedback
We want to hear from you! Do you have any favorite flower names for dogs? Or do you have any ideas that didn't make the list?
Leave a message in the comments below.
Also, tell us about your dog, what name you selected, and how you decided on that name.
Find More Dog Name Ideas
If you're not inspired by any of these flower names for dogs, try our online dog name generator. This handy tool helps you find the exact name you're looking for.
To get started, simply pick your favorite name styles. You can also select themes that fit your interests, like literature, sports, entertainment and more. The tool then generates dozens of ideas tailored to your search.
Also check out:
How Do You Pick The Right Name?
Flower Names for Dogs: Find the Right One
You've brainstormed name ideas. You've researched ideas online. Now what? How do you find the right name for your unique animal?
To start, write down every idea you like. Don't think about it too hard at this stage.
Next, cross off any name you don't absolutely love. If you have any doubt, remove it.
Once you settle on a handful of names, follow these steps.
Make sure it's easy to say. When you have a dog, you'll need to get their attention right away. A name may sound fine on paper but it's actually difficult to pronounce out loud. This will be frustrating for your dog. And for you, too!
Find a name you can call out loud. When you have a dog, you'll need to yell their name at times. Do you feel comfortable shouting this name?
Check to see if it's actually right for your dog. You may find a great name but it just doesn't work for your dog. That's OK! A name should match their unique appearance and personality.
See if everyone in the household likes the name. If there are other people in your home living with the dog, make sure they're on board with the name, too.
When you find the right name, do a gut check. Does it feel right? If the answer is yes, then proceed.
Teach Your Dog Their Name: 5 Easy Steps
Once you've finalized the list and found a name you like, then next step is to teach it to your pup.
This is critical for their safety and wellbeing. And your sanity, too!
These tips will work wonders.
Grab a handful of small treats. (You don't want to ruin their appetite.) Find a location that's calm and without distractions.
Say your puppy's name. Use a voice that's happy, positive and clear.
When they look at you, say "yes" and dole out a treat as a reward.
Repeat the process 3-5 times for muscle memory.
Continue this process throughout the day. Soon they'll know their name and start responding to it!
View Your Saved Names