Russian Dog Names – 165+ Unique & Beautiful Options
Published:
Last updated:
by Jessi Larson
Looking for Russian dog names? You're in the right spot. We've got 165+ ideas that are unique, beautiful and full of character.
There are many reasons for wanting to give your dog a Russian name. Maybe it's because you have family ties to the region. Or you simply enjoy the culture and history.
Another reason to consider Russian dog names is that you have a Russian breed, like the Siberian Husky, Samoyed or the Black Russian Terrier. (Check out this list of the top 10 dog breeds from Russia.)
Whatever your reason, get ready for over a hundred ideas perfect for your new pup.
Male Russian Dog Names
Let's get started with the list of the most popular Russian names right now. The list below reflects the top male names in Russia that can also be used when naming your pup. We've also added some Russian words and definitions that work great for naming your pup.
Aleksei
Alexandr
Alexey
Anatoly
Andrei
Andrey
Anton
Artem
Artyom
Baron
Bimka
Bogdan
Bolik
Bolshoi – big
Bonya
Boris
Buka – surly
Daniil
Dima
Dmitry
Dmitriy
Egor
Fedor
Gleb
Grom – Thunder
Han – khan
Igor
Ilya
Ivan
Kirill
Kolya
Konstantin
Kosmos – outer space
Kostya
Kubik – little cube
Lev – lion
Lizun – smooch
Mansur
Maxim
Mikhail
Misha
Monya
Nikita
Nikolai
Oleg
Pasha
Pavel
Pusik
Rebus – puzzle
Roma
Roman
Ruslan
Sasha
Sergei
Sergey
Sharik – little ball
Slava
Sultan
Timur
Tsar – Russian King
Tuzik
Vadim
Valentin
Vlad
Vladimir
Vladislav
Vulkan – volcano
Yaroslav
Zahar
Zhenya
Zver – beast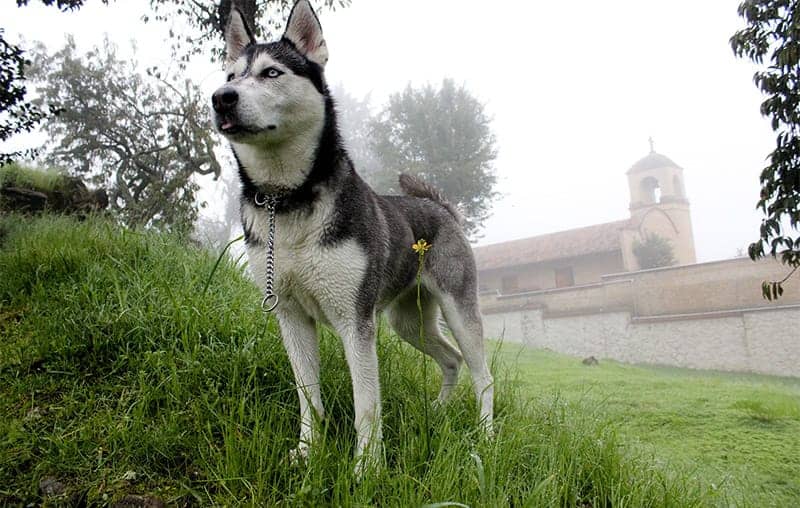 Female Russian Dog Names
Many of these are female names that top the charts in Russia. Beautiful, unique and distinctly Russian, these names are super cool if you have a female dog. We've also included some Russian words and definitions that make cool sounding dog names.
Alexandra
Alina
Anastasiya
Anna
Anya
Bagira – panther
Bella
Chaika – seagull
Changa
Daria
Dasha
Ekaterina
Elena
Darya
Galina
Gretta
Helena
Inna
Irina
Karina
Katerina
Katya
Kira
Ksenia
Kseniya
Laika
Lapa – darling
Laska – caress
Lena
Margarita
Mariya
Masha
Masya – little one
Mila
Musya
Nastia
Nastya
Natalia
Natasha
Nochka – night
Oksana
Olga
Olya
Polina
Polya
Pyshka – puff
Sasha
Shusha
Siren – lilac
Sol'ka / Solya – little sun
Sonya
Sveta
Svetlana
Tatiana
Tigra – tiger
Troika – group of three
Tusya
Ulyana
Valentina
Valeria
Vasilisa
Viktoriya
Vlada
Volya – freedom
Yulia
Zarya – dawn
Russian Dog Names Inspired By Geography
As the largest geographical country in the world, Russia spans over 6.6 million square miles, includes nine different time zones and shares land borders with 14 neighboring countries.
With so much square footage, it's no wonder Russia is home to many unique cities, landmarks, rivers, mountains and more. All of this provides fantastic inspiration for Russian dog names.
Moscow – The capital and most populous city of Russia with its 13.2 million residents.
Petersburg – As in Saint Petersburg, Russia's second-largest city and an important port on the Baltic Sea.
Siberia – An extensive (and cold!) geographical region at the top of Russia.
Novgorod – An important historical city in Russia.
Sochi – A Russian city located on the Black Sea and host of the 2014 Winter Olympics.
Baikal – As in Lake Baikal located in southern Siberia.
Volgograd – An important industrial city.
Tomsk – One of the oldest towns in Siberia.
Saratov – A populous Russian city and a major port on the Volga River.
Ufa – The capital city of the Republic of Bashkortostan, Russia.
Ural – As in the Ural Mountains, which run north to south through western Russia.
Kremlin – A fortified complex at the heart of Moscow that serves as the official residence of the President of the Russian Federation.
Mariinsky – The Mariinsky Theatre is a historic theatre of opera and ballet in Saint Petersburg, Russia.
Elbrus – The highest mountain in Russia and in Europe, and the tenth most prominent peak in the world.
Kizhi – An island near the center of Lake Onega.
Suzdal – A town and the administrative center of Suzdalsky District in Vladimir Oblast, Russia.
Volga – The longest river in Europe, the Volga River flows through central Russia and into the Caspian Sea.
Moskva – As in the Moskva River in western Russia.
Baltika – Baltic sea
Russian Dog Names Inspired By Russian Words
Another idea is to look at unique and endearing words in the Russian language.
Kobel – meaning a male dog.
Kukla – doll
Luchik – translates to "little ray of light."
Malchik – the Russian word for "boy."
Molodaya Zenchina – translates to "young woman."
Sakharok – an affectionate phrase roughly translating to "my sugar."
Sobaka – the general term for "dog" in Russian.
Schenok – the Russian word for "puppy."
Russian Dog Names Inspired By Famous Russians
And finally, we end the list with names inspired by famous Russians. The majority are rulers or politicians of some sort, but we do throw in a few tennis players for good measure.
Putin – As in Vladimir Vladimirovich Putin, the current President of Russia.
Gorbachev – Mikhail Gorbachev was the eighth and last leader of the Soviet Union.
Vlad – As in Vladimir Lenin, the Russian communist revolutionary, politician and political theorist.
Stalin – Joseph Stalin governed the Soviet Union as its dictator from the mid-1920s until his death in 1953.
Boris Yeltsin – A Soviet and Russian politician and the first President of the Russian Federation. You could name your dog Boris, Yeltsin or Yeltsy.
Trotsky – Leon Trotsky was a Marxist revolutionary, theorist and Soviet politician.
Rasputin – A Russian mystic and self-proclaimed holy man who befriended the family of Tsar Nicholas II and gained considerable influence in late imperial Russia.
Anastasia – The youngest daughter of Tsar Nicholas II, the last sovereign of Imperial Russia. She was thought to have survived the murder of her family, although those reports, unfortunately, turned out to be false.
Sharapova – On a lighter note, let's move on to athletes with Maria Sharapova, the Russian-American professional tennis player.
Kournikova – As in Anna Kournikova, the Russian former professional tennis player.
Other Ideas for Russian Dog Names?
If you've got additional ideas for Russian dog names, we want to hear them! Let us know if the comments below.
You can find even more names by searching our huge list of dog names!
Learn How to Teach Your Dog Its Name
View Your Saved Names