325+ Cockapoo Names – Top Ideas for This Cute Canine
Published:
Last updated:
by Jessi Larson
The Cockapoo is a sweet, adorable animal that makes a wonderful pet. So naturally, such a great dog deserves the best name possible, and we have 325+ fabulous Cockapoo names to check out!
Cockapoo Names Guide
The Cockapoo combines two popular breeds: The Cocker Spaniel and the Poodle. The result is an intelligent, friendly, and funny dog that makes a great family pet.
When you welcome this pup into your home, you're going to enjoy years of memorable moments.
But let's not get ahead of ourselves – you need to find a name first!
Male Cockapoo Names
Finding the right name for your new dog is never easy. So let's start by looking at the most popular picks beloved by pup parents like you.
If you have a boy dog, check out these male Cockapoo names.
Leo
Bear
Charlie
Teddy
Milo
Oliver
Odie
Max
Jake
Cody
Rascal
Henry
Perry
Winston
Duke
Augie
Harley
Rocky
Beau
Percy
Oscar
Buster
Sully
Marley
Cash
Chance
Chase
Baxter
Ziggy
Murray
Louie
Tucker
Alfie
Jack
Rudy
Asher
Bernie
Archie
Mickey
Buddy
Cooper
Toby
Skip
Barkley
Benji
Barney
Ernie
Finn
Lucky
Murphy
Ernie
Ziggy
Brody
Morty
Chewie
Hank
Buster
Female Cockapoo Names
The Cockapoo is an incredibly sweet and social dog. If you have a girl pup, the following female Cockapoo names are great options to explore.
Bailey
Bella
Maggie
Riley
Elsa
Ginger
Willow
Mabel
Luna
Gigi
Autumn
Willow
Lola
Rosie
Charlotte
Arya
Molly
Daisy
Mabel
Hazel
Riley
Sophie
Amelia
Millie
Sadie
Annie
Nala
Roxy
Harper
Poppy
Nellie
Abby
Dixie
Sophie
Dory
Piper
Honey
Shelby
Emma
Lily
Olive
Mia
Coco
Macy
Gracie
Dakota
Zoey
Izzy
Juno
Bailey
Chloe
Paisley
Ava
Angel
Phoebe
Lucy
Maisie
Jojo
Joy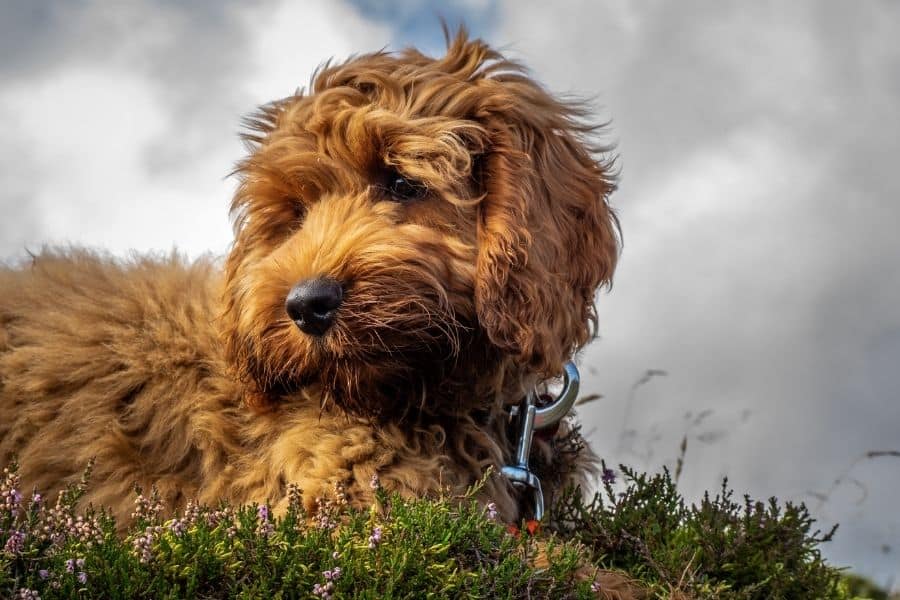 Fluffy Ideas
This mixed breed stands out for its fluffy fur. Their coats are usually curly or wavy, although they can inherit the tightly wound Poodle fur or the straight Cocker coat in rare cases (1).
In all instances, their fur is soft and stunning, and this provides excellent inspiration for some of the best Cockapoo dog names like the following.
Curly
Ruffles
Hairy / Harry
Cozy
Shaggy
Fluffy
Fuzzy
Fuzz
Furry
Furball
Snuggles
Bunny
Furby
Fleecy
Silky
Woolly
Teddy
Scruffy
Velvet
Funny Ideas
Another option is to pick a name that's fun, silly, goofy, or all of the above. If you choose one of these ideas, it's a guarantee your dog will bring a smile to the face of everyone they meet.
Boss
Bertha
Nacho
Frito
Mini
Minnie
Sushi
Junior
Tank
Meatball
Taco
Tiny
Olga
Myrtle
Baby
Wolf
Smalley
Sprite
Peanut
Jumbo
McGruff
Porkchop
Beast
Flo
Newfton
Smalls
Squirt
Bacon
Dude
Shorty
Tankerbell
Peewee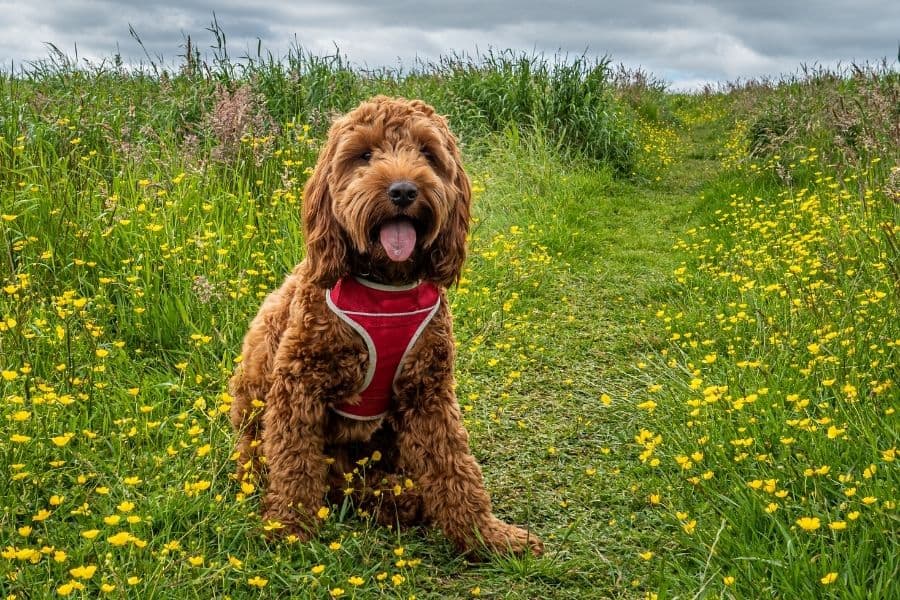 Cream and White Names
A dog's coat coloring can be used to inspire their name. For example, many Cockapoos feature a cream or white coat, and in this case, these options are perfectly fitting.
Frosty
Pearl
Sugar
Snowball
Winter
Casper
Boo
Crystal
Ivory
Snowy
Eskimo
Powder
Cotton
Marshmallow
Alabaster
Blizzard
Buttermilk
Ice
Polar
Ghost
Siberia
January
Bones
Dove
Charmin
Bianco/Bianca – white in Italian
Find more white dog names.
Red and Apricot Names
Another popular coloring is apricot or red. If your dog is blessed with warm-colored locks, you'll love the ideas below.
Red
Fox
Honey
Pumpkin
Peaches
Hazel
Copper
Ruby
Amber
Poppy
Penny
Rusty
Autumn
Brandy
Merlot
Maroon
Scarlet
Sangria
Rose
Saffron
Valentine
Garnet
Coral
Sepia
Clementine
Tiger
Find more red dog names.
Black Names
The Cockapoo also features black fur. For a dark-colored dog like this, the ideas below are inspired options.
Pepper
Shady
Raven
Cinder
Jet
Noir
Oreo
Zorro
Onyx
Coal
Slate
Smokey
Midnight
Snickers
Midnight
Ebony
Inky
Olive
Ash
Stormy
Asher
Espresso
Magic
Sable
Shadow
Find more black dog names.
Chocolate Names
And last but not least, this dog breed also comes in brown. So if you have a chocolate-colored canine, you'll enjoy the following ideas.
Mocha
Cocoa
Brownie
Bambi
Bean
Sandy
Godiva
Hershey
Tanner
Cedar
Chestnut
Reese
Mudd
Peanut Butter
Guinness
Java
Godiva
Fawn
Woody
Find more brown dog names.
Additional Options
Need more ideas? You're in luck – we have even more ideas that are perfect for a cute Cockapoo puppy.
These ideas blend cute classics, elegant monikers, and fun new names that are quickly rising in the ranks.
Unisex Dog Names
Shiloh
Scout
Bingo
Rory
Link
Wags
Freckles
Gizmo
Blue
Happy
Colby
Lucky
Patches
Taylor
Biscuit
Male Dog Names
Jackson
Porter
Prince
Kingsley
Dexter
Asher
Winston
Apollo
Ryder
Atlas
Watson
Jacques
Mac
Gunner
Hamilton
Lincoln
Arthur
Otis
Walter
Baron
Kobe
Ollie
Oakley
Chip
Alfred
Kylo
Female Dog Names
Luna
Mischa
Trudy
Paris
Pearl
Cleo
Aurora
Fiona
Layla
Penelope
Jewel
Aspen
Harper
Lulu
Afton
Gigi
Lady
River
Izzy
Sylvie
Skye
Camilla
Winnie
Kona
Buffy
Portia
Duchess
Final Thoughts: Cockapoo Dog Names
Bringing home a new dog is such a fun and exciting time. Without a doubt, finding a name that perfectly fits your four-legged friend is one of the coolest parts of the experience.
As you start your search, look for inspiration everywhere. Our list of Cockapoo names is a great place to start.
You can also mine ideas from TV shows, books, movies, other pets you meet, or even human names you love. The options are endless.
When you find a name, the next step is to teach it to your dog. Go to a quiet space and bring some treats. Say their name, and when they look up at you, reward them with a treat.
Soon they'll know their name in no time!
Dog Name Generator
Have you tried out our dog name generator yet? If not, you should give it a try.
The tool allows you to enter your dog's gender, favorite name styles, and even fun themes.
For example, you can pick cute, classic, elegant, international, funny, tough, and more. Or a combination of these styles.
It also lets you pick cool themes like books, movies, sports, comics, history, and so forth.
Why not try it and see what options it generates just for you?
References
Vet Street (www.vetstreet.com/dogs/cockapoo#grooming)
View Your Saved Names