Girl Dog Names – 350+ Ideas for Female Puppies
Last updated:
by Jessi Larson
Are you ready for the ultimate list of girl dog names? Our name guide has over 350 ideas for your female puppy!
Guide to Girl Dog Names
Finding a name for your dog is a fun and exciting process. There are so many options to choose from! You could go with a tried-and-true favorite, an elegant classic, a trendy new name, a strong, tough moniker, or a funny name that makes you laugh out loud.
Check out these 350+ girl dog names and see if any are a fit for your new furry friend.
Best Girl Dog Names
Let's start with the most popular picks for a female dog right now. The results are determined by the millions of new pup parents who use our site every year.
If you select one of the best girl dog names, you'll know your dog has a great name that's loved by many.
Luna
Daisy
Bella
Lola
Raven
Aurora
Athena
Willow
Olive
Aspen
Ash
Dixie
Roxy
Nala
Koda
Poppy
Gigi
Hazel
Yuki
Moon
You can see the complete list of top dog names here.
Cute Girl Dog Names
Dogs are adorable animals. It's hard to resist their sweet, fluffy faces!
Such a cute creature deserves a cute name, and we have plenty of ideas. Take a look at the list below for the cutest options out there.
Winnie
Molly
Ava
Maisie
Blossom
Maddie
Josie
Clover
Skye
Lucy
Sydney
Bailey
Pumpkin
Sally
Cricket
Angel
Amelia
Dixie
Lulu
Zara
Paisley
Coco
Lily
Scout
Zoey
Delilah
Hazel
Shelby
Millie
Dakota
Birdie
River
Mika
Macy
Mabel
Sandy
Honey
Pebbles
Izzy
Zelda
Peanut
Gidget
Lacy
Shiloh
Dolly
Piper
Tilly
Trixie
Gigi
Riley
Violet
Haley
Abby
Freckles
Ariel
Ginger
Penny
Maggie
Dottie
Cleo
Tabitha
Chloe
Cora
Brooklyn
Trudy
Olive
Winnie
Lucky
Lila
Rosie
Minnie
Layla
Allie
Find even more cute dog names.
Fancy Female Dog Names
If you're looking for a fancy name for your furbaby, look no further. These ideas represent elegant, elevated options for your female dog.
Regal and refined, the options below will ensure your dog is a posh pup!
Jewel
Theodora
Harper
Grace
Camilla
Princess
Stella
Violet
Sasha
Scarlett
Pearl
Diamond
Lady
Charlotte
Jasmine
Rose
Duchess
London
Buffy
Valentine
Pandora
Portia
Isabella
Countess
Beatrice
Belle
Darling
Gracie
Ava
Prim
Paris
Georgia
Sadie
Adele
Willa
Esme
Ella
Sophia
Pippa
Prada
Flora
Fifi
Baroness
Sedona
Gucci
Thea
Gwenivere
Dior
Olivia
Find more fancy dog names.
Unique Girl Dog Names
Popular picks like Bella, Daisy, Luna, and Lola are gorgeous, but you'll definitely meet other pets with the same name. Some dog owners desire a unique moniker. In this case, the ideas below will provide plenty of inspiration.
Akira
Onyx
Aquirius
Laika
Zendaya
Callisto
Aphrodite
Indigo
Zuzu
Desdemona
Zuri
Lulu
Sahara
Henna
Kiki
India
Rainbow
Indigo
Utopia
Zadie
Nisha
Juniper
Leelo
Calypso
Persia
Adara
Bonita
Gaia
Cassia
Zola
Amari
Chantilly
Magdalena
Rapunzel
We have even more unique dog names here.
Strong Girl Dog Names
Another option for female dog names is to select a strong moniker with a bit of an edge. These choices are great if you have a larger dog or one with a bit of an attitude. Or you could simply like a tougher style of name versus something more sweet sounding.
Harley
Nyx
Echo
Xena
Storm
Sporty
Midnight
Rogue
Blizzard
Shadow
Tiger/Tigress
Arya
Hera
Moxie
Leia
Artemis
Cinder
Liberty
Ursula
Jinx
Akita
Katniss
Ripley
Sable
Vixen
Medusa
Nova
Alaska
Scooter
Venus
Justice
Daenerys
Elvira
Blitz
Jordan
Find even more tough dog names.
Funny Girl Dog Names
If you enjoy a good laugh, you'll love the following ideas. They're fun, silly options that are sure to make people smile. So take a look and be ready to laugh out loud!
Tankerbell
Chica
Meatball
Olga
Nugget
Mitzi
Tiny
Squat
Squirt
Tootsie
Spanx
Zippy
Ursula
Tallulah
Munchkin
Peewee
Jezebel
Bitsy
Lady Rover
Scrappy
Pookie
Momo
Mary Puppins
Mariah Hairy
Rosa Barks
Tina Spay
Virginia Woof
Ally McBeagle
Angela Bassett Hound
Katy Hairy
Punky Chewster
Winnie the Pooch
Woof Bader Ginsburg
If you like these ideas, check out even more funny dog names.
Old-Fashioned Names
For the past decade or so, traditional and old-fashioned names have seen a sharp rise in popularity. The increase has been both in names for babies and pets.
Trends come and go, but these classic names reflect a timeless quality. Would any of these ideas work for your precious new pup?
Adeline
Bessie
Myrtle
Elsie
Nellie
Millie
Clara
Agnes
Dorothy
Greta
Margaret
Edna
Gladys
Eleanor
Iris
Mildred
Ruth
Dolores
Louise
Betty
Annabelle
Blanche
Penelope
Wilma
Beatrix
Maude
Cecilia
Orla
Winifred
Betsy
Agatha
Harriet
Florence
Female Dog Names From Foods
Another option for female dog names is to pick a moniker inspired by different foods and drinks. These options are cute, fun, and full of personality.
Cookie
Mocha
Sugar
Pepper
Sage
Oreo
Peaches
Muffin
Snickers
Peanut
Maple
Kahlua
Hershey
Candy
Chalupa
Snickers
Raisin
Saffron
Apricot
Java
Caramel
Cherry
Chiquita
Butternut
Pickle
Marshmallow
Almond
Applejack
Basil
Licorice
Puddin
Explore even more dog names inspired by food.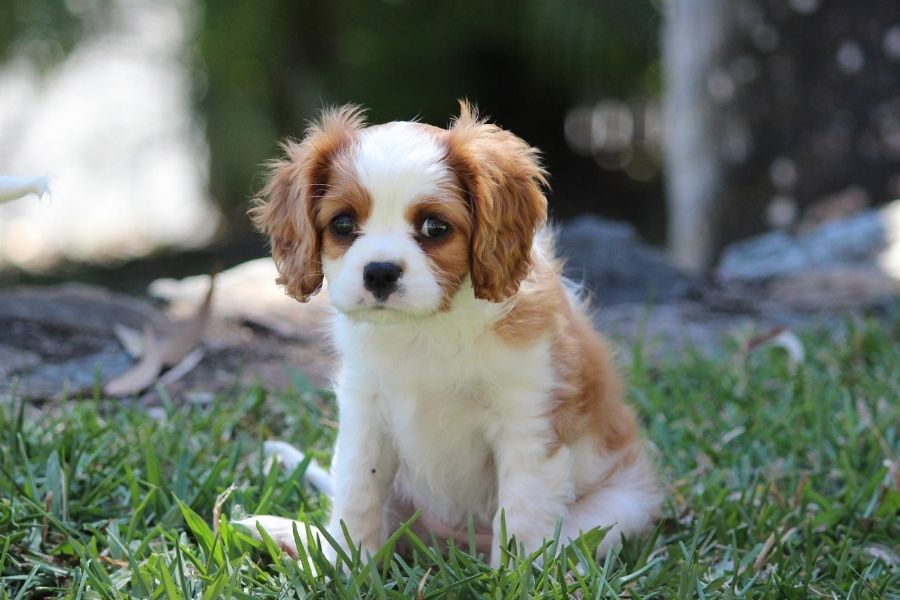 More Girl Puppy Names
The ideas aren't over yet. We have even more girl dog names for you to consider.
It's a good idea to get as much inspiration as possible when naming a new pet, and the following options provide great picks for a pup.
Will any of these girl puppy names work for you? Take a look and see!
Teegan
Charlie
.Petunia
Autumn
Dallas
Baby
Bunny
Mimi
Iggy
Joy
Lexi
Lyric
Melody
Mia
Cici
Dolly
Libby
Nessie
Shelby
Ziggy
Amber
Brooke
Dora
Kit
Mitsy
Dot
Patches
Sunshine
Addie
Hannah
Avery
Star
Chica
Dory
Jojo
June
Kaia
Mamie
Rory
Sweet Pea
Bebe
Carly
Happy
Kona
Lulu
Meadow
Misty
Sandy
Lena
Tilly
Reese
Wendy
Ruthie
Kennedy
Checkers
Cupid
Goldie
Minx
Sydney
Final Thoughts: Girl Dog Names
Getting a new dog is such an exciting time. After all, dogs are so full of love and bring us so much joy!
The first step is to find a name fitting for your new friend. That can seem like a daunting task, however. How do you find the right one with so many options to choose from?
We recommend that if you see a name you like, write it down. Don't overthink it – just make a note. (You can also click on the heart icons to save a name in this article.)
After gathering a group of ideas, go through each name and say it aloud. Does it sound like a name that is right for your pup? And can you imagine calling it every day?
Slowly but surely, you'll narrow down the list until you end on the perfect name for your pup.
More Female Dog Names
The ideas for female dog names aren't over yet. If you want just a bit more inspiration, here are a few tips on how to find it.
Dog Name Generator
Try out our dog name generator. It allows you to sort by your favorite styles and themes and generates options tailored to you.
For example, you can look for options that are elegant, tough, cute, funny, classic, and more. Or you can combine several styles. For example, do you want a name that's both classic and tough? Or cute and funny?
The generator also includes different themes, like sports, TV shows, books, movies, mythology, and more. So pick your interests, and it'll generate ideas just for you.
Find Your Own Names
Another option is to brainstorm ideas on your own. Inspiration is everywhere! Here are just a few examples of where to look.
Favorite Locations
Geography offers lots of great options for names. For example, you could select the name of the city where you live, one that you like to visit, or a place you've always wanted to go to. Country and state names also work well.
We know a dog owner who studied abroad in Australia and selected the name Sydney for her dog to commemorate that time of her life.
Hobbies and Interests
Your hobbies and interests also could be the key to the perfect dog name. What do you like to do in your spare time?
Say you love to watch baseball. You could pick the name of your favorite player, the team mascot, the ballpark, or even just a general term related to the sport.
Or, if you're a music lover, a name like Melody or Lyric could be a great option.
Entertainment
The movies and TV shows you watch and the books you read also serve as inspiration. The character names can be repurposed for your dog, tying into your favorite entertainment.
Your Last Name
We know several dog owners who have used their last names to craft a moniker for their pup. For example, one family had the last name Williams and used their nickname of Willy as their dog's name.
Famous People
You can also turn to famous figures for your dog's name. Singers, actors, athletes, and leaders all offer inspiration for your pet.
Is there a person you admire? Then, use their name or nickname for your pup!
Brands
And finally, brands are another place to look for ideas. Do you have a favorite clothing brand, for example? Turn it into a dog name!
A person who loves Nike athletic wear could name give their pup the moniker of Nike. Or someone enthusiastic about Apple products could call their canine Mac.
Teaching Your Dog Its Name
You've got the perfect name for your dog. There's just one catch: They don't know it yet!
Don't worry – teaching your dog its name is easier than you'd think. Just following these steps:
Go to a quiet space without any distractions.
Say your dog's name firmly and clearly, in a positive tone.
When they look at you, give them a treat. This lets them know they should respond to the name.
Repeat the process over and over again. Soon they'll respond to their name without needing a treat.
Also, remember to be patient. This is a learning process for your dog.
View Your Saved Names