Are you tired of traditional dog names? Do you like to enjoy an adult beverage? If you said yes, you must check out our list of 125+ alcohol dog names.
These fun and flavorful names are a great fit if you want a more unique name for your new furbaby.
Our list includes ideas inspired by all types of alcohol – liquor, beer and wine – plus brand names, cocktails and more.
So raise a glass to finding the perfect name for your pup and enjoy our ultimate list of alcohol dog names!
Alcohol Dog Names
With so many different alcohol dog names to choose from, where do you begin?
We made it easier by breaking down the names by the type of alcohol. This includes liquor dog names, beer dog names, wine dog names and more.
You can read the list in its entirety or scroll down to the category of your preferred beverage.
Liquor Dog Names
Let's start the list with a look at liquor dog names. Names are drawn from types of liquor, brand names and cocktails.
You could pick a name based on your favorite drink or brand. Or you could simply pick one that sounds fun and fresh!
Types of Liquor
Hard alcohol comes in many different forms, as you'll see below. You could pick your favorite drink as your dog's name or simply go with one that sounds cool.
Absinthe
Bourbon
Brandy
Cognac
Gin
Kahlua
Mezcal
Moonshine
Rummy – (or Rum)
Sake
Sambuca
Schnapps
Scotch
Tequila
Vodka
Whiskey
Liquor Brand Names
Another idea for alcohol dog names is to explore the different liquor brands.
Bacardi
Bailey
Ballantine
Captain Morgan – (or just Captain or Morgan)
Chivas
Ciroc
Crown
Curacao
Don Julio
Evan Williams
Fireball
Grey Goose
Hennessy
Hpnotiq
Jägermeister
Jameson
Jim Beam
Johnnie Walker
Jose Cuervo
Karkov
Kraken
Patron
Ricard
Scotch
Skyy
Smirnoff
Stoli – (as in Stolichnaya)
Whiskey Dog Names
If you're a whiskey lover (Canadian, Irish, Scotch, or otherwise), you'll enjoy these whiskey dog name ideas.
Ardbeg
Beam
Bootlegger
Bowie – Bowmore
Bull
Bushmill
Cork
Dalmore
Drammie
Dublin
Glen
Hibiki
Ichiro
Islay
Malty
Murphy
Neat
Pappy
Peat
Rocks
Shooter
Skye
Smokey
Tullamore
Cocktail Names
Of course you can't forget cocktails! These drinks combine liquor and mixers to create a delightful drink.
We love the idea of naming your furbaby after your favorite cocktail. After all, these names are playful, cute and creative!
Amaretto
Americano
Boulevardier
Cosmo
Daiquiri
Gimlet
Hurricane
Julep
Kamikaze
Lemon Drop
Mai Tai
Manhatten
Margarita
Martini
Mimosa
Mojito
Mudslide
Mule
Negroni
Paloma
Pina Colada
Pink Lady
Rob Roy
Rumrunner
Sazerac
Screwdriver
Shaker
Shirley Temple
Sidecar
Tom Collins
Tonic
Beer Dog Names
Up next: beer dog names. If you're a fan of this delicious drink, you'll love the names ahead.
Craft beers are all the rage these days. More people than ever are aware of all the different types of wild and crazy beers out there.
At the same time, you can't go wrong with a basic beer. Especially on a hot day!
Whatever your beer style, you'll appreciate the beer dog names below.
Beer Types and Styles
Beer isn't just "beer." There are many different types and styles. Just ask any beer enthusiastic!
Check these out and see if any might work as beer dog names for your pup.
Ale
Amber
Bock – Dark German malty beer
Cider
Dortmunder
Dunkel – German dark lager
Flanders – wild / sour beer (and Simpsons character)
IPA
Lager
Maibock – German pale bock
Marzen – German "March" spring beer & fest October beers
Pilsner
Porter – Delicious dark beer
Saison
Stout – Another dark beer
Beer Brands
Another idea for beer dog names is to look at the different brands. While there are thousands of beer brands across the world, we narrowed the list to the most popular selections.
Amstel
Arnold – Saint Arnold Brewing TX
Beast – the nickname for Milwaukee's Best
Brooklyn – Brooklyn Brewery
Bud – Budweiser
Busch
Coors
Corona
Don Equis
Floyd – Three Floyds Brewing IN
Foster
Grolsch
Guinness – famous dark beer
Hamm
Heineken
Killian
Leinenkugel
Michelob
Miller
Modelo
Newcastle
Odell – Odell Brewing, CO
Pabst
Paulaner
Peroni
Pilsner Urquell
Pliny – Russian River Pliny the Elder/Younger beer
Samuel Adams
Schlitz
Sierra Nevada
Stella – Stella Artois
Stone – Stone Brewing, CA
Surly – Surly Brewing MN
Yuengling
Other Beer Dog Names
And finally, another cool idea is to explore terms related to beer.
The list below is just the tip of the iceberg. Check out Beer Advocate to find even more.
Barley – classic brewing ingredient
Barrel
Brett – Wild / sour beer brewed with Brettanomyces
Brewer
Brewski
Citra – hop varietal
Grog
Growler
Hops
Keg
Mosaic – hop varietal
Nugget – hop varietal
Pint
Pub
Sterling – hop varietal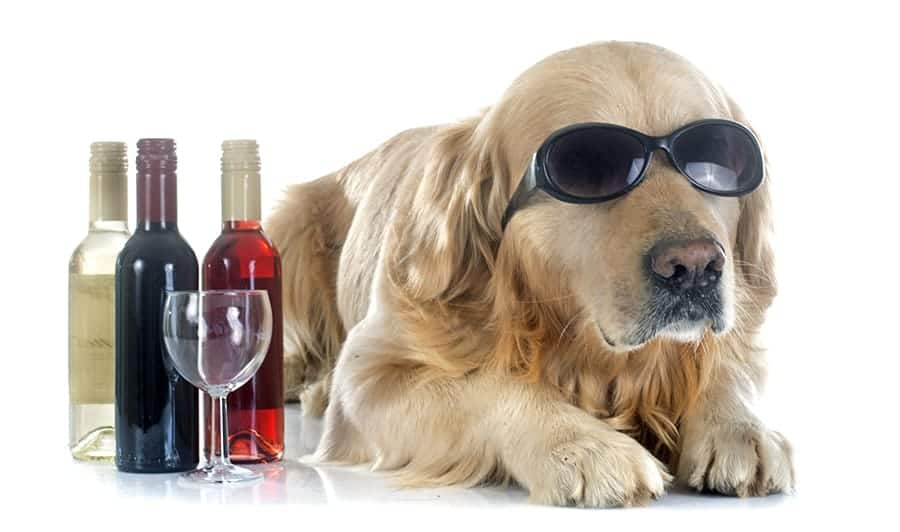 Wine Dog Names
And finally, we'll end our guide to alcohol dog names with wine dog names – a perfect choice for those who are a fan of this fermented refreshment.
From crisp white wines to robust reds – and everything in between – here are fabulous wine-inspired names for your furbaby.
Bellini
Bordeaux
Bubbly
Cabernet
Champagne
Chardonnay
Chianti
Cork
Malbec
Merlot
Moscato
Muscat
Pinot
Port
Prosecco
Riesling
Rosé
Sangria
Sauvignon blanc
Sherry
Shiraz
Spritz
Zinfandel
Alcohol Dog Names – What Do you Think?
What do you think about the alcohol dog names on our list? Did you find a favorite?
Or do you have any other ideas of what we should add?
Also, if you already have a dog with an alcohol-inspired name, tell of us about them below!
More Dog Name Ideas
If you're not inspired by any of these dog names, try our online generator and discover even more options. You can sort by your favorite styles and themes to discover the perfect name for your pup.
Our site helps over 15 million new dog owners each year and offers thousands of unique ideas. With this in mind, we're confident you'll find the name for your dog on our site.
Popular categories include:
Try it out and see what you think!
How Do You Pick the Right Name?
How do you know if you've picked the right name for your dog? That's a question all new dog parents ask.
After years of helping new pup parents, here are some tips we've picked up when it comes to selecting a name for your dog:
Is it easy to say? Some names are great in theory but tough to pronounce in everyday life. Before you lock in on a name, make sure it rolls off the tongue.
Say it out loud. Can you imagine loudly calling for your dog with this name? If not, then it's not the right name and you should move on.
Does it fit your dog? Check to see if the name matches your dog's personality and appearance. This is important for both you and your pup.
And finally, trust your gut. When you find the right name, you'll know it!
View Your Saved Names