With their alert, lively expression and distinctly butterfly-like ears, Papillon dogs demand names as delicate and elegant as their appearance. This thoughtfully compiled list of Papillon names draws inspiration from their French roots, dainty physique, and energetic yet gentle temperament to provide the perfect moniker for these charming toy pups.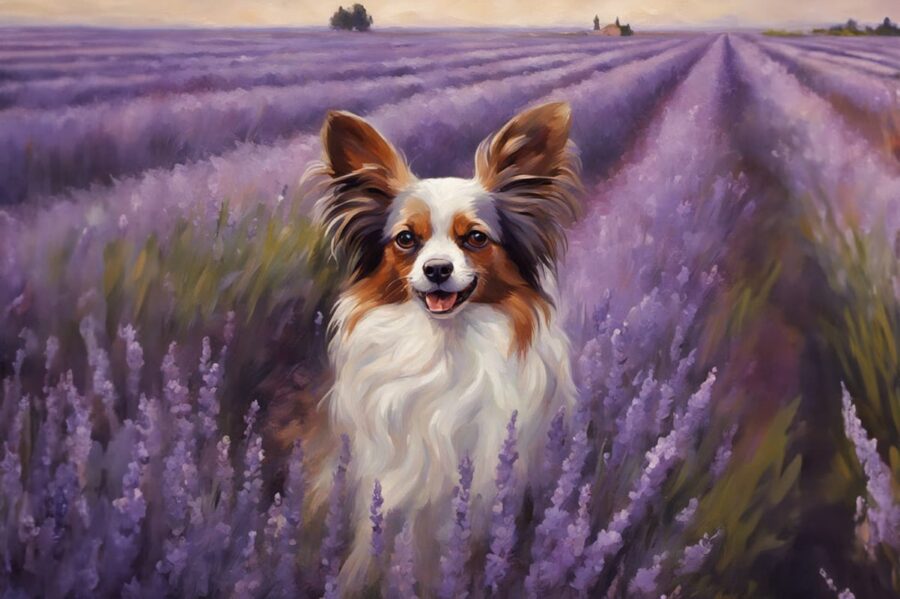 Papillon Dog Names
In French, Papillon means butterfly; here are several dog name options that play off of this meaning.
Papi – short for Papillon
Lonnie – another play on Papillon
Flutter – a tribute to the breed's butterfly-looking ears
Monarch – as in the monarch butterfly
Popular Male Papillon Names
Dog owners rank these as the top options for male dogs. If you're bringing a boy Papillon home, you'll want to check them out.
Max
Bailey
Charlie
Rocky
Buddy
Jake
Toby
Duke
Cooper
Bear
Murphy
Zeus
Harley
Oscar
Winston
Tucker
Leo
Louie
Woody
Finn
Bentley
Gizmo
Milo
Teddy
Riley
Simba
Roscoe
Apollo
Hank
Dexter
Gus
Blue
Rusty
Jasper
Hunter
Bruno
Cody
Kobe
Marley
Diesel
Baxter
Rocco
Finnegan
Sam
Boomer
Tyson
Oliver
Brady
Otis
Lou
Remington
Koda
Ollie
Scooter
Moose
Beckett
Wrigley
Remy
Casper
Ziggy
Chase
Bo
Ace
Scooby
Rex
Scout
Rover
Popular Female Papillon Names
It's easy to understand why pup parents love these female dog names. They're cute and charming and could be the right fit for your furry friend.
Luna
Daisy
Lucy
Rosie
Zoe
Bella
Sadie
Ruby
Lily
Chloe
Mia
Sophie
Bailey
Lola
Coco
Ellie
Molly
Stella
Penny
Olive
Maggie
Willow
Zoey
Hazel
Gracie
Nala
Piper
Charlie
Roxy
Dixie
Millie
Ivy
Harper
Lulu
Winnie
Gigi
Ginger
Sugar
Princess
Lady
Tasha
Abby
Cleo
Lexi
Nova
Paisley
Hermione
Aurora
Quinn
Zara
Kiki
Indie
Wren
Scout
Zola
Jinx
Sable
Marley
Emma
Kona
Harley
Izzy
Phoebe
Riley
Dolly
Maisy
Small Papillon Names
The Papillon weighs a mere 5-10 lbs and stands only 8-11 inches, making it one of the smallest dog breeds in the world. You could pay tribute to their small stature with one of these adorable Papillon dog names.
Tiny
Shorty
Minnie
Mini
Smalls
Smalley
Baby
Peanut
Junior
Pebbles
Nugget
Pixie
Squirt
Runt
Elegant and Regal Ideas
With their regal and refined appearance, the Papillon is the perfect candidate for a name that exudes elegance.
Theodore
Winston
Bentley
Benedict
Maximus
Phineas
Percy
Bernard
Duke
Kingsley
Baron
Princeton
Lincoln
King
Prince
Earl
Lord
Caesar
Knight
Captain
Admiral
Czar
Eleanor
Penelope
Chanel
Charlotte
Paris
Rose
Jewel
London
Bentley
Porche
Pandora
Queenie
Princess
Duchess
Lady
Countess
Empress
Majesty
Belle
Grace
Tiara
Isabella
Celeste
Athena
Anastasia
Genevieve
Vivienne
Camilla
Serenity
Rosalind
Related: more regal dog names
French Papillon Dog Names
Did you know the Papillon was initially bred as a lapdog companion for European noblewomen? They were trendy among the royal courts of France, where Marie Antoinette was a massive fan of the breed. Papillon is French for "butterfly," a tribute to the breed's perky ear shape. Given the breed's French heritage, it makes sense to check out these sophisticated and interesting French names.
Male Names
Pierre
Henri
Gaston
Marcel
Louis
Olivier
François
Antoine
Jacques
Émile
Raphael
Lucien
René
Pascal
Sebastien
Fabien
Claude
Théo
Jules
Maxim
Raoul
Female Names
Amélie
Chloé
Colette
Isabelle
Margaux
Élise
Geneviève
Odette
Sylvie
Aveline
Camille
Élodie
Josette
Monique
Fifi
Renée
Céline
Dominique
Juliette
Sabine
Color-Inspired Papillon Names
Papillons display a striking coat coloring with a predominantly white base adorned with various colors, most commonly black and tan patches. This is an excellent area of inspiration for Papillon dog names.
Snowy
Ivory
Pearl
Frost
Ghost
Cloud
Crystal
Sugar
Shadow
Raven
Fawn
Pepper
Oreo
Domino
Patches
Socks
Harlequin
Harley
Cocoa
Bambi
Tawny
Hazel
Ginger
Penny
Maple
Playful Dog Names
The Papillon has a spirited and playful personality. The following ideas reflect this furball's fun attributes.
Happy
Sparky
Joy
Dancer
Frisky
Spanky
Zippy
Peppy
Bubbles
Spirit
Goofy
Sassy
Punky
Wiggles
Funny Name Options
Everyone needs a good laugh; these funny and quirky dog names are a riot.
Beethoven
Tankerbell
Nacho
Taco
Spud
Tank
Goliath
Rebel
Sarge
Burly
Bruiser
Hercules
Clifford
Titan
Moose
Bertha
Jumbo
Final Thoughts: Papillon Dog Names
Picking a Papillon dog name is an exciting endeavor. It's a name that will become integral to your daily interactions and the bond you share.
Papillon names should be easy to pronounce and resonate with your pup's personality. Be inspired by their dainty appearance, lively demeanor, or even their regal history. A thoughtful name adds a personal touch to your pet's identity.
Take time to find the name that feels just right for you and your furry friend. Involve family or friends, if needed, and enjoy the process. This is an opportunity to celebrate your unique connection with your Papillon.
So, embark on this naming adventure with enthusiasm, and when you finally decide, know that your Papillon's name will echo with joy and affection each time you call it. Your bond will be stronger, and your Papillon will forever proudly carry their special name.
View Your Saved Names