Regal Dog Names – 110+ Noble Names
Last updated:
by Jessi Larson
You don't need royal blood to add some royalty to your home. All you need is a faithful dog and a royal dog name to match their personality! And we have 110+ regal dog names you're sure to love.
Whether you adopted a prim and proper lap dog, like a Bichon Frise, or a sleek, hunting dog, like a Labrador Retriever, they'll appear high-class with a regal dog name to match!
You're already bound to treat your dog like royalty, so why not give them a name that lives up to their lifestyle?
Your dog is destined for the lap of luxury (as well as your own lap) with any of these options on this list of regal dog names.
Popular Regal Dog Names
To kick off the guide to regal dog names, let's look at some tried and true favorites that instantly reflect nobility.
These royal titles could make an excellent regal name for your new dog. They sound stately and reflect hundreds of years of royal traditions.
King
Queen
Prince
Princess
Duke
Duchess
Kingston
Queenie
Lord
Lady
Earl
Countess
Baron
Baroness
Marquess
Marchioness
Viscount
Viscountess
Aristocrat
Monarch
Male Regal Dog Names
If you've brought home a male dog, then perhaps you'd like to consider the names that have belonged to kings and other leaders from the past.
While you could stick with a simple "Prince" or "King" to showcase your pup's royalty, our unique options for regal dog names are sure to match any dog's personality.
William – Inspired by the current Duke of Cambridge, Prince William.
Harry – Taken from Prince William's brother, Harry. His royal title was Duke of Sussex.
Charles – This is the name given to Queen Elizabeth's son. His royal title is the Prince of Wales.
Edgar – Based on the King of England, who was admiringly called Edgar the Peaceful.
Otto – This name is inspired by the Holy Roman Emperor and German King, Otto the Great.
Indulf – Taken from the King of Scots who served from 954 to 962.
Sweyn – Inspired by a past King of Denmark.
Napoleon – Napolean was a French Emperor.
James – There have been many kings that have taken the name James, including King James VI and King James I.
Henry – As in Henry VIII of England, who famously had six wives.
Louis – This name is inspired by King Louis XIV of France.
Macbeth – Inspired by the King of Scots.
Diogo – Taken from the ruler of the Kingdom of Kongo.
Harold – Harold Godwinson was the King of England. He met his demise in the Battle of Hastings.
Ferdinand – Inspired by the King of Sicily, Ferdinand II of Aragon.
Albert – In addition to sharing a name with Queen Victoria's husband, this name also means "noble."
Alexander – Alexander the Great, king of Macedon, created one of the largest empires in ancient history.
Charlemagne – Also known as Charles the Great, King of the Franks.
Frederick – Frederick II turned Prussia into a major European power during the 1700s.
Other Regal Dog Names for Male Pups
Leopold
Akihito
Ghengis
Conrad
Adler
Arthur
Marlowe
Argos
Broderick
Caesar
Calhoun
Britton
Godfrey
Darcy
Fletcher
Othello
Maddox
Lex
Jacques
Redmond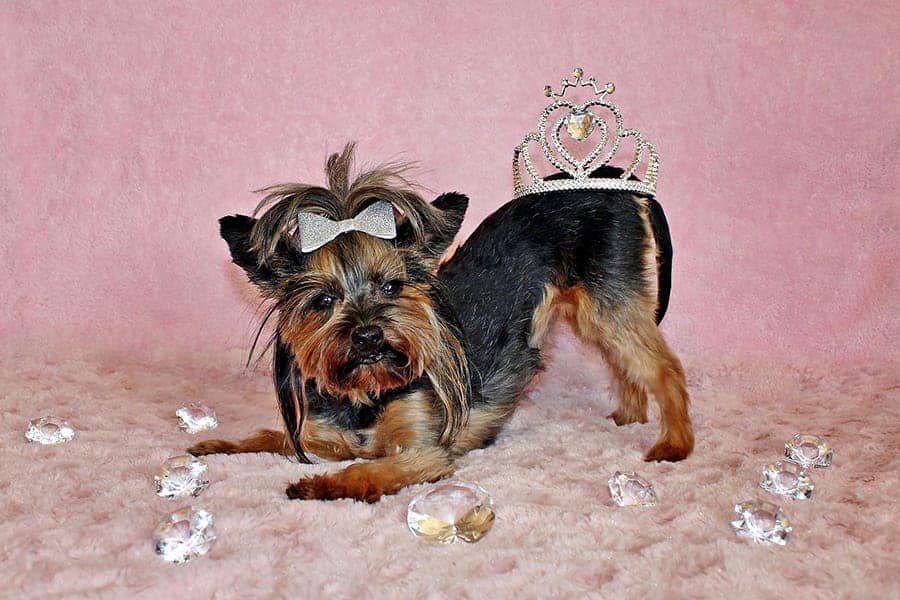 Female Regal Dog Names
"Princess" and "Queen" are both royal dog names that bring up images of royalty to most people. However, you might be looking for a more unique name for your furry friend.
With our list of ideas for regal dog names specially tailored toward the feminine canine, you'll have plenty of choices for naming your pampered pooch.
Elizabeth – Queen Elizabeth is perhaps the most popular monarch in modern history.
Boleyn – Named after the Queen of England, Anne Boleyn.
Xenia – This unique name comes from Xenia Alexandrovna, who was a Grand Duchess of Russia.
Rani – Hailing from Jhansi, the Queen of Northern India was named Rani.
Lili – This name is pulled from the first Queen of Hawaii's name, Lili'uokalani. Since that might be a bit of a mouthful, the shortened "Lili" makes for a cute dog name.
Cleo – Inspired by Cleopatra, an Egyptian empress. This name could also be short for Cleopawtra!
Diana – Inspired by the royal mother to Prince Harry and Prince William, Princess Diana, this name means "divine" or "heavenly."
Kate – The shortened name for Catherine, this name means "pure." Your dog would also share a name with the Duchess of Cambridge.
Lilibet – Inspired by Queen Elizabeth's nickname.
Lottie – A shortened version of Charlotte, this name is inspired by Prince William's daughter.
Meghan – Taken from Meghan Markle, Duchess of Sussex.
Pippa – Short for Philippa, this name belongs to Kate Middleton's sister.
Sarah – While this name seems simple, it actually means "noblewoman" or "princess."
Victoria – By naming your dog, Victoria, they would share a name with the longest-reigning monarch of England.
Bea – Short for Beatrice, this name is inspired by Queen Victoria's youngest child.
Alice – There's nothing quite as noble as a name that means "nobility"! It's also the name of Queen Victoria's second daughter.
Mary – Mary, Queen of Scots, reigned over Scotland from 1542-1567.
Other Regal Dog Names for Female Pups
Freya
Diamond
Danica
Jasmine
Sofia
Scarlett
Thea
Norah
Opal
Lady
Jules
Portia
Pandora
Isobel
Hera
Gwen
Rose
Sabine
If you like these ideas, you may also be interested in our guides to Fancy Dog Names and Designer Dog Names.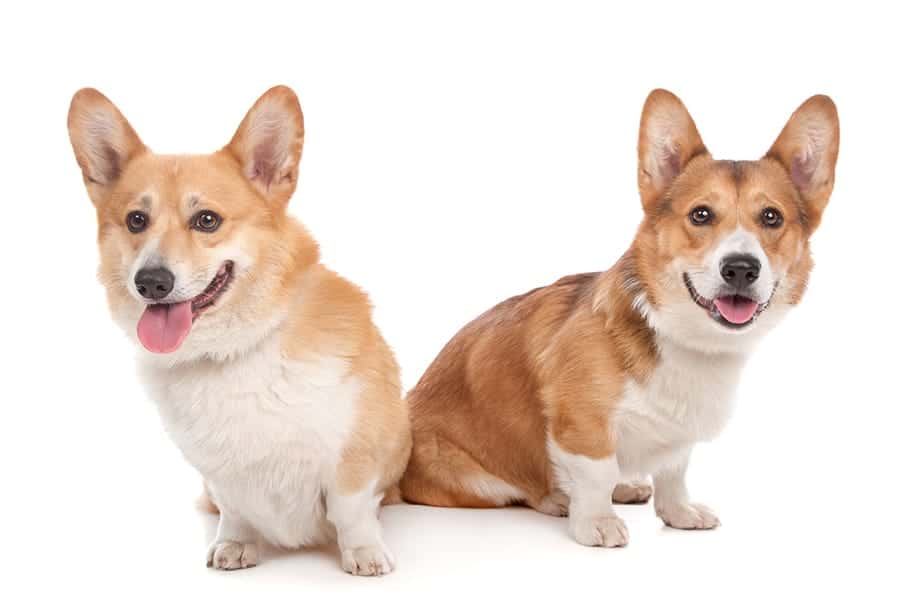 Regal Dog Names Inspired by Canine Royals
One of the most popular group of royal dogs belongs to that of Queen Elizabeth's corgis.
Once owning over 30 Welsh Corgis, the Queen could be considered an expert on naming regal canines.
Perhaps your own regal pup could share a name with one of the mischievous Corgis that once called Buckingham Palace home!
Dookie – The name of the first royal Corgi, who belonged to Elizabeth's father, King George VI.
Susan – The dog that started the royal lineage of Elizabeth's Welsh Corgis.
More royal Corgis owned by the queen:
Sugar
Whisky
Sherry
Heather
Tiny
Smoky
Dash
Disco
Dagger
Flora
Minnie
Pundit
Mint
Monty
Willow
Holly
Learn more about how the queen came to love the Corgi breed.
Final Thoughts
There could be many reasons why you're looking for regal dog names.
Perhaps you're slightly obsessed with stories of royalty and want to reflect that in your dog's name. Or you have a regal dog who needs a name that fits their refined stature.
Ultimately, regal dog names are classy, stylish and oh-so noble. Any dog would be lucky to have such a high-class moniker.
Try out a few names and see which one fits your furry friend best! They are sure to be ruling your household with their new regal dog name in no time.
More Dog Name Ideas
And if you're not inspired by any of these dog names, try our online generator and discover even more options. You can sort by your favorite styles and themes to discover the perfect name for your pup.
Our site helps over 15 million new dog owners each year and offers thousands of unique ideas. With this in mind, we're confident you'll find the name for your dog on our site.
Popular categories include:
Try it out and see what you think!
How Do You Pick the Right Name?
How do you know if you've picked the right name for your dog? That's a question all new dog parents ask.
After years of helping new pup parents, here are some tips we've picked up when it comes to selecting a name for your dog:
Is it easy to say? Some names are great in theory but tough to pronounce in everyday life. Before you lock in on a name, make sure it rolls off the tongue.
Say it out loud. Can you imagine loudly calling for your dog with this name? If not, then it's not the right name and you should move on.
Does it fit your dog? Check to see if the name matches your dog's personality and appearance. This is important for both you and your pup.
Does it sound like another name? Make sure the name doesn't closely resemble another name in the household. This could cause confusion when calling for your pup.
And finally, trust your gut. When you find the right name, you'll know it!
5 Easy Steps to Teach a Dog Their Name
Once you have a name, how do you teach it to your dog?
All pup parents go through this scenario. They've picked out a perfect name and can't wait to start using it for their dog.
The only problem is their dog doesn't recognize it yet.
If you're in this situation, don't fret. Teaching your dog their name is a lot easier than you think.
Here are five easy steps to take to teach your dog their name.
Get some small treats and put your dog on a leash in a location without any distractions.
Say your puppy's name in a clear, happy, excited voice.
As soon as they look at you, say "yes" and give them a treat.
Wait until they look away and then repeat the process 3-5 times.
Play this name game several times a day and soon they'll know and love responding to their name!
Want to learn more about how to teach a dog their name? We have an awesome guide that makes it easy.
View Your Saved Names