415+ Newfoundland Dog Names – Cute, Tough & More
Published:
Last updated:
by Jessi Larson
What should you name your new Newfoundland? Find out in this ultimate guide to Newfoundland dog names!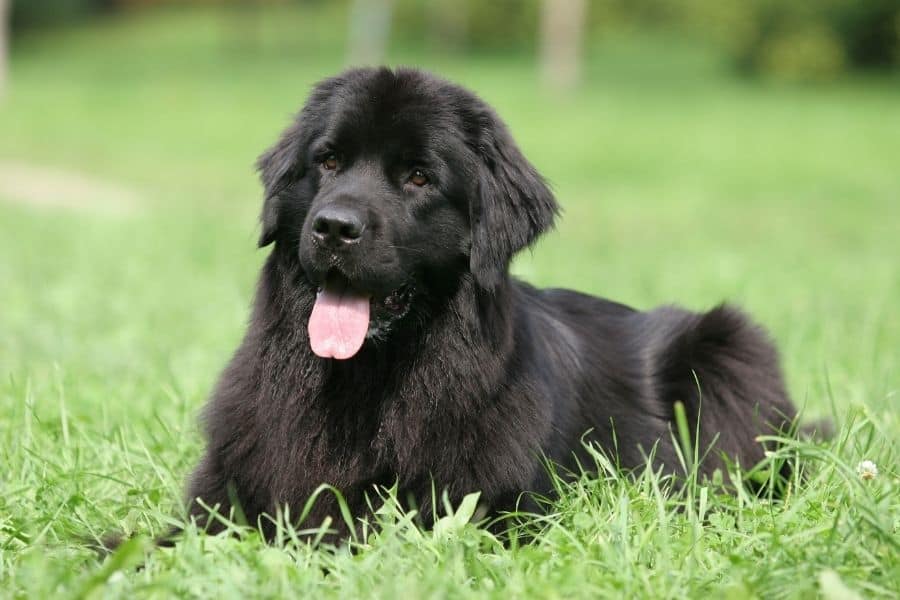 Top Newfoundland Dog Names
Despite their hulking size, Newfoundlands are one of the most gentle-natured breeds. As a result, they make excellent family pets, especially those with children or other animals.
When you welcome one into your home, you're in store for years of affection, fun, and unforgettable memories.
But first things, first, let's get your dog a name!
Male Newfoundland Dog Names
Let's look at male Newfoundland dog names to start our naming guide. These names represent the most popular dog names, tried-and-true classics, and so much more.
Newf
Buddy
Chewie
Rocky
Barkley
Murray
Charlie
Odie
Alfie
Morty
Baxter
Max
Perry
Ernie
Lou
Buster
Champ
Winston
Ziggy
Scout
Rex
Barney
Toby
Beau
Finn
Luther
Teddy
Hank
Shiloh
Rudy
Cooper
Brody
Milo
Skip
Seaman – The Newfoundland that accompanied Lewis and Clark on their expedition
Rascal
Benji
Oliver
Bear
Fido
Sully
Chase
Percy
Henry
Chance
Murphy
Ernie
Leo
Mickey
Marley
Cody
Lucky
Blue
Harley
Jake
Archie
Oscar
Jack
Bernie
Louie
Zeus
Cash
Miles
Pluto
Augie
Duke
Female Newfoundland Dog Names
Finding female Newfoundland dog names can seem like a challenge at first. But we guarantee you'll love these cute and charming ideas.
Newfie
Lucy
Nana – Newfoundland from Peter Pan who watches after the Darling children
Charlotte
Maggie
Lily
Zoey
Sadie
Jojo
Willow
Emma
Harper
Zoe
Bella
Juno
Honey
Mabel
Arya
Nala
Poppy
Abby
Dakota
Ginger
Lola
Happy
Millie
Dory
Gracie
Madison
Hannah
Daisy
Izzy
Macy
Mia
Clara
Molly
Rosie
Joy
Annie
Coco
Roxy
Bailey
Riley
Paisley
Angel
Elsa
Gigi
Mabel
Chloe
Piper
Shelby
Dixie
Olive
Ava
Hazel
Phoebe
Nellie
Sophie
Autumn
Amelia
Maisie
Cricket
Strong Dog Names
The Newfoundland is a massive dog that tips the scales at 100-150 lbs and stands up to 30 inches (1). Without a doubt, this dog possesses enormous strength.
If you're looking for a name that's a bit tougher and stronger, the following ideas may do the trick.
Strong Male Names
Spike
Diesel
Rex
Bruno
Bruiser
Blade
Thor
Ghost
Bane
Caesar
Nitro
Macho
Surge
Yeti
Rambo
Reaper
Mack
Yukon
Avalanche
Brutus
Boomer
Grudge
Maverick
Moose
Gage
Titan
Hunter
Odin
Ares
Bolt
Raider
King
Spartacus
Blaze
Sumo
Butch
Zeus
Vader
Crash
Bandit
Zeus
Hercules
Female Names
Brawny
Xena
Rebel
Foxy
Dahlia
Nova
Vixen
Elektra
Attila
Sheba
Queenie
Scrappy
Medusa
Rogue
Liberty
Alaska
Jezebel
Justice
Mystique
Beastie
Jericho
Khaleesi
Katniss
Artemis
Onyx
Kahuna
Jinx
Athena
Hera
Amazon
Diva
Taboo
Harley
Nyx
Echo
Alpha
Raven
Big Dog Names
If you're inspired by the Newfie's size and solid build, you're in luck. We've rounded up ideas that reflect this breed's enormous stature.
Goliath
Moose
Jumbo
Wolf
Giant
Colossus
Squat
Burly
Maximus
Sable
Sumo
Clifford
Rex
Bull
Whale
Shrek
Rocky
Brawny
Mammoth
Rocky
Everest
Kong
Tex
Rambo
Hulk
Sarge
Whopper
Attila
Marmaduke
Tank
Beethoven
Funny Names
Need a good laugh? They say laugher is the best medicine, and these funny options are sure to make you crack up.
They're silly, ironic, goofy, or all of the above.
Newfton
Bacon
Squirt
Peewee
Baby
Sprite
Dude
Sushi
Taco
Smalls
Porkchop
Tankerbell
Muscles
Peanut
Mini
Beast
Olga
Flo
Frito
Tiny
Shorty
Nacho
Junior
Smalley
Boss
Bertha
Meatball
Minnie
McGruff
Myrtle
Wookie
Names Inspired By Color
The Newfoundland comes in quite a range of colors. It could be black, brown, black and white, or even gray. (2)
The coloring of a canine's coat provides excellent inspiration for its name. Take a look at your dog's fur, and then check out the corresponding ideas below.
Black Names
Jet
Onyx
Midnight
Shady
Olive
Oreo
Noir
Espresso
Pepper
Snickers
Cinder
Asher
Raven
Ash
Stormy
Ebony
Inky
Slate
Midnight
Smokey
Coal
Magic
Zorro
Brown Names
Brownie
Cocoa
Cedar
Godiva
Woody
Hershey
Sandy
Godiva
Tanner
Chestnut
Mudd
Fawn
Mocha
Teddy
Bean
Guinness
Peanut Butter
Bambi
Java
Penny
Rusty
Reese
Black and White Names
Domino
Oreo
Ace
Keys
Checkers
Ying Yang
Spade
Dice
Cruella – Cruella De Vil from 101 Dalmatians
Tuxedo – or Tux for short
Jeeves – fictional butler
Newsie – for newspapers
Dos – two in Spanish for dual-colored coat
Deux – two in French
Zwei – two in German
Find more black and white dog names
Gray Names
Gray
Graycie
Ash
Ashton
Silverbell
Slate
Ember
Sterling
Stone
Coal
Dusty
Shadow
Chrome
Slater
Grayson
Heather
Silver
More Newfoundland Dog Names
Are you looking for even more options? Then, your wish is our command!
These names represent some of the coolest, cutest, and most sophisticated ideas out there.
Unisex Names
Blue
Patches
Pumpkin
Colby
Lucky
Shaggy
Biscuit
Link
Happy
Bingo
Wags
Gizmo
Taylor
Freckles
Rory
Female Names
Luna
Kona
Camilla
Trudy
Afton
Portia
Gigi
Cleo
Aurora
Duchess
Sylvie
Mischa
Penelope
Skye
Harper
Fiona
Izzy
Layla
River
Lulu
Aspen
Jewel
Winnie
Lady
Ruby
Paris
Pearl
Buffy
Male Names
Alfred
Baron
Kingsley
Arthur
Winston
Hamilton
Asher
Jacques
Kobe
Oakley
Mac
Walter
Ollie
Ruger
Gunner
Apollo
Porter
Otis
Prince
Kylo
Jackson
Titan
Lincoln
Watson
Atlas
Dexter
Ryder
Chip
Final Thoughts: Newfoundland Names
The Newfoundland is an incredible animal known for its massive size, genial nature, and keen intellect. Congratulations, you're lucky to count this canine as a member of your family.
Such a great dog deserves the very best name. After all, you'll be saying it day in and day out for years to come.
Searching for a name can seem overwhelming at first but take a deep breath. Here are a few tips and tricks.
To start, gather up loads of ideas. So if you hear a name you like, write it down; the more ideas, the better.
Next, eliminate any names that don't seem like a complete fit. If you have any doubt, remove it.
And finally, do a gut check. Say the name out loud and see if it will work with your dog's demeanor and appearance.
Good luck, and enjoy this precious time with your pup!
More Name Ideas
Did you try out our dog name generator yet? If you haven't, you definitely should! It provides names tailored to your unique criteria.
For example, you can pick the styles you like. Are you looking for a cute and charming name? A strong and tough moniker? Or something funny?
The generator provides options that fit exactly what you're looking for in a name.
You can also throw in fun themes, like movies, TV shows, books, history, sports, and so much more.
References
American Kennel Club (AKC) (www.akc.org/dog-breeds/newfoundland)
Wikipedia (en.wikipedia.org/wiki/Newfoundland_dog)
View Your Saved Names