Get ready to explore an array of Italian Greyhound names that capture the essence of these elegant and graceful companions.
Popular Male Italian Greyhound Names
The following monikers top the charts for most popular male dog names. As you start to read the list, you'll know why.
The ideas below are worth exploring if you welcome a male Italian Greyhound into your home.
Bear
Max
Charlie
Jack
Buddy
Finn
Rocky
Murphy
Cooper
Oliver
Leo
Toby
Duke
Tucker
Bentley
Milo
Hunter
Cody
Zeus
Winston
Lucky
Apollo
Ollie
Jasper
Gizmo
Bruce
Bruno
Teddy
Louie
Blue
Roscoe
Brody
Hank
Frank
Chance
Harvey
Rocco
Rufus
Otis
Simba
Reggie
Ziggy
Gus
Marley
Barney
Moose
Chester
Sam
Boomer
Riley
Popular Female Italian Greyhound Names
Regarding female dog names, dog owners can't get enough of the names below. They rank at the top for most popular picks.
Lola
Lucy
Bella
Luna
Sadie
Daisy
Molly
Ruby
Chloe
Zoey
Lily
Maggie
Mia
Ginger
Nala
Sophie
Rosie
Penny
Stella
Willow
Roxy
Hazel
Gracie
Gigi
Emma
Abby
Lulu
Harper
Kona
Harley
Izzy
Olive
Lexi
Maisy
Bailey
Winnie
Coco
Ellie
Dolly
Mocha
Phoebe
Tasha
Small Dog Ideas
The Italian Greyhound stands anywhere from 13 to 15 inches tall and weighs only 7-14 pounds. This small stature makes them a perfect candidate for a small dog name like one of the following.
Tiny
Baby
Smalls
Peanut
Minnie
Smalley
Mini
Squirt
Smidge
Junior
Pebbles
Pixie
Runt
Nugget
Frodo
Nano
Elegant Italian Greyhound Names
The Italian Greyhound is a graceful, elegant animal. You could recognize their class and distinction with a sophisticated dog name that will never go out of style.
Male Names
Archibald (Archie)
Theo
Scout
Percy
Bernard
Ashton
Rupert
Rover
Phineas
Kingsley
Baron
Princeton
Wesley
Paxton
Lincoln
Gatsby
Female Names
Lady
Countess
Duchess
Giselle
Chanel
Charlotte
Eleanor
Paris
Rose
Pippa
Penelope
Isabella
Jewel
Sasha
London
Zara
Scarlett
Porsche
Pandora
Fast Name Ideas
The Italian Greyhound can run as fast as a whopping 37 miles per hour. That's one fast furry friend!
As you search for Italian Greyhound names, you could consider one that pays tribute to their substantial speed.
Bolt
Zoom
Dash
Speedy
Turbo
Flash
Rocket
Sonic
Whisk
Swift
Vroom
Blaze
Nitro
Jet
Zephyr
Zoomer
Racer
Blitz
Indy
Bullet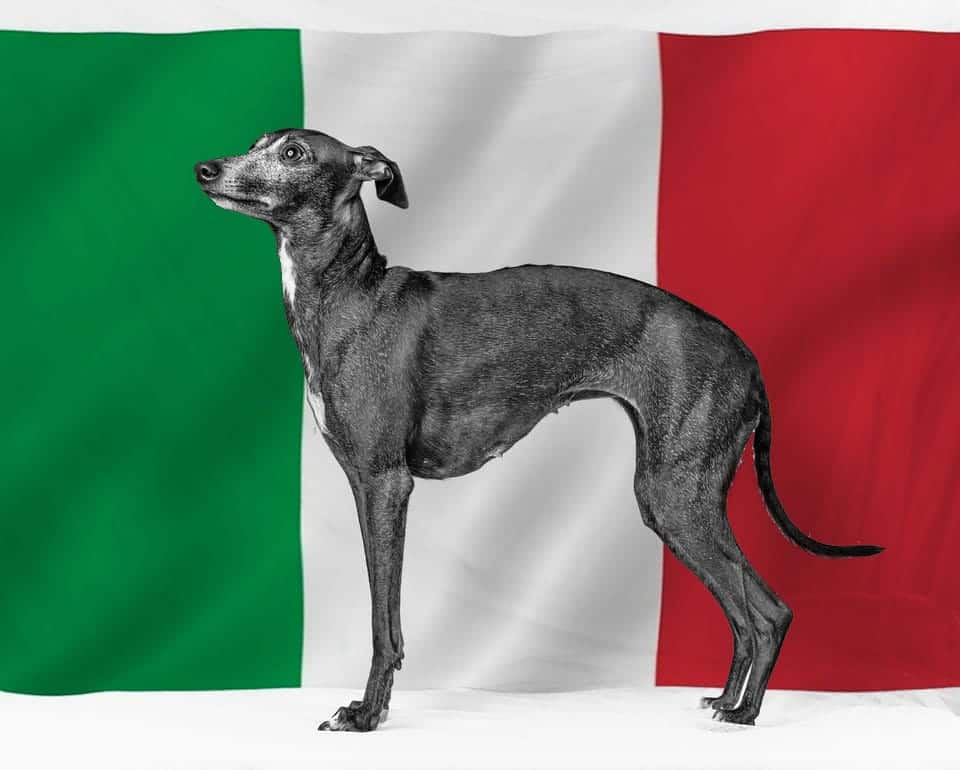 Other Italian Greyhound Name Ideas
The inspiration for Italian Greyhound names isn't over yet. Here are more great options.
Male Ideas
Scooby
Rex
Boo
Kirby
Benji
Joey
Alfie
Abe
Rudy
Nico
Mac
Murray
Corky
Farley
Quincy
Marty
Female Ideas
Chica
Paisley
Lottie
Ariel
Pip
Kenzie
Cookie
Kinzie
Blondie
Buffy
Candy
Juno
Elsa
Dory
Angel
Moxie
Sunny
Jasmine
Gidget
Hadley
Italian Name Ideas
Drawing inspiration from Italy, the home country of these sleek dogs, can be another great option. These names pay homage to their heritage and roll off the tongue with a charming Italian flair.
Italian Male Names
Gino
Francesco
Giovanni
Matteo
Guido
Renzo
Tommaso
Vincenzo
Romeo
Salvatore
Paolo
Antonio
Vito
Leonardo
Federico
Enzo
Pietro
Luigi
Filippo
Fabio
Mario
Riccardo
Dante
Giuseppe
Luca
Diego
Sergio
Italian Female Names
Caprice
Aria
Bellissa
Giulia
Gemma
Alessia
Sofia
Ginevra
Francesca
Giovanna
Federica
Rosa
Antonia
Giada
Renata
Florence
Venice
Milan
Roma
Related: more Italian dog names
Color-Inspired Ideas
And finally, another option is to explore names that draw inspiration from your dog's coat coloring. The most popular Italian Greyhound colors are gray, tawny brown, black, and white, and we've rounded up some ideas worth exploring.
Gray Name Ideas
Gray
Grayson
Silver
Silverbell
Hazy
Cinder
Smokey
Stormy
Slate
Mercury
Dusty
Steel
Charcoal
Tinsel
Brown and Fawn Name Ideas
Chip
Tawny
Cocoa
Hershey
Copper
Hawk
Rusty
Tanner
Woody
Fawn
Brownie
Godiva
Muffin
Butterscotch
Honey
Sandy
Black Name Ideas
Jet
Pepper
Raven
Shadow
Coal
Domino
Noir
Darth
Cosmos
Inky
Wolf
Thunder
Twilight
White Name Ideas
Snowball
Ivory
Pearl
Frost
Marshmallow
Casper
Polar
Bianca
Crystal
Coconut
Ghost
Winter
Vanilla
Sugar
Dove
Final Thoughts
Finding the perfect name for your Italian Greyhound is a delightful journey. Whether you pay homage to their Italian heritage, highlight their elegance and charm, or select a name that reflects their unique personality, remember that the name you pick will be a part of your furry friend's identity for life.
Italian Greyhounds are more than just pets; they're cherished family members.
As you ponder the list of potential names, take your time and get to know your pup's quirks and traits. This will help you find a name that genuinely resonates.
Remember, the best name is the one that feels right to you.
Always trust your instincts and find a name that feels right for your furry new friend. After all, your Italian Greyhound is one of a kind, and their name should be too.
Ultimately, whatever name you choose, it will be a source of love and joy. Your Italian Greyhound will respond to your affection and care, regardless of the syllables in their name. So, here's to you and your four-legged friend. We hope you have many years of joy and happiness with your new canine companion.
View Your Saved Names