250+ Belgian Malinois Names – The Ultimate Naming Guide
Last updated:
by Jessi Larson
Are you looking for Belgian Malinois names? You're in luck because we have 250+ incredible ideas.
You'll find names that are cute, tough, trendy, and so much more.
Guide to Belgian Malinois Names
The Belgian Malinois is a remarkable animal. A hardworking, confident canine, this breed forms an incredible bond with its owners.
When you welcome this dog into your home, you're in store for a beautiful bond.
But first things first, you need a name for your new pup!
Let's look at popular picks perfect for this stoic, smart breed.
Male Belgian Malinois Names
If you have a boy dog, these male Belgian Malinois names will provide lots of inspiration.
These ideas include cute and classic ideas along with athletic and adventurous options.
Take a look and see if any will fit your new four-legged friend.
Mal
Charlie
Jake
Lucky
Sully
Beau
Rex
Chase
Rascal
Scout
Max
Miles
Murphy
Baxter
Rocky
Oliver
Brody
Chance
Buster
Ernie
Perry
Oscar
Archie
Winston
Buddy
Duke
Henry
Teddy
Benji
Champ
Buster
Jack
Harley
Odie
Morty
Barkley
Cody
Bear
Spot
Hank
Hank
Ernie
Rudy
Cash
Louie
Percy
Bernie
Shiloh
Murray
Blue
Mickey
Marley
Cooper
Toby
Zeus
Fido
Ziggy
Finn
Ziggy
Leo
Augie
Chewie
Milo
Female Belgian Malinois Names
Got a girl dog? You're going to love these female Belgian Malinois names.
The list includes adorable ideas and spunky names with a bit of sass.
Bailey
Riley
Lily
Luna
Paisley
Maisie
Luna
Chloe
Nellie
Sophie
Millie
Mia
Rosie
Ava
Riley
Poppy
Hannah
Sophie
Charlotte
Cricket
Juno
Abby
Daisy
Clara
Molly
Hazel
Sadie
Coco
Dory
Madison
Jojo
Piper
Honey
Elsa
Mabel
Macy
Joy
Zoe
Gigi
Willow
Gracie
Amelia
Mabel
Roxy
Izzy
Shelby
Harper
Angel
Arya
Dixie
Maggie
Lola
Dakota
Lucy
Chloe
Phoebe
Annie
Ginger
Zoey
Autumn
Bella
Nala
Willow
Emma
Military Belgian Malinois Names
The Belgian Malinois often serves as a military dog. And this makes sense given their loyal, diligent personality.
The following military names are perfect for this pup.
Trooper
Sergeant
Commodore
Ammo
Marine
Lieutenant
Tank
Justice
Freedom
Scout
Trigger
Solider
Colonel
Vice
Bullet
Chief
Pistol
Marshal
General
Private
Sarge
Commander
Captain
Army
Gunner
Ranger
Corporal
Striker
Major
Shooter
Bomber
Sniper
Boomer
Veteran
Pilot
Admiral
Tracker
Hunter
Officer
Grenade
Discover more military dog names.
More Strong Name Ideas
There's no doubt that this breed is a solid and strapping dog. The Belgian Malinois loves to work and is alert and athletic.
With these attributes, strong dog names are also an excellent choice for this canine. So check out these great ideas.
Hulk
Rebel
Manny
Wyatt
Thor
Hawkeye
Rambo
Trinity
Maverick
Nyx
Katniss
Rocky
Xena
Viper
Boss
Apollo
Bolt
Axel
Marshall
Ares
Ramses
Athena
Storm
Saber
Butch
Rocco
Spike
Odin
Nova
Bruiser
Talon
Chaos
Panic
Rogue
Pyro
Storm
Cinder
Raven
More Dog Name Ideas
Need more inspiration? Don't worry – we have lots of additional ideas.
As you're looking for names, take note of any that sound interesting. If a name stands out, write it down. You can also click the heart button to the left to save it.
Male Names
Gus
Jax
Watson
Gatsby
Jacques
Wesley
Kylo
Bingo
Rory
Theo
Prince
Clifford
Perry
Chester
Lincoln
Loki
Dexter
Winston
Bandit
Champ
Bernard
Boomer
Morty
Apollo
Bruno
Koda
Atlas
Rover
Edgar
Female Names
Maya
Mila
Lacey
Kona
Skye
Callie
Pippa
Jasmine
Shelby
Quinn
Trudy
Freya
Tilly
Juno
Delilah
Flora
Piper
Violet
Sasha
Sally
Georgia
Gemma
Stella
Sasha
Esme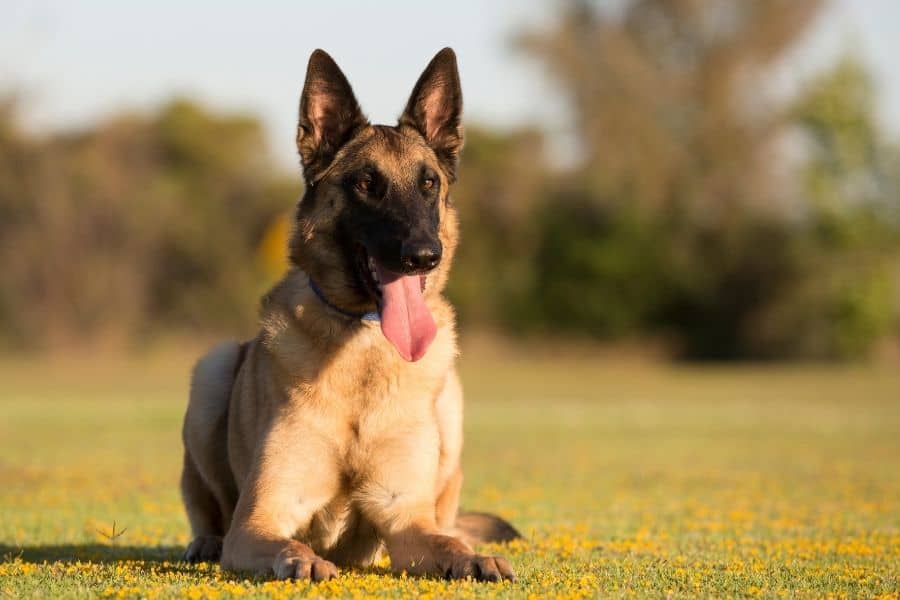 Final Thoughts
Bringing home a new dog is such a joyful time. But, it can also be a bit stressful. You have lots on your to-do list, including picking out a perfect name.
Don't stress out, though. The process can be creative and fun.
When you have a list of ideas, go through it line-by-line and evaluate each idea. Then, say each name out loud.
Can you imagine calling for your dog with this name? Will it catch their attention? Also, does it fit your dog's appearance and personality?
And if you have others in your home, it's always a good idea to get their opinion, too.
You'll know in your gut when you've found just the right name for your new Belgian Malinois.
Additional Name Ideas
Need more name inspiration? You should check out our dog name generator!
First, you select your dog's gender. Then you pick any styles you like. These include cute, classic, elegant, funny, sporty, tough, and more.
Another option is to pick themes that are of interest to you, like movies, TV shows, literature, comics, sports, history, and so forth.
The options are endless!
Belgian Malinois Tips and Tricks
Life with a Belgian Malinois is a beautiful experience. However, the following tips and tricks will help your journey as a pet owner and ensure the best possible outcome for your pup.
1. It's similiar to the German Shepherd – with key differences
At first glance, the Belgian Malinois looks a lot like the German Shepherd. There are fundamental differences, however, in their appearance and personality.
Physically, the Belgian Malinois is smaller with lighter bones. (1) They also have a slimmer, more refined face and shorter, more triangular ears.
As for temperament, this breed is often considered more alert and more sensitive than the German Shepherd.
2. Early socialization and training is important
The Belgian Malinois was developed to protect and herd. This background means they have a high prey drive that can be misdirected if not properly trained. (2)
With these strong instincts, proper training and socialization are critical.
For example, you don't want your Belgian Malinois trying to herd your kids or running off controllably when they see a squirrel.
Also, training should always be positive because of the breed's highly sensitive nature.
3. Provide lots of physical and mental exercise
This breed loves to work! That means they'll need a lot of exercise – both physically and mentally.
Try to carve out at least an hour a day for exercise. It could be regular walks, games of fetch, agility training, whatever your dog likes.
Your reward is a well-behaved dog who's pleasant to be around.
4. Prepare for hair
When you welcome this dog into your home, be prepared for shedding. They constantly shed, which gets intense during shedding season twice a year.
Investing in a good brush and high-quality vacuum will make life a lot easier.
5. Enjoy this awesome animal
Few other dogs combine strength and sensitivity like the Belgian Malinois. They are incredibly smart and hardworking, yet loving and loyal. It's truly the perfect combination.
References
Dogtime (dogtime.com/dog-breeds/belgian-malinois#/slide/1)
American Kennel Club (AKC) (www.akc.org/dog-breeds/belgian-malinois)
View Your Saved Names