With their cheerful, friendly nature and fluffy, cotton-like coats, Havanese dogs demand names as sweet and bubbly as their personalities. This carefully curated list of Havanese dog names ranges from Cuban-inspired options honoring their national origin to spunky, charming names perfect for these lively and lovable pups. Whether you want something tailored to your Havanese's coloring or a name that encapsulates their joyful spirit, you will find the perfect fit for your new furry friend.
Popular Male Havanese Dog Names
These male dog names are the most popular picks among pup parents visiting our website and could be an excellent choice for your new furry friend.
Max
Charlie
Cooper
Rocky
Buddy
Jack
Toby
Duke
Bear
Tucker
Oliver
Leo
Bentley
Milo
Zeus
Winston
Finn
Murphy
Lucky
Apollo
Hunter
Cody
Ollie
Jasper
Teddy
Louie
Blue
Gizmo
Otis
Simba
Reggie
Ziggy
Bruce
Bruno
Roscoe
Brody
Hank
Chester
Sam
Frank
Chance
Harvey
Rocco
Rufus
Gus
Marley
Barney
Moose
Boomer
Riley
Chewy
Buttons
Popular Female Havanese Dog Names
The following ideas top the chart for female dog names on our site, and it's not hard to tell why. Perhaps one could be the right choice for your female furbaby.
Daisy
Lucy
Molly
Bella
Luna
Sadie
Lola
Ruby
Chloe
Zoey
Lily
Maggie
Rosie
Penny
Stella
Mia
Ginger
Nala
Sophie
Willow
Roxy
Hazel
Gracie
Bailey
Olive
Coco
Ellie
Winnie
Emma
Abby
Lulu
Princess
Harper
Kona
Charlie
Harley
Izzy
Mocha
Phoebe
Tasha
Marley
Riley
Dolly
Gigi
Lexi
Maisy
Small Havanese Names
The Havanese dog breed typically stands 8.5 to 11.5 inches (22 to 29 cm) tall at the shoulder and weighs between 7 to 13 pounds (3 to 6 kg). That's one pint-sized pup! You could recognize their small stature with one of these sweet name ideas.
Peanut
Minnie
Mini
Smalls
Baby
Tiny
Junior
Squirt
Pebbles
Nugget
Pixie
Smalley
Runt
Related: more small dog names
Elegant and Classic Ideas
Another idea is to check out sophisticated, classic Havanese dog names for your elegant companion.
Theo
Scout
Rover
Winston
Bentley
Phineas
Percy
Rex
Bernard
Duke
Kingsley
Baron
Princeton
Lincoln
Duchess
Eleanor
Penelope
Isabella
Chanel
Charlotte
Paris
Rose
Jewel
London
Bentley
Porche
Countess
Pandora
Color-Inspired Havanese Names
For more unique ideas, check out Havanese puppy names inspired by their coat colors – a perfect match for your vibrant, lovable furry friend.
White Names
Snowy
Ivory
Pearl
Powder
Marshmallow
Cotton
Frost
Ghost
Cloud
Crystal
Sugar
Bianca
Boo
Blizzard
Black Names
Shadow
Midnight
Bear
Panther
Jet
Onyx
Coal
Luna
Sable
Ebony
Zorro
Raven
Pepper
Black and White
Oreo
Panda
Domino
Patches
Tuxedo
Checkers
Chess
Socks
Cruella
Inky
Harlequin
Zebra
view more black and white dog names
Fawn Names
Fawn
Sandy
Bambi
Tawny
Hazel
Ginger
Amber
Honey
Caramel
Marigold
Butterscotch
Penny
Toffee
Maple
Brown Names
Cocoa
Hershey
Woody
Bear
Mocha
Branch
Chip
Brownie
Moose
Red Names
Red
Rusty
Ruby
Fox
Penny
Copper
Blaze
Scarlet
Ariel
Rojo
Apple
Valentine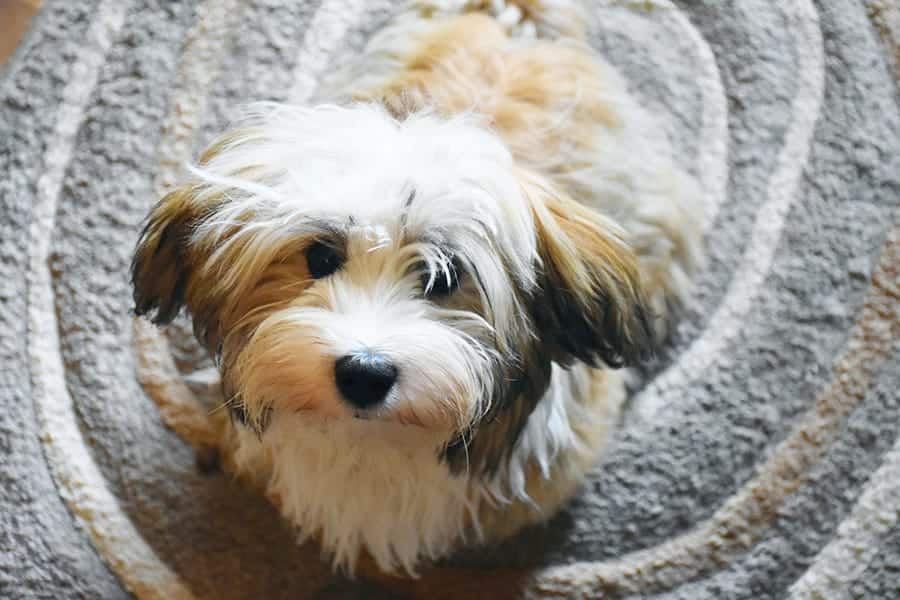 Funny Name Options
Get ready to chuckle as we unveil hilarious Havanese dog names that perfectly match their playful personalities or ironically tease their small size.
Beethoven
Tankerbell
Nacho
Taco
Spud
Tank
Goliath
Rebel
Sarge
Burly
Bruiser
Bertha
Jumbo
Spike
Xena
Playful Havanese Names
With their spunky and spirited personality, the Havanese is a perfect candidate for a playful dog name.
Happy
Sparky
Joy
Dancer
Frisky
Spanky
Zippy
Peppy
Bubbles
Spirit
Rascal
Dash
Goofy
Sassy
Punky
Cuban Name Options
Here are some ideas inspired by popular names from Cuba that will fit your dog's heritage.
Havana
Angel
Chico
Che
Celia
Tango
Rico
Chiquita
Panchito
Sierra
Cha-Cha
Mambo
Final Thoughts: Havanese Dog Names
We hope you found inspiration in these Havanese dog names. Naming your new pup is a fun process and the first step to bonding with your new pet.
The Havanese may not be the most popular pup on the list of American Kennel Club (AKC) dog breeds, but anyone who meets with fluffy, friendly animals instantly falls in love and questions why more people don't own this cool canine.
As you look for dog names, consider your dog's personality and appearance. That can quickly help shape your name options.
Also, consider your interests. If you're a sports fan, why not pick the name of your favorite team or player? Or, if you like to travel, consider the favorite destinations you've visited.
And when you finally hone in on a name idea, say it out loud. Does it fit your dog? Can you envision saying it for the next 10-15 years? Asking yourself these questions will help you as you sort through Havanese dog names.
Good luck, and congratulations on the new addition to your life. You're sure to have many years of happiness with this adorable dog.
View Your Saved Names