Literary Dog Names – 215+ Ideas from Books
Published:
Last updated:
by Jessi Larson
Literary dog names are a great choice for a new canine companion. Our comprehensive guide features 215+ awesome ideas to check out.
If you have a love of literature and appreciate a good book, these are the names for you!
Top Literary Dog Names
For bookworms, there's nothing better than curling up with a good book and going on an adventure from the comfort of your home. And it's even better when you have a new dog to cuddle up next to you.
If you agree with these statements, you must check out these great literary dog names when naming your puppy.
Literary dog names reflect your interest in reading and may even showcase a particular piece of work you enjoy. And if someone gets the name reference right away, you'll know you're with a kindred literary spirit.
These ideas can be a dog name from a book, a name of a human character or city, the name of an author you like or a general reference to writing.
Get ready to discover 215+ names perfect for your new pup!
Famous Literary Dog Names
To start, let's explore dogs featured in literature throughout the ages. These canine characters appear prominently in published works and provide excellent inspiration for naming your precious pooch.
Here are a few famous dogs from literature you just might recall.
Argos – the faithful dog in the Odyssey
Bailey – A Dog's Purpose
Baleia – dog companion in Vidas secas
Bear – A Dog's Purpose
Blue – The Sound and the Fury by William Falkner
Buck – sled dog from Call of the Wild
Buddy – A Dog's Purpose
Bullseye – Bill Sikes' dog in Oliver Twist
Carl – Good Dog, Carl
Charkie – Curious George
Clifford – the beloved big red dog
Cujo – from Stephen King's book
Einstein – Watchers by Dean Koontz
Ellie – A Dog's Purpose
Fang – the lumbering boarhound in Harry Potter
Fluffy – from Harry Potter and the Sorcerer's Stone
Ghost – Jon Snow's canine companion in Game of Thrones
Jip – David Copperfield
Lad – from the novel Lad, A Dog
Laska – Levin's hunting dog in Anna Karenina
Lassie – Lassie Come Home
Marley – the mischievous dog in Marley and Me
Max – How the Grinch Stole Christmas
Mr. Bones – companion dog in Timbuktu
Nana – The Darling family's pet in Peter Pan
Old Dan and Little Ann – Where the Red Fern Grows
Old Yeller – Old Yeller by Fred Gipson
Perdita – The mother dog in 101 Dalmatians
Pilot – Mr. Rochester's dog in Jane Eyre
Pongo – The father in 101 Dalmatians
Randolph – Labrador Retriever in A Dog About Town
Ribsy – companion of Henry Huggins
Ripper – pet dog in Harry Potter and the Prisoner of Azkaban
Sharik – from Heart of a Dog
Shiloh – dog saved from abusive owner in Shiloh
Snoopy – Beagle from Peanuts
Snowy – Tintin's dog in The Adventures of Tintin
Toby – used by Sherlock Holmes when he needs help sniffing out a clue, also from A Dog's Purpose
Tock – watchdog of the Phantom Tollbooth
Toto – The Wonderful Wizard of Oz
White Fang and Kiche – White Fang by Jack London
Winn-Dixie – Because of Winn-Dixie
Yeller – Old Yeller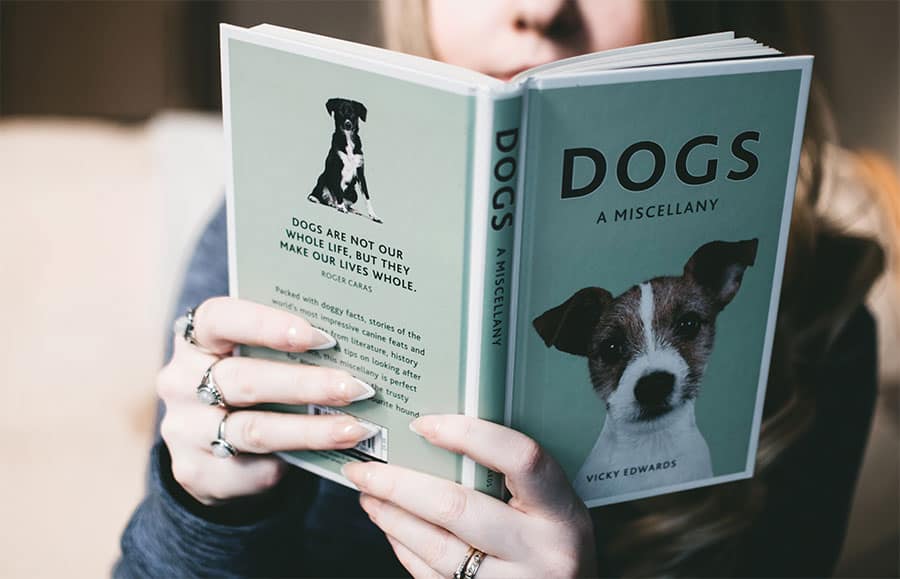 Dog Names from Literary Characters
Another idea is to pick the name of a character from a piece of literature you enjoy.
These famous characters have been around for decades. Heck, some have even been on the pages for hundreds of years.
With that in mind, these literary dog names are guaranteed to stand the test of time.
Alice – Alice in Wonderland
Anne – Anne of Green Gables
Arya – Game of Thrones
Arwen – Lord of the Rings
Aslan – The Chronicles of Narnia
Athos – The Three Musketeers
Atticus – To Kill a Mockingbird
Augustus – The Fault in Our Stars
Beatrice – Much Ado About Nothing
Bella – Twilight
Bond – James Bond
Charlie – Charlie and the Chocolate Factory
Charlotte – Charlotte's Web
Coraline – Coraline
Cordelia – King Lear
Daenerys – Game of Thrones
Daisy – The Great Gatsby
Darcy – Pride and Prejudice
Desdemona – Othello
Dodger – Oliver Twist
Dorothy – The Wonderful Wizard of Oz
Emma – Emma
Falstaff – Henry IV
Fern – Charlotte's Web
Finn – Adventures of Huckleberry Finn
Gandalf – Lord of the Rings
Gatsby – The Great Gatsby
Ginny – Harry Potter
Gretel – Hansel & Gretel
Gulliver – Gulliver's Travels
Hagrid – Harry Potter
Hamlet – Hamlet
Hansel – Hansel & Gretel
Heathcliff – Wuthering Heights
Heidi – Heidi
Hermione – Harry Potter
Holden – Catcher in the Rye
Horatio – Hamlet
Huck – Adventures of Huckleberry Finn
Jane – Jane Eyre
Jo – Little Women
Juliet – Romeo & Juliet
Katniss – The Hunger Games
Leopold – Ulysses
Lisbeth – The Girl with the Dragon Tattoo
Lizzie – Pride and Prejudice
Lucy – The Chronicles of Narnia
Luna – Luna Lovegood from Harry Potter
Macbeth – Shakespeare's Macbeth
Marlowe – from the Raymond Chandler series
Matilda – Matilda
Mercutio – Romeo & Juliet
Milo – Catch-22
Moby – Moby Dick
Oliver – Oliver Twist
Ophelia – Hamlet
Othello – Othello
Padfoot – Harry Potter
Pip – Great Expectations
Pippi – Pippi Longstocking
Prim – Hunger Games
Puck – A Midsummer Night's Dream
Quixote – Don Quixote
Ramona – Ramona Quimby
Raven – The Raven
Rhett – Gone with the Wind
Ripley – The Talented Mr Ripley
Robinson – Robinson Crusoe
Romeo – Romeo & Juliet
Sansa – Game of Thrones
Santiago – The Old Man the Sea
Sawyer – The Adventures of Tom Sawyer
Scarlett – Gone with the Wind
Scout – To Kill a Mockingbird
Sherlock – Sherlock Holmes
Sirius – Harry Potter
Snowball – Animal Farm
Violet – Lemony Snicket
Watson – Sherlock Holmes
Winnie – Winnie the Pooh
You might also enjoy our names from specific books like Harry Potter dog names or Game of Thrones dog names.
Dog Names from Famous Authors
Famous written works wouldn't exist if not for the authors who penned them. It makes sense then to consider historical writers when looking for literary dog names.
The following are some of the most recognized writers in history.
Agatha – Agatha Christie
Austen – Jane Austen
Bram – Bram Stoker
Byron – Lord Byron
Capote – Truman Capote
Christie – Agatha Christie
Dickens – Charles Dickens
Dickinson – Emily Dickinson
Edgar – Edgar Allan Poe
Eliot – T.S. Eliot
Faulkner – William Faulkner
Fitz – F. Scott Fitzgerald
Harper – Harper Lee
Hemingway – Ernest Hemingway
Homer – author of the Odyssey
Hunter – Hunter S. Thompson
Huxley – Aldous Huxley
Jack – Jack Kerouac
Joyce – James Joyce
Jules – Jules Verne
Kafka – Franz Kafka
Kerouac – Jack Kerouac
King – Stephen King
Langston – Langston Hughes
Leo – Leo Tolstoy
Lewis – C. S. Lewis
London – Jack London
Maya – Maya Angelou
Morrison – Toni Morrison
Orwell – George Orwell
Oscar – Oscar Wilde
Poe – Edgar Allan Poe
Proust – Marcel Proust
Roald – Roald Dahl
Salinger – J. D. Salinger
Shakespeare – William Shakespeare
Shelley – Mary Shelley
Seuss – Dr. Seuss
Steinbeck – John Steinbeck
Tolkien – JRR Tolkien
Tolstoy – Leo Tolstoy
T.S. – T.S. Eliot
Truman – Truman Capote
Twain – Mark Twain
Verne – Jules Verne
Virginia – Virginia Woolf
Vonnegut – Kurt Vonnegut
Wallace – David Foster Wallace
Walt – Walt Whitman
Another idea: You could also select the name of a lesser-known author you enjoy.
Is there a modern writer you can't get enough of? Would their name make a cool dog moniker?
Dog Names from Literary Words
If you're a writer, you might just like these literary dog names that tie in perfectly to the world of writing.
Ballad
Dot
Fable
Haiku
Inky
Jot
Limerick
Lyric
Novella
Pen
Poem
Quill
Rhyme
Scribble
Scribe
Sonnet
Stanza
Syntax
Verse
Villanelle
Writer
Mythical Dog Names
Mythology is also a great source for unique dog names. The names are creative and come with interesting back stories.
Achilles
Adonis
Andromeda
Apollo
Aphrodite
Arcadia
Aries
Artemis
Athena
Atlas
Beowulf
Callisto
Freya
Hera
Hercules
Hermes
Icarus
Loki
Luna
Medusa
Nyx
Oden
Odysseus
Olympia
Persephone
Siren
Sirius
Spartan
Titan
Venus
Discover more mythical dog names.
Learn more about mythological stories and characters.
Final Thoughts: Literary Dog Names
Literature is full of inspiring stories, and as you can see from above, inspiration for dog names.
If you're a bookworm and love a good read, we highly recommend selecting one of these 215+ literary dog names when you get a new pup. They're unique, cultured and cool.
With so many great options, though, how do you pick the right one?
To start, take note of any name that catches your eye. Don't think too hard, just write it down.
Next, remove any name that you don't absolutely love. Just keep the ones that are your favorites.
And finally, when you get your dog, say the name out loud and see if it's a fit. You'll know in your gut when you've found the right one!
Discover Even More Dog Names
Looking for more dog name ideas? Our online name generator is a great resource to help you find just the right name for your precious new pup.
To get started, enter your favorite style or styles. For example, you can choose cute, classic, tough, elegant – or all of the above.
The generator provides names that fit your exact criteria.
You can also select your favorite themes that match your interests and hobbies. Categories include movies, TV shows, comics, music, food, history, religion, and so much more.
With so much inspiration, we know you'll find just the right name for the new addition to your life.
How Do You Pick the Right Name?
Over the years we've discovered tips and tricks to help new pup parents find just the right name. It can seem like a daunting process, but by following this three-step list, you'll hone in on the perfect moniker in no time.
Step 1: Create a List of Ideas
First things first, you'll need to find ideas. As you search, take note of any names you like. Jot them down in a list for reference.
Next, read through this list and evaluate each name. If there are names you don't completely love, remove them.
Step 2: Evaluate the Names
Now is the time to test out each name. To start, figure out if the name is easy to say out loud. Sure, some names look great on paper but they could be hard to say in everyday life. Especially for longer names.
Another helpful tip is to call the name in a loud voice. As a pup parent, you'll need to yell your dog's name at times. Can you imagine calling for your canine loudly with this name?
Last, but certainly not least, check to see if the name is right for your specific dog. A name may sound great but not be the right fit for their appearance and personality.
Step 3: Finalize the Name
After step 2, you should have a list of 2-4 ideas remaining.
At this point, do a gut check on each idea. Does the name seem right for your dog?
If you have others in your household, include them in the process, too. After all, they'll be saying the dog's name day in and day out as well.
5 Easy Steps to Teach a Dog Their Name
Once you've finalized your name selection, the next step: Teach it to your dog!
This can sound daunting but it's actually much easier than you'd think. Just follow these five easy steps.
Grab some small treats for positive reinforcement and move to an area free of distractions.
Say your dog's name in a clear and positive voice.
When they look at you, say "yes." Provide them with a treat. This lets them know they're doing the right thing.
Wait until they look away and do it again. Repeat the process 3-5 times.
If you play this name game several times a day, they'll soon know their name and love responding to it!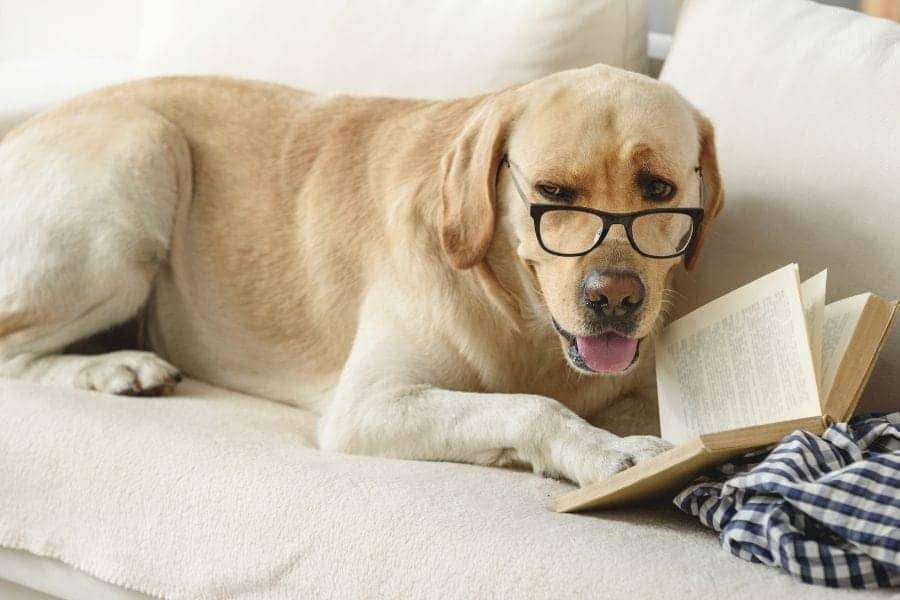 Other Ideas for Literary Dog Names?
Are we missing any ideas for literary dog names? Please share your ideas in the comments below.
For example, let us know if you have any names we should add, whether it's a great author, interesting character or a famous dog featured in written works.
View Your Saved Names