Are you looking for the perfect name for your new spotted friend? Discover our creative and unique list of Dalmatian names that'll make your pup stand out in the dog park. These unique names are just waiting to be claimed by a lovable, playful Dalmatian just like yours!
Black and White Names
Let's start by exploring cool black-and-white names perfect for a new furry friend.
They're inspired by people, objects, food, symbols, and black-and-white words – just like this breed.
Domino
Checkers
Oreo
Keys
Tuxedo – or Tux for short
Butler
Jeeves – fictional butler
Spade
Ace
Chess
Dice
Charlie Chaplin – black and white film star
Elvis
Cookie
Monk
Soccer
Groucho – black and white film/TV star Groucho Marx
Jasper – black and white gemstone
Sundae
Inky
Almond Joy
Klondike
Coco – fashion designer Coco Chanel
Chanel – fashion designer Coco Chanel
Rorschach – inkblot test
Whoopie – for Whoopie Pie
Newsie – for newspapers
Mint
Ying Yang
Banksy – street artist
Peppermint Patty
Pepper Saltzman
Dos – two in Spanish for dual-colored coat
Deux – two in French
Zwei – two in German
Related: more black and white dog names
Dalmatian Names Inspired By Patterns
No two coats are alike when it comes to black and white dogs. Their fur can be striped, spotted, speckled, and so much more.
Why not use your dog's coat pattern when picking out a name?
Spot
Dot
Blot
Patches
Speckles
Dottie
Pebbles
Pixel
Pollock – artist Jackson Pollock
Jackson – artist Jackson Pollock
Sprinkles
Freckles
Speck
Blotch
Smudge
Marble
Mosaic
Harlequin
Merle
Camo
Kaleidoscope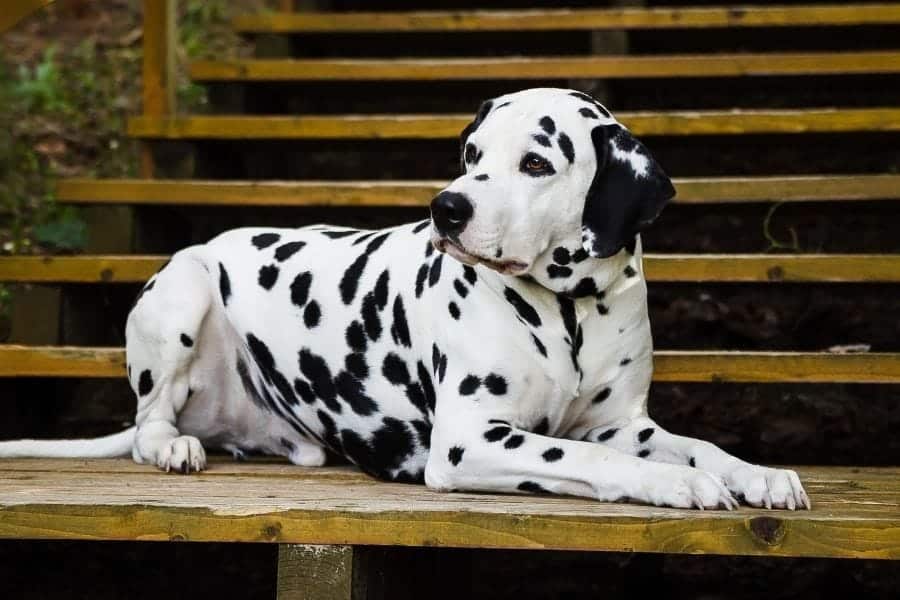 Names from the 101 Dalmatians
Get ready to explore our delightful compilation of 101 Dalmatians-inspired names for your beloved spotted friend. These charming and heartwarming names will pay homage to the classic film and add a touch of Disney magic to your pup's life!
Pongo – The laid-back but protective father of the 101 Dalmatians.
Perdita – Wife of Pongo and mom to a group of Dalmatian puppies.
Patch – The noisy, rowdy pup in the bunch.
Lucky – Gets his name from the horseshoe ring on his back because he almost didn't make it in the original animated movie.
Rolly – The plump, rolly polly puppy who's always hungry. "I'm hungry, Mother, I really am!"
Penny – The sweet, loving female pup always sitting by her father's feet.
Freckles – A male pup frequently perched on his father's head.
Pepper – A sweet boy with "the smallest spots of all."
Related: view our complete list of 101 Dalmatians dog names
Dalmatian Names Inspired By Animated Characters
Many black and white characters appear in cartoons, and this serves as inspiration when naming your dog.
You'll undoubtedly recognize many of the names on this list and may even be a big fan of a few of them.
Mickey – Disney's Mickey Mouse
Minnie – Disney's Minnie Mouse
Goofy – anthropomorphic Disney dog
Snoopy – beagle in Peanuts
Droopy – classic cartoon basset hound
Sylvester – Sylvester the Cat from Looney Toons
Pepe Le Pew – Looney Toons skunk
Felix – Felix the Cat
Betty Boop – classic cartoon character
Copper – The Fox and the Hound
Max

– Goofy's son

Pete – Disney villain
Figaro – cat in Pinocchio
Clarabelle – Disney cow
Jock – Lady and the Tramp
Horace – Disney horse
Dodger – Oliver and Company
Ursula – The Little Mermaid villain
Maleficent – Sleeping Beauty villain
Jack – Jack Skellington from The Nightmare Before Christmas
Flower – skunk in Bambi
Meeko – raccoon in Pocahontas
Blitzle – Pokemon character
Pancham – Pokemon character
Related: cartoon dog names
Dalmatian Names Inspired By Other Animals
Dogs aren't the only members of the animal kingdom that can be black and white. There are many other creatures with this coloring; you could use this to name your pup.
Puffin
Penguin – or Pen for short
Whale – or Whaley
Shamu
Skunk – or Skunky
Zebra – or Zeb for short
Raccoon
Orca
Bunny
Bear
Panda
Lemur
Badger
Osprey
Magpie
Cricket
Tapir
Holstein – black and white cow
Black Names
Some black and white dogs have a little more black coloring. If so, you could choose one of these black names for your pup.
Or perhaps you want to play up the darker coloring on their coat, and one of these names is the right fit.
Pepper
Raven
Jet
Shady
Cinder
Ember
Onyx
Noir – black in French
Nero – black in Italian
Preta/Preto – black in Portuguese
Coal
Shadow
Midnight
Dracula
Ash
Stormy
Elvira
Shade
Black Jack
Craven
Enigma
Tarmac
Zorro
Thunder
Espresso
Crow
Mystery
Olive
Ebony
Smokey
Discover more black dog names.
White Names
Conversely, some dogs may have much more white in their coat. So these white names could be a good option in this situation.
Sugar
Winter
Ice
Alabaster
Frosty
Cotton
Gardenia
Boo
Snowball
Dove
Crystal
Casper
Snowy
Powder
Blizzard
January
Pearl
Ghost
Bones
Ivory
Bianco/Bianca – white in Italian
Polar
Al Bino
Marshmallow
Discover more white dog names.
Cute Male Dalmatian Names
The Dalmatian is incredibly cute. After all, who could resist that adorable face and fun demeanor?
To capitalize on the cuteness, let's look at male Dalmatian names that are downright adorable.
Buster
Ernie
Rudy
Barkley
Bernie
Banjo
Odie
Max
Bruno
Archer
Fido
Lucky
Jasper
Ziggy
Percy
Jake
Bear
Jack
Gizmo
Barney
Buddy
Chase
Henry
Oliver
Morty
Spot
Scout
Asher
Atlas
Mickey
Leo
Pluto
Rascal
Alfie
Comet
Hank
Lincoln
Champ
Rex
Argos
Perry
Blue
Murphy
Cooper
Brody
Chance
Dino
Waldo
Shiloh
Archie
Flash
Benji
Charlie
Yoshi
Louie
Arlo
Oscar
Augie
Milo
Finn
Tiger
Murray
Wally
Wishbone
Beau
Bingo
Skip
Marley
Teddy
Sully
Patches
Toto
Cute Female Dalmatian Names
If you're welcoming a four-legged female friend into your home, you'll love these cute Dalmatian names for girl dogs. They have a certain charm and sweetness that is perfect for a pup like the Dalmatian.
Harper
Aurora
Amelie
Camilla
Aspen
Paris
Bianca
Diamond
Queen
Buffy
Octavia
Constance
Chanel
Genevieve
Portia
Victoria
Effie
Coco
Juliet
Elizabeth
Afton
Ruby
Lady
Jewel
Lux
Princess
Jules
Countess
Fifi
Duchess
Regal Male Dalmatian Names
Are you searching for a distinguished name to suit your regal male Dalmatian? Look no further; our curated list of stately and majestic names will perfectly capture his noble aura and presence!
Charleston
Alfred
Bernard
Edwin
Augustus
Prince
Alcott
Gatsby
Berkeley
Arthur
William
Lord
Emerson
Clancy
Churchill
Winston
Kingsley
Wesley
Kingston
Redmond
Baron
Francois
King
Duke
Princeton
Jacques
Ashton
Fairfax
Asher
Hamilton
Regal Female Dalmatian Names
Are you seeking an elegant name befitting your graceful female Dalmatian? Then, you're in the right place, as our handpicked collection of refined and sophisticated names will highlight your lovely dog's regal charm!
Afton
Amelie
Aspen
Aurora
Bianca
Buffy
Camilla
Chanel
Coco
Constance
Countess
Diamond
Duchess
Effie
Elizabeth
Fifi
Genevieve
Harper
Jewel
Jules
Juliet
Lady
Lux
Octavia
Paris
Portia
Princess
Queen
Ruby
Victoria
Athletic Male Dalmatian Names
A Dalmatian's athletic prowess is well known from being a firehouse dog. So let your athletic male Dalmatian's playful nature shine with our carefully selected list of dynamic and sporty names. These spirited options highlight his boundless energy and zest for life!
Bolt
Flash
Chase
Alpha
Thor
Dingo
Dash
Samson
King
Rover
Dallas
Hercules
Titan
Ace
Vinnie
Bandit
Dozer
Scorpio
Macho
Jordan
Spike
Crash
Gage
Avalanche
Jumbo
Magnum
Vader
Nitro
Trooper
Vice
Raider
Boomer
Montana
Chief
Surge
Ranger
Diesel
Rex
Mack
Maverick
Ares
Hunter
Sumo
Hulk
Rambo
Blaze
Wrigley
Moose
Prometheus
Fury
Bruiser
Tank
Tyson
Marino
Champ
Magic
Spartacus
Blade
Yeti
Odin
Bane
Panic
Rocky
Zeus
Yukon
Athletic Female Dalmatian Names
Embrace your athletic female Dalmatian's playful and active spirit with our curated list of energetic and sporty names. These inspired choices will perfectly reflect her lively personality and zest for life!
Justice
Attila
Vixen
Nyx
Onyx
Rousey
Kahuna
Hera
Brawny
Baroness
Elektra
Gypsy
Echo
Tiger
Katniss
Khaleesi
Alpha
Vega
Artemis
Dahlia
Jericho
Raven
Taboo
Midnight
Harley
Beastie
Medusa
Cinder
Scrappy
Athena
Amazon
Mystique
Kodiak
Liberty
Aspen
Jezebel
Sheba
Alaska
Nova
Rouge
Xena
Huntress
Queenie
Foxy
Diva
Jinx
Indy
Smart Name Ideas
Celebrate your Dalmatian's intelligence with our thoughtfully curated list of intelligent and clever names. These creative options will showcase your pup's colorful nature and keen instincts like no other!
Doc
Mensa
Pundit
Plato
Scholar
Sage
Beaker
Atom
Beta
Rubik
Data
Sherlock
Watson
Yale
Wisdom
Darwin
Genius
Freud
Einstein
Havard
Spock
Aristotle
Newton
Savant
Neutron
Socrates
Wit
Da Vinci
Egghead
Urkel
Smarty
Tesla
Princeton
Galileo
Dexter
Sheldon
Jobs
Guru
Prodigy
Whiz
Curie
Edison
Brain
Albert
Helix
Yoda
Gates
Nobel
Brainy
Doogie
How Do You Pick The Right Name?
How do you know if you've picked the right name for your dog? That's a great question.
It's common to wonder if you've selected the right name for your canine companion. After years of helping new pup parents, we've come up with a few questions to ask yourself.
This is a foolproof way to find just the right name for your dog!
Is it easy to say? Some names are great in theory but hard to say in everyday life. So before you finalize your name selection, make sure it rolls off the tongue.
Say it out loud. Can you imagine loudly calling for your dog with this name? If not, then it's not the right name. Instead, move on to something easier to say.
Does it fit your dog? Check to see if the name matches your dog's personality and appearance. This is important for both you and your pup. Especially with flower dog names!
And finally, trust your gut. When you find the right name, you'll know it.
View Your Saved Names