Get ready for an ultimate list of 415+ French Bulldog names. From sweet and sassy to elegant and stylish, we've got plenty of inspiration for finding the perfect name for your adorable little Frenchie. Our list even includes French names that pay homage to the breed's international beginnings.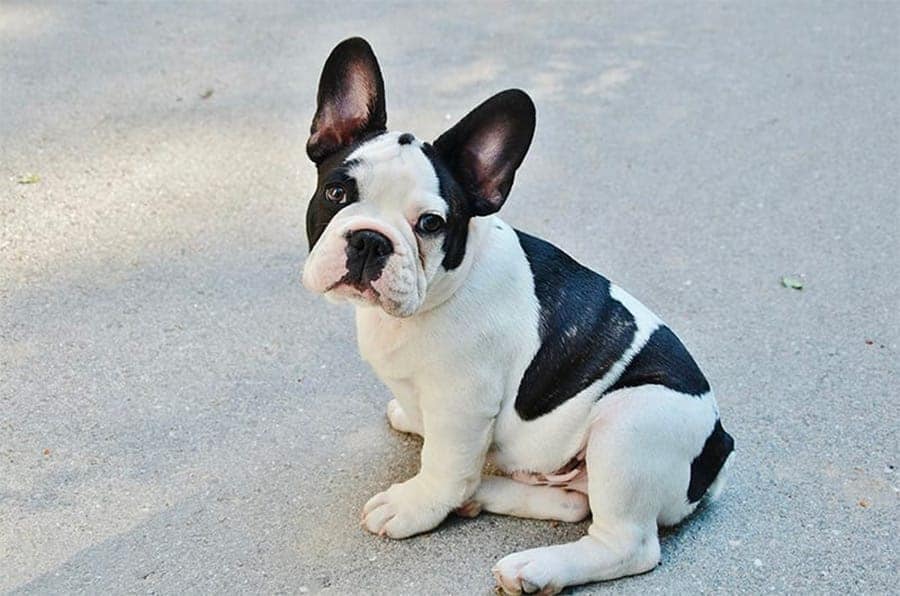 Look at these lovely names and see if any fit your fancy. And don't forget, you can always use our online name generator to find even more awesome ideas for dog names.
The Best Frenchie Names
Here are some of our absolute favorite name ideas for a Frenchie. First, look at this list and then keep reading to find all the names sorted into different categories!
Archie
Bella
Bleu
Coco
Dot
Gus
Lola
Louie
Maisy
Otis
Cute Male French Bulldog Names
Without a doubt, the French Bulldog is a super cute canine. That tiny, scrunched-up face. Those large, soulful eyes. And, of course, the perky ears.
Recognizing their furry fabulousness, here are sweet names to consider for your male Frenchie.
Augie
Barkley
Bear
Blue
Brewster
Brody
Buddy
Charlie
Chewie
Cooper
Corky
Ernie
Fergus
Frankie
Gizmo
Jack
Kirby
Louie
Marley
Max
Meeko
Milo
Odie
Oliver
Oscar
Peanut
Percy
Rascal
Rocky
Skip
Spud
Squirt
Teddy
Theo
Tiny
Toby
Wally
Ziggy
Find more cute dog names for both males & females in our full article.
Cute Female French Bulldog Names
If you've got an adorable female French Bulldog – or Frenchie as they're affectionally nicknamed – these cute names will be right up your alley.
We've rounded up sweet, lovely little names that are cute on any puppy, especially a French Bulldog.
Addie
Amelia
Angel
Annabelle
Annie
Ariel
Arya
Ava
Babushka
Baby
Beatrice
Betsy
Charlotte
Chloe
Cleo
Daisy
Daphne
Dot
Ellie
Gidget
Gigi
Ginger
Gracie
Hazel
Honey
Izzy
June
Kiki
Lily
Lola
Lucy
Lulu
Luna
Mabel
Maisy
Minnie
Olive
Peanut
Penny
Petunia
Pippa
Poppy
Pumpkin
Sophie
Winnie
Zoey
Cool Frenchie Names
If you want a cool-sounding name for your pup, look no further. These names have an undeniable cool factor.
Bandit
Bane
Blitz
Bolt
Brutus
Fang
Finn
Gunner
Hera
Hulk
Jaws
Jinx
King
Loki
Mack
Maverick
Nitro
Rocco
Rogue
Ryder
Sarge
Tank
Thor
Tucker
Xena
Elegant & Fashionable Male French Bulldog Names
Since it started in 19th century France, the French Bulldog has always been a fashionable pet.
The breed descends from the English Bulldog. In 1835, the sport of bull-baiting was outlawed (thank heavens!), so the Bulldog went from being a sporting breed to a companion breed. To reduce their size, some dogs were crossed with terriers and others with pugs.
At the same time, the Industrial Revolution displaced many people, including the lace workers from Nottingham, who emigrated to France – and brought their pet Miniature Bulldogs with them.
Before you knew it, English breeders began sending over Bulldogs they considered too small or had faults such as ears that stood up, and the French couldn't get enough of these adorable pups. Everyone from society ladies to creative types like artists, writers, and fashion designers wanted one of these stylish, in-vogue animals.
This is still the trend today, with actors, models, and icons regularly posing with their French Bulldogs.
To celebrate their enduring status, here are fashionable and elegant male names worthy of the great French Bulldog:
Alfie
Alistair
Archibald
Atworth
Berkeley
Charles
Duke
Edward
Fletcher
Francis
Frederick
Hamilton
Henry
Kingsley
Kingston
Lawrence
Leopold
Preston
Prince
Princeton
Quentin
Rockwell
Romeo
Sebastian
Sinclair
Theodore
Vincent
Winston
Wolfgang
Elegant Female French Bulldog Names
Today the French Bulldog is the sixth most popular dog breed in the United States, with people shelling out $1,400-2,000 to purchase this pet.
Without a doubt, the Frenchie is considered a fashionable furbaby, and as such, here are elegant, in-style names for your female pup:
Anastasia
Angelica
Belle
Bianca
Brigitte
Chanel
Cordelia
Daisy
Duchess
Eloise
Fifi
Florence
Georgia
Isabella
Jewel
Jules
Lady
Octavia
Paris
Penelope
Portia
Princess
Rose
Scarlett
Sophia
Queen
Victoria
Vivienne
Frenchie Names by Color
Blue Frenchie Names
These names are perfect for blue Frenchies. While this color is known as blue, it is grey in appearance, so these grey dog name ideas work wonderfully.
Ash
Bleu
Bluey
Cobalt
Ember
Gracie
Indigo
Navy
Oily
Rain
Silver
Slater
Smokey
Soot
Sterling
Twinkle
Violet
White Names
If you've got a white-colored pup, you might enjoy these options that will suit them perfectly.
Aspen
Aurora
Bolt
Boo
Casper
Cloud
Comet
Diamond
Dove
Frosty
Ghost
Ivory
Marshmallow
Nova
Pearl
Snowball
Snowflake
Star
Sugar
Yeti
Brown and Fawn Names
These fawn or brown dog names are very food-focused and fun, but also check out our complete list of brown ideas.
Biscuit
Bock
Brownie
Honey
Peanut
Maple
Mocha
Moose
Muffin
Pumpkin
Sandy
Snickers
Toffee
Truffles
Whiskey
Winnie
Black and Brindle Names
These names might interest you if you have a black dog or a black and white dog.
Batman
Beauty
Bond
Cash
Cole
Cosmo
Dusky
Guinness
Kylo
Ninja
Olive
Oreo
Panda
Pepper
Shadow
Stout
Tux
Vader
Voodoo
Zorro
Male French Names
Of course, no list of French Bulldog names is complete without acknowledging their French heritage. We love these gorgeous, enduring male French names and think you will, too!
Adrien
Alexandre
Alfred
Alphonse
Amaury
Andre
Antoine
Archibald
Arnaud
Bruno
Casanova
Charles
Christophe
Damien
Dominoe
Édouard
Émile
Étienne
François
Franck
Frédéric
Gaston
Gérard
Gilles
Grégoire
Guillaume
Guismo
Gustave
Henri
Hugo
Jacques
Julien
Laurent
Léon
Louis
Luc
Marc
Marcel
Matthieu
Maurice
Matisse
Merle
Milou
Pascal
Pierre
Rafale
Rembrandt
Rémy
René
Sebastien
Serge
Stephane
Theodore
Tristan
Ulysse
Yves
Find even more French dog name ideas here.
Female French Names
If you have a female Frenchie, you must check out these gorgeous names that top the charts in France:
Adelaide
Adele
Adrienne
Adieu
Agathe
Agnès
Aimée
Amélie
Anaïs
Anastasie
Angeline
Antoinette
Audrey
Aurélie
Babette
Babou
Bearnaise
Bebe
Bella
Bernadette
Brie
Brigitte
Caroline
Cécile
Céline
Chantal
Channel
Coco
Corinne
Edith
Élise
Élodie
Émilie
Frédérique
Geneviève
Hélène
Joséphine
Josette
Juliette
Lilo
Louise
Madeleine
Marcelle
Margaux
Marguerite
Marie
Mathilde
Monaco
Monique
Paulette
Pénélope
Philippine
Renée
Sabine
Simone
Sophie
Sylvie
Thérèse
Valentine
Valérie
Funny Names
Albert Camus
Antoinette
Bunny
Charlemagne
Chewie
Diva
Dozer
Jacques Cousteau
King Louis
Monet
Napoleon
Pancake
Pepe
Pickle
Piglet
Spud
Squirt
Teeny
Voltaire
Waffles
Celebrities With French Bulldogs
Here is a list of the names of some Frenchies that are owned by well-known celebrities.
Arrow – Jason Schwartzman
Beau – Hilary Duff
Bruce – Jack Osbourne
Bubba – Jeremy Piven
Carmela – Jonah Hill
Creme Brulee & Bete Noire – Martha Stewart
Dali – Hugh Jackman
Deco – Alexandria Ocasio-Cortez
Django – Leonardo DiCaprio
Fudge, Blue, Biggy, & Elvis – Travis Barker
Gary – Carrie Fisher
Gypsy Rose – Madonna
Hobbs – Dwayne Johnson
Juelz – Snoop Dogg
Julio & Oscar – Mario Lopez
Juno & Legend – Michael Phelps
K-Ball – Taraji P. Henson
Leo & Hank – Denise Richards
Miss Asia, Koji, & Gustavo – Lady Gaga
Monkey – Eli Roth
Oneita & 4oe – Megan Thee Stallion
Peaches – Hillary Duff
Pepper & Minnie Pearl – Reese Witherspoon
Pippa & Penny – John Legend and Chrissy Teigen
Pistachio – Christina Perri
Popeye – Eva Longoria
Scarlet – David and Victoria Beckham
Scooter – Zach Braff
Thurman – Rachel Bilson
Trappy – 2 Chainz
More French Bulldog Names
Ideas for French Bulldog names don't stop here. You can find many other options on our online name generator—sort by your favorite styles and themes.
Popular categories include:
How Do You Pick The Right Name?
With so many options, how do you know which name is right for your French Bulldog?
After years of helping people pick the right pet name, here are some tips we've picked up:
Make sure it rolls off the tongue. Some names are fantastic on paper but tough to pronounce in everyday life.
Say it out loud. Can you imagine loudly calling for your puppy with this name? If the answer is no, skip it.
Does it fit your dog? You might have the perfect name picked out, but it doesn't fit your dog's personality or appearance; that's a miss. Make sure it's the right name for your dog.
Trust your gut. When you find the right name, you'll know it!
View Your Saved Names