Corgi Names – 130+ Brilliant Ideas
Published:
Last updated:
by Jessi Larson
Get ready for 130+ Corgi names that are cute, sweet and a little bit sassy – kind of like Corgis themselves!
The Welsh Corgi originated in Wales as a herding dog, and two separate breeds are recognized: the Pembroke Welsh Corgi and the Cardigan Welsh Corgi.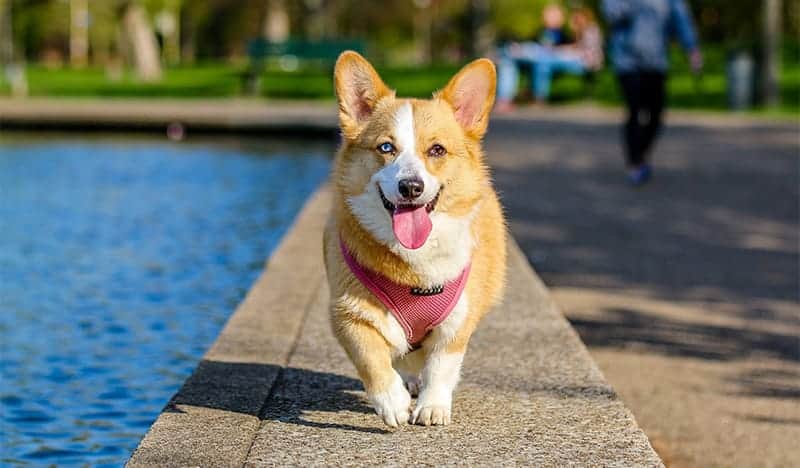 For the sake of simplicity, we'll use the word "Corgi" to represent both.
But before we dive into name ideas, we should point out what the heck is different between the two breeds. In a nutshell, the Pembroke's tail is docked while the Cardigan's is not. Another slight difference is their feet. The Pembroke has oval-like feet that point straightforward or slightly inward, whereas the Cardigan's feet are round and curved outward.
As many will note, the Corgi is short on legs but big on personality. They are spirited, playful, protective and friendly – all great qualities in a breed.
If you're lucky enough to welcome one of these wonderful pets into your home, check out these fun and unique Corgi names!
Corgi Names Inspired by Appearance
Without a doubt, the Corgi is one of the most unique dog breeds out there when it comes to appearance.
Their long torsos, short legs, and large, pointy ears make for an adorable and distinct-looking dog, and this provides excellent inspiration for Corgi names.
Ideas centered around their size and appearance include:
Shorty
Low Rider
Lo
Tiny
Squat
Squirt
Junior
Mite
Nipper
Peewee
Baby
Smalley
Mini
Minnie
Elf
Peanut
Button
Bean
Nugget
Pebbles
Explore more small dog names.
Welsh & English Male Corgi Names
As we mentioned before, the Corgi originated in Wales where it was used to herd animals, cattle in particular. In fact, the Pembroke and the Cardigan are each named for the county in Wales where they got their start.
Today, however, many people associate the Corgi with England. Why is that? Two words: Queen Elizabeth. (Well, technically Queen Elizabeth II.) She has personally owned more than 30 Pembrokes or Corgi/Dachshund crosses.
With a strong tie to both these areas of the United Kingdom, Welsh and English names are a perfect fit for your new Corgi. Male names include:
Aidan
Alfie
Arthur
Bowie
Broderick
Bron
Caden
Charles
Conor
Darcy
Deverel
Gareth
Gawain
George
Glenn
Gordon
Ian
Idris
Kian
Llewellyn
Oliver
Owen
Pembroke or Pem for short
Pierce
Rhett
Rhys
Rogan
Rugby
Seamus
Trahaearn
Tristan
Winston
Find more British dog names here.
Welsh & English Female Corgi Names
And if you have a female Corgi, we also have loads of Welsh and English names you'll love.
There is something so sophisticated and special about these female Corgi names. Without a doubt, they make excellent options for your new furry friend!
Alma
Arwen
Beatrice
Bryn
Carys
Charlotte
Cordelia
Cricket
Duchess
Elizabeth
Elwyn
Fiona
Flora
Gemma
Gwendolyn
Imogen
Lady
Lona
Keely
Keira
Maeve
Moira
Morwenna
Pippa
Princess
Queen
Queenie
Sinead
Swansea
Twiggy
Winnie
Cute Male Corgi Names
Simply put, Corgis are doggone cute. There's something about their short, squat bodies, sweet little faces and larger-than-life personalities that make them an irresistibly precious pet.
As you search for names for your male Corgi, consider these cute and classic options:
Alfie
Amigo
Amos
Arlo
Asher
Augie
Barney
Baxter
Bear
Bernie
Bingo
Boots
Brodie
Buddy
Buster
Buttons
Champ
Chance
Charlie
Clancy
Cooper
Corky
Digby
Ernie
Fido
Finn
Harvey
Izzy
Kirby
Lucky
Murray
Murphy
Opie
Otis
Percy
Pip
Rascal
Scout
Scrappy
Skip
Spud
Sully
Teddy
Waldo
Webster
Yoshi
Ziggy
Get more cute dog name options for your male or female Corgi with our full article.
Cute Female Corgi Names
A female Corgi only weighs about 25 lbs and stands a mere 10-12 inches. With their diminutive size and super sweet face, a cute name may be in order. We've gathered up ideas that are downright adorable!
These lovely female names are perfect for your little Corgi companion:
Addie
Aggy
Angel
Ariel
Ava
Avery
Babe
Bella
Belle
Betsy
Buffy
Cardi
Cleo
Chica
Clover
Coco
Cookie
Cora
Daisy
Daphne
Dottie
Ellie
Elsa
Gidget
Gigi
Gizmo
Gracie
Honey
Kit
Lady
Lucy
Luna
Maisy
Mamie
Mimi
Nellie
Olive
Pearl
Petunia
Pixie
Poppy
Pumpkin
Rosie
Scout
Shiloh
Tiger
Trixie
Trudy
Violet
Zoe
More Corgi Names
If you're inspired by the names above, but not entirely sold just yet, don't fret. You can find plenty of other options on our online name generator. Easily sort by your favorite styles and themes to find the perfect name for your pup!
Popular categories include:
How Do You Pick The Right Name?
With so many options, how do you know which name is right for your Corgi?
We've been helping people pick the right pet name for nearly five years now (where does time go?) and picked up a few tips in the process:
Make sure it rolls off the tongue. Some names are awesome on paper but tough to pronounce in everyday life. Say it out loud several times.
Can you imagine loudly calling for your dog with this name? It sounds silly, but practice saying the name in a loud voice. If it feels awkward, ditch it.
Does it fit your dog? Make sure it's the right name for your individual dog and fits their personality and appearance.
Trust your gut. When you find the right name, you'll know it!
View Your Saved Names