We've gathered some of the best nature dog names from sources like mountains, flowers, plants, trees, and animals to help name your pup. Nature's beauty is a fantastic source of unique ideas!
Top Female Nature Dog Names
Here are some of our favorite female dog name ideas to start our list of nature names.
Amber
Aurora
Daisy
Dawn
Ember
Flora
Ginger
Hazel
Lily
Misty
Moon
Pearl
Poppy
Ruby
Sage
Sol
Top Male Nature Dog Names
These are some of our favorite boy dog names from nature.
Bamboo
Basil
Copper
Denali
Huckleberry
Moose
Rocky
Scout
Shadow
Smokey
Storm
Woody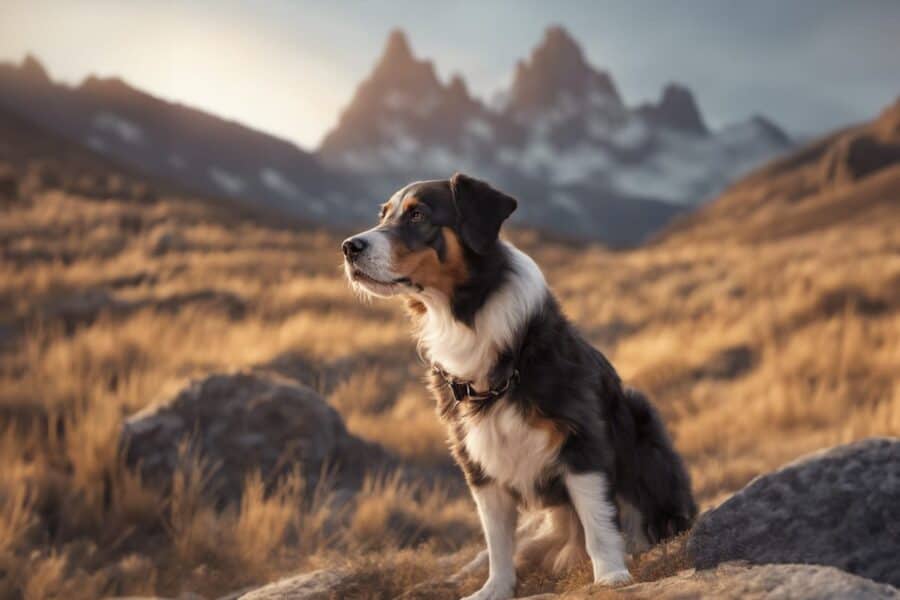 Mountain Dog Names
These mountain names for dogs are perfect for hikers, explorers, and climbers. If your pup has a sense of adventure, they'll suit them perfectly.
Alpine
Andes (The Andes Mountain Range)
Atlas (The Atlas Mountain Range)
Avalanche
Blanc (Mont Blanc)
Boulder
Canyon
Cascade (The Cascade Mountain Range)
Cliff
Everest (Mount Everest)
Diamond
Dolomite (The Dolomites Mountain Range in Italy)
Elbrus (Mount Elbrus)
Etna (Mount Etna)
Fuji (Mount Fuji)
Himalaya (The Himalayan Mountain Range)
K2 (Mount K2)
Logan (Mount Logan)
McKinley (Alternate name for Mount Denali)
Mountain
Olympus (Mount Olympus)
Rainier (Mount Rainier)
Rocky (The Rocky Mountains)
Shasta (Mount Shasta)
Sierra (Sierra Nevada Mountain Range)
Sinai (Mount Sinai)
Smoky (Great Smoky Mountains)
Stone
Summit
Vernon
Vesuvius (Mount Vesuvius)
Volcano
Whitney (Mount Whitney)
Plants & Wildflowers
Naming your dog after plants or wildflowers will present unique options you wouldn't find anywhere else. Also, check out our complete list of flower dog names for more ideas.
Alfalfa
Apple
Apricot
Asparagus (Gus)
Aster
Azalea
Barley
Berry
Blossom
Blueberry
Bramble
Briar
Buckeye
Bud
Buttercup
Cherry
Cinnamon
Clementine
Clove
Clover
Daffodil
Dahlia
Fern
Heather
Herb
Hibiscus
Holly
Honeysuckle
Hyacinth
Indigo
Iris
Ivy
Jasmine
Juniper
Kumquat
Lavender
Leaf
Lemon
Lilac
Mango
Marigold
Morel
Moss
Myrtle
Orchid
Peach
Peanut
Peony
Pepper
Periwinkle
Petunia
Pistachio
Primrose
Pumpkin
Reed
Rose
Rosemary
Sky
Snowdrop
Sugar
Sunflower
Thistle
Tulip
Violet
Zinnia
Tree Dog Names
Trees are often overlooked but are one of the greatest gifts of nature. These tree dog names are strong and creative.
Acacia
Alder
Ash
Aspen
Balsam
Bamboo
Birch
Cedar
Chestnut
Conifer
Cypress
Dakota
Dogwood
Douglas
Elm
Elwood
Ficus
Forrest
Hawthorne
Joshua
Juniper
Locust
Magnolia
Maple
Oak
Olive
Pine
Rowan
Sequoia
Spruce
Willow
Animal Names
These powerful, beautiful animals have names that also work well for naming a dog. Some are strong, while others are cute, giving a range of options for your pup.
Badger
Bear
Birdie
Buck
Buffalo
Bug
Colt
Cricket
Dove
Drake
Fawn
Fox
Griffin
Hawk
Impala
Jay
Lynx
Mamba
Mouse
Newt
Otter
Polar
Puma
Raven
Sable
Sparrow
Spider
Tiger
Viper
Wolf
Wolverine
Wren
Landscape Inspired Ideas
These nature dog names come from the various landscapes across the globe, from water to rock to grasslands.
Airy
Arctic
Banks
Bay
Brooke
Brooks
Coral
Cosmos
Cove
Creek
Delta
Fjord
Geo
Harbor
Kai
Lake
Levee
Lynn
Marsh
Meadow
Ocean
Pacific
Prairie
Puddle
Ravine
Ridge
Rio
River
Sahara
Sandy
Savanna
Savannah
Tahoe
Tidal
Tundra
Valley
Wade
Seasons & Weather
Finally, to wrap up our list of dog names from nature, we include some excellent options for names from the year's seasons and their varying weather conditions.
Autumn
Blue
Bolt
Breezy
Cloud
Cyclone
Flurry
Frost
Frosty
Gusty
Lightning
Muggy
Niña
Niño
Polar
Rain
Rainbow
Sky
Snowflake
Stormy
Summer
Sunny
Sunshine
Thunder
Winter
The natural world offers an abundance of inspiring and meaningful names for our canine companions. Whether you prefer floral, celestial, seasonal, or elemental monikers, nature provides a bounty of beautiful options.
When chosen thoughtfully, a nature-inspired name can help deepen the connection between you and your furry friend. It serves as a reminder of the awe-inspiring beauty surrounding us daily.
Next time you welcome a new dog into your life, consider choosing a name that blossoms their unique spirit and resonates with the natural world. There are endless possibilities, from gentle names like Rain and River to the vibrancy of Poppy and Willow to the fantasy of Phoenix and Luna.
Take the time to find that perfect name that captures your dog's personality and grounds it in the essence of nature. These names invoke a sense of wonder and magic that we share with the natural world around us.
So venture forth and explore the wealth of nature names for your new canine companion. May their moniker reflect the deep bond between you and remind you to cherish the beauty of the natural world we inhabit together.
Related Articles
You might also want to check out these other dog name ideas:
View Your Saved Names