Beach Dog Names – 275+ Fun Ideas
Published:
Last updated:
by Jessi Larson
If you're getting a new pup and are interested in beach dog names, this is the place to be. Our guide offers 275+ ideas perfect for a beach lover like you.
For many, a day on the beach is the dream. Sun, sand, and glistening blue water – what more could you ask for?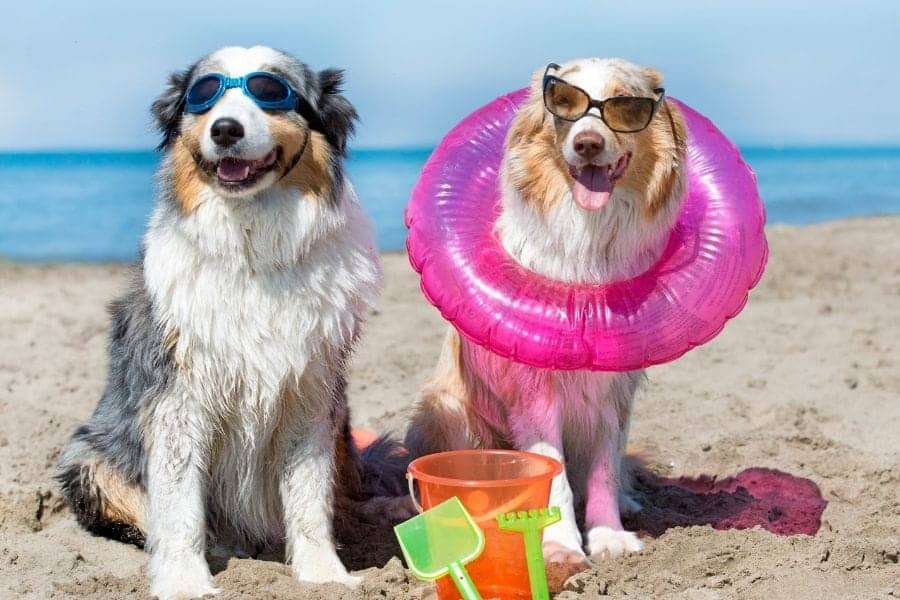 You could be looking for beachy names for several reasons.
Maybe you live by a beach and want a name that reflects your gorgeous locale. Or you enjoy sitting on the sand and can't wait to vacation in a new hot spot.
Some people love to partake in outdoor water activities like swimming, surfing, sailing, boating, and more.
No matter what the reason, these ideas are fun, sunny options for your precious new pup.
Top Beach Dog Names
To start, let's explore the top beach dog names. These monikers draw inspiration from all the elements of beach life, like the natural surroundings, bodies of water, fun accessories, and so much more.
Beachy
Breeze
Breezy
Sea
Sandy
Summer
Sunny
Sunset
Sunshine
Coral
Marina
Sky
Pearl
Reef
Bay
Waves
Splash
Cruise – or Cruz
Dawn
Parasol
Pier
Hula
Pacific
Atlantic
River
Salty
Navy
Ukulele
Gill
Barnacle
Tan
Lagoon
Harbor
Tide
Blue – color of the ocean
Tropics
Honolulu
Cove
Swimmer
Dive
Bikini
Boogie – as in Boogie Board
Kayak
Palm – as in "palm tree"
Shore
Snorkel
Seashell
Wharf
Sandal
Towel
Famous Beaches
The world is full of beautiful beaches that draw thousands upon thousands of locals and tourists alike. Every year these famous beaches are packed full of people looking for a break from everyday life.
These could serve as excellent inspiration when naming your new dog, especially if you've been to one of these locations yourself. (1)
Waikiki – Waikiki in Honolulu, Hawaii
Bondi – Bondi Beach in Sydney, Australia
Copacabana – Copacabana Beach in Rio de Janeiro, Brazil
Santa Monica – Santa Monica Beach in California
Myrtle – Myrtle Beach in South Carolina
Coronado – Coronado Beach in San Diego, California
Venice – Venice Beach in Los Angeles
Hanalei – Hanalei Bay in Kauai, Hawaii
Clearwater – Clearwater Beach in Florida
Spiaggia – Spiaggia Grande in Positano, Italy
Bathsheba – Bathsheba Beach in Barbados
Maya – Maya Bay in Phi Phi Islands, Thailand
Tulum – Tulum Beach in Mexico
Navagio – Navagio Beach in Zakynthos, Greece
May – Cape May in New Jersey
Lauderdale – Fort Lauderdale Beach in Florida
Newport – Newport Beach in California
Miami – as in Miami Beach
Coney – Coney Island Beach in New York City
Monterey – Monterey Beach in California
Destin – Destin Beach in Florida
Laguna – Laguna Beach in California
Kaihalulu – Kaihalulu Beach in Hawaii
Napili – Napili in Hawaii
Hilton – Hilton Head in South Carolina
Ora – Ora Beach in Indonesia
Nissi – Nissi Beach in Cyprus
Island Names
Another idea is to explore the names of islands known for their beautiful beaches. These destinations are an excellent getaway for those who love the sun and sand. (2)
Have you been to any of these locations? Or are any on your bucket list? If so, use it as a dog name!
Or you could like how a name sounds and put that into use for your pup.
Antigua
Aruba
Bahamas
Bali
Barbados
Barbuda
Barts
Bermuda
Bora Bora
Boracay
Caicos
Capri
Cayman
Cook
Corfu
Cozumel
Cuba
Curaçao
Cyprus
Fiji
Grenada
Guadeloupe
Haiti
Hawai'i
Ibiza
Jamaica
Kaua'i
Ko Phi Phi
Lanai
Lucia
Majorca
Maldives
Maui
Montserrat
Mykonos
O'ahu
Palawan
Phi Phi
Puerto Rico
Roatán
Sanibel
Santorini
Sardinia
St. Lucia
Tahiti
Tobago
Trinidad
Turks
Beach Drinks
Certain drinks belong on a beach. After all, this is often a place for rest and relaxation, and what better way to chill out than with a fruity cocktail?
That's why you could turn one of these cocktails into a perfect pick for beach dog names.
Pina
Colada
Mojito
Margarita
Daiquiri
Mai Tai
Caipirinha
Cuba Libre
Check out more alcohol dog names.
Tropical Fruits
Another option: the names of tropical fruit. These yummy foods grow close to areas known for their beaches, and people often eat them there, too.
We think you'll love the sweetness and silliness of these ideas.
Coconut
Pineapple
Mango
Banana
Papaya
Acai
Guava
Rambutan
Surfing
Without a doubt, one of the coolest beach activities is surfing. So this is another excellent place for inspiration. (3)
For surfing enthusiasts, there is nothing better than riding a wave. It's a challenging but rewarding sport for those who love the beach.
Surf
Surfer
Alaia – wood surfboard
Breaker – a breaking wave
Benny – someone who is not a local
Bro – dude
Choppy – rough waves
Ding – damage to surfboard
Duke – Duke Kahanamoku, father of surfing
Gidget – small female surfer
Hurley – surf and swim brand
Jack – as in jacking, when waves swell rapidly
Mack – as in macking, when huge waves break
Miki – surfing icon Miki Dora
O'Neill – surf and snow brand
Peak – highest point of wave
Quimby – beginner surfer
Quiver – surfboard collection
Riptide – turbulent water
Rocker – curve under the surfboard
Roxy – active lifestyle brand
Shaka – surfing hand sign
Shubie – looks like a surfer but doesn't surf
Slater – famous surfer Kelly Slater
Tail – backside of the board
Wipeout – falling off a wave
Nautical Names
Sailing and boating are also excellent sources for ideas. There's nothing better than hopping on a boat for some fun in the sun.
Take a look at these nautical names and see if any are a fit for your new four-legged friend. (4)
Sailor
Captain
Skipper
Matey
Ship
Shippy
Crew
Admiral
Anchor
Pirate
Commodore
Cruiser
Aye – as in "Aye, aye, sir"
Pirate
Fleet
Launch
Port
Voyage
Yacht
Dock – structure secured to shore
Buoy – floating device
Rig – as in rigging
Sonar – technology to navigate ships
Beam – width of a vessel
Hull – body of a boat
Radar – used to detect other ships
Bow – front of vessel
Knot – unit of speed equal
Clipper – sailing vessel designed for speed
Brig – interior of a ship
Ballast – heavy materials in the hull
Barge – flat-bottom boat
Catamaran – a vessel with two hulls
Barque – vessel with three or more masts
Dinghy – small boat
Rudder – steering device
Bimini – canvas top on boat
Boom – floating barrier to control navigation
Zulu – Scottish sailboat
Check out this full list for even more nautical dog names.
Animal Ideas
Another fun idea is to explore the names of animals often found on or near a beach. These names are adorable for a new dog and perfectly reflect life on the water.
Dolphin
Orca
Whale
Shark – or Sharky
Guppy
Minnow
Marlin
Fin
Crab – or Crabby
Pelican
Duck
Cod
Gull – as in seagull
Turtle
Star – as in starfish
Huron
Krill
Seal
Nautilus
Narwhal
Anemone
Manatee
Barnacle
Urchin
Pelican
Scallop
Clam
Mussel
Ridley – small tropical sea turtle
Wader – small bird found on shores
Beach Words in Other Languages
If you're looking for something a little more unique, you could consider these beached-themed words in other languages.
The translations are an excellent option for those who want a beach name that is unique and less literal.
And it's pretty much a guarantee you'll never meet another pet with one of the names below.
Aina – "land" in Hawaiian
Honu – "turtle" in Hawaiian
Gabbiano – "seagull" in Italian
Kai – "sea" in Hawaiian
Kailani – "sea and sky" in Hawaiian
Kaiyō – "ocean" in Japanese
Medusa – "jellyfish" in Spanish
Nami – "wave" in Japanese
Pez – "fish" in Spanish
Palmera – "palm tree" in Spanish
Playa – "beach" in Spanish
Praia – "beach in Portuguese
Soleil – "sun" in French
Spiaggia – "beach" in Italian
Valtameri – "ocean" in Finnish
More Beach Themed Dog Names
The ideas for beach-themed dog names aren't over yet! Here are even more fantastic options to check out.
As you'll see, inspiration is everywhere you look, and these names perfectly capture the spirit of the beach.
Water
Tsunami
Zoris – Japanese sandal
Brook – a tiny stream
Conch – as in conch shell
Kelp – seaweed
Adriatic – as in the Adriatic Sea
Caspian – as in the Caspian Sea
Baltic – as in the Baltic Sea
Poseidon – god of the sea
Neptune – god of freshwater
Aegaeon – god of sea storms
Nymph – as in sea nymph
Amphitrite – sea goddess
Brizo – Greek goddess of sailors
Ariel – heroine of The Little Mermaid
Ursula – villain in The Little Mermaid
Flounder – Ariel's fish best friend
Sebastian – crustacean court advisor in The Little Mermaid
Scuttle – seagull friend of Ariel
Nemo – from Finding Nemo
Dory – Nemo's friend
Moana – from Disney's Moana
Lilo – little girl from Lilo & Stitch
Stitch – alien character from Lilo & Stitch
Key – as in Key West
Sanibel – Sanibel, Florida
Naples – Naples, Florida
Cancun – Cancun, Mexico
Cabos – Los Cabos, Mexico
Acapulco – Acapulco, Mexico
If you want even more inspiration, check out our Hawaiian dog names for additional fun ideas.
Beach Dog Names: Final Thoughts
Finding the right dog name is never easy. With thousands of options, where do you even begin?
Many people pick names based on their passions and interests. In your case, that's the beach.
This is a great way to find a unique name tailored just for you!
Most people have a positive, joyful connotation with the beach, so your dog's name will bring great joy into the world.
Good luck in your search, and enjoy this special time with your new dog.
Beach Themed Dog Names: What Name is Right for Your Dog?
If you're having trouble deciding on a name, here are a few helpful tips and tricks to help.
As you search through the list of beach-inspired dog names, take note of any that sound interesting. Then, either check the heart to the left of the name or write it down.
Once you get through all the options, read through your favorites and remove any that you don't love.
Next, say the remaining names out loud. Can you imagine saying this name over and over again? How about calling loudly for your dog with this name?
Also, see if it matches your dog's personality and physical appearance. This is important!
Once you've found the perfect name for your dog, you'll know it in your gut.
Resources
The Guardian (www.theguardian.com/travel/2016/feb/16/50-best-beaches-in-the-world)
Planetware (www.planetware.com/world/most-beautiful-islands-in-the-world-sey-1-2.htm)
Wave Tribe (www.wavetribe.com/blogs/surfboards-waves/glossary-of-surfing-terms-and-surf-slang)
Wikipedia (https://en.wikipedia.org/wiki/Glossary_of_nautical_terms)
View Your Saved Names