Motorcycles and dogs just feel like they fit together, so why not give your pup one of these awesome motorcycle dog names.
You might enjoy riding your bike for fun, travel, or community. Or maybe you ride dirt bikes or race motocross. We've got a great selection of motocross dog names for you as well!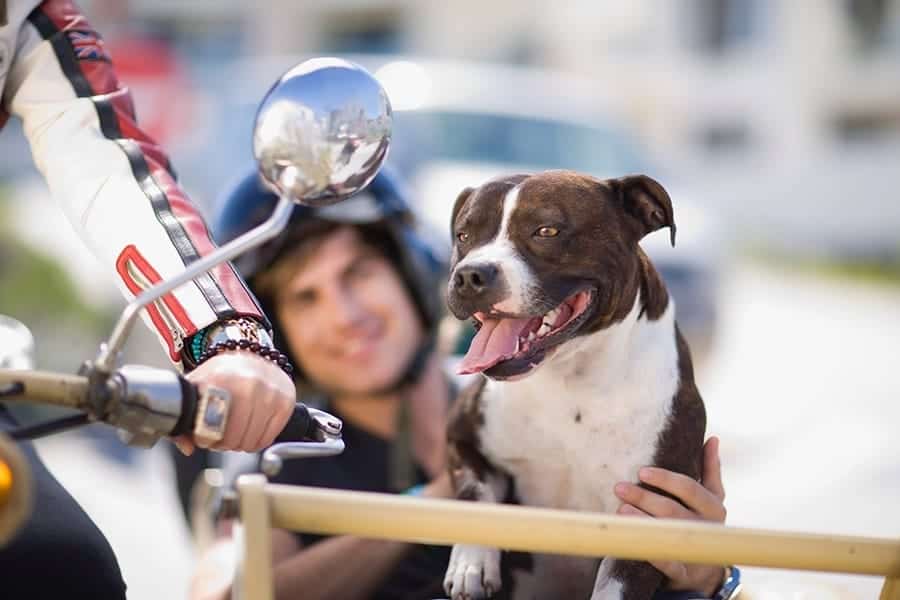 Motorcycle Brands & Parts Dog Names
These motorcycle dog names come from some people's favorite motorcycle brands and the parts used to build and maintain a bike. These might also serve as inspiration by thinking of your favorite brands.
Harley
Ducati
Duke – another shorter name for Ducati or the KTM Duke
Gixxer – Nickname of the iconic bike, the Suzuki GSX-R series
Sport – a short name for any sport bike or the Harley-Davidson Sportster
Sprocket
Ninja – short for the Kawasaki Ninja
Clutch
Zed – a type of handlebar
Bandit – a Suzuki motorcycle
Triumph
Pirelli
Axel
Indian
Monster – the Ducait Monster
Honda
Vincent – a former British manufacturer
Shadow – the Vincent Black Shadow
Beemer – aka BMW
Royal – Royal Enfield
Zuki – Suzuki
Hoss – Boss Hoss
Vulcan – Kawasaki Vulcan
Fender
Hawk – the Honda CB77 Superhawk, a reliable bike
Maynard – a type of handlebar
Tank
Yoshi – Yoshimura
Sparky – Spark Plug
Bullet – a bike model the Royal Enfield Bullet
Chief – a bike by Indian
Kawi – for Kawasaki
Torque
Bagger – a motorcycle with saddlebags
Bobber – a motorcycle with shortened fenders
Rune – the Honda Runa, a monster bike
Biker Dog Names
These biker dog names come from biker gear, top locations, and general biker terms and themes. You might also enjoy our list of tough dog names.
Chopper
Rebel
Ryder
Daytona
Jax – from Sons of Anarchy
Juice
Rocket
Boots
Sturgis
Outlaw
Bandana
Patch
Blackie
Angel
Skully
Chap
Rusty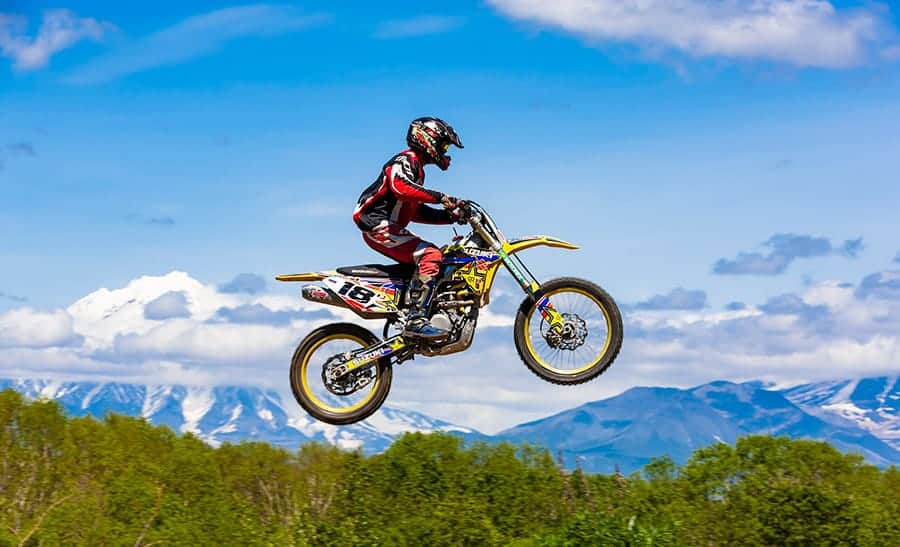 Motocross Dog Names
Here are some more dirt bike dog names that fit a motocross racer or off-road enthusiast. They come from famous racers, racing terms, brands, and more. Also, check out the bike brands list above, as there's a lot of cross-over here.
Rossi – Valentino Rossi is one of the greatest motorcycle racers of all time
Apex – part of the line on a turn in racing
Wheelie – a bike trick
Dragon – goggles
Lapper – someone who is a full lap down
Fox
Knobby
Hannah – Bob Hannah, former pro & legendary motocross racer
Bailey – David Bailey
Whiskey – Whiskey throttle
Moto
Showtime
Mikkola – Heikki Mikkola
Digger
Peg
Endo – going end over end
Redline
Thor
Brap
Ruts
Ezra – Ezra Lusk
Reed – Chad Reed, Australian supercross and motocross champion
Picking the Right Name
Once you've saved a few names, be sure to say them aloud and have a name that's easy to say and that you'll want to call out loud to your puppy. Then after you've selected a name, check out our guide to teaching your dog its name.
View Your Saved Names