These gothic dog names are perfect to represent the goth subculture of music, art, and fashion. They're a perfect way to find a unique name for your new puppy.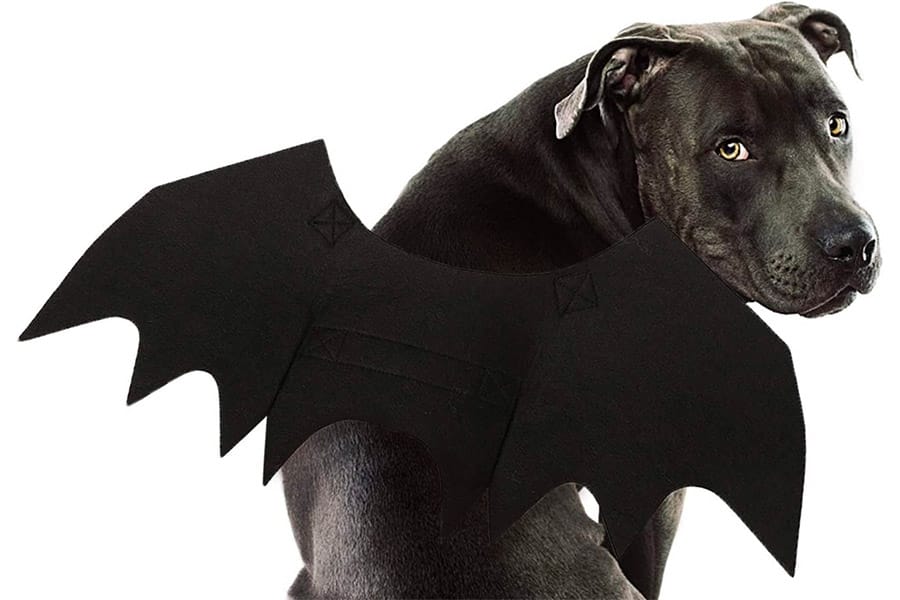 Male Gothic Dog Names
Here are some of the top names for a boy puppy.
Alaric
Damien
Edgar
Flint
Grey
Gus
Jet
Kane
Omen
Orion
Rune
Talon
Tristan
Vlad
Female Gothic Dog Names
These gothic name work wonderfully for a girl pup.
Althea
Aphra
Blair
Chandra
Clover
Crimson
Des – short for Desdamona
Elektra
Estelle
Eve
Jinx
Lilith
Luna
Midnight
Morgana
Nissa
Ophelia
Pandora
Raven
Rose
Siren
Star

Willow
Unisex Gothic Dog Names
These names work well for any gender of dog, and set the mood perfectly.
Angel
Blackie
Bones
Briar
Cameo
Echo
Fang
Ghost
Moon
Noir
Onyx
Salem
Tempest
Pagan
Phantom
Shadow
Storm
Thorn
Winter
Wolf
Zombie
Famous Gothic Characters
These famous gothic characters come from movies, TV shows, comics, books, and history. You may also enjoy our Halloween dog names for even more characters.
Aro – Twilight
Attila – Attila the Hun
Bella
Bellatrix – Harry Potter
Blade – vampire comic book character
Bran

– Game of Thrones

Carrie – novel by Stephen King
Casper – the friendly ghost
Claudia – Vampire Chronicles
Crow – from the film The Crow or the animal
Devil
Draven – Eric Draven, the lead character in The Crow
Draco – Draco Malfoy from Harry Potter
Elvira – the mistress of the dark
Fenrir – Norse mythology wolf
Fester – The Addams Family
Frankenstein – or Franky for short, from the story about the scientist creating a monster
Grim – the grim reaper
Hannibal – Hannibal Lecter from Silence of the Lambs
Henrietta – goth girl from South Park
Hyde – Dr. Jeckyll and Mr. Hyde
Icabod – Icabod Crane from The Legend of Sleepy Hollow
Jeckyll – Dr. Jeckyll and Mr. Hyde
Lestat – a vampire from Anne Rice's novels
Loki – Norse god of mischief
Lucifer – the devil
Medusa – a snake-haired woman from Greek mythology
Morticia – The Addams Family
Neo – The Matrix
Noel – Noel Fielding, gothic actor and comedian
Oracle – a mythical character who can see the future
Penny – Penny Dreadful
Reaper – the grim reaper
Sabrina – the teenage witch
Samara – The Ring
Selene – The main character in Underworld
Spike – Buffy the Vampire Slayer hero
Trinity – The Matrix
Ursula – The Little Mermaid
Wednesday – The Addams Family
Witch
Zero – Ghost dog from The Nightmare Before Christmas
Gothic Artists, Architecture, and Authors
If you want to diversify your gothic names from the subculture to the famous art and architecture styles, you may enjoy these names:
Abbot – Abbot Suger, the father of Gothic Architecture
Bram – Bram Stoker, who wrote about vampires
Burton – Tim Burton, filmmaker
Claus – Claus Sluter, architect
Dali – Salvador Dali, an artist who inspired modern goth style
Florence – Italy, is a well-known location for gothic art
Fresco – a style of mural painting
Gargoyle – a statue of a creature in gothic architecture
Gio – Giovanni Pisano, gothic architect
Milan – The Duomo di Milano, a famous building
Oscar – author Oscar Wilde
Paris – a famous location for gothic architecture
Poe – Edgar Allan Poe, an author
Poppy – Poppy Z. Brite a gothic horror writer
Storm – Storm Constantine, author
Goth Music and Bands
These bands and musicians are either part of the goth subculture or helped inspire it.
Banshee – Siouxsie and the Banshees
Bela – from the song "Bela Lugosi's Dead" an early goth rock song by Bauhaus
Bowie – David Bowie, musician and fashion icon
Curtis – Ian Curtis, the lead singer of Joy Division
Friday – from the song "Friday I'm in Love" by the Cure
Lux – Lux Interior of the Cramps
Manson – Marilyn Manson
Morrison – Jim Morrison, who inspired the term gothic rock
Nico – German songwriter and actress
Olli – Olli Wisdom of Specimen
Rozz – Rozz Williams of Christian Death
Sioux – Siouxsie Sioux and the Banshees
View Your Saved Names