Finding German Shorthaired Pointer names to match your new pup is an essential first step in getting a dog. This article explores a variety of unique and traditional names that are fitting for this versatile breed.
The German Shorthaired Pointer is a popular breed of hunting dog known for its intelligence, athleticism, and loyal personality.
Whether you're looking for a classic German name or a name that reflects your dog's hunting heritage, this article will provide you with plenty of inspiration for German Shorthaired Pointer names.
Popular Dog Names
The German Shorthaired Pointer is quickly rising in popularity. And a popular pup deserves a perfect name. Take a look at the top female and male dog names and see if any fit your furry new friend.
Female German Shorthaired Pointer Names
Bella
Luna
Lucy
Daisy
Lola
Sadie
Molly
Bailey
Maggie
Sophie
Stella
Chloe
Lily
Penny
Zoey
Coco
Rosie
Roxy
Abby
Ginger
Gracie
Ellie
Mia
Nala
Ruby
Gigi
Angel
Hazel
Princess
Emma
Kona
Ivy
Charlie
Athena
Sasha
Dakota
Maya
Willow
Poppy
Piper
Layla
Belle
Winnie
Lulu
Dixie
Olive
Phoebe
Harper
Ruby
Zara
Male German Shorthaired Pointer Names
Max
Charlie
Cooper
Buddy
Rocky
Jack
Duke
Bear
Tucker
Oliver
Zeus
Bailey
Louie
Toby
Jake
Harley
Murphy
Winston
Rufus
Rusty
Sam
Simba
Otis
Archie
Marley
Boomer
Hank
Benny
Finn
Brody
Gatsby
Gunner
Jasper
Remy
Roscoe
Scooter
Sparky
Spike
Teddy
Tyson
Blue
Brutus
Chance
Diesel
Gizmo
Jax
Kash
King
Maverick
Shadow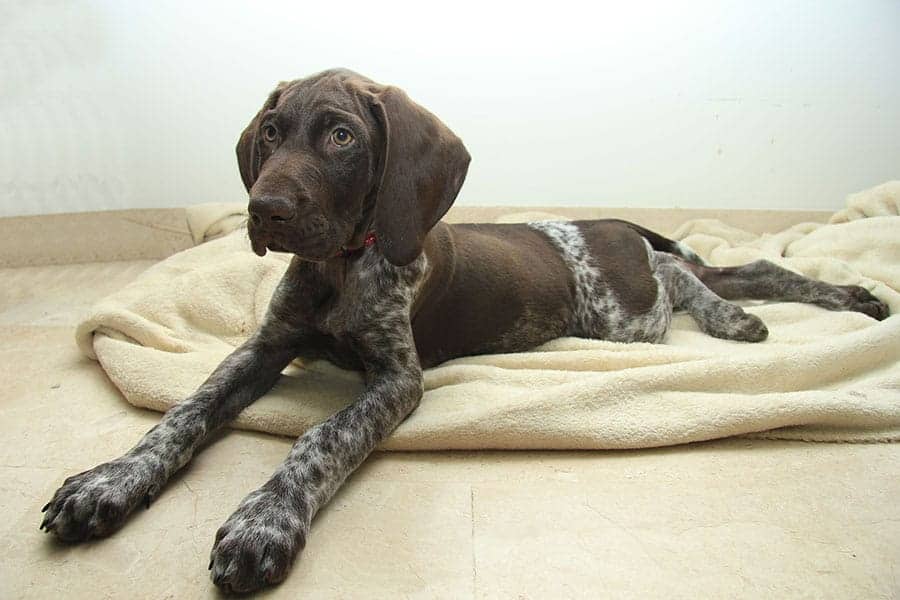 Hunting Names
German Shorthaired Pointers are popular hunting dogs. Choosing the right name for your hunting companion can be challenging, but this article offers unique and fitting names to inspire you.
Hunter
Scout
Tracker
Gunner
Ranger
Ace
Diesel
Rusty
Buck
Boone
Chase
Duke
Falcon
Finn
Goose
Grit
Hawk
Jagger
Jet
Kodiak
Maverick
Moose
Nitro
Rebel
Remington
River
Rocky
Storm
Related: Hunting Dog Names
Athletic Pointer Names
German Shorthaired Pointers are highly athletic and energetic dogs that excel in sports and other outdoor activities. Check out these athletic dog names that match their spirit and drive.
Bolt
Sprint
Speedy
Dash
Flash
Blaze
Turbo
Jet
Rush
Rocket
Lightning
Thunder
Nike
Adidas
Puma
Reebok
Mizuno
Athena
German Name Ideas
German Shorthaired Pointer dogs originated in Germany and have a proud heritage tied to the European country. Giving your new furry friend a German name can reflect their strong roots and character. Check out our lists sorted by gender:
Female German Names
Ada
Anika
Bertha
Bianca
Brigitte
Brunhilde
Edelweiss
Elke
Elsa
Frieda
Gisela
Gretchen
Hannelore
Heidi
Helga
Ingrid
Irma
Johanna
Katarina
Liesel
Lorelei
Magda
Matilda
Monika
Petra
Sabine
Ursula
Male German Names
August
Bruno
Bernd
Dieter
Ernst
Friedrich
Gerhardt
Gunther
Hansel
Heinrich
Helmut
Hermann
Horst
Klaus
Leopold
Ludwig
Manfred
Otto
Rainer
Reinhold
Roland
Siegfried
Ulrich
Viktor
Werner
Wolfgang
Yohan
Brown Names
German Shorthaired Pointers are stunning and distinctive dogs that often feature a liver or brown-colored coat. You can use this coloring for inspiration when looking for German Shorthaired Pointer names.
Brownie
Cocoa
Teddy
Rusty
Hazel
Mocha
Cinnamon
Chestnut
Fudge
Sable
Sepia
Muddy
Acorn
Bourbon
Brindle
Biscuit
Butterscotch
Caramel
Cedar
Clove
Espresso
Mahogany
Peanut
Pecan
Sienna
Tawny
Umber
Related: Brown dog names
Black Dog Names
Black is another common coat color for this breed. These names reflect this cool coloring in a unique way.
Onyx
Coal
Midnight
Raven
Bear
Carbon
Charcoal
Crow
Diablo
Domino
Knight
Magnum
Ninja
Panther
Pepper
Phantom
Sable
Slate
Smoke
Vader
Related: Black dog names
Final Thoughts: German Shorthaired Pointer Names
German Shorthaired Pointers are highly prized for their versatility, intelligence, and loyalty. When it comes to naming them, there are a variety of options to choose from.
Some people prefer to give their dogs classic, traditional names, while others opt for more unique or creative choices.
Ultimately, the most important thing is to choose a name that suits your dog's personality and reflects your own taste and preferences.
By taking the time to carefully consider your options and select a name that you and your pet both love, you'll be well on your way to developing a strong and enduring bond with your new four-legged friend.
View Your Saved Names