We've gathered over 166 Cajun dog names and ideas inspired by Louisiana for your pup! Check out our lists inspired by culture, food, landmarks, Mardi Gras, and more.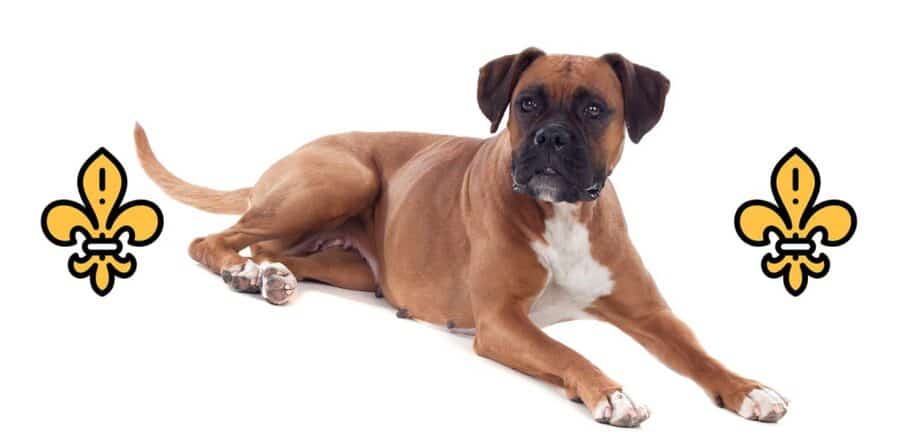 The Cajuns descended from French colonists who were expelled from Acadia (present-day Nova Scotia, Canada) in the late 1700s during the French and Indian War. They settled in the swampy areas of southern Louisiana and developed their own distinct culture, language, and cuisine, which became known as Cajun.
Over time their French heritage blended with other influences to create a unique culture that has inspired these dog names.
Male Cajun Dog Names
We've gathered over fifty Cajun dog names for males to start off our search for an awesome Cajun name.
Adrien
Alexandre
Alphonse
Andre
Antoine
Armand
Augustin
Bastien
Beau
Benjamin
Benoit
Bernard
Bistro
Breaux
Cedric
Charlemagne
Christian
Claude
David
Emmanuel
Etienne
Florian
Francois
Gaspard
Gerard
Guy
Henri
Henri-Paul
Hugo
Jacques
Jacques-Henri
Jean-Baptiste
Jean-Jacques
Jean-Paul
Joseph
Jules
Landry
Laurent
Louis
Luc
Marcel
Matthieu
Maurice
Maxime
Nicolas
Philippe
Pierre
Rene
Remy
Roland
Ruston
Samuel
Simon
Theriot
Thibault
Thomas
Vincent
Yves
Female Cajun Dog Names
Here are fifty different female names with a Cajun twist. Hopefully, you find some great ideas for your puppy!
Adelaide
Agnes
Aimee
Aline
Amelie
Anais
Angelique
Antoinette
Arcadia
Aurore
Beatrice
Brigitte
Caroline
Cecile
Celine
Chantal
Charlotte
Claire
Claudette
Colette
Delphine
Dominique
Elise
Elodie
Emilie
Emmanuelle
Estelle
Fleur
Francoise
Gabrielle
Genevieve
Hortense
Jeanne
Julie
Lucie
Madeleine
Marcelle
Margaux
Marie-Laure
Martine
Michèle
Monique
Nathalie
Noemie
Odette
Pauline
Solange
Sophie
Sylvie
Therese
Veronique
Yvette
Related: see our list of French dog names.
What's the Cajun Word for Dog?
The Cajun word for dog, as taken from its French roots, is "chien." For a female dog, the word is chienne. You could even use this word to name your dog, and those who don't speak French would be none the wiser.
New Orleans and Louisiana Dog Names
Here are some name ideas for locations, features, and food from across New Orleans and Louisiana. For other names from the area, check out these southern dog names.
Bayou – some common water features
Bourbon – Named for New Orleans' famous Bourbon Street
Brennan – for the famous restaurant Brennan's
Congo – Congo Square, a live music location
Cypress – a common tree in the swampy areas
Domino – pianist Fats Domino
Easy – Big Easy, a nickname for New Orleans
Emeril – After the famous chef Emeril Lagasse
Evangeline – a New Orleans parish
Frenchie – for the French Quarter
Gator – short for alligator
Harry – for singer Harry Connick Jr
Jackson – Jackson Square
Jazz – a great name celebrating the musical history of New Orleans
Lafayette – a city in southern Louisiana
Laveau – voodoo queen Marie Laveau
Lou – short for Louisiana
Magnolia – a common tree and blossom
Mercedes – the Mercedes-Benz Super Dome
Monde – Cafe Du Monde, known for beignets and coffee
NOLA – New Orleans, LA
Rouge – for Baton Rouge
Sabine – a river
Saint – Referencing Catholic traditions and the New Orleans Saints football team
Satchmo – nickname for musician Louis Armstrong
Sharkey – jazz musician, Sharkey Banano
Tulane – a well-known university
Voodoo – a religion brought to the area and Marie Laveau's House of Voodoo
Zydeco – a style of Cajun music
Cajun and Creole Food Dog Names
Here are some Cajun, Creole, and Louisiana foods that can also work as a dog name. You might also enjoy our list of food dog names.
Beignet – A famous deep-fried pastry with powdered sugar
Boudin – a type of sausage
Cayenne – pepper, commonly included in Cajun food
Chicory – a type of coffee popular in Lousiana
Étouffée – a classic Cajun or Creole stew
Gumbo – a popular soup
Hurricane – a popular New Orleans drink
Jambalaya – a Creole and Cajun rice dish
Mudbug – a crayfish
Pecan
Po-Boy – a popular sandwich on french bread
Roux – pronounced "roo", a base for Cajun dishes
Sazerac – a cocktail created in New Orleans
Shrimpy – great for a small dog after the delicious shrimp po'boy
Trinity – celery, onion, and green bell pepper
Vieux – Vieux Carré, a cocktail
Mardi Gras Dog Names
These dog name ideas come from the history, events, and celebrations of Mardi Gras!
Bacchus – one of the largest Mardi Gras parades
Bon Temps – meaning good times
Doubloon – Coins that are stamped with the Kewe's name and tossed to the crowd
Flambeaux – Flaming torches
King – for King cakes and the King of carnival
Krewe – A social group that organizes a Mardi Gras parade
Mardi – Even if your dog wasn't adopted or born on a Tuesday, this makes a unique dog name.
Masker – People in a parade or on a Mardi Gras float
Rex – The Krewe of Rex parade started the use of purple, green, and gold colors
Tuesday – for Fat Tuesday
Zulu – A historic Krewe
View Your Saved Names