Famous Dog Names – 131+ Amazing Dogs from TV, Movies & Real Life!
by Kyle Larson
There are tons of famous dogs that people across the world know well. These dogs are famous for from their achievements in real life, or are known from movies, TV & literature. If you're looking to name your own pup, these famous dog names might be a perfect fit.
Famous Dog Names from History & Real Life
These dogs are the pets of well known people, are brand mascots, or have an achievement that they're known for.
Balto – Husky that helped deliver medicine to Nome, Alaska, that prevented an outbreak of disease
Barney, Spot Fetcher, Miss Beazley – Dogs of President George W. Bush
Bingo – Cracker Jacks brand mascot
Bo and Sunny – President Obama's dogs
Bullseye – Target's official mascot
Chaser – Border Collie with largest tested memory of any non-human animal.
Checkers – President Nixon's dog
Chips – most decorated dog of WWII
Cloe – Biggest dog record holder for biggest dog, 365lbs 8'5″ long!
Jo-Fi – Sigmund Freud's pet Chow Chow
Fido – Abraham Lincoln's dog
Gibson – Great Dane & former world record tallest living dog
Hachikō – Japanese Akita Inu famed for meeting his owner at the train station every day after work
Hank – adopted stray that became the unofficial mascot for the Milwaukee Brewers
Lady Greyhound – Greyhound bus' mascot dog
Laika – Soviet space dog
McGruff – Anticrime Mascot
Millie – George H.W. Bush's dog
Nipper – RCA logo dog
Peritas – Alexander the Great's favorite dog
Pickles – discovered the stolen FIFA World Cup in 1966
Sinbad – mascot of U.S. Coast Guard
Snuppy – Afghan Hound that was the first dog ever cloned
Strongheart – German Shepherd that was one of the first canine actors
Tinkerbell – Paris Hilton's chihuahua and favorite fashion accessory
Trakr – German Shepherd that rescued the last survivor of the 9/11 World Trade Center attacks.
Zeus – Great Dane & Tallest dog in the world at 7′ 4″.
Zorba – Mastiff, former world record for longest and heaviest dog, 343lbs 8'3″ long.
Also here's an article with all the Presidential Dogs.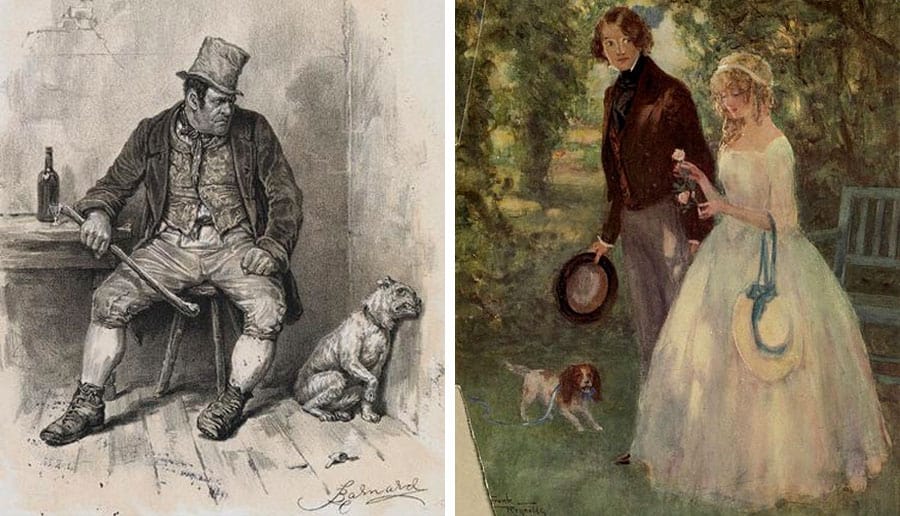 Famous Dog Names from Literature & Comics
These dogs have been written about in famous books or comics.
Andy – Mark Trail comic strip
Argos – the Odyssey
Blue – The Sound and the Fury
Buck – Call of the Wild
Buddy / Toby / Bailey / Ellie / Bear – A Dog's Purpose
Bullseye – Bill Sikes' dog in Oliver Twist
Clifford – Clifford the Big Red Dog
Cujo – Stephen King's book Cujo
Dogbert – Dilbert
Electra – Cathy comic strip
Fang – Hagrid's Mastiff in Harry Potter
Ghost – Game of Thrones
Hotdog – Jughead's dog from Archie
Jip – David Copperfield
Krypto – Superman comics
Lad – Lad, A Dog
Marmaduke – Marmaduke
Odie – Garfield
Yeller – Old Yeller
Pilot – Mr. Rochester's dog in Jane Eyre
Sandy – Little Orphan Annie
Snoopy – Peanuts
Winn Dixie – Berger Picard and main character of Because of Winn Dixie
Here's an article with even more literary dog names.
Famous Dogs from Movies
You may known these famous dogs from the movies they've starred in!
Baxter – Anchorman
Beethoven – Bethoven
Benji – Benji
Bolt – Bolt
Brinkley – You've Got Mail
Bruiser – Legally Blonde
Buddy – Air Bud
Buster – Toy Story
Chopper – Stand By Me
Chance & Shadow – Homeward Bound
Copper – The Fox and the Hound
Daisy – John Wick
Dante – Coco
Dug – Up
Duke – The Secret Lives of Pets
Einstein – Back to the Future
Fang – Hagrid's Mastiff in Harry Potter
Fly & Rex – Babe
Frank the pug – Men In Black
Hercules – The Sandlot
Hooch – Turner & Hooch
Hosehead – Strange Brew
Jock, Trusty & Lady – Lady And The Tramp
Luiz – Rio
Marley – Marley And Me
Max / Wolfie – The Terminator & Terminator 2: Judgement Day
Max – How The Grinch Stole Christmas!
Milo – The Mask
Miss Agnes – Best In Show
Mother Teresa– Must Love Dogs
Nana – Newfoundland from Peter Pan
Nanook– The Lost Boys
Otis – The Adventures of Milo and Otis
Perdita, Pongo, Patch, Penny – One Hundred And One Dalmatians
Puffy – There's Something About Mary
Quark – Honey, I Shrunk The Kids
Rin Tin Tin – Rin Tin Tin
Shiloh – Beagle from Shiloh
Sirius Black / Padfoot / Snuffles – Harry Potter
Skipper – My Dog Skip
Slink – Toy Story
Sparky – Frankenweenie & South Park
Speck – Pee-wee's Big Adventure
Snots – National Lampoon's Christmas Vacation
Snowy – The Adventures of TinTin
Spots, Chief, Rex, Boss, Duke, and King – Isle of Dogs
Stitch – Lilo & Stitch
Toto – The Wizard Of Oz
Jack (played by Uggie) – The Artist
Verdell – Brussels Griffon from As Good As It Gets
Yellow – Far From Home: The Adventures of Yellow Dog
Zero – The Nightmare Before Christmas
Famous Dog Names from TV
These dogs got their fame from starring in TV shows!
Apollo & Zeus – Magnum P.I. guard dogs
Arnold – Turtle's dog in Entourage
Astro – The Jetsons
Backup – Veronica Mars
Blue – Blue's Clues
Brian – Family Guy
Cinnamon – Raj's dog in The Big Bang Theory
Comet – Golden Retriever from Full House
Eddie – Jack Russell Terrier from Frazer
Gidget – Chihuahua from Taco Bell ads
Gromit – Wallace And Gromit
Happy – Terrier mix from 7th Heaven
Ladybird – King of the Hill
Lassie – Lassie
Marshall, Chase, Rocky, Zuma, Rubble, Skye, and Everest – Paw Patrol
Mister Peabody – The Adventures Of Rocky And Bullwinkle And Friends
Mr. Peanutbutter – BoJack Horseman
Petey – Little Rascals
Pluto – Disney
Poochie – The Simpsons
Ren Höek – The Ren & Stimpy Show
Rowlf – The Muppets
Santa's Little Helper – The Simpsons
Scooby-Doo & Scrappy-Doo – Scooby-Doo
Shelby – Smallville
Spike – Rugrats
Spuds MacKenzie – 80s spokesdog
Ubu Roi – Ubu Productions "Sit, Ubu, sit" mascot
Wilfred – Wilfred
Wishbone – Jack Russell Terrier star of children's show Wishbone
We hope you enjoyed our list of famous dogs! If you want more dogs from tv & movies be sure to check out this list of Disney Dog Names.
Teach Your Dog Its Name!
Check out more articles about: