Celebrity Dog Names – Awesome List of 255+ Celebs & Dogs
Published:
Last updated:
by Jessi Larson
Celebrity dog names are a great way to get inspiration for a fun, hip name for your new pup.
After all, celebrities seem to set the tone for whatever is hot and trendy. The latest hairstyle, the hot color of the season, the new cause to support – the list goes on and on.
To get started, we looked up famous actors, musicians, athletes, politicians and other stars with pups and gathered a list of their celebrity dog names.
The names run the gamut from cute to funny to just plain bizarre.
Check out this list of celebrity dog names and see if any of them fit your dog's look and personality.
Celebrity Dog Names – Actors
Actors are very creative individuals, so it makes sense that they've selected some interesting and entertaining names for their dogs.
On the other hand, many picked tried-and-true classics that are beloved by famous and non-famous dog owners alike.
Check out these celebrity dog names and see if any would work for your new furry friend.
Adam Sandler – Matzoball and Meatball
Bulldogs
Alec Baldwin – Dama and Gitana
Maltese dogs
Amanda Seyfried – Finn
Australian Shepherd mix
Amy Adams – Pippy and Sadie
Chihuahuas
Anne Hathaway – Esmerelda
Labrador Retriever
Ashley Tisdale – Maui
Maltese/poodle mix
Aubrey Hepburn – Mr. Famous
Yorkshire Terrier
Ben Affleck – Hutch and Martha Stewart
German Shepherd and Labrador Retriever
Blake Lively – Penny and Billie
Maltese-Toy Poodle and mixed breed
Brad Pitt – Blanco
Mixed breed
Bradley Cooper – Charlie
Labradoodle
Charlize Theron – Tucker
Mixed breed
Christina Ricci – Sherriff
Miniature Pinscher
Debra Messing – Henry
Mixed breed
Demi Moore – Vida
Chihuahua
Dianna Agron – Freddie
French Bulldog
Drew Barrymore – Flossie
Chow Chow-Labrador mix
Dwayne "The Rock" Johnson – Brutus and Hobbs
French Bulldogs
Emmy Rossum – Cinnamon and Pepper
Yorkshire Terrier and Terrier-Havanese mix
Eric Stonestreet – Coleman Hawkins
Mixed breed
Eva Longoria – Jinxy and Oprah
Maltese and Pug
George Clooney – Einstein, Louie and Milie
Cocker Spaniels and a Basset Hound
Gerard Butler – Lolita
Pug
Gwen Stefani – Winston
Pomeranian
Harrison Ford – Kelpie and Taco
Mixed breeds
Hilary Duff – Lola, Jak and Dubois
Chihuahua, Jack Russell Terrier and Bernese Mountain
Hilary Swank – Karoo and Rumi
Jack Russell Terrier/Corgi mix and Golden Retriever mix
Hugh Jackman – Dali
French Bulldog
Ian Harding – Bailey and Mochi
Labradoodles
Ian Somerhalder – Nietzsche
Mixed breed
Jamie Foxx – King and Kong
Pitbulls
Jake Gyllenhaal – Atticus and Boo Radley
German Shepherd and Puggle
Jeff Goldblum – Woody
Poodle
Jennifer Aniston – Norman
Corgi
Jennifer Love Hewitt – Mona
Boxer
Jessica Alba – Sid
Pug
Jessica Biel – Tina
Pitbull
Jessica Chastain – Chaplin
Poodle mix
Jessica Simpson – Daisy
Maltese-Toy Poodle
Jim Carrey – George
Great Dane
Johnny Depp – Boo and Pistol
Yorkshire Terriers
Jon Hamm – Splash
Mixed breed
Jonah Hill – Carmela
French Bulldog
Josh Gad – Didi
Mixed breed
Justin Theroux – Kuma
Pitbull
Kellan Lutz – Kola
Mixed breed
Kelly Rutherford – Cappuccina
Dachshund
Kristen Bell – Muppet
Mixed breed
Lea Michele – Pearl
Pomeranian mix
Liam Hemsworth – Dora and Tani
Labradoodle and Pitbull
Liev Schreiber – Scout
Breed unknown
Lucy Hale – Elvis
Maltipoo
Matt Damon – Carlos
Chihuahua
Matthew McConaughey – Foxy
Australian Cattle Dog
Matthew Perry – Alfred
Goldendoodle
Mischa Barton – Charlie, Ziggy and Harvey
Spaniel mix, Pekingese and Maltese
Naya Rivera – Lucy
Cavalier King Charles Spaniel
Nick Jonas and Priyanka Chopra – Gino, Diana and Panda
German Shepherd, Chihuahua and Husky/Australian Shepherd mix
Orlando Bloom – Sidi
Saluki mix
Peter Dinklage – Kevin
Mixed breed
Rachel Bilson – Thurman Murman
Mixed breed
Reese Witherspoon – Hank and Pepper
Labrador Retriever and French Bulldog
Rob Lowe – Jack, Bella and David
German Shorthaired Pointer, Chihuahua and Jack Russell
Ryan Gosling – George
Mixed breed
Ryan Reynolds – Baxter
Labrador mix
Sandra Bullock – Poppy and Ruby
Chihuahuas
Sarah Hyland – Barkley Bixby
Maltipoo
Selma Blair – Wink
Jack Russell mix
Sienna Miller – Bess
Mixed breed
Sophie Turner (with Joe Jonas) – Waldo Picasso
Alaskan Klee Kai
Tori Spelling – Mimi LaRue
Pug
Vanessa Hudgens – Darla
Mixed breed
Victoria Justice – Sammy and Sophie
Bichon Frise/Miniature Schnauzer mixes
Will Smith – Indo
Rottweiler
Zoey Deschanel – Dot and Zelda
Both mixed breeds
Celebrity Dog Names – Musicians
Many of the biggest music stars in the world are also pup parents. They use their creativity to create beautiful music – and pretty cool dog names.
Take for example the following artists. They love their canine companions and have gone to great lengths to give them the very best names.
When searching for celebrity dog names, you'll find plenty of inspiration in these ideas.
50 Cent – Oprah Winfree
Miniature Schnauzer
Adele – Louie
Dachshund
Alicia Keys – Samba
Mixed breed
Ariana Grande – Toulouse
Beagle/Chihuahua mix
Beyonce – Munchie
Shih Tzu
Billie Eilish – Shark
Pitbull
Britney Spears – Lucky
Chihuahua
Bruno Mars – Geronimo
Rottweiler
Carrie Underwood – Penny, Ace and Zero
Dachshund mix, Rat Terrier and German Shepherd
Christina Aguilera – Stinky
Papillon
Demi Lovato – Cinderella and Batman
Yorkipoos
Drake – Winter and Diamond
American Bully and Akita
Dua Lipa – Dexter
Labrador mix
Fergie – Meatloaf and Zoe
Both Dachshunds
Jennifer Lopez – Tyson
Goldendoodle
John Legend – Puddy, Pippa and Penny
English Bulldog, French Bulldog and French Bulldog
Josh Groban

–

Sweeney Houdini
Wheaton Terrier
Justin Bieber – Sammy
Papillon
Katy Perry – Nugget
Poodle
Kelly Clarkson – Wyatt
Poodle
Lady Gaga – Asia
French Bulldog
Madonna – Gypsy
French Bulldog
Miley Cyrus – Emu, Mate and Sophie
Shetland Sheepdog, German Shepherd and Maltese-Toy Poodle
Pink – Elvis
Bulldog
Rihanna – Oliver
Maltipoo
Selena Gomez – Baylor
Siberian Husky mix
Shawn Mendes – Tarzan
Golden Retriever mix
The Weeknd – Caesar
Doberman Pinscher
Vanessa Hudgens – Shadow
Toy Poodle
Victoria Beckham – Scarlet
French Bulldog
Wiz Khalifa – Vincent the Dog
French Bulldog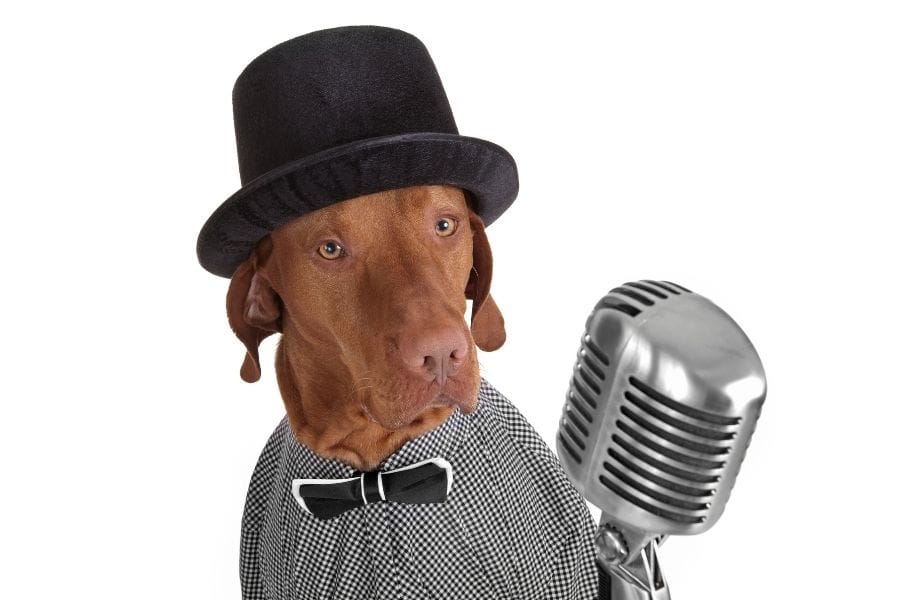 Celebrity Dog Names – Media Personalities
Continuing our list of celebrity dog names, here are more ideas inspired by media personalities. These famous figures are vocal about their four-legged friends, and you may have even seen a few of them on television.
Perhaps the names of these pups will provide you with the inspiration you need for your new pet.
We love these names, and clearly these famous celebrities did, too!
Chelsea Handler – Chunk
German Shepherd-Chow mix
Ellen Degeneres – Augie
Mixed breed
Heidi Klum – Max, Freddie and Simba
Two German Shepherds and a Pomeranian
Howard Stern – Bianca
English Bulldog
Hugh Hefner – Charlie
Cavalier King Charles Spaniel
Julianne Hough – Harley
Cavalier King Charles Spaniel
Kendall Jenner – Blue
Great Dane
Kelly Osbourne – Noodles
Pomeranian
Kelly Ripa – Lena
Maltese/Shih Tzu
Khloe Kardashian – Gabbana
Labrador Retriever
Kim Kardashian – Sushi, Sake and Soba
Pomeranians
Kourtney Kardashian – Cub
Golden Retriever
Kris Jenner – Bridgette
Mixed breed
Kylie Jenner – Norman and Bambi
Italian Greyhounds
Lauren Conrad – Chloe and Fitz
Mixed breeds
Lisa Vanderpump – Giggy
Pomeranian
Martha Stewart – Francesca, Sharky and Ghenghis Khan
French Bulldogs and a Chow Chow
Miranda Kerr – Frankie
Yorkshire Terrier
Nicole Richie – Honeychild
Shih Tzu
Olivia Palermo – Mr. Butler
Maltese
Oprah – Lauren and Sadie
English Springer Spaniel and Cocker Spaniel
Paris Hilton – Bambi and Tinkerbell
Both Chihuahuas
Rachael Ray – Isaboo
Pitbull
Ryan Seacrest – Georgia
Labrador Retriever
Simon Cowell – Freddie, Squiddly and Diddly
Yorkshire Terriers
Steve-O – Walter and Bernie
Chihuahua/Dachshund mix and Poodle mix)
Taylor Hill – Tate
Miniature Labradoodle
Celebrity Dog Names – Athletes
Another avenue for celebrity dog names is to see what the athletes are doing. Many proudly show off their precious pups online, in interviews and even on the field.
If you're a sports fan, these names are essential to explore. They range from sweet or silly to tough and strong.
Alex Morgan – Blue
Mixed breed
Alexis Sánchez – Atom and Humber
Golden Retrievers
Christen Press – Morena
Mixed breed
Cristiano Ronaldo – Marosca
Labrador Retriever
David Ortiz – Happy
Terrier
David Price – Astro
French Bulldog
Derek Stepan – Jake
Mixed breed
Dwyane Wade – Tre
French Bulldog
Frank Thomas – Bubba and Barbie
Bulldogs
George Kottaras – Leo
Labrador Retriever
Greg Louganis – Nipper, Dobby, Gryff and Hedwig
Two Jack Russell Terriers, Border Collie and Puli
Gus Kenworthy – Mishka and Jake
Mixed breeds
JuJu Smith-Schuster – Boujee
French Bulldog
Klay Thompson – Rocco
English Bulldog
Lebron James – King
Cane Corso
Lindsey Jacobellis – Sochi
Mixed breed
Lindsey Vonn – Lucy, Leo and Bear
Cavalier King Charles Spaniel, mixed breed and Chow/Retriever
Manny Pacquiao – Pacman
Jack Russell Terrier
Meyers Leonard – Koko
Siberian Husky
Michelle Wie – Lola
Pomeranian
Natalie Coughlin – Dozer and Shera
American Bulldog and Border Terrier
Patty Mills – Harvey
Labradoodle
Rose Lavelle – Wilma Jean Wrinkles
Bulldog
Russell Wilson – Prince, Naomi and Hero
Great Danes
Serena Williams – Chip
Yorkshire Terrier
Simone Biles – Lilo and Kea
French Bulldog and Golden Retriever
Tiger Woods – Bugs and Lola
Border Collie/Springer Spaniel mix and Australian Shepherd
Todd Helton – Abby
Labrador Retriever
Tom Brady – Lua, Scooby and Fluffy
Pitbull mix, Beagle and mixed breed
Tony Azevedo – Olympia
Pitbull mix
Tyus Jones – Duke
Husky Pomeranian mix
Venus Williams – Barbie
Yorkshire Terrier
Celebrity Dog Names – Political Figures
Finally, let's venture into the world of political figures. Some may argue that they're not technically celebrities, but in this modern age, they're well known and get frequent attention.
Many at the highest level of government are also proud pup parents. For example, almost every modern U.S. President has brought at least one dog to the White House.
And of course there's Queen Elizabeth. She's famous for her love of canines, in particular the Corgi. She's owned over a dozen dogs throughout the years, all of which had interesting names.
Check out these ideas and see if any are of interest to you.
Barack Obama – Bo and Sunny
Bboth Portuguese Water Dogs
Bill Clinton – Buddy
Labrador Retriever
George W. Bush – Barney
Scottish Terrier
Jimmy Carter – Grits
Border Collie mix
Joe Biden – Champ and Major
German Shepherds
Prince Charles and Camilla – Bluebell and Beth
Jack Russell Terriers
Prince William and Kate Middleton – Lupo
Black Cocker Spaniel
Queen Elizabeth

Dookie
Susan
Sugar
Whisky
Sherry
Heather
Tiny
Smoky
Dash
Disco
Dagger
Flora
Minnie
Pundit
Mint
Monty
Willow
Holly

Ronald Reagan – Lucky and Rex
Bouvier des Flandres and Cavalier King Charles Spaniel
Want to learn more about U.S. presidents and their dogs throughout history? Check out this complete list of presidential dog names.
Final Thoughts: Celebrity Dog Names
Hopefully these celebrity dog names provided some solid inspiration as you name your new pup.
Finding the right dog name is a fun but sometimes challenging process, and it's always a good idea to gather lots of ideas when you start your search.
These celebrity dog names are cool, classy, funny and even a little bit wild – a great place to start your search.
More Dog Name Ideas
If you'd like to find even more name options, our website offers a helpful online generator.
All you have to do is enter your favorite styles and/or themes, and it generates the perfect name for your precious pooch.
Over the years, we've helped million of new pup parents find just the right name. You're sure to find a great name, too!
How Do You Pick the Right Name?
With so many ideas, it can be tough to find just the right name. Where do you even begin?
These helpful tips and tricks can work wonders.
To start, find lots of inspiration. When you see a name you like, jot it down.
Next, narrow down the list. If you're not completely sure about a name, remove it immediately.
Do this until you have about five or so names you like.
Once you have a short list, it's time to make the final decision. Follow these steps to narrow it down to one.
Ask yourself, is the name easy to say? Sure, some names look great on paper, but they can be tough to pronounce out loud. You'll want a name that rolls off the tongue.
Does it match your dog? Is it a fit for their personality? How about their appearance? You don't want a name that's completely out of place.
Can you imagine calling for your dog with this name? When you have a dog, you'll have to call for them loudly and publicly.
Does everyone in your household agree on the name? This is an important and often-overlooked step.
By following these steps, you'll know in your gut when you've found the right name.
View Your Saved Names