Embrace the vibrant charm of your fair-haired pup with our irresistible list of blonde dog names. Capture the essence of your canine companion's sunny personality and lock in that perfect name that will turn heads and leave a lasting impression for years to come. So what are you waiting for? Dive in and discover the ideal title for your fabulous furry friend!
Top Female Blonde Dog Names
Finding the perfect name for your new puppy can be quite an adventure! Here are some top female blonde dog names that genuinely capture the charm and spirit of your golden-haired gal pal.
Daisy
Sunny
Goldie
Honey
Amber
Tawny
Blondie
Belle
Lemon
Aspen
Caramel
Sandy
Saffron
Bree
Nova
Soleil
Fleur
Shimmer
Dolly
Glimmer
Athena
Top Male Blonde Dog Names
Choosing the perfect name for your new best friend should be a delightful experience! Check out these top male blonde dog names that will beautifully complement the radiant personality of your fluffy buddy.
Simba
Midas
Leo
Banjo
Ochre
Sonny
Apollo
Gryffin
Nugget
Rusty
Flaxen
Finnegan
Falcon
Tucker
Sundance
Blaze
Marley
Thor
Dash
Jupiter
Elm
Zeppelin
Raffi
Pancho
Cute Blonde Dog Names
There's something undeniably adorable about a golden-furred canine friend! Dive into this list of cute blonde dog names that perfectly capture the sweetness and charm of your precious pup.
Waffles
Sunny Bun
Mellow
Cream Puff
Twinkie
Nilla
Cuddles
Cupcake
Sherbet
Pippin
Sugar
Lollipop
Sprinkles
Fluffy
Peaches
Jellybean
Nutmeg
Quinoa
Butterball
Zest
Bubbles
Fictional Blond Characters
Paying homage to your favorite fictional blonde characters is a fun and creative way to name your golden-haired canine companion! So without further ado, look at these blonde dog names inspired by memorable characters from movies, TV shows, comics, and books.
Alice (Alice in Wonderland)
Elle (Elle Woods, Legally Blonde)
Serena (Serena van der Woodsen, Gossip Girl)
Holly (Holly Golightly, Breakfast at Tiffany's)
Cinderella (Cinderella)
Thor (Thor, Marvel Universe)
Buffy (Buffy the Vampire Slayer)
Brienne (Brienne of Tarth, Game of Thrones)
Barbie (Barbie franchise)
Betty (Betty Cooper – Archie Comics, Riverdale)
Daenerys (Daenerys Targaryen, Game of Thrones)
Luna (Luna Lovegood, Harry Potter series)
Usagi (Usagi Tsukino, Sailor Moon)
Carol (Carol Danvers/Captain Marvel, Marvel Universe)
Tracy (Tracy Turnblad, Hairspray)
Kara (Supergirl/Kara Zor-El, DC Comics)
Draco (Draco Malfoy, Harry Potter series)
Gilderoy (Gilderoy Lockhart, Harry Potter series)
Owen (Owen Hunt, Grey's Anatomy)
Claire (Claire Underwood, House of Cards)
Legolas (The Lord of the Rings)
Allie (Allie Hamilton, The Notebook)
Lestat (Lestat de Lioncourt, The Vampire Chronicles)
Bravo (Jonny Bravo)
Fleur (Fleur Delacour, Harry Potter series)
Related: more fictional character dog names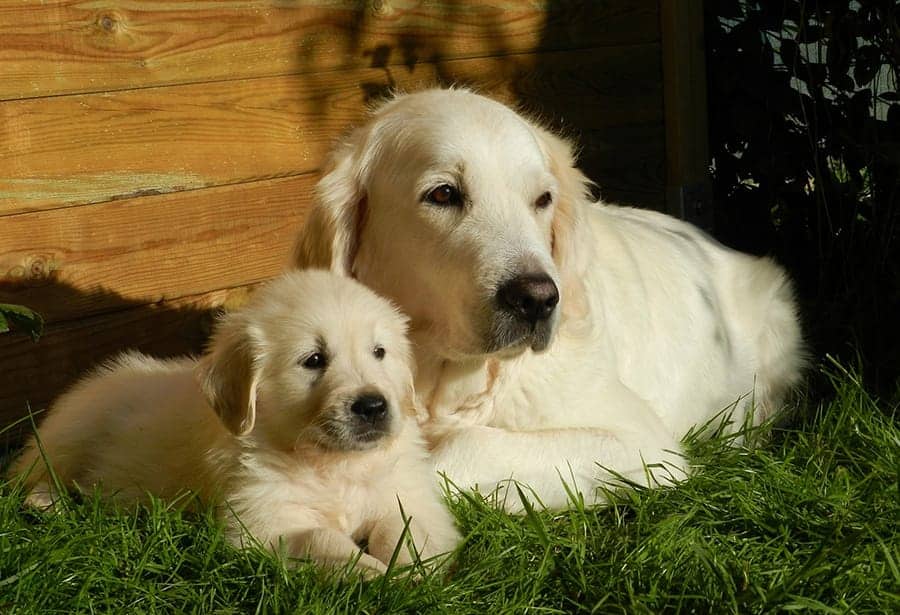 Names from Nature
Nothing complements your puppy quite like a name inspired by the beauty of nature! So check out these dog names influenced by the wonder of the natural world, designed to suit your pup's sunny disposition.
Marigold
Sunflower
Dandelion
Honeydew
Sunray
Summer
Sandstorm
Aurora
Buttercup
Foxtail
Goldenrod
Sahara
Zinnia
Snowdrop
Goldfinch
Helios
Solstice
Sunrise
Maple
Primrose
Sunkist
Names Inspired by Famous Blondes
Celebrities with blonde hair can provide fantastic inspiration when naming your radiant canine companion! Discover a collection of dog name ideas inspired by famous blondes that perfectly reflect your pup's shining personality.
Marilyn (Marilyn Monroe)
Farrah (Farrah Fawcett)
Madonna (Madonna)
Brigitte (Brigitte Bardot)
Pamela (Pamela Anderson)
Gwyneth (Gwyneth Paltrow)
Charlize (Charlize Theron)
Ellen (Ellen DeGeneres)
Scarlett (Scarlett Johansson)
Paris (Paris Hilton)
Emma (Emma Stone)
Drew (Drew Barrymore)
Owen (Owen Wilson)
Andy (Andy Warhol)
Janis (Janis Joplin)
Gaga (Lady Gaga)
Kurt (Kurt Cobain)
Heath (Heath Ledger)
Reese (Reese Witherspoon)
Meg (Meg Ryan)
Blake (Blake Lively)
Gwen (Gwen Stefani)
Dolly (Dolly Parton)
Britney (Britney Spears)
Blonde and Yellow Foods
Finding inspiration in culinary delights is a delightful way to name your golden-haired pup! So feast your eyes on these delicious blonde dog names inspired by some of our favorite food that will beautifully capture the essence of your furry friend.
Butterscotch
Toffee
Custard
Cheddar
Popcorn
Biscuit
Cookie
Nougat
Shortbread
Muffin
Pancake
Frosting
Waffle
Butter
Mac / Macadamia
Butterbean
Vanilla
Fudge
Bun
Scone
Cornbread
Gouda
Pudding
Tater Tot
Marshmallow
In conclusion, with so many excellent blonde dog names, you will surely find the perfect moniker for your golden-haired buddy. Breeds like the Golden Retriever, Labrador Retriever, Cocker Spaniel, Wheaten Terrier, Labradoodle, and Golden Doodle would all be excellent candidates for these charming names.
When picking the right name, consider your pup's personality and the name's meaning, and try saying it out loud to ensure it flows naturally. Good luck with your search, and may your beloved canine companion enjoy their new name for years to come!
View Your Saved Names