Best Toys for Great Danes – Top 10 Great Dane Toys
Published:

Last updated:

by Jessi Larson Affiliate Disclosure: We hope you love the products we've recommended! As an Amazon Associate we earn a small share from qualifying purchases.
As an owner of a Great Dane, you know how hard it is to find toys that are big enough for this breed. To help you in your search, here is a list of the 10 best toys for Great Danes.
Shopping for a new toy for your Great Dane can be a tricky task. You want to buy something that is big enough for your pup to enjoy and that will last for a while. But at the same time, you don't want to break the bank.
And even though Great Danes are gentle giants, they can still do some serious damage to toys with their large, strong jaws.
Fortunately, the best toys for Great Danes are large, durable and designed to stand up to even the toughest canines.
Our guide includes toys for chewing, playing fetch, starting a game of tug-of-war and so much more.
Best Toys for Great Danes: Our Top 10 Picks
#1) Bark Super Chewer Box
A monthly subscription box with toys and treats for big dogs who are extra tough on their toys
Pros
Fun way to try new toys
Toys are specifically designed for bigger dogs

Free shipping and replacement of broken toys
Cons
Reoccurring monthly expense
At the top of our guide to the best toys for Great Danes is the Super Chewer box from BarkBox. Because even if your Great Dane is a delicate chewer, they can still do some serious damage with their large jaws.
With the monthly subscription, you'll get two tough toys, two full-size bags of treats and two meaty chews, all designed for larger than average pups. (Read our review.)
It's not easy keeping a strong and active animal engaged, but a monthly delivery of fun toys and treats will surely help do the trick!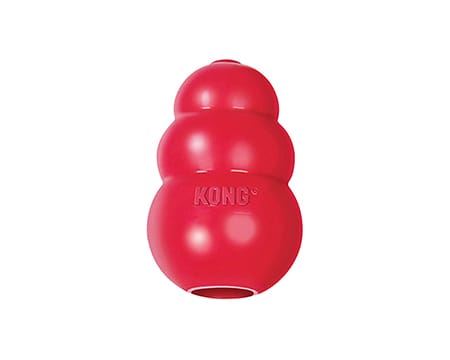 #2) Classic KONG Toy
A quintessential dog toy that keeps pups engaged and occupied for a very long time
Pros
Construction stands up to tough chewers
Choose any type of filling and treats

Made in the USA from globally sourced materials
Cons
Must order the right size for your pet
The classic KONG is a must-have Great Dane toy. Actually, it's recommended for any dog breed.
The classic KONG toy hides treats inside and keeps a dog engaged and occupied while they hunt for the food. You can fill it with peanut butter, cheese, dog food, a biscuit, whatever they like!
The tough rubber stands up to strong chewers like the Great Dane. In fact, many dog owners won't ever have to replace their KONG toy.
#3) Chuckit! Kick Fetch Toy Ball
An extra durable outdoor ball with grooves for games of fetch or soccer
Pros
Easy to pick up and easy on your pup's mouth
Can play with ball on land or in water
Bright colors make it easy to find
Cons
Extra tough chewers may pierce ball
The ChuckIt! Kick Fetch Toy Ball is a perfect pick for a big dog like the Great Dane. It allows you to play fetch with your dog without your hands – you kick it instead.
The design lets you kick it like a soccer ball while the grooves make it easy for your dog to carry it back. And the size of the ball is awesome for an extra large pup.
Because it's Chuckit!, the ball is made with an extra strong, puncture-resistant material. This ensures it will last for a very long time.
#4) Chuckit! Pro Launcher
This launcher wand and ultra-durable ball take games of fetch to the next level for dogs
Pros
Enjoy hands-free fetch with your dog
Easily throw the ball 100 to 140 feet
A great way to bond with your pooch
Cons
Not a great toy for dogs who don't love fetch
When it comes to the best toys for Great Danes, Chuckit! is clearly one of our favorite brands. We also love the Chuckit! Pro Launcher, a tool that has revolutionized the game of fetch.
When playing fetch, the launcher sends the ball sailing distances the human arm just can't replicate for a longer throw with much less effort. This is awesome when you're dealing with an enormous animal like the Great Dane who measures up to four feet in length.
Even better, you never have to touch the slobbery balls that your dog brings back. You can simply scoop up the ball without getting your hands dirty.
#5) Tuffy Mega Ring Dog Toy
This ultra durable dog toy is reinforced for added durability and strength
Pros
Great for tug-of-war, fetch and more
Rates a perfect #10 on Tuffy's own "Tuff Scale"
Floats in water
Cons
Manufacturer advises against using it as a chew toy
Any pup parent with a large breed will tell you how tough it is to keep a stuffed toy around, but you don't have to worry with TUFFY toys. The Tuffy Mega Ring is made of seven layers of material sewn together with two rows of linear stitching and two rows of cross stitching.
The result: An extra tough toy that is still soft and even squeaks.
Your Great Dane can either play with it alone (make sure to supervise!) or join you in a game of fetch or tug-of-war.
As a bonus, the ring is also machine washable, making it easy to clean up after your dog gets their goobers all over it. Which will happen with a Great Dane!
#6) PetSafe Busy Buddy Jack Dog Toy
A fun and challenging puzzle toy that makes dogs work for their reward
Pros
Durable nylon and rubber construction
Includes natural rawhide treat ring refills
Great toy for dogs with separation anxiety
Cons
Some tough chewers may pull off parts
The Great Dane is an incredibly smart dog and needs mental stimulation so it doesn't turn destructive. Puzzle toys are a great way to provide this outlet, and the PetSafe Busy Buddy Jack Dog Toy is one of the best.
To get started, you load treats on either side of the purple knobs for easier access or beside the white end pieces for more of a challenge. The rubber and nylon surfaces firmly grip treats to motivate dogs to play longer.
Created with extra-strength materials, the PetSafe Busy Buddy Jack Dog Toy can withstand the toughest play, and the unique design keeps your pup entertained for extended periods of time. Without a doubt, this is one of the best toys for Great Danes.
#7) OurPets Buster Food Cube Interactive Dog Toy
An interactive treat dispenser that encourages healthy eating habits while providing physical activity
Pros
Mentally and physically stimulates your dog
Adjustable difficulty levels
Easy to use and to clean
Cons
Can be very noisy
Tough chewers may break off plastic if left unattended
The Great Dane is one of the smartest and most athletic canines in the world. And although they may seem like couch potatoes at times, they do need a good amount of physical and mental stimulation.
Luckily, the OurPets Buster Food Cube Interactive Dog Toy provides both.
Here's how it works: You load in the treats through the center column, turn it tight and place it on the floor for your dog to play. They'll quickly learn that they have to push the cube around to get any sort of treat.
If you're hunting for the best toys for Great Danes, put this one on your shopping list.
#8) Monster K9 Ultra-Durable Ring Chew Toy for Aggressive Chewers
A virtually indestructible chew toy that will engage and challenge your four-legged friend
Pros
Industrial-strength natural rubber
Heavy-duty shock-absorbing design
Puncture resistant with a smooth surface
Cons
May not be engaging for all dogs
All dogs like to chew. With their large mouths and strong teeth, the Great Dane can be tougher on their toys than other breeds. That's when you get the Monster K9 Ultra-Durable Ring Chew Toy.
This ring toy is great for heavy chewing sessions, fetch in the yard or a fun game of tug-of-war.
With this toy, you won't have to worry about it breaking apart. Monster K9 has a proprietary natural rubber compound that's engineered to be as strong and indestructible as physically possible. And if it does break, the company will issue you a replacement at no cost.
If you have a Great Dane puppy who's teething, this is a great option. With their size, even at a young age, they can make mincemeat out of other toys, but this ring will stand the test of time.
#9) KONG Wubba Dog Tug Toy for X-Large Dogs
A fun, interactive toss and tug toy that's designed to stand up to large dogs who like to chew
Pros
Great for both tug-of-war and fetch
Durable ballistic nylon for added toughness
Easy to pick up and throw
Cons
Aggressive chewers can tear toy apart if left unattended
An energetic dog like the Great Dane sometimes can't decide if it wants to play fetch or tug-of-war. Fortunately, the KONG Wubba Dog Tug Toy is great for both!
Measuring two feet long, the Wubba features long tails that dogs like to shake back and forth. Plus, dogs can easily pick up the tails in their mouth.
These tails also make it easy for you to pick up and throw the toy. It's a fun toy for pup parents as well!
Designed for extra large dogs, the Wubba features reinforced nylon for added durability. This isn't a chew toy – you should definitely take it away if your dog starts chomping on it – but it will stand up to tough play sessions.
#10) Petstages Dogwood Wooden Dog Chew Toy
A safe alternative to wood sticks that feels like the real thing and satisfies a dog's instinct to chew
Pros
Simulates the look and feel of wood
Durable and long-lasting
Made in the U.S.A.
Cons
Not as enticing as real sticks
Dogs have chewed on sticks and tree branches for ages but sadly they can splitter and cause major damage to your dog if you're not careful.
The safer alternative: Petstages Dogwood Wooden Dog Chew Toy.
It looks like a traditional stick but is made from a blend of natural wood and synthetic material that is much healthier.
Designed for both indoor or outdoor play, the stick comes in multiple size you can pick the one that's perfect for your pup. (We're guessing you'll need the largest one for your gentle giant!)
Great Dane Exercise Needs – Best Toys for Great Danes
The American Kennel Club (AKC) rates the exercise needs of all their registered breeds on a scale of "Couch Potato" to "Needs Lots of Activity."
The Great Dane is listed as "Energetic." This means it's not quite as rambunctious as a breed like the Labrador Retriever or Border Collie, but it's fairly close.
This can seem surprising since the Great Dane often appears sedate. But in reality, the breed needs regular daily exercise.
This can include walks, games in the yard and of course playing with the best Great Dane toys.
You don't want to overdo it, though. Especially when the dog is young, growing quickly and more prone to injury.
Fun, moderately paced exercise sessions of 30 minutes or so are perfect.
Final Thoughts: Best Toys for Great Danes
The Great Dane is a huge dog of imposing strength and power, but with a gentle and affectionate nature.
These qualities, combined with their intelligence, make them good family pets.
With any pet, you want to provide them with the tools to live a happy and healthy life. One way to do this is by finding the best toys for Great Danes.
All the options on this list have been carefully vetted and highly rated by dog owners around the world.
They'll challenge and entertain your dog and help you both bond in the process.
It's by no means an exhaustive list, but you can rest assured that these toys are among the best for your dog.
Also, as a word of caution, whenever you introduce a new toy to your dog make sure you supervise their play. With any dog, you never know how they'll react and what damage they could cause.
Also, it's a good idea to try out several types of toys. The toys your Great Dane likes really depends on their personality and preference, and the answer may surprise you.
Ultimately, any picks on this list of best toys for Great Danes will be a great choice for your friendly and dependable dog. And when you play together, you'll make precious memories that'll last a lifetime!