10 Best Toys for Big Dogs
Published:

Last updated:

by Jessi Larson Affiliate Disclosure: We hope you love the products we've recommended! As an Amazon Associate we earn a small share from qualifying purchases.
When you have a larger than average pup, you have to look for the absolute best big dog toys.
Why?
Strong and smart, big dogs don't exactly go easy on their toys. They love to chew them and try to rip them apart from the get-go.
These toys also have to be of a certain size, too. If they're too small, your dog could potentially choke.
Quite honestly, it's much easier to find good dog toys for smaller dogs. But, don't despair – there are still many awesome toys out there perfect for larger dogs.
Below are the 10 best big dog toys according to the dog owners we've talked to with large canines.
#1) Bark Super Chewer Box
A monthly subscription box with toys and treats for big dogs who are extra tough on their toys
Pros
Fun way to try new toys
Toys are specifically designed for big dogs

Free shipping and replacement of broken toys
Cons
Reoccurring monthly expense
At the top of our list of the best toys for big dogs is the Super Chewer box from BarkBox. This monthly delivery box includes tough dog toys and treats that are selected specifically for large dogs who like to chew.
We reviewed the box earlier with our dog. He put in some heavy chew sessions and made a dent in the toys but they still survived!
Every box comes with two tough toys, two full-size bags of treats and two meaty chews, all designed for larger than average pups.
#2) Chuckit! Pro Launcher
This launcher wand and ultra-durable ball take games of fetch to the next level for big dogs
Pros
Enjoy hands-free fetch with your dog
Easily throw the ball 100 to 140 feet
A great way to bond with your pooch
Cons
Not a great toy for dogs who don't love fetch
Fetch has never quite been the same since Chuckit! came out with their Prolauncher. The launcher sends the ball sailing distances the human arm just can't replicate for a longer throw with much, much less effort.
Even better, the Chuckit! high-quality, durable balls are great for tough chewers. They last so much longer than regular tennis balls.
Another bonus: You never have to touch the slobbery balls that your dog brings back. The innovative design of the ProLauncher means you can simply scoop up the ball without getting your hands dirty.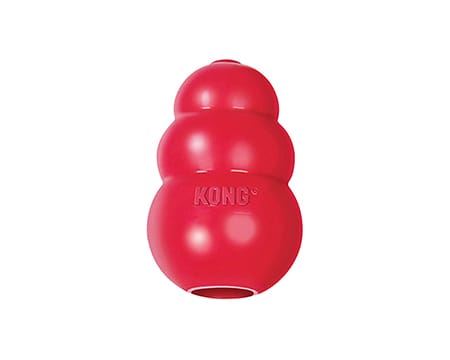 #3) Classic KONG Toy
A quintessential dog toy that keeps pups engaged and occupied for a very long time
Pros
Construction stands up to tough chewers
Choose any type of filling and treats

Made in the USA from globally sourced materials
Cons
Must order the right size for your pet
Another one of the best toys for big dogs is the classic KONG dog toy, available in large and extra large sizes.
As a pup parent, you've most likely heard of KONG. They make fabulously strong and durable dog toys that challenge your pup and keep them occupied, without any effort on your part.
All you need to do is fill the KONG with some sort of treat. Peanut butter, cheese, dog food, a biscuit, whatever. The design of the KONG makes your dog work for the treat and keeps them busy, giving you some extra uninterrupted time.
#4) Chuckit! Kick Fetch Toy Ball
An extra durable outdoor ball with grooves for games of fetch or soccer
Pros
Easy to pick up and easy on your pup's mouth
Can play with ball on land or in water
Bright colors make it easy to find
Cons
Extra tough chewers may pierce ball
When it comes to the best toys for big dogs, Chuckit! is clearly one of our favorite brands. We also love their Kick Fetch ball, which allows you to play fetch with your dog without your hands. It's all about the feet in this game.
Because it's Chuckit!, the ball is made with an extra strong, puncture-resistant material that will last for a very long time.
The design of the ball lets you kick it like a soccer ball while the grooves make it easy for your dog to carry it back.
#5) Tuffy Mega Ring Dog Toy
This ultra durable dog toy is reinforced for added durability and strength
Pros
Great for tug-of-war, fetch and more
Rates a perfect #10 on Tuffy's own "Tuff Scale"
Floats in water
Cons
Manufacturer advises against using it as a chew toy
Any dog owner with a large pup will tell you how tough it is to keep a stuffed toy around. Those big pups seem to instantly cut through the fabric and pull out the stuffing, leaving the toy completely useless.
The Tuffy Mega Ring, however, is made of seven layers of material sewn together with two rows of linear stitching and two rows of cross stitching. The result is an extra tough dog toy that is also soft and even squeaks.
Another bonus is that the Tuffy Mega Ring is machine washable, making it easy to clean up after your dog gets his goobers all over it. The toy also floats in water.
Your dog can either play with it alone, join in a game of tug-of-war with you or another pup or even play fetch.
#6) OurPets Buster Food Cube Interactive Dog Toy
An interactive treat dispenser that encourages healthy eating habits while providing physical activity
Pros
Mentally and physically stimulates your dog
Adjustable difficulty levels challenge pups
Easy to use and to clean
Cons
Can be very noisy
Tough chewers may break off plastic if left unattended
Some days it feels like your dog just won't chill out but you don't have the energy to take them out for yet another walk. That's where the Buster Food Cube comes in.
With this crazy cool toy, you load in the treats through the center column, turn it tight and place it on the floor for your dog to play. They'll quickly learn that they have to push the Food Cube around to get any sort of treat. The food dispenses slowly so your dog will get quite a workout in the process.
Be warned, it can get a little bit loud at times as the hard plastic rolls over the floor. But, that same hard plastic is virtually indestructible so we don't mind. This is definitely one of the best toys for big dogs.
#7) Feeko Natural Rubber Tug-of-War Toy
This sturdy rubber toy helps dogs release their extra energy by chewing and playing
Pros
Made of 100% all-natural and durable rubber
Great for tug-of-war and teething

Lifetime warranty on products
Cons
Toy is quite heavy
Aggressive chewers may rip ends
Dogs love to play tug-of-war, but the game can be challenging for big dogs. After all, even the gentlest of giants can whip around their owners, and rope toys don't always stand up to their size.
That's where the Feeko Natural Rubber Tug-of-War Toy comes in. Weighing 2 lbs and measuring 15 inches long, this seriously strong toy is perfect for games of tug-of-war with your big pup.
Even better, the toy smells like beef which attracts the attention of dogs and encourages them to chew. This in turn helps their oral hygiene.
#8) Nylabone XL Dura Chew Textured Toy
A tough, durable nylon bone that keeps powerful chewers busy and promotes healthy teeth
Pros
Promotes safe, healthy chewing habits
Bristles help to clean teeth and freshen breath

Includes scents to entice your dog
Cons
May be too hard for some dogs
The Nylabone is sort of like a rawhide but safer and lasts so much longer. The uniquely shaped toy is made of an extra-strong nylon that very slowly wears down. In fact, many dog owners have the same Nylabone for years, even though their dog chews it frequently.
Also, and importantly, the Nylabone promotes clean teeth and helps control plaque and tartar buildup. It's a major win-win: Your dog has a chew toy that keeps them occupied AND it helps keep their teeth clean and healthy.
We couldn't create a list of the best toys for big dogs without mentioning the beloved Nylabone!
#9) Pacific Pup Extra Strong Rope Toys
A set of 10+ extra strong rope toys for tugging, chewing, shaking and much more
Pros
Includes a variety of tough dog ropes
Plastic free and meets the toughest safety requirements
Supports Pacific Pups Rescue
Cons
Aggressive chewers may tear off strings
Rope toys are awesome. Dogs love them and it's also fun to use them for a friendly game of tug-of-war.
Trouble is, big dogs can make mince meat out of many of the rope toys out there. These are tougher, and though they won't last forever, you do get a bunch of them and they're made of safe material for when they are eventually destroyed.
Made of high-quality cotton, these toys are quite tough and also prevent fraying and mess, a major bonus.
This package includes three different-shaped toys. Personally, we love the ball-shaped rope because it's the hardest to destroy.
#10) PetSafe Busy Buddy Jack Dog Toy
A fun and challenging puzzle toy that makes dogs work for their reward
Pros
Durable nylon and rubber construction
Includes natural rawhide treat ring refills
Great toy for dogs with separation anxiety
Cons
Some tough chewers may pull off parts
Built for the toughest chewers over 50 pounds, the PetSafe Busy Buddy Jack Dog Toy is another great way to keep your pup busy.
The rubber and nylon surfaces firmly grip treats to motivate dogs to play longer. You can load treats on either side of the purple knobs for easier access or beside the white end pieces for more of a challenge.
Created with extra-strength materials, this big dog toy can withstand the toughest play, and the unique design keeps your pup entertained for extended periods of time.
Final Thoughts: The Best Big Dog Toys
Finding safe, solid toys for big dogs isn't easy. More often than not, these toys end up in pieces and need to be tossed. But this list of best toys for big dogs includes some of the most tried and true options out there.
Whenever you introduce a new toy to your dog, make sure you supervise their play. You never know how they'll react to the toy and what kind of damage they could do.
Also, it's not a bad idea to try more one than toy. You never know what your dog will prefer until you try it.
Some dogs love to play fetch and interact with you while others are more content to play alone. This will shape what types of toys they prefer.
Ultimately, you can't go wrong with any of these big dog toys, and your huge hound will be happy to receive any one of them!