10 Indestructible Dog Toys
Published:

Last updated:

by Kyle J. Larson Affiliate Disclosure: We hope you love the products we've recommended! As an Amazon Associate we earn a small share from qualifying purchases.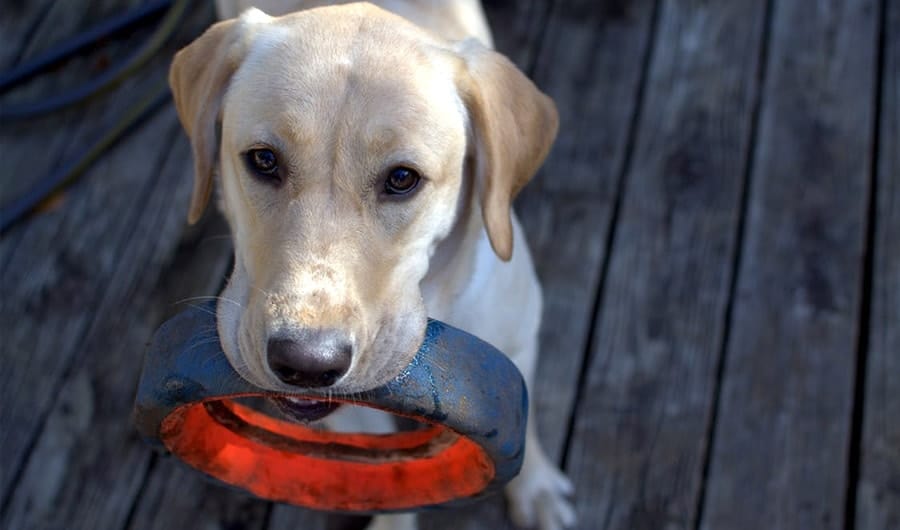 If you're dog is a chewer you'll know how fast they can destroy a toy!
Check out this list for some indestructible dog toys that may survive the test of a chewer, or will at least put up with a lot more!
Our dog Toby is definitely a chewer.
If you throw him a ball, he's more likely to bring it back and chew on it than to drop it at your feet to chase it again. All that chewing means he tends to go through toys quickly and finding indestructible dog toys is really important.
There isn't much out there that is truly an indestructible dog toy, but this list has some toys that will at least stand a chance against your chewer.
Although these toys are much tougher, always be sure to keep an eye on the toy's condition and get rid of them if they start breaking down.
We've sorted this list so the tougher toys are near the top.
If your dog isn't quite as aggressive you might also consider some items near the bottom. Or you could also buy some of the other toys and only bring them out for a short period of playtime and then put them away after to keep them from being annihilated!
Review: Top 10 Indestructible Dog Toys
Here are our picks for the top indestructible dog toys available.
Kong Xtreme or Classic
Kong dog toys are great. This is the Classic Kong Toy for putting treats in.
It's made of thick rubber and will usually take a long time for the dog to wear it out.
There's also a Kong Xtreme version that's supposed to have even tougher plastic.
Nylabone
Nylabones come in a variety of shapes and flavors and have excellent durability, making them nearly indestructible dog toys. S
ome popular Nylabones include the Nylabone Dinosaur Chew Toy, Nylabone Wishbone Chew Toy, and the Nylabone Dura Chew Bone.
Chuckit! Balls
Our dog will tear right through a tennis ball, but ChuckIt! Balls are great for fetch and are much tougher dog balls made with rubber.
You can also get a Chuckit! Launcher, which makes them easier to pickup and throw.
Goughnuts – Dog Chew Ring
Goughnuts rings are designed by engineers to be virtually indestructible!

They have an inner red layer that is meant to alert you if the dog is starting to break it apart, in which case they will replace your toy with a new one. They float, too!
Kong Extreme Rubber Ball
The Kong Rubber Ball Extreme is another great product from the Kong Extreme line that is a tough, sturdy rubber ball. These things hold up pretty well against an aggressive chewer.
Goughnuts Indestructible Chew Toy MAXX
The Goughnuts Indestructible Chew Toy lives up to its name with a super strong plastic.
It's got a red safety layer to let you know when it's time to get a replacement (if your dog 'happens' to destroy this thing).
The Goughnuts toy is also a great stick chew toy that should outlast most chewers.
Zogoflex Zisc Tough Flying Disc
This dog frisbee from West Paw is available in a large (8.5 in) and small (6.5 in) size and made with tougher plastic than your average frisbee.
It's not really a chew toy (it's probably a good idea to put away after play time), but if you're retrieving with your dog, they won't destroy it immediately, unlike a normal frisbee.
It's made with a soft but flexible plastic. And there is also a white version that glows in the dark if you're looking for some nighttime play!
Kong Tires Extreme Dog Toy
The Kong Tire is made with a durable rubber that should keep light to medium chewers at bay.
Reviews suggest it may pass the grade for most dogs, although some extreme chewers could get into it. This comes in a small or large size and you can add some peanut butter or other filling to the inside to keep your pup occupied.
Tuffy Dog Toys
Most stuffed toys are destined to be destroyed almost instantly by our pup. The longest lasting stuffed toys I've found are Tuffy Dog Toys.
These toys come with a rating scale of how tough they are and are made with tougher stitching and fabric.
They're not completely indestructible, but if you keep an eye on them they have a pretty decent chance of surviving (at least longer than normal).
So far our pup has only chewed up some of the ears. A good bet if your dog isn't hugely destructive.
BarkBox Super Chewer
If you've got a chewer you can also look into BarkBox's Super Chewer box.
This monthly delivery box includes tough dog toys and treats that are selected specifically for chewers.
Our dog put in some heavy chew sessions and put a dent in the toys but they've still survived, and the treats have been really high quality.
You can sign up for the box here or check out our full super chewer review here.