125+ Bulldog Names That Are Totally Awesome
Published:
Last updated:
by Jessi Larson
Are you trying to think of Bulldog names? We've got you covered.
To help you in your search, we've rounded up over 125 awesome names that range from tough to funny to doggone cute.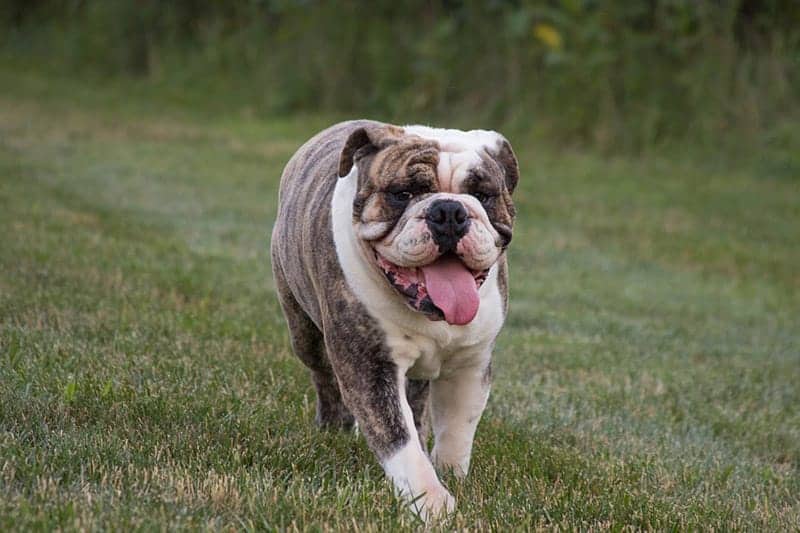 Naming your dog is an important first step as a pup parent. You want to find something that fits your dog's personality and appearance and rolls off the tongue when you say it.
We've looked high and low and found loads of names you'll love to bring you the best Bulldog names.
Strong Male Bulldog Names
With a muscular, hefty build, wrinkled face, and a distinctive pushed-in nose, the Bulldog certainly has a strong, sturdy appearance.
In fact, the term "bull" comes from the dog's use in the sport of bull baiting. Fortunately, this cruel practice was outlawed in 1835. Still, the Bulldog has retained its solid, robust build from this breeding.
With this in mind, we've pulled a list of strong Bulldog names that fit their appearance well.
Let's start with strong names for male bulldogs first:
Admiral
Apollo
Atlas
Axel
Bandit
Bane
Brick
Bronson
Bronx
Bruno
Brutus
Bugsy
Butch
Caesar
Chevy
Chomper
Chopper
Diesel
Doc
Duke
Dutch
Goliath
Gunner
Hercules
Hulk
Jagger
King
Mack
Maverick
Maximus
Porter
Rambo
Rex
Rocky
Sarge
Spike
Spud
Tank
T-Bone
Thor
Titus
Tyson
Zeus
Get more strong male dog names for your Bulldog.
Strong Female Bulldog Names
Just because you have a female dog doesn't mean you can't pick out a strong name. There are many girl dog names that combine femininity with a bit of a tough edge.
Take a look at these strong female Bulldog names and see if any are a fit:
Athena
Bear
Beast
Brooklyn
Cleo
Dixie
Duchess
Elektra
Harley
Huntress
Jinx
Jojo
Joplin
Justice
Koda
Leia
Medusa
Mercy
Nova
Ninja
Nyx
Queenie
Queen Bee
Raven
Rebel
Rogue
Rousey
Roxy
Stella
Tigress
Vixen
Xena
Get more strong female dog names for your Bulldog.
Funny Male Bulldog Names
Bulldogs certainly have a unique look, from their stocky body to their pronounced jaw and smooshed nose to their fabulously wrinkly skin.
A fun and humorous name is always a good option for any dog, and the Bulldog is no exception, especially with such a pronounced appearance.
So why not have a little fun and pick a funny name for your boy Bulldog? Ideas include:
Bacon
Barkley
Beast
Big Guy
Bruiser
Bubba
Buzz
Chalupa
Chewy
Chubs
Gremlin
Hairy Paw-ter
Hercules
Hodor
Hooch
Hulk
Hunk
Jedi
Meatball
Pooch
Porkchop
Porky
Pudgy
Pumba
Shorty
Squat
Squirt
Stinky
Turtle
Wilbur
Woofgang Puck
Yoda
Get more funny male dog names for your Bulldog.
Funny Female Bulldog Names
Are you having fun yet with these funny Bulldog names? Then, let's keep the party rolling with some female Bulldog names that are cute, charming, and oh-so-funny.
Our favorite names include:
Babe
Baby
Babushka
Biscuit
Bitsy
Brunhilda
Chewbarka
Chiquita
Cupcake
Foxy
Jelly Bean
Jezebel
Mama
Meatball
Miss Piggy
Munchkin
Peanut
Pee Wee
Porkchop
Sarah Jessica Barker
Squirt
Tankerbell
Wrinkles
Get more funny female dog names for your Bulldog.
Cute Male Bulldog Names
In the end, there's no questioning that Bulldogs are quite cute. According to the AKC it's a big reason why they're now the fourth most popular breed in the United States.
Recognizing their cute face and charming, sweet disposition, we say that cute Bulldog names are always a good choice. After all, you can't go wrong with a sweet name that's beloved by many.
Our favorite cute male Bulldog names include:
Alfie
Amos
Archie
Arlo
Augie
Barkley
Barney
Bear
Benji
Biscuit
Blue
Brodie
Buddy
Charlie
Chewie
Cooper
Digby
Finn
Gizmo
Izzy
Kirby
Leo
Louie
Lucky
Marley
Meeko
Milo
Oliver
Oreo
Otis
Paws
Percy
Rascal
Scotty
Scout
Sheldon
Spot
Teddy
Waldo
Yoshi
Ziggy
Get more dog names that are cute for your male or female Bulldog.
Cute Female Bulldog Names
Finding cute female dog names is relatively easy. We had to limit the list otherwise, we would have had pages and pages of names.
As we mentioned before, cute dog names are always a solid choice. Dogs are adorable, so why not pick a name that brings the charm?
Abby
Addie
Angel
Bailey
Bella
Buttercup
Chica
Coco
Cookie
Daisy
Daphne
Ginger
Gracie
Harper
Hazel
Honey
Izzy
June Bug
Lady
Lola
Lucy
Luna
Maisy
Mimi
Nala
Olive
Penny
Petunia
Piper
Poppy
Princess
Pumpkin
Rosie
Ruby
Sadie
Sophie
Suger
Sweet Pea
Tulip
Violet
Winnie
Willow
Yuki
Teach your dog their name
Once you settle on the perfect name for your Bulldog, it's time to teach it to your dog.
To start, make sure you're in a quiet place without distractions. This will help your dog focus.
From there, repeat your dog's name. Then, when they look at you, say "Yes!" and hand out a treat. Do this 3 to 5 times in a row.
Continue to say your dog's name in day-to-day interactions. Before you know it, they'll have it down pat!
View Your Saved Names