If you love the games or the series and want Pokémon dog names, you've come to the right place. Our list includes all the dog-like creatures in the universe of Pokémon, plus a ton of other great ideas for your puppy.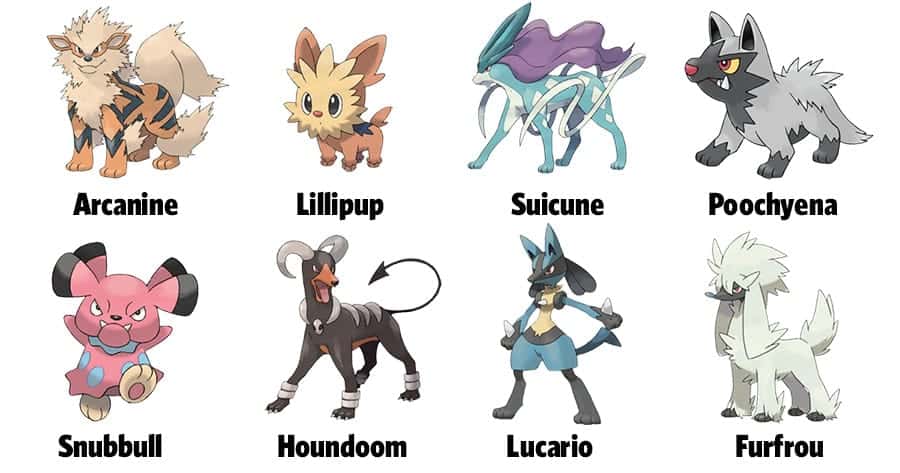 Pokemon Dogs
Here is a complete list of Pokémon that resemble dogs or are directly inspired by canines.
Growlithe – A puppy-type with orange fur and black stripes
Arcanine – The evolved version of Growlith resembling a dog and tiger
Snubbull – A pink bulldog-like canine with blue spots
Granbull – Evolved from Snubbull, purple with large lower fangs
Houndour – A black dog with a red underbelly and muzzle. It has a bone-like helmet and ribs on its back
Houndoom – Evolved from Houndour with added curled horns and arrow point tail
Smeargle – Light brown with darker brown spots. It has a tail with various paint colors on the tip, often green
Suicune – Legendary Beast that is sky blue with lighter diamond patches and a purple mane
Poochyena – Small gray, scruffy wolf-like creature
Mightyena – Evolved Poochyena that is larger and looks a bit more like a hyena
Electrike – A green dog-like creature with yellow markings and an angular-shaped head.
Manectric – Evolved Electrike, with blue and yellow coloring and fur that sticks up
Riolu – Black and blue puppy-looking Pokemon
Lucario – Evolved from Riolu with spikes on paws and chest
Lillipup – Cute puppy that looks like a Yorkshire terrier with brown and tan fur
Herdier – Evolved Lillipup that has a dark blue cape of fur
Stoutland – Evolved Herdier that has long thick hair and a very long mustache
Furfrou – A poodle-like Pokemon with long white fur
More Pokemon Dog Names
For our remaining Pokémon-inspired dog names we've scoured the lists of hundreds of creatures and characters to find some excellent options for naming your puppy. We've also included nicknames for the longer names to make them more suitable for shouting across the yard to a pup.
We've gathered names from the anime series, the Nintendo video games, and more. Fans of Pokémon are sure to love capturing these great name ideas.
Male Pokemon Names for Dogs
Here are some of our favorite male Pokémon names (some will also work just as well for females).
Absol
Alder – Champion of the Unova region
Archen
Ash – Ash Ketchum, the main protagonist of the Pokemon Anime series
Bear – Beartic
Blue – Blue Oak, a rival from Pokemon Red and Blue
Butters – Butterfree
Caterpie
Champ – Machamp
Chansey
Chewtle
Clay – Claydol
Copper – Copperajah
Cubone
Dash – Rapidash
Digger – Diggersby
Diglett
Draco – Dracozolt / Dracovish
Drake – Leader of the Orange Crew
Dug – Dugtrio
Durant
Dusk – Dusknoir
Elio – Pokemon trainer from Sun and Moon, Ultra Sun and Ultra Moon
Finneon
Fletch – Fletchling / Fletchinder
Gloom
Kabuto
Ketchum – Ash Ketchum
Klink
Klang
Lance – User of dragon type Pokemon
Leon – Champion of the Galar region
Mankey
Mew
Onix
Red – Protagonist of the Generation 1 games
Regi – Regirock
Roggen – Roggenrola
Roly – Rolycoly
Scrafty
Sprout – Bellsprout
Teddi – Teddiursa
Toto – Tododile
Trace – Rival character in Pokemon: Let's Go, Pikachu!
Tyke – Mantyke
Veno – Venomoth
Wallace – Gym Leader and Champion from Generation III and VI
Wynaut
Female Pokemon Names for Dogs
Here are some beautiful ideas for naming your female dog companion.
Abra
Bee – Beedrill
Charm – Charmander / Charmeleon / Charizard
Cutie – Cutiefly
Cynthia – Pokemon Trainer and Champion of the Sinnoh region
Diantha – Pokemon Trainer from X and Y
Eevee
Flora – Sunflora
Goldee – Goldeen
Hera – Heracross
Iris – Gym Leader from the Unova region
Ivy – Ivysaur
Kakuna
Poli – Poliwag / Poliwhirl / Poliwrath
Rogue – Tyrogue
Sable – Sableye
Selene – Trainer from Pokemon Sun and Moon
Spinda
Star – Staryu
Starmie
Ursa – Ursaring
Venus – Venusaur
Funny Pokemon Names
There are quite a few different Pokémon with funny-sounding names, and we've selected some of our favorites that'd make absolutely crazy dog names. These might be too weird to actually name your pup, but they're sure to crack a smile.
Drowzee
Farfetch'd
Grimer
Jigglypuff
Kartana
Koko – Tapu Koko
Krabby
Lickitung
Oddish
Shadow – Marshadow
Slowbro
Slowpoke
Snorlax
Spoink
Squirt – Squirtle
Timburr
Weedle
Wiggly – Wigglytuff
Wooper
Cool Pokemon Name Ideas
If you're looking for a name that's got a cool sound to it, these are the ideas for you. They're pretty intense names from some fierce Pokémon.
Alakazam
Blast – Blastoise
Electro – Electrode
Claw – Clawitzer
Ditto
Dragon – Dragonair
Flare – Flareon
Geo – Geodude
Golem
Guru – Oranguru
Hypno
Jolt – Jolteon
Jynx
King – Kingler
Kleavor
Mega – Meganium
Meta – Metapie
NInja – Ninjask
Pikachu
Pyroar
Rock – Rockruff
Snarl – Grimmsnarl
Talon – Talonflame
Tauros
Thundurus
Tornadus
Tynamo
Tyrunt
Volt – Voltorb
More Dog Name Ideas
Hopefully, you found something fun to name your new pup, but if you want even more great ideas, we think you'll love these other lists:
Resources: Fandom List of Pokemon
View Your Saved Names