You'll need a great Minecraft dog name if you've recently domesticated a wolf in Minecraft. Once you've got a name tag, you can apply one of these ideas to your pup using an anvil.
Minecraft is a hugely popular game developed by Mojang Studios, best known for its blocky style. The game has evolved, including adding animals and pets, including dogs, sheep, horses, cats, bears, and dragons. This guide will help you create the perfect name for your Minecraft dog.
Best Minecraft Dog Names
Here are some of the top Minecraft dog name suggestions for boys and girls. These options range from some of the most popular real dog names to some cool-sounding names that are great for gaming.
Wolf
Bear
Buddy
Charlie
Max
Bella
Shadow
Digger
Rogue
Tiger
Lucy
Chase
Blue
Ghost
Luna
Dutch
Oreo
Cute Minecraft Dog Names
These cute names are perfect for a pup who's you're best friend, in gaming or real life. If you want more cute ideas, also check out our cute dog names list.
Addie
Ali
Angel
Aspen
Aurora
Baby
Banjo
Buttercup
Charm
Cleo
Cookie
Dot
Hazel
Jewel
Lotus
Maggie
Molly
Moon
Nugget
Paris
Pippa
Poppy
Precious
Simba
Skye
Yogi
Ziggy
Funny Minecraft Dog Names
Here are some of the silliest names for a dog in Minecraft. There's a handful of punny names and even more in this punny dog name list.
Dinnerbone – this is an easter egg that will flip your dog upside down
50 Scent
Bill Furry
Bones
Byte
C3 Pee-O
Cartman
Cheeto
Chewie
Fatso
Fifi
Furry
Fuzzball
Heel Armstrong
Hotdog
Lil Bow Wow
McGruff
Notorious D.O.G
Pooch
Porkchop
Sir-Barks-Alot
Sushi
Taco
Taters
Wags
Wiggles
Willow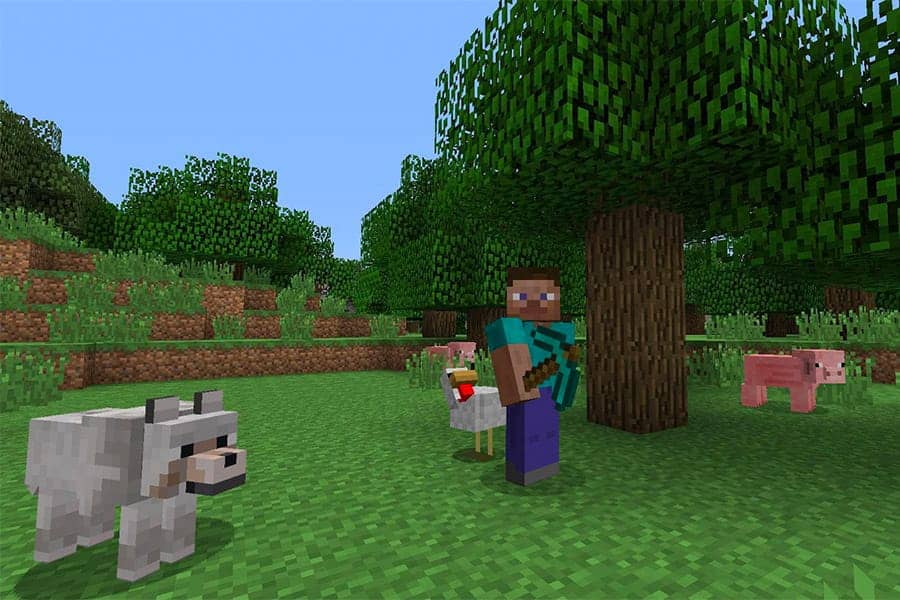 Cool Names
If you want a cool name for your four-legged friend, this list will do the trick.
Apollo
Athena
Atlas
Aura
Blaze
Colt
Dexter
Dre
Flint
Hunter
Lucky
Mack
Mello
Minion
Moxie
Pepper
Phantom
Poe
Rebel
Ryder
Scout
Sparks
Storm
Winter
Tough Names
Taking on the mobs across Minecraft can be tough, and so should your dog's name!
Axel
Bane
Butch
Bronx
Chaz
Darth
Diablo
Dracula
Fang
Harley
Hulk
Hunter
Jax
Killer
Magnus
Menace
Monster
Nero
Nyx
Rage
Reaper
Sassy
Shredder
Terminator
Vex
Vixen
Xena
Zola
Nerdy Names
These name ideas come from comics, movies, science, technology, and other video games. They all have a bit of a nerdy nature. For more names like these, check out our complete list of nerdy puppy names.
Akira
Crypto
Deadpool
Ewok
Finn
Gig
Gizmo
Kirby
Mac
Mario
Mouse
Potter
Quark
Sansa
Siri
Thor
Widget
Yoshi
Zelda
Minecraft Names for Dogs
If you want to name your real-life puppy something inspired by Minecraft, here are some ideas for you.
Alex
Creeper
Skele
Ender
Steve
Blaze
Ghast
Witchy
Zombie
Hopefully, you found some great name ideas that you love for your pup. We wish you good luck exploring the world of Minecraft!
How do you name a Minecraft dog?
To give your dog a name in Minecraft you'll need a name tag, an anvil, and at least level 5. Place the anvil down and then use it. You'll see a repair and name menu. Place the name tag in the first slot and enter a name in the brown box. Finally, place the name tag on your dog.
How do you get a dog in Minecraft?
To get a dog, you'll need to get some bones (skeletons are the best source). Then find a wolf and use the bones on it to try and tame it. It's a good idea to have at least 6-9 bones, as it's about a 33% chance for each one to work. Note that in Minecraft PE, there's a tame button instead.
View Your Saved Names