5 Must-Have Dog Toys to Keep Your Active Dog Busy
Published:

Last updated:

by Jessi Larson Affiliate Disclosure: We hope you love the products we've recommended! As an Amazon Associate we earn a small share from qualifying purchases.
You're exhausted beyond belief, and your lovable but very active dog keeps whining at you to play. How in the world do they have that much energy? You need a clever dog toy to keep your pup busy in times like these. Here are five awesome dog toys that will keep even the craziest canine super busy and out of your hair.
The Kong
Millions of dog owners swear by the Kong. The classic Kong looks almost like a snowman with three balls stacked together. It is made of durable rubber, and the inside is hollowed out so you can add any of the Kong treats or spreads OR your own assortment of yummies like peanut butter, dog food, cheese, treats, and whatever else you can think of. Our dog loves to work hard for his reward from the Kong!
The idea for the Kong came about in the 70s when creator Joe Markham saw his German Shepherd chewing rocks, obviously very damaging to his teeth. His dog also enjoyed chewing on a hard rubber Volkswagen Bus suspension device – much easier on his chompers! Markham played around with different materials and eventually created the Kong.
In addition to the traditional Kong, the company now has many different products like the Jumbler Ball Toy and Wubba Dog Toy. The Wubba is one of our dog's favorite go-to fetch toys.
OurPets Buster Food Cube
So simple, so genius. The Buster Food Cube is a brilliant way to keep your dog busy mentally and physically. On the outside, it looks like a big plastic square. To get started, remove the cylinder, fill the cube with treats or dog food, and reinsert the cylinder, adjusting the difficulty level depending on your dog's energy level. Your pup has to push the cube along with their snout to release the treats!
With the Buster Cube, our dog has to keep moving and working hard for their treats. In the process, they have a ton of fun! OurPets also offers a ball-shaped toy for faster, smoother play for your pup, which our dog loves to chase around.
Nina Ottosson's Interactive Dog Puzzles
Nina Ottosson is the queen of creating interactive dog toys that keep pups mentally sharp and physically occupied. A famous dog trainer in Sweden, Ottosson specializes in designs that exercise your dog's mind and body, reduce behavior problems, help with weight control, fight boredom, and strengthen the bond between you two.
The puzzles, all made of durable, easy-to-clean plastic, involve brain-scratching challenges where treats are hidden, and the goal is to uncover them using their paws and noses. Popular puzzles include DogTwister, the Dog Brick Interactive Game, and the DogCasino. We've done a lot of play with hiding treats for our dog in these, and he gets excited when they come out for playtime.
Rope Ball
Try a rope ball if the interactive puzzles have too many bells and whistles and you'd prefer a simpler toy. Is it a rope chew toy? Is it a ball? It's both!
This toy keeps dogs engaged by providing rope arms they can chew on. Made of strong rope, this toy keeps dogs busy and helps their dental health. You can also throw it and use it as a ball for fetch! Our pup loves to gnaw at these toys.
Jolly Pets Monster Mouth Dog Toy
Last but not least is the Monster Mouth Dog Toy by Jolly Pets. The Monster is a plastic, disc-shaped toy with an opening that looks like a monster's mouth with scary teeth. Those teeth have an important purpose. The point of the toy is to insert treats, and your dog has to work to reach them. The challenge is the angle of the toy, the slight opening, and, yes, those pesky monster teeth that make the food difficult to reach. Pop in a few treats, and your dog will enjoy extended play time.
This is another fun one for our dog, and it's easy to clean up after he's used it due to the larger opening.
If you've tried any of these toys or have your own recommendations, chime in below!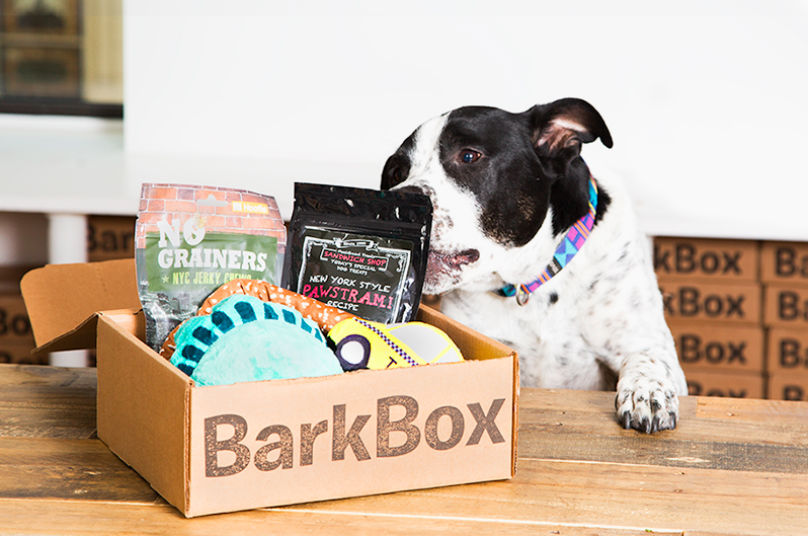 You've probably heard of BarkBox before. If not, here's the lowdown: It's a subscription service with a box full of cool dog treats and toys delivered to your door every month. The package includes 4-6 items curated from their current collection.
When you get started, you can pick your dog's size so all the treats and toys fit your pup just right.
What we love about this is that it's a fun surprise for dogs and pup parents alike. Getting a delivery every month is exciting and will keep your dog busy with all the new variety! And it's also a convenient way to try out new treats and toys you probably never would have heard of.